Edward Snowden: NSA whistleblower answers reader questions
The whistleblower behind the biggest intelligence leak in NSA history answered your questions about the NSA surveillance revelations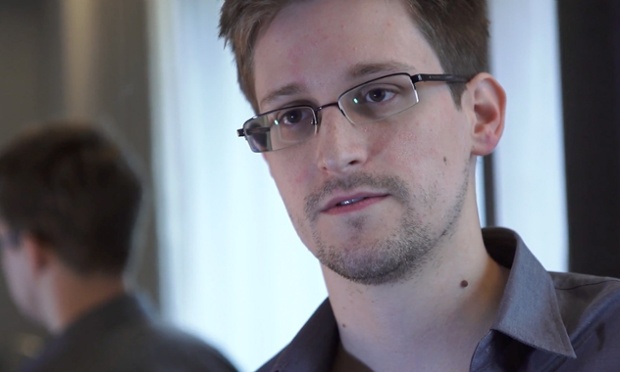 Edward Snowden Q&A
It is the interview the world's media organisations have been chasing for more than a week, but instead Edward Snowden is giving Guardian readers the exclusive.
The 29-year-old former NSA contractor and source of the Guardian's NSA files coverage will – with the help of Glenn Greenwald – take your questions today on why he revealed the NSA's top-secret surveillance of US citizens, the international storm that has ensued, and the uncertain future he now faces. Ask him anything.
Snowden, who has fled the US, told the Guardian he "does not expect to see home again", but where he'll end up has yet to be determined.
He will be online today from 11am ET/4pm BST today. An important caveat: the live chat is subject to Snowden's security concerns and also his access to a secure internet connection. It is possible that he will appear and disappear intermittently, so if it takes him a while to get through the questions, please be patient.
To participate, post your question below and recommend your favorites. As he makes his way through the thread, we'll embed his replies as posts in the live blog. You can also follow along on Twitter using the hashtag #AskSnowden.
We expect the site to experience high demand so we'll re-publish the Q&A in full after the live chat has finished.
Updated at 10.03am ET
Question:
Answer:
1) First, the US Government, just as they did with other whistleblowers, immediately and predictably destroyed any possibility of a fair trial at home, openly declaring me guilty of treason and that the disclosure of secret, criminal, and even unconstitutional acts is an unforgivable crime. That's not justice, and it would be foolish to volunteer yourself to it if you can do more good outside of prison than in it.

Second, let's be clear: I did not reveal any US operations against legitimate military targets. I pointed out where the NSA has hacked civilian infrastructure such as universities, hospitals, and private businesses because it is dangerous. These nakedly, aggressively criminal acts are wrong no matter the target. Not only that, when NSA makes a technical mistake during an exploitation operation, critical systems crash. Congress hasn't declared war on the countries – the majority of them are our allies – but without asking for public permission, NSA is running network operations against them that affect millions of innocent people. And for what? So we can have secret access to a computer in a country we're not even fighting? So we can potentially reveal a potential terrorist with the potential to kill fewer Americans than our own Police? No, the public needs to know the kinds of things a government does in its name, or the "consent of the governed" is meaningless.

2) All I can say right now is the US Government is not going to be able to cover this up by jailing or murdering me. Truth is coming, and it cannot be stopped.
Question:
Answer:
Leaving the US was an incredible risk, as NSA employees must declare their foreign travel 30 days in advance and are monitored. There was a distinct possibility I would be interdicted en route, so I had to travel with no advance booking to a country with the cultural and legal framework to allow me to work without being immediately detained. Hong Kong provided that. Iceland could be pushed harder, quicker, before the public could have a chance to make their feelings known, and I would not put that past the current US administration.
Question:
Answer:
No, I'm not. Wikileaks is a legitimate journalistic outlet and they carefully redacted all of their releases in accordance with a judgment of public interest. The unredacted release of cables was due to the failure of a partner journalist to control a passphrase. However, I understand that many media outlets used the argument that "documents were dumped" to smear Manning, and want to make it clear that it is not a valid assertion here.
Question:
Answer:
I was debriefed by Glenn and his peers over a number of days, and not all of those conversations were recorded. The statement I made about earnings was that $200,000 was my "career high" salary. I had to take pay cuts in the course of pursuing specific work. Booz was not the most I've been paid.
Question:
Answer:
Obama's campaign promises and election gave me faith that he would lead us toward fixing the problems he outlined in his quest for votes. Many Americans felt similarly. Unfortunately, shortly after assuming power, he closed the door on investigating systemic violations of law, deepened and expanded several abusive programs, and refused to spend the political capital to end the kind of human rights violations like we see in Guantanamo, where men still sit without charge.
Question:
Answer:
1) More detail on how direct NSA's accesses are is coming, but in general, the reality is this: if an NSA, FBI, CIA, DIA, etc analyst has access to query raw SIGINT databases, they can enter and get results for anything they want. Phone number, email, user id, cell phone handset id (IMEI), and so on – it's all the same. The restrictions against this are policy based, not technically based, and can change at any time. Additionally, audits are cursory, incomplete, and easily fooled by fake justifications. For at least GCHQ, the number of audited queries is only 5% of those performed.
Updated at 11.41am ET
2) NSA likes to use "domestic" as a weasel word here for a number of reasons. The reality is that due to the FISA Amendments Act and its section 702 authorities, Americans' communications are collected and viewed on a daily basis on the certification of an analyst rather than a warrant. They excuse this as "incidental" collection, but at the end of the day, someone at NSA still has the content of your communications. Even in the event of "warranted" intercept, it's important to understand the intelligence community doesn't always deal with what you would consider a "real" warrant like a Police department would have to, the "warrant" is more of a templated form they fill out and send to a reliable judge with a rubber stamp.
Glenn Greenwald follow up: When you say "someone at NSA still has the content of your communications" – what do you mean? Do you mean they have a record of it, or the actual content?
Both. If I target for example an email address, for example under FAA 702, and that email address sent something to you, Joe America, the analyst gets it. All of it. IPs, raw data, content, headers, attachments, everything. And it gets saved for a very long time – and can be extended further with waivers rather than warrants.
Question:
Answer:
Their denials went through several revisions as it become more and more clear they were misleading and included identical, specific language across companies. As a result of these disclosures and the clout of these companies, we're finally beginning to see more transparency and better details about these programs for the first time since their inception.

They are legally compelled to comply and maintain their silence in regard to specifics of the program, but that does not comply them from ethical obligation. If for example Facebook, Google, Microsoft, and Apple refused to provide this cooperation with the Intelligence Community, what do you think the government would do? Shut them down?
Question:
Answer:
Yes, I stand by it. US Persons do enjoy limited policy protections (and again, it's important to understand that policy protection is no protection – policy is a one-way ratchet that only loosens) and one very weak technical protection – a near-the-front-end filter at our ingestion points. The filter is constantly out of date, is set at what is euphemistically referred to as the "widest allowable aperture," and can be stripped out at any time. Even with the filter, US comms get ingested, and even more so as soon as they leave the border. Your protected communications shouldn't stop being protected communications just because of the IP they're tagged with.

More fundamentally, the "US Persons" protection in general is a distraction from the power and danger of this system. Suspicionless surveillance does not become okay simply because it's only victimizing 95% of the world instead of 100%. Our founders did not write that "We hold these Truths to be self-evident, that all US Persons are created equal."
Question:
Answer:
This is a predictable smear that I anticipated before going public, as the US media has a knee-jerk "RED CHINA!" reaction to anything involving HK or the PRC, and is intended to distract from the issue of US government misconduct. Ask yourself: if I were a Chinese spy, why wouldn't I have flown directly into Beijing? I could be living in a palace petting a phoenix by now.
Question:
Kimberly Dozier @KimberlyDozier
Answer:
US officials say this every time there's a public discussion that could limit their authority. US officials also provide misleading or directly false assertions about the value of these programs, as they did just recently with the Zazi case, which court documents clearly show was not unveiled by PRISM.

Journalists should ask a specific question: since these programs began operation shortly after September 11th, how many terrorist attacks were prevented SOLELY by information derived from this suspicionless surveillance that could not be gained via any other source? Then ask how many individual communications were ingested to acheive that, and ask yourself if it was worth it. Bathtub falls and police officers kill more Americans than terrorism, yet we've been asked to sacrifice our most sacred rights for fear of falling victim to it.

Further, it's important to bear in mind I'm being called a traitor by men like former Vice President Dick Cheney. This is a man who gave us the warrantless wiretapping scheme as a kind of atrocity warm-up on the way to deceitfully engineering a conflict that has killed over 4,400 and maimed nearly 32,000 Americans, as well as leaving over 100,000 Iraqis dead. Being called a traitor by Dick Cheney is the highest honor you can give an American, and the more panicked talk we hear from people like him, Feinstein, and King, the better off we all are. If they had taught a class on how to be the kind of citizen Dick Cheney worries about, I would have finished high school.
Updated at 12.11pm ET
Question:
Answer:
Encryption works. Properly implemented strong crypto systems are one of the few things that you can rely on. Unfortunately, endpoint security is so terrifically weak that NSA can frequently find ways around it.
Question:
Do you believe that the treatment of Binney, Drake and others influenced your path? Do you feel the "system works" so to speak? #AskSnowden
Answer:
Binney, Drake, Kiriakou, and Manning are all examples of how overly-harsh responses to public-interest whistle-blowing only escalate the scale, scope, and skill involved in future disclosures. Citizens with a conscience are not going to ignore wrong-doing simply because they'll be destroyed for it: the conscience forbids it. Instead, these draconian responses simply build better whistleblowers. If the Obama administration responds with an even harsher hand against me, they can be assured that they'll soon find themselves facing an equally harsh public response.

This disclosure provides Obama an opportunity to appeal for a return to sanity, constitutional policy, and the rule of law rather than men. He still has plenty of time to go down in history as the President who looked into the abyss and stepped back, rather than leaping forward into it. I would advise he personally call for a special committee to review these interception programs, repudiate the dangerous "State Secrets" privilege, and, upon preparing to leave office, begin a tradition for all Presidents forthwith to demonstrate their respect for the law by appointing a special investigator to review the policies of their years in office for any wrongdoing. There can be no faith in government if our highest offices are excused from scrutiny – they should be setting the example of transparency.
Question:
Answer:
This country is worth dying for.
Question:
Answer:
I imagine everyone's experience is different, but for me, there was no single moment. It was seeing a continuing litany of lies from senior officials to Congress – and therefore the American people – and the realization that that Congress, specifically the Gang of Eight, wholly supported the lies that compelled me to act. Seeing someone in the position of James Clapper – the Director of National Intelligence – baldly lying to the public without repercussion is the evidence of a subverted democracy. The consent of the governed is not consent if it is not informed.
Follow-up from the Guardian's Spencer Ackerman:
Regarding whether you have secretly given classified information to the Chinese government, some are saying you didn't answer clearly – can you give a flat no?
Answer:
No. I have had no contact with the Chinese government. Just like with the Guardian and the Washington Post, I only work with journalists.
Question:
So far are things going the way you thought they would regarding a public debate? – tikkamasala
Answer:
Initially I was very encouraged. Unfortunately, the mainstream media now seems far more interested in what I said when I was 17 or what my girlfriend looks like rather than, say, the largest program of suspicionless surveillance in human history.
Final question from Glenn Greenwald:
Anything else you'd like to add?
Answer:
Thanks to everyone for their support, and remember that just because you are not the target of a surveillance program does not make it okay. The US Person / foreigner distinction is not a reasonable substitute for individualized suspicion, and is only applied to improve support for the program. This is the precise reason that NSA provides Congress with a special immunity to its surveillance.
Comments for this discussion are now closed.
AhBrightWings

Edward Snowden, your name is all over the thread on why people have lost hope in Obama, many of them stating that you are the sole person to restore a sense that we still have people with a moral barometer. Thank you for taking the risks you have. Please know that your supporters are legion, and that we stand ready to follow up on what you revealed.

sallysense

@AhBrightWings – (shared this elsewhere)…

thank you so much for the truth edward snowden!…

thank you edward snowden for showing us facts…
that intelligence and terrorism work not as they say…
that officials still lie trying to keep fabrications intact…
even if faced with the truth they persist in duped ways!…

they lodge unaccountable policies as a snag for bad guys…
we must lose basic freedoms so terrorists can't prevail…
but the evidence actually indicates it to be otherwise…
that draining our liberties won't help see foes fail!…

private firms track our own computers and phones…
using surveillance that's ready to maneuver our data…
being innocent today could look suspicious tomorrow…
or as unreliable as our rulers' feigned words on a platter!…

oaths of office break silently disregarding our constitution…
to uphold and defend it succumbs to deceptive security…
behind vacated laws hide lawless order distributions…
as democracy's deterioration welcomes obscurity!…

thank you so much for the truth edward snowden!…

Meowings

@AhBrightWings – I see BrightWings scattering shards of truth from brilliant feathers. To paraphrase Laurie Anderson – sometimes we have to jump out of the plane.

Onerioi

@AhBrightWings – "If the Obama administration responds with an even harsher hand against me, they can be assured that they'll soon find themselves facing an equally harsh public response." A harsh response… The only response that impacts our elected politicians is how we vote. I'm only aware of one politician who intends to make an issue out of this outrageous government behavior, Rand Paul.

lids

@AhBrightWings – Great comment with which I concur.

Thank you Edward Snowden.

jakcrow

@Onerioi – Bernie Sanders and Alan Grayson have gone further and have proposed legislation to reign in the NSA and the government in general over domestic spying. What has Paul done?

Crabacado

@AhBrightWings – Please know that your supporters are legion, and that we stand ready to follow up on what you revealed. Kudo's! Lov3r

rickydo

@jakcrow – he's sponsored the bill and 2 other Republicans on board

rickydo

@rickydo – *got two other Republican Senators on board

Guardian staff

GlennGreenwald

Let's begin with these:

1) Why did you choose Hong Kong to go to and then tell them about US hacking on their research facilities and universities?

2) How many sets of the documents you disclosed did you make, and how many different people have them? If anything happens to you, do they still exist?

ron_nadbornik

@GlennGreenwald – first I just want to say thank g*d for journalists like Glenn, he is really the hero of this whole thing… it's too bad he has no idea about what's going on…

moon86

@GlennGreenwald -

…and I'll continue with asking who was in charge of the PRISM logo design?

TVwriter

@ron_nadbornik – Mr Snowden, please ignore silly questions about UFOs.

Green Grrrl

@moon86 – The graphic design of the whole thing is so shitty that it convinced me of the authenticity of the document. No one faking a document would do that bad of a job.

blue_monkey

@GlennGreenwald – #AskSnowden. Did you really leave the Mira Hotel on the Monday at midday? Surely, it makes sense for you, for there to be a time lag between your public announcements which disclose details of your whereabouts?

Therefore, is this blog really live? Have these Qs been pre prepared?

Bo Yu

@GlennGreenwald – He thought it was safe to go to hong kong, but that is wrong. there is not place to hide in this world, unless he give up his American citizenship. American spys are around every corner in the world. he could be killed any time.

AVoiceFromAmerica

@MonaHol – you asked a great question, Mona. Thanks for doing your bit to restore our freedoms.

Crabacado

@blue_monkey – Who cares What hotel & Time ? Who believes any of this BS ! ???

Gegenbeispiel

@moon86 – FFS, who the hell cares about graphic design?

A major part of the reason we're in so much trouble is the obsession with appearances and fashion. In a world ruled by the "tastes" of dressmakers, we can expect neither fairness nor progress nor justice.

MonaHol

@AVoiceFromAmerica 17 June 2013 7:19pm. Get cifFix for Firefox.

Thanks. I support what Snowden has done, but hold some skepticism of some of his (at least for now) undocumented claims.

If I'd had the chance to follow-up after his answer, I would have.

AVoiceFromAmerica

@MonaHol – I think one must always be an 'open-minded sceptic', and I think you fill those role very well.

AhBrightWings

My question: given the enormity of what you are facing now in terms of repercussions, can you describe the exact moment when you knew you absolutely were going to do this, no matter the fallout, and what it now feels like to be living in a post-revelation world? Or was it a series of moments that culminated in action? I think it might help other people contemplating becoming whistleblowers if they knew what the ah-ha moment was like. Again, thanks for your courage and heroism.

John Duncan

I would like to ask Edward what motivated him to donate to Ron Paul's presidential campaign and if he's aware that Ron praised him recently. Does he believe more Americans should listen to Ron Paul's message?

anagama

@John Duncan – As a liberal who voted for RP in 2008, I can tell you my motivation despite having large swaths of disagreement with him: nothing else really matters if you are dead or in a gulag. I thought it would be interesting to see a major party care about civil liberties. Didn't really work out so I just went w/ Stein last time around.

As for a question:

Do you think third parties can play an important role in American politics beyond providing a platform for protest voting? Or more importantly, is there anything you can say on whether third parties have been targeted by spying operations in an effort to hold them back?

pete_needham

@anagama – Ron Paul? Ben Stein? You've got a weird definition of being a liberal.

Cynical007

@pete_needham 17 June 2013 4:10pm. Get cifFix for Chrome.

It's the definition of liberal which is used everywhere else in the world. 'Liberal' only means 'right-of centre, socially liberal, Democrat supporter' in the United States.

anagama

@pete_needham – That would be Jill Stein.

Basically with the Greens you get the civil liberties/anti-war issues that Paul had correctly nailed, without the economic crazy. But, while RP had just a snowball's chance, he was in one of the major parties which made his snowball just a little bit more likely. So I experimented — I met some great people who became good friends … and some of the weirdest people I've ever known (*).

* (This is from a guy born of hippies living in VW bus in the National Forests of N. California. Eventually we did move into a cabin without indoor plumbing, and later a little farmhouse, and though I've had opportunity to meet many interesting nuts in my life, none could match the fringiest of the RP camp. They were not representative of the vast majority, but I also think they harmed RP because they got a lot of the attention.)

orwhatabout

Use proportional voting.

The math of the US' current voting system (first past the poll) tends towards a two-party system.

ellipsis10

@Cynical007 – Rand Paul is not right of center; he's far right. And a foul, opportunistic mountebank.

Cynical007

@ellipsis10 17 June 2013 7:17pm. Get cifFix for Chrome.

You seem to have misread my comment: I was listing qualities which are regarded as 'Liberal' in the United States but are not actually liberal in the normal definition of the word. Nowhere did I suggest that either Ron Paul or Rand Paul are Democrats.

drone_target

@TiredOfGames – It was my impression that they were the collection/storage point of our data.

William Dunn

@drone_target – What is a fusion center . Like a big NAS system or something?

T F

@William Dunn – First of all, thank you very much for that question. Second a fusion center is a branch of the Homeland Security that is used in national security. It is a under supervised and very classified collection of all information. Each center has its own guidelines and protocol so to say what they do would not be a very exact or specific to our understanding.

Third, WTF is a fusion center? Who knows in all reality.

AhBrightWings

Another one: If you could safely return home with no fear of persecution (and prosecution) would that be preferable to seeking asylum in another country? Or, has what you learned so soured you on the US that living abroad has become a better option? Thanks.

Conor O'Riordan

Can I first say thank you Mr Snowden and that you are a very brave man.

My question is very simplistic; Since you don't expect to ever return, what will you miss most about America?

Iamnotalefty

Probably the freedoms protected by actions like the ones he 'exposed'.

pete_needham

@Iamnotalefty – I was in the service for 25 years, and I support Snowden 100%.

Oinia_

@Iamnotalefty – Name one "freedom" NSA surveilling the entire internet protected.

It violates the freedom of privacy. Freedom from government "search and seizure." Freedom from government intrusion and monitoring.

Bo Yu

@Conor O'Riordan – safety of his family. FBI could hold his family as hostage to force him come out from hiding.

ActivistGal

You have said HERE that you admire both Ellsberg and Manning, but have argued that there is one important distinction between yourself and the army private…

"I carefully evaluated every single document I disclosed to ensure that each was legitimately in the public interest," he said. "There are all sorts of documents that would have made a big impact that I didn't turn over, because harming people isn't my goal. Transparency is."

Are you suggesting that Manning indiscriminately dumped secrets into the hands of Wikileaks and that he intended to harm people?

jabberwolf

@ActivistGal – I think that's exactly what he was claiming. Manning was also working in the military and in a military position. It was Wikileaks that managed to redact a lot of the material and not Manning who didn't bother to do any redacting.

I wish though Snowden talked with a high profile attorney – via some 3rd party means of communication, to get a very good legal argument of why the USA though they could do this legally – and why it is very ILLEGAL. Hell get Judge Napolitano to write a brief for him.

ron_nadbornik

What makes you think that you are so knowledgeable? This information has been widely known for many years, so you are claiming credit for something which you do not deserve credit for

kavi08

@ron_nadbornik 17 June 2013 2:15pm. Get cifFix for Firefox.

If that's the case, why did the Director of National Intelligence, James Clapper, say "The unauthorized disclosure of information about this important and entirely legal program is reprehensible and risks important protections for the security of Americans"? That clearly implies Snowden has disclosed information that we didn't know before, or at least brought it into the public eye.

ron_nadbornik

is it at all possible that your motive was to get famous from this and then reaping the financial rewards (through books, movies, tv, etc.)?

monkie

@ron_nadbornik – i would like to ask edward snowden if people like ron are the reason the planet is in the state it is in, and if locking up people like him would solve these problems in his opinion

Sybantcho

@ron_nadbornik – don't you mean richer? He was already earning a lot and very living in Hawaii comfortably, a lifestyle the envy of many, and he walked away from it into this…do you really think that he is doing this for the $? Its apretty cheap reason…and i am sure with his skills he could easily earn a lot of money in a much less riskier way…

Sybantcho

@monkie – then again you might be a troll…sigh

Green Grrrl

@greengrrrl – For the record, the above commenter is an imposter, and I am reporting them to the Guardian.

monkie

@ron_nadbornik – i think its quite obvious, if any adult within the radius of a drone strike is a potential terrorist who can be killed without oversight then locking up parrots that are potential enemies of democracy and peace seems a reasonable suggestion.

JohnHerrmann

@ron_nadbornik – Parallel computing is far more advance today than even a few years ago. 702 and 215 are significantly enhanced by the new kind of super computers. Not sure 702 and 215 were even around "many years" ago.

freeadsug

I think this Snowden info isn't new to most people. Since the 9/11, this is what governments everywhere do to get information especially in the fight against terrorism. Times have changed.

Michael Kwiatkowski

@kavi08 – Right, because it's not like a public official whose agency has been caught redhanded breaking the law and violationg the Constitution would ever lie to us…

/Sarcasm

LandOfConfusion

@freeadsug -

The focus on 'terrorism' is a distraction. The bastardised meaning of 'terrorist' these days can be attributed to anyone who the US or UK governments don't want around, or who do or say anything that might threaten them. The goalposts for the definition are on wheels.

Look up the actual data on the Global Terrorism Database (compiled by the University of Maryland). Apparently such dangerous people as animal rights and environmental protesters are great threats to US national security.

Then look up the legislation that's been passed in the last few years on both sides of the Atlantic. It's not pretty.

captainbeefheart

@Green Grrrl – Yup; looks like it. Come on CiF only today and posted 6 negative comments on this thread only.

wendybatt123

Further evidence for Treason. Not that any more is needed…….

AhBrightWings

@wendybatt123 -

Further evidence for Treason. Not that any more is needed…….

I'm intrigued. What part of taking part in a question and answer session rises to "treason"? Perhaps you could clarify…

Fred Fargo

@AhBrightWings – Rule of law. The 5th column hard at work.

HaraldK

@AhBrightWings – Isn't it obvious? The public is the enemy!

ScuzzaMan

@wendybatt123

Further evidence for Treason. Not that any more is needed…….

A couple of questions for you:

1. Which document is "the supreme law of the land" in the USA?

2. Who broke this law; Snowden or the federal government?

No pressure, take your time …

monkie

@ScuzzaMan – and i would like to ask, who in the world really cares about the US and its laws, it does not seem to care about "us" and international law.

AngelaTC

@wendybatt123 – Maybe you're not American, but our Consitution narrowly defines treason, and while what Snowden has done is clearly illegal, it is not treason here.

(And just because an action is illegal doesn't make it wrong. Snowden is a hero who took his vow to defend Americans from enemies both domestic and foreign seriously.)

ContraryGit

@wendybatt123 -

Further evidence for Treason. Not that any more is needed…….

If you don't want to be disappointed, don't go looking up the definition of treason in the US constitution…

pete_needham

@wendybatt123 – Wendy…I can just see you in Germany in the '30s: "Gestapo! There's a Jew!", or in the US before Lincoln: "Policeman! Runaway slave!"

LostintheUS

@AngelaTC – The definition of treason is aiding and abetting the enemy. Edward Snowdewn provided information to the American people. The administration, aided by Congress and the Senate, trampled on the 4th amendment.

I think it's pretty clear who committed treason.

I think it's also clear that the government (which acts for the plutocracy) considers the people to be the enemy. (Hence, treason by providing information to the people.)

This revelation has confirmed what we have suspected; that the government is providing information about environmental activists to the real ecoterrorists such as Keystone pipeline, TransCanada, the Banks, Peabody Coal, etc. etc.

Thank you, Edward Snowden. You are the definition of a true patriot and you are in many people's prayers. Thank you for standing up for my grandchild's freedom.

Bo Yu

@ScuzzaMan – the government broke the law first, then snowden broke the law make by the government.

rogerspringfield

@monkie – Well, if you read a lot of the comments, one would think that not many do care about our own law. International law? Most of us probably could care less. Otherwise we wouldn't be violating it so often. Besides, I don't think that we are bound by international law because we give out so much aid to other countries so, consequently, no one will hold us to it. Know what I mean?

wildworms

1. Which document is "the supreme law of the land" in the USA?

The dollar. ;-)The same as it s in any country.

Snowden decided he didn't want to sell his soul to the military-industrial complex for $125 000 pa, deciding instead it's more important to serve the US public.

When I frame it in those terms, is it any wonder so many people are screaming "traitor"?

wildworms

@ScuzzaMan – I'm a huge admirer of that other piece of paper, the Bill of Rights, but I think you'll be disappointed if you expect the US Supreme Court to come riding in to the rescue. See Smith v. Maryland, 442 U.S. 735, 744 (1979). The 4th Amendment and a few other Amendments are toothless in the age of electronic communications.

Jay Dunphy

Edward,

Can you address whether phone content — not just metadata — is being obtained and stored?

wildworms

@chrisbuckley -
I read the article you linked to. It implies that it's "only" the metadata that's being collected in bulk.

In my opinion, bulk collection and archiving of metadata is dangerous enough. The metadata probably contains even more abusable info than the content of the calls.

BUT… quoting Snowden from above the line:

More detail on how direct NSA's accesses are is coming, but in general, the reality is this: if an NSA, FBI, CIA, DIA, etc analyst has access to query raw SIGINT databases, they can enter and get results for anything they want… The restrictions against this are policy based, not technically based, and can change at any time. Additionally, audits are cursory, incomplete, and easily fooled by fake justifications.

wildworms

Snowden's comments imply that NSA officials can access phone call content at will but there is no bulk screening of phone call content.

johnjac

Can you explain the confusion around the term "Direct Access to Servers" seen in the PowerPoint slides?

NeilJK

To further clarify this point:

Since your disclosure, governmental agencies and affected corporations such as Google have all flatly denied that government agencies have carte blanche to access user data from their servers. They appear to be saying that there are some kind of quarantine servers which mirror information about a handful of accounts, as ordered by a judicial warrant such as FISA or other legitimate law enforcement request.

In response, Glenn Greenwald has re-emphasized the "direct access to servers" line in the PowerPoint. However I'm not sure he's the best person to interpret this, unless you have otherwise instructed him.

Please clarify!

Green Grrrl

More specifically, can Snowden address the assertion that "direct access to servers" actually means "limited access to a 'lock box' that is separate from the servers"

(I understand that this makes no sense whatsoever, but it is an argument that apparently has legs and I would like to know if Snowden can offer any clarification.

Mark Jaquith

@johnjac – The phrase "Direct Access to Servers" appears nowhere in the released slides. The actual phrase was "collection directly from the servers".

Bo Yu

@Mark Jaquith – I saw in the news few days ago. companies send file via FTP to NSA or deliver in person.

Gegenbeispiel

@Bo Yu – If they send it by FTP, any pretence of privacy is false. FTP is hopelessly insecure, even warez traders can easily break into an ftp server.

Gegenbeispiel

@Gegenbeispiel – He's already replied to that above. $200000 was his best-year total income, $122000 was his current base at Booz.

chrisbuckley

Thinking of raising the next generation of digitally savvy children: what practical steps can parents take to protect, and build appreciation for, our kids' online privacy without completely cutting them off all digital media until they are no longer minors?

KatjaKat

@chrisbuckley – Make them read some Cory Doctorow novels. I highly recommend Little Brother!

D. Aram Mushegian II

Did you lie about your salary? What is the issue there? Why did you tell Glenn Greenwald that your salary was $200,000 a year, when it was only $122,000 (according to the firm that fired you.)

WUW_Dave

@D. Aram Mushegian II – Or is it a base salary vs. bonus issue? (I assume you refer to "total compensation" including bonus while at Booz Allen.)

ContraryGit

@WUW_Dave – This is what I suspected – that $200k was the total remuneration including salary, bonus, stock options, benefits etc.

TellmehowUreallyfeel

@D. Aram Mushegian II – Most fortune 500 firms et. offer packages; base salary, benefits (33% additional to salary) mid and or year end salary bonus; all stated in contract. The firm that fired him (BAH); had no choice because of the sensitivity of the firms business services; their stock decreased for a period of time; obviously, he's not coming back; et.; business decisions.

Marsha Badanes

@D. Aram Mushegian II – I don't care whether it was $200,000 or $112,000….(he's only 29, by the way).

What should be of more concern is that private corporations are controlling US surveillence. BTW Booz Hamiliton's is run by the former head of the NSA.

Marsha Badanes

@D. Aram Mushegian II -

Booz Allen is to our privacy what Monsanto is to our health. A bad idea.

"The chief architect of Booz Allen's cyberstrategy is Mike McConnell, WHO ONCE LEAD THE NSA AND PUSHED the United States into a new era of big data espionage."

Ziontrain

@Marsha Badanes – With all due respect, while I dont like either company it's hard to view Booz as a protagonist in the way that Monsanto is.

Monsanto is setting agenda, buying off legislators, legal systems, judges and everything. Sometimes even entire goverments.

In contrast, Booz Allen is a contractor, the provide a service. They dont set the national security agenda really. They just implement it. What's going on is serious but it has to be blamed on the executive brand, the acquisent legislature and the judges that are all AWOL when it comes to providing the checks and balances and gravitas that their arm of government should provide.

Not least the voters for being so easily hoodwinked by a gang of charlatons who pretend to be competing at "elections", when they are all the same.

Cant really put Booz Allen as the core culprit amidst all of that.

D. Aram Mushegian II

@D. Aram Mushegian II 17 June 2013 2:16pm. Get cifFix for Chrome.

He answered the question, so you can stop writing responses here.

I was debriefed by Glenn and his peers over a number of days, and not all of those conversations were recorded. The statement I made about earnings was that $200,000 was my "career high" salary. I had to take pay cuts in the course of pursuing specific work. Booz was not the most I've been paid.

Chris Kapilla

Has there been any evidence that you have uncovered that current leaders have been blackmailed by the NSA?

krrrlll

@Chris Kapilla – An excellent question and one that has been on my mind too and was probably the most significant that Mr. Snowden stated in his first video interview with Mr. Greenwald.

Given all these revelations and the fact that Mr. Snowden himself stated that (paraphrasing)

"if he were given an e-mail (or the authority to do so) he and other intelligent analysts had the "capability" of monitoring even the Presidents phone calls and/or e-mail".

It screams for the question to be asked of whether many of our political leaders have been compromised internally by members of the military and gives credence to the claim that there has been a silent, soft coup d'etat which is quite real and not the stuff of conspiracy theorists.

AhBrightWings

@Chris Kapilla -

Yes, this is a critical one. Someone, on the first thread that broke the story, wrote (unfortunately in ALL CAPS…so hard to read) about some of the truly dire implications of this revelation. He or she flagged this and rigging elections as a major concern. They are, and any clarity on how likely these two outcomes are would be welcome.

Fred Fargo

@krrrlll – Yep too bad we'll never be able to ask the man direct questions. He has lied a few times. The dance is not over till it is over.

ScuzzaMan

@Chris Kapilla

There was that little contretemps a couple of years back, over phone tapping of Senators …

questioning100

@Chris Kapilla – I also think this is a key question. As there is the potential for those in power to blackmail others. In particular those who are seen as a threat and not just your average citizen

Samuel Smith

Direct blackmail isn't needed. Every politician out there knows that their personal-private life is being scrutinized. That is stifling enough. Any politician with secrets or loved ones with secrets or problems with the law for instance is not likely to come out against the intelligence community. I would say that a silent subconscious deal has been made without the need for blackmail. The Sword of Damocles hangs over our leaders head.

ID9632106

Have you made clear the mass of data surveiled is de-identifed?

LandOfConfusion

@ID9632106 -

De-identified? There's a mass of data.The stuff that analytics algorithms have a field day with. Personal identity can be deduced from it. And it's far more valuable than the content (text, voice). It would tell the intelligence agencies, police or government departments way more about a person's whole life.

The "your phone calls aren't being listened to" and "Your data is anonymous" lines are whopping red herrings. The metadata is the real prize for the NSA et al.

bobsyouruncle1

How do you feel about the fact that you are vilified by "liberals" and "democrats" who are aligned to the White House and the Democratic Party? Given that these are the very people you wanted to inform?

StarChild888

Why have you revealed US and UK intelligence operations in China, Hong Kong, and against G20 leaders?

KatjaKat

@StarChild888 – This questions sounds awfully like an accusation to me. Evidence?

ID1231596

Bravo for being brave enough to make transparent what the US government should have made transparent long ago. Is there anything tweeps can do to help you & if so, what? #AskSnowden

TPSpacedOut

Edward Snowden, a BIG thank you for the work you have done. Q: How are you managing with your funds running out? Praying for your safety and vindication. God bless you.

Guardian contributor

JeremyLeggett

How much should we fear complicity by Google and other such organisations in Obama's drift towards creating the infrastructure of turnkey tyranny? My charity @SolarAid won £half a million in Google's Global Impact Challenge. How do you feel about us taking that money?

Gabrielaweb

Why did you wait to release the documents if you said you wanted to tell the world about the NSA programs since before Obama became president?

AlKaiEeder

@Gabrielaweb – he's already answered this elsewhere. Answer was because he though Obomber might actually stand for change and institute it.

TheFree_Lance

At NSA/contractor:

– Did you see any other FISA court rulings?

– Did you ever directly interact with the FBI and if so, in what capacity?

Anthony De Rosa

1) Define in as much detail as you can what "direct access" means.

2) Can analysts listen to content of domestic calls without a warrant?

monkie

@Anthony De Rosa – personally i dont think those questions matter.
the wrong questions are being asked. silly questions when you think of the monumental importance.
there is one question that needs asking that no journalist is.

are the security services storing all the contents of calls and online communications of everyone without a warrant.
not can they listen, are they storing.

Green Grrrl

@Anthony De Rosa – Can someone with knowledge of this stuff translate Snowden's reponse for us non-tech types?

PaulDanielAsh

@monkie – Asked and answered:

If I target for example an email address, for example under FAA 702, and that email address sent something to you, Joe America, the analyst gets it. All of it. IPs, raw data, content, headers, attachments, everything. And it gets saved for a very long time – and can be extended further with waivers rather than warrants.

SpectreXx

Hello,

The corporate media in the United States is attempting to discredit you, launching a seemingly coordinated campaign around two central points. Could you rebut them so that there is some push back to their narrative? Basically:

1) They allege that going to Hong Kong, either implies some form of hypocrisy, or worse, they insinuate some sort of "betrayal" by going to the Chinese. Can you address this?

2) They allege that you couldn't possibly have access to what you claimed to have access to, due to the biographical details of your life, i.e. lack of a prominent degree. Can you explain more about your skills, and how common it might be fore someone like you to have achieved that kind of access?

3) They allege that PRISM is a vital tool for national security. Strictly from a utilitarian standpoint, legality aside: In your experience, was PRISM useful, useless, or worse, a waste of time rife with abuse?

Thank you for having taken a stand, and stay safe.

LandOfConfusion

@SpectreXx -

due to the biographical details of your life, i.e. lack of a prominent degree.

It appears that lack of exposure to the Greek system is not a bad thing: it seems to do wonders for a person's honesty and integrity.

tikkamasala

Thanks for make news interesting once again. Be safe.

1. Why did you choose to go with Glenn Greenwood and Laura Poitras?

2. So far are things going the way you thought they would regarding a public debate?

tikkamasala

Typo: Greenwald NOT Greenwood.

PS: You are a very courageous man Edward Snowden, Currently, the majority of people support you. I believe its ranks will swell.

ID6512838

If you could wind back the clock, would you reveal the NSA secrets again?

LandOfConfusion

@ID6512838 -

He already knew what fate awaited him. I don't think I'm the only person on this planet who believes he would do it again in a heartbeat.

AdeptSaturos

Is AES 256 still safe? TLS/SSL? What can we trust in? Tor is no longer viable for anonymization, only for going around blocks, is this the best we have?

ron_nadbornik

great question…. his action is sure to prompt lots of $$$ U.S. into data encryption research

mjtrac

@AdeptSaturos – I agree that this is a great question, though it's no longer clear how anyone can assure us a particular approach is safe. I'm curious how much Snowden knows of the history of intelligence agency abuses, and whether he feels things have become worse, better, or stayed the same under the current admin.

JP de Ruiter

Question for Mr. Snowden: What did your colleagues and superiors at the security firm that you worked for thought of the massive invasion of privacy of the people they were spying on? Were they excited about it? Did they enjoy the feeling of omnipotence? Were there any signs of "guilt feelings" in your co-workers? And if so, what were the rationalisations for doing it (if any)?

LeDingue

@JP de Ruiter 17 June 2013 2:20pm. Get cifFix for Firefox.

Binney talked about this in his recent Democracy Now! interview. He said he thought 85% of the NSA technical staff were of a personality type where they focussed narrowly on the work they were tasked with, many were of a generalised 'introverted' character. And 15% were of the approving red-neck type.

There is one former transcription worker (a woman) who I've seen in interviews talking about how disturbing it was listening to obviously personal family calls of US military in the war zones.

LandOfConfusion

@LeDingue -

I've found that there was a great deal of blinkeredness in many of the techies I used to work with. All they saw was the system, not the (potential) bad consequences that implementing such systems might have for people at the macro level. It was always "can we do it" instead of "should we do it".

LeDingue

@LandOfConfusion 17 June 2013 6:57pm. Get cifFix for Firefox.

It was always "can we do it" instead of "should we do it".

I'd guess that the management and team structure is designed to instil this kind of psychology.
Also, I'd imagine that work is compartmentalised with anti-whistleblowing in mind. The bosses on the other hand will only consist of the militarised group-think psychology (and the NSA is afterall a military agency).

norris_edgar

Firstly I think you are incredibly courageous for what you have done and that history will hopefully remember the service you have done for the 'free' world. My question is why did you choose not to go to Russia or China? In my view these two countries are the only two with the political clout to stand upto the US government. Was it fear of being seen as a defector?

Drewv

@norris_edgar -
Or, why not Venezuela or Ecuador? Did you fear additional smearing in the US media as a result of choosing countries with democratically elected but left-populist leaders who have been very critical of the US government themselves?

mstachyra

Mr. Snowden,
You have said in previous interviews that you fled to Hong Kong because of the region's commitment to free speech. However, many in the media have pointed out that Hong Kong actually has a long track record of approving extraditions to the United States. The consensus among experts seems to be that while you may be able to delay, you will eventually be extradited. How did you arrive at the decision to go to Hong Kong? Did you consult with an attorney or have any reason to believe the local authorities would allow you to stay? If you had to do it over again, would you choose another location?

TallyHoGazehound

Hello, Edward. It's a privilege to have you here, and not a privilege I take lightly.

I'm wondering about the effects of your leaking surveillance information re: the NSA's activities in countries outside of the USA; eg, intercepts at the G20 and information you shared with the South Morning China Post. As a result of that, some think you have injured your credibility as a whistle blower, and are moving yourself into a less politically defensible position.

Might you offer your thinking, or elements of your thinking, on how these revelations of NSA activity outside of the USA fit with the mission you set for yourself?

XNoArchive

To what extent do you believe US tech corporations such as Google and Facebook were aware of and complicit in government spying? Do you believe the extensive links Google has with David Cameron & the Tories, the Obama administration, the US state department and the various Intelligence agencies were instrumental in this operation?

Do you have any reason to believe these corporations have benefited from their collaboration?

jmo333

Mr. Snowden, If you were given free reign to reform the U.S. surveillance system what steps would you take to ensure that we would not be subject to the egregious violations of the 4th amendment that you have uncovered? Please be as specific as possible re: the technical aspects of this. Thanks! JMo

Yaniv Tal

@jmo333 – This is the single most important question to ask. Please Bump!

citizen86

Are you somehow able to follow the public discussion and what do you think about the direction it is taking? Do you feel that your most important goal to raise a debate about surveillance has succeeded?

IN_____

@citizen86 – Was the time chosen for the "revelations" and "leak" part of a bigger picture? Or was it simply time enough or as long as you could safely wait for this debate?
Is the timing with Bradley Manning's trial coincidental – and if so, do you think this case is drawing media attention away from his trial? I know the two cases are fundamentally different but as both are (in some views) whistleblowers, I'm not sure whether Snowden has dwarfed Manning or whether its got more people thinking about whistleblowing & the related issues (government propaganda, prosecution, war crimes/foreign policy/surveillance)

Michael S

What do you know about the 800+ FEMA camps in the US and the declassified REX 84 operation? As well as the Executive orders that are in place waiting on a 'martial law' incident to push the programs in to full operation.

AhBrightWings

@Michael S -

I would also like to know more about the putative FEMA camps; this has been a powerful story/rumor, one that often carries charges of conspiracy theory in its wake. Can you clarify for us anything about these alleged camps?

FWIW I'm highly skeptical, but, then again, thirteen years ago I never would have believed anything that has transpired in our post 9/11 world. The line between theories and acts collapsed –in too many instances –a long time go.

Michael S

@AhBrightWings – Umm..its very real. Do your own research on it. Many citizens have, since the mid 90′s, have been recording on them. The army have release their own documents on the camps.

http://armypubs.army.mil/epubs/pdf/r210_35.pdf

If you take the time to read through some of it, its very very chilling.
And those are not the only documents. There are MANY. Just look for them. Many free documentaries on youtube as well about all of it.

AhBrightWings

@Michael S -

Yes. I know. And they don't rise to the level of a reliable source, nor have they been verified. For each site claiming there are ones; there are several maintaining there aren't. For example, the famous photo showing an alleged camp has been debunked as a photo from North Korea. It's precisely because there is so much information, and all of it radically contradictory, that I'd like to hear his take on it.

JohnCasper

Mr. Snowden, thank you for your great courage in defending the U.S. Constitution.

Only if you care to comment,

(1) why has NSA not brought child traffickers (who use Facebook and Google) to justice?

(2) They got Gov. Spitzer, why did NSA not help hold Wall Street accountable for crashing the economy in 2008?

I think Glenn Greenwald was the right choice to break this crucial story.
FWIW, John Aravois asked why you are helping the Russians. http://americablog.com/2013/06/edward-snowden-nsa-russia-medvedev.html

dvdvdv

Hi Ed: Are you in a position to pay for adequate legal representation in Hong Kong and the United States? Do you have plans of setting up a legal defense fund?

Aggrieved

Edward Snowden, you deserve all the praise that concerned people convey to you! Tell us how we, US citizens, may help protect you and also enable the reversal of the governmental betrayals you have disclosed.

Peter Cassell

@Aggrieved – As good as Snowden's actions have been so far, I don't think that is correct to ask him what to do to better the situation of public privacy and security.
I believe is he doing the right thing when he said he wanted society decide on that!

Aggrieved

@Peter Cassell -

I take your point.

Discurz

Have your views about the American government, and about the foreign policies of other governments, changed in light of their (in)actions since your revelations went public?

Related to the above, you said (paraphrase) that your worst fear was that your revelations would produce little or no change. There's now a (short) history of public and government reactions. Can you elaborate and nuance whether and how your worst fears are coming true?

Patricia A Morlan

Thank you for risking your life to reveal proof of the illegal NSA spying.

Are you aware of any specific people or groups of people (Congress, the media, political groups, etc.) who have been illegally targeted by the NSA?

Is any of this NSA spying info given to local law enforcement for investigating things other than terrorism?

LostintheUS

@Patricia A Morlan – Environmental groups….Keystone Pipeline, TransCanada…they are monitoring and sharing information on Occupy Wall Street, etc, etc.

rikardlinde

Thanks for your bravery. Does the NSA have access to people's browsing history? Did you have access to it?

knowtheory

I'm a programmer and policy nerd. My friends and i have been trying to understand the broader program which the government has in place to do surveillance.

We were wondering if you could help shed some light on a few topics, programmer to programmer.

There are a number of slide decks and presentations from a few years ago, clearly oriented at government and terrorism related topics, which discuss building a semantic web platform for government. In essence a gigantic queriable fact database, with pluggable ingestion points.

Does that square with your understanding of how the government does data analysis?

Also, just for the record, in the face of denials from tech companies like Google, are there clarifications you could make to explain PRISM?

wendybatt123

Can I ask you? Did you not consider that it was extremely arrogant and very naive, being a very small fish in the sea, to think that you had all the information that policy makers have in National Security to base their actions from? You see a small segment of activity and you say "Hey……Here is Truth". You are not God ! There is a collective ABOVE you who sees the bigger picture…..I have no doubt that you will realize your delusion in due course at a very grave cost to humanity…..

evenharpier

@wendybatt123 -

You are not God !

Neither is your Big Brother.

AhBrightWings

@wendybatt123 -

There is a collective ABOVE you who sees the bigger picture…..I have no doubt that you will realize your delusion in due course at a very grave cost to humanity…..

This and your extraordinary first post in which you charge that this forum is treasonous are the clearest distillation of the mentality that made making this revelation absolutely fundamentally necessary.

You charge him with arrogance? Your dangerous assumption that we must answer to a "collective" force "above" us (did you mean to invoke the language of the gulags or was that unintentional irony) is why Snowden is a hero. It's going to take a monumental force to change that kind of thinking where complicity with surveillance and war crimes is preferable to speaking out.

Your sentiments pose "the grave(st) cost to humanity" I can imagine.

wendybatt123

@evenharpier – Every collective in charge of an organization makes decisions based on ALL the facts……and it is debated. No one should consider themselves gods….

wendybatt123

@AhBrightWings – We do need a collective to govern us, otherwise hot-heads and extremists cannot be "normalised"..People who are ill, do not realize they are ill. Grandiosity to this extreme is a symptom of psychiatric problems..

ScuzzaMan

@wendybatt123

Every collective in charge of an organization makes decisions based on ALL the facts

Actually, the history of the US government, and its allies, in the War on [of] Terror, is that it makes the facts based on the decisions.

AhBrightWings

@wendybatt123 -

@AhBrightWings – We do need a collective to govern us, otherwise hot-heads and extremists cannot be "normalised"..People who are ill, do not realize they are ill. Grandiosity to this extreme is a symptom of psychiatric problems..

Here's hoping this is sublime snark. Did you know that Stalin's favorite trick was accusing people of mental illness to justify sending them to the gulags to be "cured" and "normalized" ? That mentality was shared by some of the world's most deadly dictators.

If not Poe's law, this reads like one of his nightmare visions.

followingInformation

@wendybatt123 – a tenner says you have "hope and change" and a "coexist" bumper stickers on your Prius.

WUW_Dave

@wendybatt123 – You do not seem to be very intelligent. "Hot-heads" and "extremists" — "normalised" … Your posts here are unproductive and you are not presenting a very strong argument for your side here. You might consider a "read only" approach.

whereisthetruth

@wendybatt123 – I'm sorry but that collective that you refer to does not represent us nor work in our interest.

wendybatt123

@WUW_Dave – Intelligence? What? And you consider it 'intelligent' to reveal your own country's national security secrets/methodolgy to your enemies/attackers? Excuse me for waking up to reality. Do the same !

wendybatt123

@whereisthetruth – It may not work in your or your groups particular interest, but it has a wider problem to consider first…..Your National Security….

DarkhorseNYC

@wendybatt123 – Wow, you're a true American crypto-fascist two-party idiot. Good luck with that. I see it's done wonders for you so far.

drdave39

@wendybatt123 -

how can it be debated when the facts are hidden from those the affect?

Take your time…

selinejung

What is your opinion on the mainstream media in the U.S. – are journalists and the media a trustworthy and credible messenger to carry information from government to public?

Carsonk

Much has been written about how you could have taken all of your 'complaints, disagreements, concerns' through "proper channels" available to you. But according to several who know better, such as Jesselyn Radack, Thomas Drake, William Binney, Glenn Greenwald and others, that is simply an absurd fallacy. Would you please express your first hand knowledge about the "proper channels" myth?

LandOfConfusion

@Carsonk -

He described how he was stonewalled in his first interview.

Carsonk

@LandOfConfusion -

He described how he was stonewalled in his first interview.

I'm aware of what he said in his first interview. I asked Snowden the question, not because I am not or was not aware of the stonewalling. I asked him because I wanted others who have either been lying about that, or those taking dictation from the government about that, and those who blindly believe the dictation when they here or read the dictation repeated to read what Snowden has to say about it now.My purpose for asking the question in this forum, dated after his going public was for others to read what he had seen before and since he spoke on the NSA issues. As can be seen by the recommends to my question, many others were also interested. Snowden, in some respects, answered the question with what he wrote in reply to Jacob Applebaum.

NoneMoreBrotherly

US media keeps droning on about your education. Is it necessary for a spy and techie to have graduated from Harvard and Yale (like that preeminent scholar George W. Bush) to be good at his or her job?

SeriousCallersOnly

In your video interview, you described what sounds like unilateral, direct and unsupervised access to online account data from various providers given an email. This assertion of 'direct access' has been vehemently denied by the internet companies concerned and various US politicians and has been the subject of much debate – given the very vague details released so far, it's hard to do know which point of view is closer to the truth. Can you expand on that and describe exactly what the PRISM program involves (as you understand it), and why you feel it is so dangerous?

wdowell

@SeriousCallersOnly 17 June 2013 2:25pm. Get cifFix for Chrome.

I agree that we need proper technical information on what happened.

Was it through splicing of the fibre? If so is 'encrypted' data unlocked due to co-operation from the list of companies or simply unlocked through brute force?

KateDoak

While there's been a lot of focus on companies such as Google, Facebook and Microsoft, there's been little to no focus on the network hardware and infrastructure element of NSA's online intelligence program. Over recent months it's been shown that Cisco network infrastructure can be easily hacked and turned into intelligence gathering devices. This includes the same generic user names and passwords placed on each individual unit of specific Cisco products. This has resulted in Australia banning Cisco from being used in their National Broadband Network.

What relationship has NSA and other Western intelligence agencies had with companies like Cisco throughout the past decade or so? Also to what extent has US Intel gathering focused on this specific access method?

LandOfConfusion

@KateDoak -

John Chambers of Cisco Systems was at the big 'summit' meeting Obama had with the Silicon Valley boys on 17 February 2011.

Obama signed the FISA Sunsets Extension Act (enabling the 4th amendment workarounds to stay in place) just over a week later.