Ankara protesters clash with Turkish police
Anti-government protests in Turkey are entering a second week
Police in the Turkish capital Ankara have used tear gas and water cannon on demonstrators as anti-government protests get into a second week.
About 5,000 people had gathered in Kizilay Square in the city centre. Protesters and police also clashed in Istanbul, Turkey's largest city.
Turkey has seen a week of civil unrest sparked by a police crackdown on a local protest over an Istanbul park.
Earlier, Prime Minister Recep Tayyip Erdogan ruled out early elections.
"You don't decide on early elections because people are marching on the streets," he said.
Local and presidential elections would take place next year as scheduled, said an official from Mr Erdogan's governing AKP (Justice and Development Party). A general election is due in 2015.
The AKP has been in power in Turkey since 2002. Protesters say the government is becoming increasingly authoritarian and imposing Islamist values on a secular state.
In Istanbul, supporters of three rival football clubs – Fenerbahce, Galatasaray and Besiktas – set aside their differences to march together to Taksim Square, the epicentre of the protests.
"We're here against fascism, all together, shoulder to shoulder. Actually we should be thanking Tayyip Erdogan for bringing us together. He united the entire country [against him]," an unnamed Fenerbahce supporter told the Associated Press.
*****************************************************************************
Erdogan Denounces Protest Violence, Says Demands Welcome
By Selcan Hacaoglu &
Taylan Bilgic
–
Jun 8, 2013 11:58 AM CT
Huseyin Celik, deputy chairman of Turkey's ruling Justice and Development party, denied opposition demands for early elections and said the country won't bow to financial speculators seeking to profit from the unrest.
Celik, speaking after a more than four-hour meeting of the party's executive committee in Istanbul today, said that while the government would listen to "legitimate demands" from the people, elections would only take place as planned in 2015.
"There is absolutely no reason that would require early elections," Celik said, rebuffing earlier comments from opposition leader Devlet Bahceli. The government won't "bow to demands from government opponents or the interest rate lobby."
Prime Minister Recep Tayyip Erdogan, who returned yesterday from North Africa amid protesters' calls for his resignation, led the party meeting. The event was brought forward from June 19 after rallies against plans to build on parkland in central Istanbul turned into anti-government demonstrations.
After several speeches condemning protesters, Erdogan yesterday spent time defending his government's democratic credentials and environmental record. He condemned the protesters' methods, saying they were violent, while expressing readiness to listen to demands voiced democratically.
Thousands of protesters held peaceful vigils against the government in Ankara and Istanbul yesterday, while police fired tear-gas canisters to disperse a group of demonstrators who had set roadblocks on fire in the low-income Gazi neighborhood of Istanbul, according to a report in Zaman newspaper today.
Alcohol Sales
Protesters have said Erdogan has become too autocratic, citing police violence, increased religious lessons at schools and curbs on alcohol sales.
"We're opposed to violence, terror, vandalism," Erdogan said at a conference on Turkey's European Union membership bid yesterday. "For those who come to me with democratic demands, I'll sacrifice my life."
The conference took place at a central Istanbul hotel, guarded by a police cordon, and within walking distance of Taksim Square. The rallies spread nationwide after police used tear gas and water cannons on May 31 against demonstrators who had gathered in Gezi Park near Taksim.
"The Prime minister's time is up," Bahceli said as he called for early elections today. "There is need for renewal of the nation's will. We are leaving the decision on timing of the ballot box to the prime minister."
*****************************************************************************
Lady in the Red Dress and her dream of a Turkish rebirth
The reluctant heroine who symbolises the Istanbul protests tells Ruth Sherlock she believes people power will prevail in Turkey.
Photo: OSMAN ORSAL/REUTERS
With her red cotton dress, white shoulder bag and flowing black hair, she has become the colour-coded emblem of Turkey's new people-power movement.
Caught on camera as she was sprayed head to toe in tear gas, Ceyda Sungur's treatment at the hands of Istanbul's riot police seemed the epitome of using a "sledgehammer to crack a nut" and encapsulated the government's heavy-handed response to a civilised protest.
Pictures of the "Lady in the Red Dress" quickly spread around the world via the internet. Those who shared the pictures online joined protesters in demanding to know why a woman who looked attired for a summer picnic had been treated like a masked, brick-throwing
anarchist.
Last week, Ms Sungur said she was a reluctant heroine, describing herself as just part of a wider grass-roots movement, and pointing out in brief remarks to a Turkish newspaper that hundreds of others had been gassed in similar fashion.
Now, though, having declined requests for interviews from all over the world, Ms Sungur, an academic, has spoken briefly but vividly to The Sunday Telegraph about her involvement in what happened, and how she is now working in a makeshift clinic to help others hurt in demonstrations.
"For me this is about freedom of speech and the power of the people," said Ms Sungur, who was left choking for breath after the gas attack.
"Now people have, for the first time, the self-confidence to reclaim their power. They have the self-confidence to change everything."
The photos of Ms Sungur set off a major escalation of the protests, which have pitted Turkey's secular middle class against what they see as an increasingly authoritarian Islamist government.
So far three people have been killed and nearly 1,000 admitted to hospital, as the demonstrations have spread across the country.
As well as being shared via Facebook, Twitter and other social media, Ms Sungur's image has become a permanent part of the protest landscape, appearing as a cartoon on posters, stickers and banners.
Protesters in the city of Izmir have even turned the image into a fairground-style billboard, where demonstrators can poke their head through a hole where her face is and posing for pictures.
Keen to keep out of the limelight, Ms Sungur, meanwhile, is continuing to work behind the scenes, volunteering at an improvised field hospital in Taksim Square, the epicentre of the Istanbul protests.
"We have created field stations on Taksim Square where we look after people who have been injured," she said, declining to specify further details for fear that the volunteer doctors might be arrested.
Ms Sungur works in the planning department of Istanbul's Technical University, a faculty not normally seen as a hotbed of radical politics.
She had little inkling of the anti-government revolt she was about to unleash when she and a group of architect friends first joined a sit-in to stop bulldozers moving in on Gazi Park, a small patch of green in Taksim Square.
Those friends described to The Sunday Telegraph their shock at what happened next. "Ceyda texted me to get to the park," said Meriç Demir, 28. "Ten to 15 minutes later when we arrived she was yelling from the effect of the tear gas.
Meric Demir. (RUTH SHERLOCK FOR THE SUNDAY TELEGRAPH)
"We were so surprised. Some of us began yelling, 'we are academics, stop this!' Some tried to help Ceyda. We were shocked because you don't even spray insects in your home in such a direct way."
On paper, the protest was little more than an impassioned planning dispute, with a group of environmentalists opposing a government-backed project for an ambitious redevelopment of the area.
******************************************************************************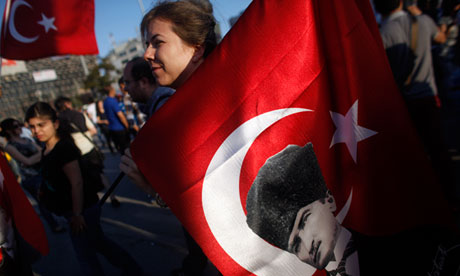 Among the tents, snoozing youth and pleasant shady trees of Istanbul's Gezi Park there are portraits of one man in a European suit. Wherever you look Mustafa Kemal Ataturk – founder of the Turkish Republic – gazes sternly at you. Photos of the first president hang from branches, have been affixed to tea stalls, and even encircle a giant banner showing Turkey's prime minister, Recep Tayyip Erdogan, dressed as Hitler.
"We really love Ataturk. He changed our state. He made it into a modern republic," explained Murat Bakirdoven, a 24-year-old biology student who has been camping in the park for a week. Someone had stuck another photo of Ataturk – this time in a lounge suit, sitting on a leather chair, cigarette in hand – on a nearby tree. Bakirdoven added: "Erdogan wants us to forget him. Instead we are trying to create an Ataturk renaissance."
For the protesters who have taken part in Turkey's anti-government demonstrations, Ataturk is a hero. Dead for 75 years, he has become the reborn symbol of this student-driven anti-Erdogan movement. (The other motif is a penguin – a reference to the state media, which failed to report on the uprising for several days; one channel, CNN Turk, instead screened a nature documentary on Antarctica).
The symbolism goes to the heart of what this unprecedented uprising is about: Turkey's modern identity. At issue is whether Turkey should be the progressive, secular European nation-state that Ataturk originally envisaged and shaped from the ruins of the Ottoman empire, or a more explicitly religious country, a sort of Muslim version of Christian democracy. The protesters want the former; Erdogan, and his ruling Islamist-rooted Justice and Development party (AKP), it appears, the latter.
What has infuriated protesters is what they perceive as Erdogan's clunking attempts to impose his Islamic values on everyone else. Last month Turkey's government passed a new law banning the sale of alcohol between 10pm and 6am, and banishing it from the vicinity of schools and mosques. Two years ago it forbade access from Turkey to pornographic websites and temporarily shut down YouTube. Erdogan has spoken out against gay rights. "All this built up a wall of pressure," Bakirdoven said. Many also sense a creeping campaign to undermine Ataturk himself. Traditionally girls and boys would celebrate Ataturk day, 19 May, by dancing and singing in stadiums around the country. In 2012 Erdogan ditched the ceremony, saying no one wanted to see girls prance around in skimpy skirts. Then last week Erdogan defended his anti-alcohol legislation by obliquely calling Ataturk and his closest ally, Ismet Inonu, a couple of "drunkards".
All of this has galvanised educated, middle-class Turks to defend their personal freedoms. It began as a small environmental protest against plans to redevelop Gezi Park, and Istanbul's adjoining Taksim Square. But over the past two weeks it has morphed into a countrywide revolt. Three people have been killed, 4,000 injured and 900 arrested. The demonstrations have spread to more than 70 Turkish cities, including the capital, Ankara, and the restive western city of Izmir.
Related articles