Earth Watch Report -  Space
….
Object Name
Apporach Date
Left
AU Distance
LD Distance
Estimated Diameter*
Relative Velocity
285263 (1998 QE2)
30th May 2013
0 day(s)
0.0392

15.2

1.4 km – 3.1 km
10.58 km/s
38088 km/h
(2011 BM45)
31st May 2013
1 day(s)
0.0749

29.2

130 m – 280 m
27.67 km/s
99612 km/h
(2004 KH17)
02nd June 2013
3 day(s)
0.0979

38.1

110 m – 250 m
12.91 km/s
46476 km/h

| | |
| --- | --- |
| 1 AU = ~150 million kilometers,1 LD = Lunar Distance = ~384,000 kilometers | Source: NASA-NEO |
….
2.7 km wide Asteroid 1998 QE2 will fly past Earth on May 31, 2013
Posted by Chiffre on May 19, 2013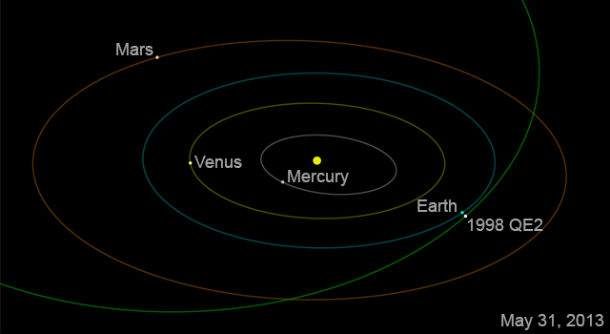 This diagram shows the orbit of Asteroid 1998 QE2 – Credit – NASA JPL-Caltech
Asteroid 1998 QE2 will fly past Earth at end of May at a distance of 5.8 million kilometers, or about 15 times the distance between Earth and the moon. The asteroid's size is estimated to be about 2.7 kilometers. It will make its closest approach on May 31, 2013 at 20:59 UTC. This will be the closest it gets to Earth for at least the next two centuries. It has a cycle of about 15 years and 46 days.
Asteroid 1998 QE2 seen by Q62 iTelescope  Observatory (Credit: Guido&Howes/Remanzacco Observatory)
Asteroid 1998 QE2 was discovered on August 19, 1998, by the Massachusetts Institute of Technology Lincoln Near Earth Asteroid Research (LINEAR) program near Socorro, New Mexico. Its name is given by Minor Planet Center, which gives every newly discovered asteroid a provisional designation starting with the year of first detection, along with an alphanumeric code indicating the half-month it was discovered, and the sequence within that half-month.
This flyby doesn't spark much interest with astronomers and other experts who are monitoring potentially dangerous asteroids (PHAs). However, it will interesting target for those who dabble in radar astronomy and have a 70 meter or larger radar telescope on their hands.
According to radar astronomer Lance Benner, the principal investigator for the Goldstone radar observations from NASA's Jet Propulsion Laboratory in Pasadena, California, Asteroid 1998 QE2 will be an outstanding radar imaging target at Goldstone and Arecibo Observatories and he expects him and his colleagues to obtain a series of high-resolution images that could reveal a wealth of surface features. Radar images from the Goldstone antenna might resolve features on the asteroid as tiny as 3.75 meters across, even at a distance of 4 million miles away. The two telescopes have complementary imaging capabilities that will give astronomers a chance to learn as much as possible about the asteroid during its brief visit near Earth.
….
Related articles