Pacific's Marshall Islands facing drought emergency

by Staff Writers
Majuro (AFP) Marshall Islands (AFP) May 8, 2013

A drought has left areas of the Marshall Islands facing "dire" water shortages with aid agencies scrambling to ship relief to affected communities, officials in the Pacific nation said Wednesday.
With almost no rainfall since late last year on some of the northern islands, the government this week issued a disaster declaration as villages began rationing water to preserve supplies.
"We've got 3,700 people without drinking water, the situation is dire," national water advisor Tom Vance said on Wednesday following a trip to Mejit Island.
Health officials said water tanks were running low and water from wells had turned brackish, making it unsafe to drink. Without rain, the only other source of liquid for the islanders is coconuts.
*************************************************************************************************************************
Marshall Islands face acute water shortage
Australia and US offer desalination and reverse-osmosis units as severe drought worsens in Pacific archipelago
Associated Press in Majuro

guardian.co.uk, Friday 10 May 2013 02.30 EDT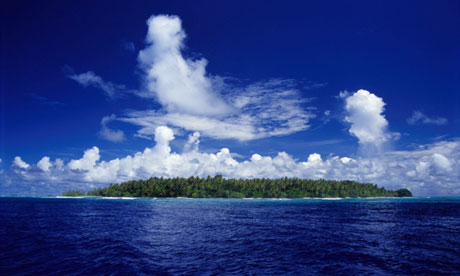 The Marshall Islands have declared a state of disaster in the north of the archipelago. Photograph: Doug Wilson/Corbis
About 6,000 people who live on the remote Marshall Islands in the Pacific are facing an acute shortage of fresh water as a severe drought worsens.
A state of disaster was declared in the north. Australia announced it would provide AU$100,000 (£65,335) for emergency desalination units. The US has also donated several reverse-osmosis machines, which convert salt water into fresh water.
There is no end in sight to the drought, with fine weather forecast for at least the next 10 days. The drought has also affected the food supply, hitting crops such as breadfruit, bananas and taro.
Casten Nemra, who chairs the national disaster committee, said many large families were surviving on as little as 4.5 litres of water a day.
*************************************************************************************************************************
Related articles