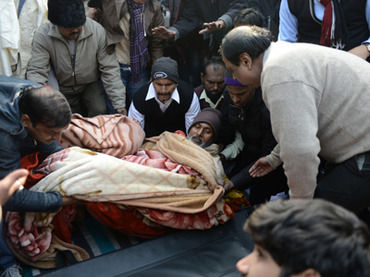 © AFP Photo / Sajjad Hussain
Indian attendants carry Rajesh Gangwal, a protester on hunger strike, to the ambulance after his health was critical from not eating the last thirteen days during a protest against a gang rape at Jantar Mantar in New Delhi on January 6, 2013
Five girls aged between 2 and 10 have been raped in two separate incidents in India, four of whom were assaulted by the same attacker. The attacks are only the latest in a string of brutal sexual assault cases that have recently outraged the country.
Both of the incidents took place in the populous eastern Indian state of West Bengal.
A two-year-old girl was allegedly raped by an 18-year-old male in Minapara village near the city of Raigani on Saturday, India's DNA news cites police as saying.
The baby's father told police the incident occurred when his wife went to wash clothes in a pond on Saturday, leaving the sleeping infant unattended.
The teenage assailant was arrested and is being held on 14-day judicial custody.
Four more girls, aged between five and ten, were reportedly raped by a 40-year old man in the town of Belatore on Thursday.
The girls had reportedly gone to a grocery shop owned by the alleged assailant Rabi Lochan Dey to buy a cake.
Related articles