Earthquakes
Date/Time (UTC)
Magnitude
Area
Country
State/Prov./Gov.
Location
Risk
Source
Details
12.08.2012 07:30:29
3.7
Caribbean
Dominican Republic
San Juan
Punta Cana
USGS-RSOE
12.08.2012 07:05:18
4.3
Middle-East
Iran
East Azarbaijan
Ahar
EMSC
12.08.2012 06:51:15
4.0
Middle East
Iran
East Azarbaijan
Ahar
USGS-RSOE
12.08.2012 07:05:41
2.1
Europe
Greece
North Aegean
Iraion
EMSC
12.08.2012 06:45:48
2.5
Caribbean
Puerto Rico
Orocovis
Orocovis
USGS-RSOE
12.08.2012 06:05:22
3.1
Asia
Turkey
Van
Toyga
EMSC
12.08.2012 06:05:43
2.1
Europe
Italy
Latium
Terracino
EMSC
12.08.2012 06:00:25
3.3
Caribbean
Puerto Rico
Loiza
Suarez
USGS-RSOE
12.08.2012 06:06:01
2.0
Asia
Turkey
Adana
Kadirli
EMSC
12.08.2012 05:02:04
2.6
Europe
Greece
Ionian Islands
Mavrata
EMSC
12.08.2012 05:02:46
3.7
Middle-East
Iran
East Azarbaijan
Ahar
EMSC
12.08.2012 05:03:21
2.8
Europe
Italy
Sicily
Giardini Naxos
EMSC
12.08.2012 04:45:51
4.0
Middle America
Mexico
Baja California Sur
Cabo San Lucas
USGS-RSOE
12.08.2012 05:04:10
4.0
Middle-America
Mexico
Baja California Sur
Cabo San Lucas
EMSC
12.08.2012 04:00:20
3.8
Middle-East
Iran
East Azarbaijan
Ahar
EMSC
12.08.2012 07:06:17
2.0
Asia
Turkey
Manisa
Golmarmara
EMSC
12.08.2012 04:00:39
2.5
Europe
Greece
West Greece
Selianitika
EMSC
12.08.2012 04:00:59
4.1
Europe
Italy
Apulia
Santo Spirito
EMSC
12.08.2012 03:45:33
4.1
Europe
Italy
Apulia
Santo Spirito
USGS-RSOE
12.08.2012 07:06:37
2.0
Asia
Turkey
?zmir
Dikili
EMSC
12.08.2012 03:40:26
2.4
North America
United States
Arkansas
Ravenden Springs
USGS-RSOE
12.08.2012 03:25:29
2.4
North America
United States
Arkansas
Ravenden Springs
USGS-RSOE
12.08.2012 03:10:33
2.2
North America
United States
California
Mountain Center
USGS-RSOE
12.08.2012 02:55:22
3.7
Middle-East
Iran
East Azarbaijan
Ahar
EMSC
12.08.2012 02:55:43
3.4
Asia
Turkey
Antalya
Tekirova
EMSC
12.08.2012 02:56:05
3.5
Middle-East
Iran
East Azarbaijan
Ahar
EMSC
12.08.2012 02:56:26
2.9
Europe
Czech Republic
Petrovice u Karvine
EMSC
12.08.2012 02:00:25
2.5
North America
United States
California
Barstow
USGS-RSOE
12.08.2012 02:00:44
4.7
Asia
Russia
Kuril'sk
USGS-RSOE
12.08.2012 02:56:46
4.8
Europe
Russia
Kuril'sk
EMSC
12.08.2012 01:55:21
2.5
Europe
Greece
Ionian Islands
Kalamakion
EMSC
12.08.2012 01:55:42
3.0
Europe
Greece
West Greece
Andritsaina
EMSC
12.08.2012 01:15:35
2.7
North America
United States
California
Oak Glen
USGS-RSOE
12.08.2012 01:56:06
4.2
Middle-East
Iran
East Azarbaijan
Ahar
EMSC
12.08.2012 01:30:30
4.2
Middle East
Iran
East Azarbaijan
`Ajab Shir
USGS-RSOE
12.08.2012 01:56:27
2.3
Europe
Greece
South Aegean
Archangelos
EMSC
12.08.2012 00:45:34
5.1
Middle East
Iran
East Azarbaijan
Ahar
USGS-RSOE
12.08.2012 00:50:25
5.0
Middle-East
Iran
East Azarbaijan
Ahar
EMSC
12.08.2012 01:45:27
3.4
Caribbean
British Virgin Islands
Road Town
USGS-RSOE
12.08.2012 05:25:32
2.6
North America
United States
Alaska
Atka
USGS-RSOE
12.08.2012 00:50:49
3.0
Asia
Turkey
Manisa
Golmarmara
EMSC
12.08.2012 00:51:11
2.6
Europe
Greece
Ionian Islands
Kalamakion
EMSC
12.08.2012 01:56:45
2.7
Asia
Turkey
Ankara
Gudul
EMSC
12.08.2012 01:57:04
3.7
Middle-East
Iran
East Azarbaijan
Ahar
EMSC
12.08.2012 00:51:33
3.2
Asia
Turkey
Manisa
Golmarmara
EMSC
12.08.2012 00:15:36
2.5
North America
United States
Alaska
Nikolski
USGS-RSOE
12.08.2012 00:51:54
3.7
Middle-East
Iran
East Azarbaijan
Ahar
EMSC
12.08.2012 00:52:15
4.5
Europe
Greece
Ionian Islands
Limni Keriou
EMSC
12.08.2012 00:15:59
4.4
Europe
Greece
Ionian Islands
Limni Keriou
USGS-RSOE
12.08.2012 00:10:27
3.0
North America
United States
Alaska
Atka
USGS-RSOE
………………………………
| | | | | | | |
| --- | --- | --- | --- | --- | --- | --- |
| 12.08.2012 | Earthquake | Iran | Province of East Azarbaijan, [About 21 miles west of Ahar] | | | |
Description
Two strong earthquakes have struck north-western Iran, leaving at least 50 people dead and hundreds more injured, officials say. The quakes struck near the city of Tabriz and the town of Ahar, but most of the casualties are thought to be in outlying villages. Reports say phone lines to many villages have been cut off, making rescue efforts harder. The US Geological Service measured the quakes at magnitude 6.4 and 6.3. "The quake has created huge panic among the people," one resident of Tabriz told the BBC. "Everyone has rushed to the streets and the sirens of ambulances are everywhere."
…………………………………………….
Yerevan, August 11, ARMENPRESS: Shocks were registered in the territory of Armenia. As "Armenpress" reports according to the data of the European-Mediterranean Seismological Service a strong earthquake was registered in Iran 63 km to the east of the city Tavriz on 60 km depth.
Shocks were felt in different administrative regions, also in Region Syunik. The Crisis Management Center of the Armenian Ministry of Emergency Situations informed that shocks were registered in the whole republic territory. Details are being specified.
Viewed 1761 times
By Marc Burleigh (AFP)
TEHRAN — Rescue teams in northwest Iran strived Sunday to dig survivors out of the rubble of villages levelled by twin earthquakes that killed at least 180 people and injured more than 1,300, according to officials.
With telephone communications disrupted in the disaster zone, northeast of the city of Tabriz, emergency teams were relying on radios and travelling in person to hard-hit villages to rescue and assess the destruction.
The quakes, which struck Saturday within 11 minutes of each other, measured 6.2 and 6.0, according to Tehran University's Seismological Centre.
The US Geological Survey, which monitors seismic activity worldwide, ranked them as more powerful, at 6.4 and 6.3 on the moment magnitude scale, respectively.
"Unfortunately, the toll is mounting and we are now at 180 dead," Khalil Saie, the head of the regional natural disasters centre, told state television. He put the number of injured at 1,350.
"Up to now, there are no deaths reported in the cities and all the victims come from rural areas," he said.
Earlier he urged residents in the zone not to panic, reassuring them that "help is arriving and rescuers are already at the scene."
Iran's Red Crescent took over a sports stadium to shelter the 16,000 people left homeless or too afraid to return indoors, the Fars news agency reported.
It also provided 3,000 tents, blankets and tonnes of food — all a sign of years of preparedness in a nation prone to sometimes catastrophic seismic activity.
President Mahmoud Ahmadinejad's office posted a statement on its website expressing condolences to those in the disaster zone and calling on authorities to "mobilise all efforts to help the affected populations."
According to the official IRNA news agency, 66 rescue teams were at work, using 40 devices and seven dog squads to detect buried survivors. Some 185 ambulances were sent to the area.
Those hurt were taken to hospitals in Tabriz and Ardebil, the two biggest nearby cities, both of which escaped relatively unscathed from the quakes.
In contrast, villages outlying the towns of Ahar and Varzaqan, 60 kilometres (40 miles) from Tabriz, were decimated, being closest to the epicentres of the two quakes. Dwellings close to Heris, another town close by, were also badly shaken.
Residents in the region were terrified as their homes shook around them when the quakes hit, and they fled into the streets for safety, according to reports.
Tehran University's Seismological Centre said the first earthquake occurred at 4:53 pm (1223 GMT) at a depth of 10 kilometres.
The second — actually a big aftershock — rumbled through from nearly the same spot. A series of more than 17 smaller aftershocks rating 4.7 or less rapidly followed.
The disaster zone was located around 90 kilometres from the borders with Armenia and Azerbaijan, and around 190 kilometres from the border with Turkey.
Iran sits astride several major fault lines and is prone to frequent earthquakes, some of which have been devastating.
The deadliest was a 6.6-magnitude quake which struck the southern city of Bam in December 2003, killing 31,000 people — about a quarter of the population — and destroying the city's ancient mud-built citadel.
**********************************************************************************************************
Volcanic Activity
| | | | | | | | | |
| --- | --- | --- | --- | --- | --- | --- | --- | --- |
| 11.08.2012 11:31 AM | Kermadec Island Region, New Zealand | Monowai Volcano (underwater volcano) | Volcano Eruption | 0402-05- | Submarine volcano | | No. 0 | |
Description
A floating mass of the volcanic rock, pumice, reportedly covering 25,000 square km, has been found floating in the South Pacific, indicating a third volcano is active near New Zealand. The New Zealand Defense Force (NZDF) said Friday the floating pumice, measuring 250 nautical miles long and 30 nautical miles wide, was first spotted by a New Zealand air force Orion on a maritime patrol from Samoa to New Zealand. The Orion relayed the information to New Zealand navy vessel HMNZS Canterbury, which spotted the pumice late Thursday about 85 nautical miles west southwest of Raoul Island, one of the Kermadec Islands that lie 750 to 1,000 km northeast of New Zealand. Lieutenant Tim Oscar, a Royal Australian Navy officer on exchange with the Royal New Zealand Navy, described the pumice as "the weirdest thing I've seen in 18 years at sea." "The lookout reported a shadow on the ocean ahead of us so I ordered the ship's spotlight to be trained on the area," Oscar said in the NZDF statement. "As far ahead as I could observe was a raft of pumice moving up and down with the swell," he said. "The rock looked to be sitting 2 feet (60 cm) above the surface of the waves, and lit up a brilliant white color in the spotlight. It looked exactly like the edge of an ice shelf."

Oscar said he had been briefed by a volcanologist from New Zealand's Institute of Geological and Nuclear Science (GNS Science) the previous day when the ship encountered another area of pumice from an undersea volcano. "I knew the pumice was lightweight and posed no danger to the ship. Nonetheless it was quite daunting to be moving toward it at 14 knots. It took about three to four minutes to travel through the raft of pumice and as predicted there was no damage," he said. "As we moved through the raft of pumice we used the spotlights to try and find the edge – but it extended as far as we could see. " HMNZS Canterbury was en route to Raoul Island with a party of GNS scientists aboard at the time. The Commanding Officer, Commander Sean Stewart, changed course to intercept the pumice and retrieve samples, which would be analyzed to determine which volcano they came from, said the statement. According to GNS Science, the underwater volcano, Monowai, had been active along the Kermadec Arc and the pumice could be a result of that activity, said the NZDF statement. The find comes after eruptions from Mount Tongariro, in New Zealand's central North Island, late Monday and White Island, a marine volcano about 50 km off the east of the North Island, two days later. The GNS scientists aboard the Canterbury believed the volcanic activity of Tongariro, White Island and along the Kermadec arc was unrelated, said the NZDF statement.
***********************************************************************************************************
Extreme Temperatures/ Weather
PHOENIX AZ
HANFORD CA
FIRE WEATHER MESSAGE
MEDFORD OR
BOISE ID
MEDFORD OR
***********************************************************************************************************
Storms / Flooding / Landslides
 Active tropical storm system(s)
Name of storm system
Location
Formed
Last update
Last category
Course
Wind Speed
Gust
Wave
Source
Details
Gilma (07E)
Pacific Ocean – East
07.08.2012
11.08.2012
Tropical Depression
335 °
56 km/h
74 km/h
2.44 m
NOAA NHC
| | |
| --- | --- |
| Share: | |
| Storm name: | Gilma (07E) |
| Area: | Pacific Ocean – East |
| Start up location: | N 14° 18.000, W 111° 42.000 |
| Start up: | 07th August 2012 |
| Status: | Active |
| Track long: | 687.26 km |
| Top category.: | |
| Report by: | NOAA NHC |

Useful links:

Past track

Date
Time
Position
Speed
km/h
Wind
km/h
Gust
km/h
Category
Course
Wave
Pressure
Source
08th Aug 2012
05:00:37
N 15° 24.000, W 115° 0.000
20
93
111
Tropical Storm
285
11
994 MB
NOAA NHC
09th Aug 2012
05:28:38
N 16° 6.000, W 118° 24.000
15
120
148
Hurricane I.
280
14
987 MB
NOAA NHC
10th Aug 2012
05:07:09
N 17° 36.000, W 119° 0.000
7
111
139
Tropical Storm
340
8
992 MB
NOAA NHC
11th Aug 2012
05:39:36
N 19° 30.000, W 119° 36.000
7
93
111
Tropical Storm
340
8
998 MB
NOAA NHC

Current position

Date
Time
Position
Speed
km/h
Wind
km/h
Gust
km/h
Category
Course
Wave
feet
Pressure
Source
11th Aug 2012
16:51:48
N 20° 12.000, W 120° 6.000
7
56
74
Tropical Depression
335 °
8
1004 MB
NOAA NHC

Forecast track

Date
Time
Position
Category
Wind
km/h
Gust
km/h
Source
13th Aug 2012
00:00:00
N 21° 30.000, W 122° 30.000
Tropical Depression
46
65
NOAA NHC
| | | | | | | | | | | |
| --- | --- | --- | --- | --- | --- | --- | --- | --- | --- | --- |
| Hector (EP08) | Pacific Ocean – East | 11.08.2012 | 12.08.2012 | Tropical Depression | 290 ° | 65 km/h | 83 km/h | 3.35 m | NOAA NHC | |
| | |
| --- | --- |
| Share: | |
| Storm name: | Hector (EP08) |
| Area: | Pacific Ocean – East |
| Start up location: | N 17° 30.000, W 106° 0.000 |
| Start up: | 11th August 2012 |
| Status: | Active |
| Track long: | 154.29 km |
| Top category.: | |
| Report by: | NOAA NHC |

Useful links:

Past track

Date
Time
Position
Speed
km/h
Wind
km/h
Gust
km/h
Category
Course
Wave
Pressure
Source

Current position

Date
Time
Position
Speed
km/h
Wind
km/h
Gust
km/h
Category
Course
Wave
feet
Pressure
Source
12th Aug 2012
05:40:34
N 18° 30.000, W 108° 6.000
20
65
83
Tropical Depression
290 °
11
999 MB
NOAA NHC

Forecast track

Date
Time
Position
Category
Wind
km/h
Gust
km/h
Source
13th Aug 2012
00:00:00
N 17° 30.000, W 110° 30.000
Tropical Depression
83
102
NOAA NHC
13th Aug 2012
12:00:00
N 17° 30.000, W 111° 30.000
Hurricane I
102
120
NOAA NHC
14th Aug 2012
12:00:00
N 17° 30.000, W 113° 0.000
Hurricane I
120
148
NOAA NHC
15th Aug 2012
12:00:00
N 17° 30.000, W 114° 0.000
Hurricane I
120
148
NOAA NHC
16th Aug 2012
12:00:00
N 18° 30.000, W 115° 30.000
Tropical Depression
83
102
NOAA NHC
| | | | | | | |
| --- | --- | --- | --- | --- | --- | --- |
| Today | Tropical Storm | China | Province of Liaoning, [Liaoning-wide] | | | |
Description
Rain-triggered mudslide engulfed a village trapping over 100 people even as nine people were killed and four others found missing after Typhoon Damrey caused havoc in northeast China's Liaoning Province. The typhoon temporarily disrupted rail services in the province on Saturday, affecting more than two million people. Nine people were killed and four others found missing after Typhoon Damrey caused heavy damage in China's Liaoning Province over the weekend. Six people were killed in Xiuyan City, where the typhoon has cut off electricity, paralysed road traffic and damaged drinking water facilities. More than 110,000 people have been left homeless. In the city of Benxi, heavy flooding on the Sandaohe and Xihe rivers trapped more than 300 construction workers in a tunnel Monday. Fire fighters tried to connect a ropeway in an effort to pull the workers out of the tunnel.
| | | | | | | |
| --- | --- | --- | --- | --- | --- | --- |
| Today | Tropical Storm | Trinidad and Tobago | [Statewide] | | | |
Description
A tropical wave killed two people in Trinidad as it lashed the eastern Caribbean with heavy rains and wind, authorities said Saturday. The victims died after heavy rainfall unleashed floods and mudslides in Trinidad's western suburb of Diego Martin, relatives said. The dead were identified as 66-year-old Solomon Britto and 31-year-old Everold Bentham. Bentham's sister, Liz Bentham, told reporters that floodwater surged through their community early Saturday and that her mother and sister were able to leave the house. She said Everold Bentham initially left with them but that he returned to retrieve something from the house and died. Prime Minister Kamla Persad-Bissessar is visiting the area and is expected to soon provide an update on the deaths and property damage. Meteorologists had warned of heavy rains this weekend associated with the tropical wave that's expected to dissipate after passing through the eastern Caribbean. The U.S. National Hurricane Center said the tropical wave was located about 40 miles east of Barbados and moving west at 25 mph with winds of 35 mph. The hurricane center canceled a tropical storm watch for the eastern Caribbean late Saturday morning.
TAMPA BAY AREA - RUSKIN FL
TALLAHASSEE FL
AUSTIN/SAN ANTONIO TX
TIYAN GU
…………………………………………………..
Manila Underwater as City Inundated with Floods (LinkAsia: 8/10/12)
Published on Aug 10, 2012 by linktv
Although Typhoon Haikui just brushed past the Philippines, it was enough to push the already-waterlogged Manila past its breaking point. The city was hit with the worst floods it has seen in decades, forcing nearly a million people from their homes. Footage from Reuters.
Watch more at http://linkasia.org.
IMAGE: Residents wade through flood waters caused by monsoon rains using makeshifts rafts in Dampalit, Malabon: REUTERS/John Javellana

From Farid Ahmed, for CNN
STORY HIGHLIGHTS
A lightning strike occurred as people gathered for evening prayers, police said
Lightning struck a tin roof shed that was doubling as a mosque, police said
The strike occurred in Saraswati, some 200 kilometers from the capital of Dhaka.
Dhaka, Bangladesh (CNN) — At least 13 people were killed and 20 wounded when lightning struck a makeshift mosque in a remote village in northeast Bangladesh on Friday, police said.
The lightning strike occurred as people gathered for a special evening prayer known as taraweeh that is conducted during the Muslim holy month of Ramadan.
"Multiple lightning strikes occurred during a storm when nearly 35 people gathered at a house in the village of Saraswati where they turned a tin roof shed into a makeshift mosque for the month of Ramadan as a regular mosque was far away," Dharmapasha police chief Bayes Alam told CNN.
The village Saraswati is some 200 kilometers (124 miles) from the capital of Dhaka.
Heavy rains in recent weeks have swollen the Saraswati River, making access to the village difficult.
"As boats were the only mode of transport to go out of the village, it took several hours to take the critically wounded people to the hospital," said Akm Mezanul Haque, the officer-in-charge of the Modhyanagar police station, who joined the rescue operation.
Of the 13 killed by the lightning strike, Mohammad Shahabuddin, the imam, and two others died at the mosque, Alam said. Ten others were declared dead at a Dharmapasha area hospital, he said.
Area residents and police took the wounded, many in critical condition, to the area hospital.
An overcrowded passenger bus lost control on a mountain road and plunged into a gorge, killing at least 32 people. Source: AP
AT least 52 people were killed and 45 injured when a heavily overloaded bus plunged into a gorge in northern India.
It was one of the worst road accidents in the country in recent years.
The bus, which was carrying over 100 passengers – many of them on the roof – veered off the road in a sparsely populated and hilly area of the state of Himachal Pradesh.
"Fifty-two people have been killed and 45 injured in the accident,"said Sunil Chaudhary, district deputy commissioner, adding the death toll could rise because at least a dozen of the injured were in a critical condition.
There were anguished scenes as families came to claim the bodies of the victims. Many of the dead had boarded the 42-seater bus when their own bus broke down, locals said.
Some of the bodies were taken away by their families for cremation while the state government brought in four truckloads of wood to cremate other victims at the accident site.
The cause was not immediately known but some witnesses said that the driver lost control of the vehicle on a sharp bend.
The accident occurred in the morning near Chamba town, about 190 kilometres from the state capital Shimla. The area where the accident happened is treacherous and known for zig-zag turns.
Villagers were the first to reach the accident site and frantically struggled to pull the dead and injured from the twisted wreckage. Later, emergency crews arrived, covering the dead in white sheets.
The bus had been on its way to Chamba from Dulera when it flew off the road. Thirty-nine people were killed instantly while the others died on the way to hospital, Mr Chaudhary said.
It was the second major bus tragedy in a week, in a country where road accidents with dozens dead at a time are common.
On Wednesday, 31 people were killed when their bus tumbled into a gorge in Meghalaya state, in India's remote northeast.
In 2008, some 63 bus passengers returning from a religious celebration were killed when a burst tyre ignited the vehicle's fuel tank east of the Taj Mahal city of Agra.
India has the highest annual road death toll in the world, according to a 2009 World Health Organisation report, with accidents caused by speeding, careless driving and treacherous roads.
Himachal Pradesh's Chief Minister Prem Kumar Dhumal offered his "heartfelt condolences to the families of the dead" and said the next of kin would get 100,000 rupees ($1700) from the government.
"The state government has ordered an inquiry into the accident," Mr Dhumal said.
The Chamba district borders Indian Kashmir and has been lashed by heavy monsoon rains in the past few days.
Description
Another report said hundreds of people were stranded by a rain-triggered flood in central China's Hubei Province. Heavy rains hit Gucheng county in the city of Xiangyang early Monday morning, flooding the downtown area and surrounding villages, county fire fighters said.
| | | | | | | |
| --- | --- | --- | --- | --- | --- | --- |
| Today | Landslide | China | Province of Yunnan, Tiejia | | | |
Description
Over 100 people were trapped in village called Tiejia in southwest China's Yunnan Province this morning, local authorities said. Although more than 200 people were initially trapped in the mudslide in the county of Eyuan, Dali Bai Autonomous Prefecture, more than 80 people had been saved by noon.
************************************************************************************************************
Radiation / Nuclear
| | | | | | | |
| --- | --- | --- | --- | --- | --- | --- |
| Today | Nuclear Event | USA | State of Tennessee, Spring City [Watts Bar Nuclear Power Plant] | | | |
Description
TVA says an unusual event at the Watts Bar nuclear plant forced its evacuation this morning. Spokesman Mike Bradley says an ammonia-water leak developed in a secondary water system at the turbine building at the plant. That happened just before 9:00am. Between two and three hundred employees were evacuated as a result. The leak was fixed and the event was declared over just before 1:30pm this afternoon. Bradley says the leak did not disrupt the reactor. There were no injuries and there was no risk to the general public.
************************************************************************************************************
Epidemic Hazards / Diseases
Sri Lanka doctors battle dengue fever
Published on Aug 10, 2012 by AlJazeeraEnglish
Cases of dengue fever have increased dramatically around the world in the last few decades.
The virus that causes the disease is transmitted by mosquito bites and more than 2.5 billion people, over 40 per cent of the global population, are at risk from the disease.
The World Health Organisation said that there are likely to be 50 to 100 million dengue infections every year.
The countries that have the highest cases are in Southeast Asia and the Western Pacific where many victims are children.
Al Jazeera's Minelle Fernandez reports now on what Sri Lanka is doing to combat the disease.

  An Indonesian man has died of bird flu, the health ministry said Saturday, in the country's ninth fatal case this year. Ads by Google Colorectal Cancer – Learn about leading-edge treatments for Colorectal Cancer today. – cancercenter.com "The deceased was a self-employed 37-year-old male," according to the report on the ministry's website. The man was hospitalised on July 24 with a high fever and was placed on a ventilator five days later, according to the report. He died on July 30. Authorities do not know how the man contracted the virus, but said he lived near poultry farms. Indonesia has been hardest-hit by bird flu, with 159 fatalities reported since 2003 out of 359 worldwide, according to World Health Organization figures, which include the latest death. Bird flu, also known as the H5N1 virus, typically spreads from birds to humans through direct contact, but experts fear it could mutate into a form that is easily transmissible between humans.
Read more at: http://medicalxpress.com/news/2012-08-bird-flu-ninth-victim-year.html#jCp
************************************************************************************************************
Solar Activity
3MIN News August 11, 2012: Watches Begin
Published on Aug 11, 2012 by Suspicious0bservers
Earthquake/Solar Flare Watch: http://youtu.be/zd7Z6dmABf8 [August 12-18, 2012]
[EXPLANATION Video For Earthquake Watches] Last Quake Watch: http://youtu.be/SMiHsOYwdCs
*****Astrotometry™ Response Video: http://youtu.be/DlJAw6x1STc
TODAY'S LINKS
Volcanic Rock Island: http://www.cbsnews.com/8301-205_162-57491093/huge-volcanic-rock-island-floats…
Drought: http://www.reuters.com/article/2012/08/10/us-drought-idUSBRE8781E320120810
US Military Airship: http://news.xinhuanet.com/english/photo/2012-08/11/c_131777840.htm
Pole Shift: http://science.nasa.gov/science-news/science-at-nasa/2003/29dec_magneticfield/
Real-Time Meteorite Data: http://fireballs.ndc.nasa.gov/cmor-radiants/
REPEAT LINKS
Spaceweather: http://spaceweather.com/ [Look on the left at the X-ray Flux and Solar Wind Speed/Density]
HAARP: http://www.haarp.alaska.edu/haarp/data.html [Click online data, and have a little fun]
SDO: http://sdo.gsfc.nasa.gov/data/ [Place to find Solar Images and Videos - as seen from earth]
SOHO: http://sohodata.nascom.nasa.gov/cgi-bin/soho_movie_theater [SOHO; Lasco and EIT - as seen from earth]
Stereo: http://stereo.gsfc.nasa.gov/cgi-bin/images [Stereo; Cor, EUVI, HI - as seen from the side]
SunAEON:http://www.sunaeon.com/#/solarsystem/ [Just click it... trust me]
SOLARIMG: http://solarimg.org/artis/ [All purpose data viewing site]
iSWA: http://iswa.gsfc.nasa.gov/iswa/iSWA.html [Free Application; for advanced sun watchers]
NOAA ENLIL SPIRAL: http://www.swpc.noaa.gov/wsa-enlil/cme-based/ [CME Evolution]
NOAA Bouys: http://www.ndbc.noaa.gov/
RSOE: http://hisz.rsoe.hu/alertmap/index2.php [That cool alert map I use]
JAPAN Radiation Map: http://jciv.iidj.net/map/
LISS: http://earthquake.usgs.gov/monitoring/operations/heliplots_gsn.php
Gamma Ray Bursts: http://grb.sonoma.edu/ [Really? You can't figure out what this one is for?]
BARTOL Cosmic Rays: http://neutronm.bartol.udel.edu//spaceweather/welcome.html [Top left box, look for BIG blue circles]
TORCON: http://www.weather.com/news/tornado-torcon-index [Tornado Forecast for the day]
GOES Weather: http://rsd.gsfc.nasa.gov/goes/ [Clouds over America]
EL DORADO WORLD WEATHER MAP: http://www.eldoradocountyweather.com/satellite/ssec/world/world-composite-ir-…
PRESSURE MAP: http://www.woweather.com/cgi-bin/expertcharts?LANG=us&MENU=0000000000&…
HURRICANE TRACKER: http://www.weather.com/weather/hurricanecentral/tracker
INTELLICAST: http://www.intellicast.com/ [Weather site used by many youtubers]
NASA News: http://science.nasa.gov/science-news/science-at-nasa/
PHYSORG: http://phys.org/ [GREAT News Site!]

Sunspot AR1540 erupted on August 11th, producing a long-duration M1-class solar flare that peaked around 1220 UT. NASA's Solar Dynamics Observatory recorded the extreme ultraviolet flash: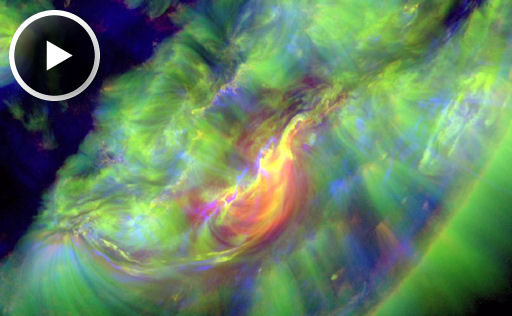 The explosion hurled a faint cloud of plasma into space. Judging from the blast site's off-center location on the solar disk, the cloud is probably not heading for Earth. This conclusion is uncertain, however. Stay tuned for additional analysis. Solar Flare alerts
Huge Stripe On The Sun – Is Earth In Serious Danger? 
MessageToEagle.com – The Sun's odd behavior has been mentioned on many occasions recently. As we all await the Solar Cycle 24, scientists keep a close eye on the Sun.
Now astronomers have discovered huge dark strip on the surface of the Sun. It is estimated this filament is about 800,000 km in length!
Astrophysicists presume dark spots on the Sun are areas where the temperature is lower. However what we see here is not a normal sunspot and it is growing at an alarming rate.
According to researchers the region has increased to almost one million kilometers in just three days.
NASA forecasts that in September 2012, there will be outbreaks of unprecedented power. We can expect huge solar flares that can have serious effect world-wide.
Commenting on the study of the dangers of "space weather", astrophysicist Daniel Baker claimed that the effects will be comparable to a nuclear war or the fall of a giant asteroid.
However, in terms of power grids and satellites, it's not the flares that the experts have to worry about, but the CMEs.

There is a risk that one day, they can wipe out all of our electronic civilization.

Solar storms can disrupt communication, and navigational equipment, damage satellites, and even cause blackouts by damaging power plants and electrical grid components.

They can also bring additional radiation around the north and south poles; and this, in turn forces airlines to reroute their flights.
According to a report published by NERC, the North American Electric Reliability Corporation, or NERC, which oversees North America's power grid we can feel the effects for several years to come.
"Historically large storms have a potential to cause power grid blackouts and transformer damage of unprecedented proportions, long-term blackouts and lengthy restoration times, and chronic shortages for multiple years are possible," the report said.

Click on image to enlargeTerrible stripe on the Sun

This filament happened on Aug. 5th, 2012.
11 images were put together to create this huge filamament on the Sun.
Photo Credits: Leonard E. Mercer,
amateur astronomer from Malta, who contributes with many astrophotos. Richard Andres, an energy and environmental security expert at the military's National Defense University (NDU), is helping to coordinate an interagency group to deal with the problem. The failure of the national power grid could be disastrous, he said.
In a worst-case scenario, commerce would almost instantly cease, he said, noting he was speaking for himself and not the U.S. government. Water and fuel, which depend on electric pumps, would stop flowing in most cities within hours, modern communications would end and mechanized transport would stall.
Backup generators for hospitals, the military, and other critical facilities would be vulnerable if they depended on diesel or natural gas, which also rely on pipelines for resupply.
The report said more than 130 million people in the United States could be affected. Andres said the death toll could run into the millions in the worst-case scenario.
How many people will suffer world-wide? We can only make guesses about the number of deaths.
Space weather experts already warn that the next solar storm can be much worse than previously expected.
There are leaks in Earth's magnetic field. Earth's magnetic field which acts as our protective shield in space has a hole in it. That could be a problem because a weakened field could leave Earth vulnerable to solar storms.
Unfortunately it is impossible to determine in advance in how serious danger Earth will be.
Image credit: SPL"It's a lot like asking how many trees would fall in the next hurricane," a government expert said. "We don't know that, but we do know that there will be a hurricane. When we have another space weather superstorm, there will be an effect on the grid. We're trying to understand now what that effect is going to be."
We should hope for the best, but be prepared for the worst.
© MessageToEagle.com
See also:
Solar Activity Causes Changes In Humans And Affects Our Health: Scientists Say
************************************************************************************************************
Space
Object Name
Apporach Date
Left
AU Distance
LD Distance
Estimated Diameter*
Relative Velocity
37655 Illapa
12th August 2012
0 day(s)
0.0951
37.0
770 m – 1.7 km
28.73 km/s
103428 km/h
(2012 HS15)
14th August 2012
2 day(s)
0.1804
70.2
200 m – 450 m
11.54 km/s
41544 km/h
4581 Asclepius
16th August 2012
4 day(s)
0.1079
42.0
220 m – 490 m
13.48 km/s
48528 km/h
(2008 TC4)
18th August 2012
6 day(s)
0.1937
75.4
140 m – 300 m
17.34 km/s
62424 km/h
(2012 OP4)
18th August 2012
6 day(s)
0.1039
40.4
300 m – 670 m
22.54 km/s
81144 km/h
(2012 EC)
20th August 2012
8 day(s)
0.0815
31.7
56 m – 130 m
5.57 km/s
20052 km/h
(2006 CV)
20th August 2012
8 day(s)
0.1744
67.9
290 m – 640 m
13.24 km/s
47664 km/h
162421 (2000 ET70)
21st August 2012
9 day(s)
0.1503
58.5
670 m – 1.5 km
12.92 km/s
46512 km/h
(2007 WU3)
21st August 2012
9 day(s)
0.1954
76.0
56 m – 120 m
5.25 km/s
18900 km/h
(2012 BB14)
24th August 2012
12 day(s)
0.1234
48.0
27 m – 60 m
2.58 km/s
9288 km/h
(2012 FM52)
25th August 2012
13 day(s)
0.0599
23.3
510 m – 1.1 km
17.17 km/s
61812 km/h
66146 (1998 TU3)
25th August 2012
13 day(s)
0.1265
49.2
3.0 km – 6.8 km
16.03 km/s
57708 km/h
(2009 AV)
26th August 2012
14 day(s)
0.1615
62.8
670 m – 1.5 km
22.51 km/s
81036 km/h
331769 (2003 BQ35)
28th August 2012
16 day(s)
0.1585
61.7
240 m – 530 m
4.64 km/s
16704 km/h
(2010 SC)
28th August 2012
16 day(s)
0.1679
65.3
16 m – 36 m
9.56 km/s
34416 km/h
4769 Castalia
28th August 2012
16 day(s)
0.1135
44.2
1.4 km
12.06 km/s
43416 km/h
(2012 LU7)
02nd September 2012
21 day(s)
0.1200
46.7
440 m – 990 m
8.16 km/s
29376 km/h
(2012 FS35)
02nd September 2012
21 day(s)
0.1545
60.1
2.3 m – 5.2 m
2.87 km/s
10332 km/h
(2012 HG31)
03rd September 2012
22 day(s)
0.0716
27.9
440 m – 990 m
10.33 km/s
37188 km/h
(2012 PX)
04th September 2012
23 day(s)
0.0452
17.6
61 m – 140 m
9.94 km/s
35784 km/h
(2012 EH5)
05th September 2012
24 day(s)
0.1613
62.8
38 m – 84 m
9.75 km/s
35100 km/h
(2011 EO11)
05th September 2012
24 day(s)
0.1034
40.2
9.0 m – 20 m
8.81 km/s
31716 km/h
(2007 PS25)
06th September 2012
25 day(s)
0.0497
19.3
23 m – 52 m
8.50 km/s
30600 km/h
329520 (2002 SV)
08th September 2012
27 day(s)
0.1076
41.9
300 m – 670 m
9.17 km/s
33012 km/h
(2011 ES4)
10th September 2012
29 day(s)
0.1792
69.8
20 m – 44 m
12.96 km/s
46656 km/h

| | |
| --- | --- |
| 1 AU = ~150 million kilometers,1 LD = Lunar Distance = ~384,000 kilometers | Source: NASA-NEO |
……………………………………..
Earth is passing through a stream of debris from Comet Swift-Tuttle, source of the annual Perseid meteor shower. Worldwide observers are now reporting more than 90 Perseids per hour. Forecasters recommend looking during the dark hours before dawn, especially Sunday morning, August 12th, when activity is expected to be highest.
Got clouds? Tune into SpaceWeather Radio for live echoes from Perseid meteors flying over the US Space Surveillance Radar in Texas.
The multi-station Canadian Meteor Orbit Radar, sponsored by NASA's Meteoroid Environment Office, is also monitoring the Perseids. Live data are available here. Bright spots in this sample radar sky map show the radiants of currently active showers: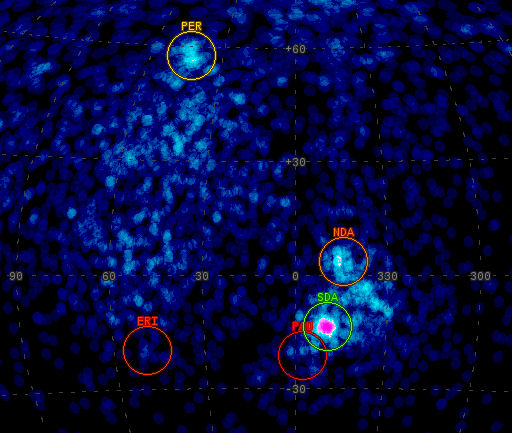 Clearly, the Perseids are not the only meteors in the sky this weekend. The Northern and Southern Delta Aquarids (NDA and SDA) are also active. These showers, which are minor compared to the Perseids, spring from 96P/Machholz, a comet that some researchers suspect is a visitor from another star system.
This is a great weekend for watching meteors–but that's not all. Venus, Jupiter and the crescent Moon are lining up in the pre-dawn sky right in the middle of the Perseid display. The conjunction of planets guarantees that you will see something beautiful even in the unlikely event that the shower fizzles
*************************************************************************************************************
[In accordance with Title 17 U.S.C. Section 107, this material is distributed without profit, for research and/or educational purposes. This constitutes 'FAIR USE' of any such copyrighted material.]