Published on Jul 27, 2012 by linktv
Thousands of Yemeni protesters marched to the residence of President Abd Rabbu Mansur Hadi after Friday prayers to demand the dismissal of relatives of former president Ali Abdullah Saleh. Hadi, who had been Saleh's vice-president, was elected president unopposed in February under a US-backed power transition plan brokered by Yemen's Gulf neighbours to end the political upheaval. The new president has vowed to unify the army, which is divided between pro-Saleh units and those loyal to a general who mutinied against the former president last year. Hadi has removed about 20 top commanders, including some of Saleh's relatives. But the new president's drive to remove Saleh's relatives and allies from power has faced stiff resistance. Hadi has promised to work to bring home the thousands of internal refugees created by fighting between government troops, southern separatists, mutinous military units, and other factions. Footage and photograph courtesy of Reuters.

Why is Yemen's food crisis off the world's humanitarian radar?
Media coverage associates Yemen with al-Qaida and insecurity. Is this, combined with donor fatigue, why we're not sending aid?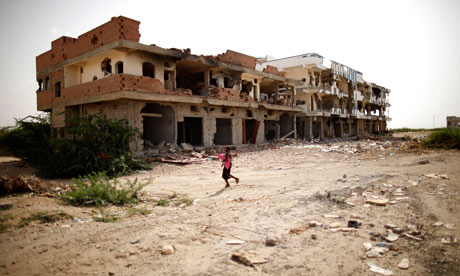 A man walks past buildings destroyed during fighting between the army and al-Qaida-linked militants in the southern Yemeni city of Zinjibar on 18 June. Photograph: Khaled Abdullah Ali Al Mahdi/Reuters
When the revolutionary tide of the Arab spring swept Ali Abdullah Saleh from power in Yemen last year, optimism abounded. The conclusion of Saleh's 33-year presidency – a reign more notable for the suppression of dissent and a descent into economic turmoil than any inroads on poverty, inequality and corruption – was meant to herald a fresh start for the Arab world's poorest country. But, despite the appointment of a transitional government led by the former vice-president Abdrabbuh Mansour Hadi, the promised end has failed to materialise.
Instead, Yemen's continued economic and political turmoil has been exacerbated by an escalating food crisis. According to the World Food Programme, hunger in Yemen has doubled over the past two years. In May, aid agencies warned that almost half the country's population of 25 million do not have enough food to eat and a third of children in some areas are severely malnourished. Then, last week, Oxfam – which cautioned last September that Yemen was at breaking point – issued a joint appeal with Islamic Relief for $38m, claiming that 5 million people are in need of emergency aid. The UN – which estimates that 267,000 children face life-threatening levels of malnutrition – has increased the total sought for its humanitarian appeal from $447m to $586m.
However, funds have so far been difficult to raise. At the Friends of Yemen conference held in Riyadh, Saudi Arabia, in May, international donors pledged $4bn in aid. But if and when this money will arrive – and how it will be deployed if it does – remain unclear.
Oxfam has been forced to freeze a cash-for-food scheme in the north-west governorate of Hajjah, while the scope of another initiative, in al-Hodeidah on the west coast, has been dramatically reduced. Islamic Relief has failed to raise any of the $2m needed for its planned nutrition and early recovery programmes, and the UN appeal remains only 48% funded.
In a country where politics and poverty are inextricably entwined, these shortfalls are crippling. Yemen's faltering transition to democracy hasn't been underpinned by the money given to other Arab spring countries; and its broader humanitarian plight has also failed to garner support. The question is, why?
Joy Singhal, the manager of Oxfam's humanitarian response in Yemen, believes a lack of media coverage may be a factor. "It is not emotionally appealing, to my mind, to give money to Yemen," says Singhal. "It is not a crisis like the tsunami in Indonesia or the earthquake in Haiti. Yemen is one of two or three Arab states in the Middle East considered to be a middle-income area. The world at large – people who might donate £5 or £10 in the UK or Europe – does not see Yemen as a priority case, because it isn't in the media.
"The only issue in Yemen that we see in the media is security, al-Qaida, or bullets flying around. But what we are seeing at ground level is different. Security has never been a stumbling block to the delivery of aid, but getting that message across to the international community has been a challenge."
Related articles