Earthquakes
Date/Time (UTC)
Magnitude
Area
Country
State/Prov./Gov.
Location
Risk
Source
Details
24.07.2012 08:15:23
4.1
North America
United States
Alaska
Old Harbor
USGS-RSOE
24.07.2012 08:10:51
3.2
North America
United States
Alaska
Old Harbor
USGS-RSOE
24.07.2012 07:45:23
5.2
Middle America
Mexico
Oaxaca
San Juan Cacahuatepec
USGS-RSOE
24.07.2012 07:25:54
3.6
Caribbean
Puerto Rico
Cabo Rojo
Pole Ojea
USGS-RSOE
24.07.2012 07:35:34
2.9
Asia
Turkey
Mu?la
Bodrum
EMSC
24.07.2012 07:35:53
2.5
Europe
Italy
Emilia-Romagna
San Prospero
EMSC
24.07.2012 07:36:12
3.0
Europe
Poland
Lower Silesian Voivodeship
Drozow
EMSC
24.07.2012 07:36:30
2.6
Asia
Turkey
Ankara
Gudul
EMSC
24.07.2012 06:35:20
2.8
Europe
Greece
West Greece
Chavarion
EMSC
24.07.2012 05:50:31
2.0
North America
United States
California
Redcrest
USGS-RSOE
24.07.2012 05:50:51
2.3
North America
United States
Hawaii
Na'alehu
USGS-RSOE
24.07.2012 06:36:22
2.8
Asia
Turkey
Mu?la
Bodrum
EMSC
24.07.2012 05:25:31
2.0
North America
United States
Alaska
Anchor Point
USGS-RSOE
24.07.2012 05:25:55
2.3
North America
United States
Montana
Drummond
USGS-RSOE
24.07.2012 05:35:46
2.4
Asia
Turkey
Mu?la
Bodrum
EMSC
24.07.2012 05:20:34
4.7
Pacific Ocean – West
Philippines
Davao
Kinablangan
USGS-RSOE
24.07.2012 05:36:10
4.7
Pacific Ocean – West
Philippines
Davao
Kinablangan
EMSC
24.07.2012 05:36:32
2.2
Asia
Turkey
Mu?la
Bodrum
EMSC
24.07.2012 05:36:53
2.7
Asia
Turkey
Kütahya
Dumlupinar
EMSC
24.07.2012 04:05:41
2.0
North America
United States
California
Cobb
USGS-RSOE
24.07.2012 04:35:19
3.6
Middle-East
Iran
F?rs
Firuzabad
EMSC
24.07.2012 04:35:40
2.7
Europe
Greece
Central Macedonia
Profitis
EMSC
24.07.2012 04:35:59
3.6
South-America
Peru
Tacna
Sobraya
EMSC
24.07.2012 07:36:48
2.3
Asia
Turkey
Manisa
Golmarmara
EMSC
24.07.2012 04:36:19
2.6
Asia
Turkey
Mu?la
Bodrum
EMSC
24.07.2012 02:40:25
2.5
North America
United States
Alaska
Happy Valley
USGS-RSOE
24.07.2012 07:37:21
2.2
Asia
Turkey
Kütahya
Emet
EMSC
24.07.2012 04:36:37
2.8
Asia
Turkey
Kütahya
Simav
EMSC
24.07.2012 03:35:20
3.5
South-America
Chile
Antofagasta
Tocopilla
EMSC
24.07.2012 07:37:38
2.5
Asia
Turkey
Ankara
Gudul
EMSC
24.07.2012 02:35:24
2.8
South-America
Chile
Región Metropolitana
Puente Alto
EMSC
24.07.2012 02:35:43
2.6
Europe
Italy
Emilia-Romagna
San Prospero
EMSC
24.07.2012 01:35:24
2.6
Europe
Greece
Peloponnese
Vytina
EMSC
24.07.2012 01:20:28
4.8
Atlantic Ocean
South Georgia and the South Sandwich Islands
Grytviken
USGS-RSOE
24.07.2012 01:35:44
4.8
Atlantic Ocean – North
South Georgia and the South Sandwich Islands
Grytviken
EMSC
24.07.2012 03:35:48
2.9
South-America
Chile
Antofagasta
San Pedro de Atacama
EMSC
24.07.2012 01:36:01
3.5
South-America
Chile
Libertador General Bernardo O?Higgins
Santa Cruz
EMSC
24.07.2012 00:30:25
2.2
Europe
Italy
Emilia-Romagna
Solignano Nuovo
EMSC
24.07.2012 06:36:49
2.1
Asia
Turkey
Burdur
Golhisar
EMSC
24.07.2012 00:30:49
4.7
Middle-East
Yemen
?a?ramawt
Kilmia
EMSC
24.07.2012 06:37:11
2.3
Asia
Turkey
Manisa
Akhisar
EMSC
23.07.2012 23:25:20
2.1
Europe
Poland
Silesian Voivodeship
Gorzyczki
EMSC
24.07.2012 06:37:52
2.0
Asia
Turkey
Mu?la
Bodrum
EMSC
24.07.2012 06:38:17
2.6
Middle-East
Iran
?z??rb?yj?n-e Gharb?
Salmas
EMSC
24.07.2012 06:38:39
2.3
Asia
Turkey
Mu?la
Fethiye
EMSC
23.07.2012 22:05:51
2.7
North America
United States
Alaska
Tatitlek
USGS-RSOE
23.07.2012 22:25:18
3.7
Europe
Iceland
Northeast
Husavik
EMSC
23.07.2012 22:25:44
5.1
Australia & New-Zealand
New Zealand
Gisborne
Ruatoria
EMSC
23.07.2012 22:16:08
5.0
Pacific Ocean
New Zealand
Gisborne
Ruatoria
USGS-RSOE
24.07.2012 06:38:57
2.2
Asia
Turkey
Mu?la
OEluedeniz
EMSC
***********************************************************************************************************
Extreme Temperatures/ Weather
OMAHA/VALLEY NE
DES MOINES IA
KANSAS CITY/PLEASANT HILL MO
TOPEKA KS
ST LOUIS MO
PADUCAH KY
GOODLAND KS
LINCOLN IL
OMAHA/VALLEY NE
DES MOINES IA
MEMPHIS TN
WILMINGTON NC
SPRINGFIELD MO
HASTINGS NE
TULSA OK
BIRMINGHAM AL
NASHVILLE TN
WICHITA KS
NEWPORT/MOREHEAD CITY NC
SIOUX FALLS SD
ST LOUIS MO
NORMAN OK
NORTH PLATTE NE
FIRE WEATHER MESSAGE
GREAT FALLS MT
NORTH PLATTE NE
NORMAN OK
| | | | | | | |
| --- | --- | --- | --- | --- | --- | --- |
| Today | Complex Emergency | USA | State of Missouri, [Missouri-wide] | | | |
Description
The governor of Missouri on Monday declared a state of emergency due to the drought and prolonged severe heat of this summer, which has so far been blamed in the deaths of 25 people in the state. "The high temperatures and dry conditions across the state are taking their toll on Missourians," Governor Jay Nixon said in a statement. "Our farmers are suffering tremendous losses in crops and livestock, and we're seeing more heat-related deaths and emergency room visits, particularly among seniors." The declaration activates the State Emergency Operations Plan, which authorizes state agencies to help local jurisdictions with their emergency responses. The Missouri Department of Health and Senior Services has confirmed 25 heat-related deaths in the state, including 20 in the St. Louis area. The department also has received hospital reports of 829 heat-related emergency department visits from May 1 through July 22. The weather is also causing a high risk of fire, according to the governor's office. The most expansive drought in the United States in more than half a century has hurt corn and soybean crops. The temperature in St. Louis was 104 Fahrenheit (40 Celsius) Monday, according to the National Weather Service. Through July 21, this year has been the warmest start to a calendar year on record in St. Louis and Columbia, Missouri, the NWS said. Last week, the U.S. Department of Agriculture declared all 114 Missouri counties as primary natural disaster areas, clearing the way for affected farmers to receive federal assistance through low-interest loans, according to Nixon spokesman Scott Holste.
| | | | | | | |
| --- | --- | --- | --- | --- | --- | --- |
| Today | Extreme Weather | Canada | Province of Ontario, [Eastern Ontario] | | | |
Description
A severe thunderstorm knocked out power to thousands of homes across eastern Ontario on Monday and blasted hail across many parts of the region. At one point Hydro Ottawa reported 8,600 customers had lost power in communities including Gloucester, Goulbourn, Kanata and Nepean as a result of power lines brought down by the storm. As of 8 p.m. ET that number had been reduced to 2,500 customers. Hydro One reported thousands of homes in an area stretching to Alexandria and Cornwall in the east from Barry's Bay south of Algonquin Park in the west had been affected by outages The largest of these outages, in an area encompassing Renfrew and Calabogie, saw power cut to about 5,600 homes in the region. Service had only been partially restored as of 8 p.m. ET. Ottawa airport, which had cancelled or delayed arriving and departing flights during the storm, reopened just after 7 p.m. ET. The federal weather agency had issued tornado warnings for several eastern Ontario communities west of Ottawa, including Smiths Falls, Lanark, Sharbot Lake, Barry's Bay, Killaloe, Renfrew, Arnprior, Calabogie and French River.

Ottawa and regions to the east remain under a severe thunderstorm warning into Monday evening. The weather agency said there have been unconfirmed reports of a tornado touching down near Golden Lake about 140 kilometres west of Ottawa. Campers at a trailer park near Lake Doré, close to where the unconfirmed tornado was sighted, say they are shaken up after heavy rains and winds hit at about 2:30 p.m. No injuries have been reported, but trees fell on several trailers at the Lake Doré Tent & Trailer Park, owner Carol Brisebois said. "We could see some trees falling down, lots of damage to trailers, awnings, trees and boats lifted from the shoreline. I had one of my fishing boats, my row boat, went flying," Brisebois said. Emergency Management Ontario recommends taking cover immediately when threatening weather approaches. Last Tuesday, two tornadoes touched down in eastern Ontario after a similar group of storms rolled through the region. One hit the area of Athens, near Brockville, and another touched down around Summerstown, east of Cornwall.
| | | | | | | |
| --- | --- | --- | --- | --- | --- | --- |
| Today | Forest / Wild Fire | Croatia | Primorsko-Goranska Region, [Near to Selce ] | | | |
Description
A firefighter has died and 1,500 tourists have been evacuated after forest fires fanned by strong winds broke out on Croatia's Adriatic coast. "The situation is very difficult … we are doing everything possible to protect people's lives and property," Interior Minister Ranko Ostojic told commercial Nova television, as the fires continued to blaze out of control on Monday in the increasingly popular tourist area. "Everything is ready for (further) evacuations," said the minister, who visited the coastal resort of Selce, close to the northern port of Rijeka, where some 150 firefighters were battling the blaze. A firefighter died while battling another blaze that broke out near Moscenicka Draga on the Istria peninsula, fire service official Slavko Gaus told national HRT television. That fire was brought under control later in the day. The inferno broke out in the morning in the hinterland of Rijeka, some 180km southwest of Zagreb, and spread towards Selce. Strong winds of more than 100km an hour made tackling the fires very difficult as water-bombing planes could not be used, the authorities said. In Selce some 1,500 tourists from two campsites, mostly Slovenians and Austrians, were evacuated while a number of other tourists left a nearby hotel, officials said. Part of the Adriatic coastal highway was closed, police said. The resort was cut off from electricity and phone lines were down, Nova television reported, showing footage of people in Selce covering their faces with scarves to protect themselves from the thick smoke and ashes. The roofs of several houses also caught fire.
An aerial photograph released by the Ministry of Natural Resources Pembroke District Office Sunday shows the wildfire at CFB Petawawa as it burned on Friday. The blaze has been contained to a 210-hectare area, however, officials don't consider it under control yet.
Credits: QMI AGENCY
SEAN CHASE | QMI AGENCY
OTTAWA — A wildfire raging at CFB Petawawa is not spreading into neighbouring Algonquin Park, but officials Sunday feared that could change if the weather deteriorates.
Overcast skies over the region were a sign that things could get worse for firefighters battling the blaze, which has burned up 210 hectares since Thursday in the far western reaches of the base's training area.
Environment Canada has forecasted a 60% chance of showers with the risk of a thunderstorm in the evening. Those storms might generate lightening strikes that could spawn more fires in the area.
A second fire on the base, which was discovered Saturday, has grown to five hectares, base officials confirmed Sunday.
"The fire is not considered under control but is growing slowly at this time," said Capt. Sally Ann Cyr, public affairs officer for 2 Canadian Mechanized Brigade Group.
The main fire was largely contained within a perimeter established by firefighters with the Department of National Defence assisted by heavy equipment operators from 2 Combat Engineer, who used bulldozers to dig out fire lanes to contain the flames.
The ministry of natural resources (MNR) also confirmed that the fire is situated south of Montgomery Lake, the site of an abandoned boy scout camp, and remains 100 metres from the Algonquin Park boundary.
The area has largely been clear cut over the years so that the military could construct a Forward Operating Base (FOB) in order to train soldiers for overseas missions.
"We're in an extreme fire response situation," MNR spokesman Doug Skeggs said.
The fire is still classified as "not under control" due to the ever-changing wind and weather conditions. The possibility of thunderstorms is causing great concern for firefighters, he added.
"There's not a great deal of rain associated with those storms," he said. "So we are looking at the potential for thunder strikes and new (fire) outbreaks."
A fire behaviour expert with the MNR is on the scene assisting the base fire department with developing fire suppression strategies, while the ministry continues to fly in helicopters to dump water on the flames.
Meanwhile, the evacuation of five campsites inside the park is complete. Park wardens ordered up to 400 people to leave the area on Friday night. It was more challenging locating the campers already canoeing on the Petawawa and Barron rivers and isolated interior lakes, Skeggs said, adding he doesn't believe there are any stragglers left behind.
"We believe we've got everybody but we are continuing to patrol," he said.
The mandatory closure of the east side of Algonquin Park, ordered on Friday, affected access to Sec Lake gate, McManus Lake gate, Achray Grand Lake gate and Lake Traverse in the park, plus all Crown land between the park boundary and Barron Canyon Road, the main access point.
Ontario Provincial Police and Ontario Parks employees continued Sunday to man roadblocks on Barron Canyon Road west of Petawawa.
***********************************************************************************************************
Storms / Flooding
| | | | | | | |
| --- | --- | --- | --- | --- | --- | --- |
| Today | Flash Flood | New Zealand | Northland, [Western Bay of Plenty District, Bay Of Plenty] | | | |
Description
Torrential rain that exploded over the Western Bay of Plenty closed one of the region's major highways and left people stranded at home as floodwaters rose and rivers burst their banks. A heavy rain warning is in place and flooding is expected to affect a number of Western Bay roads until midday today. All areas of the Western Bay fell victim to the ferocious weather but northern areas were the hardest hit. A family was trapped in its Karangahake Gorge home yesterday after the Ohinemuri River burst its banks. The state highway was closed where the floodgates were up at Criterion Bridge. Along the gorge, the swollen river spilled over the barrier and over both lanes of traffic. Wendy Hillerich said in her 23 years in the gorge, she had never experienced conditions as extreme as they were yesterday. "I have never seen it this bad. The river is across both lanes and there's no way anyone is getting through at the moment," she said. "The past 48 hours have been really heavy … and the bridges that wind through the gorge, there would be less than half a metre of space under them. That's how high the water is." Mrs Hillerich, and her husband Horst, own the Ohinemuri Estate. Visiting friends were caught by the floodwaters and were forced to spend the night, she said.

"We're totally stranded. There's no way we can move in any direction." People in Waihi Beach were stranded as both roads heading into and out of the town were closed for the afternoon and evening. Waihi Beach Rd closed about 3pm while the Athenree Gorge closed shortly after because of a slip. One lane in the gorge was re-opened about 8pm. An NZ Transport Agency (NZTA) spokesperson said a work crew were due to begin to clean up the slip today. NZTA advised motorists to use State Highway 29 via Tauranga over the Kaimai Range and avoid SH2 until floodwaters recede. At the Waihi Beach Top 10 Holiday Park, owner Ian Smith said the heavy rain in Waihi caused serious flooding at the northern end of the beach. He said the rain had caused the Waihi Beach stream to overflow and caused quite a lot of damage to the park. Traffic was delayed in Katikati after flooding on SH2, south of the Uretara Stream bridge, forced one lane to close for the afternoon. North of the township motorists had to negotiate knee-deep water across the highway. The jetty at The Landing on Beach Rd was completely submerged and the Haiku Reserve at the back of Katikati's central business district was flooded with water lapping the top of the Haiku pedestrian bridge.

Katikati College and Katikati Primary Schools closed early due to the threat of further flooding. The high tide at 10pm yesterday was likely to affect the Uretara, Criterion and Hikuai Bridges. NZTA said this could result in further closures of the bridges. In Papamoa, flooding caused the northbound lane of SH2 to close between Bruce Rd and Domain Rd last night. NZTA Bay of Plenty state highway manager, Brett Gliddon, said the heavy rain and surface flooding caused a number of potholes in areas that were resealed last week. At 9pm yesterday he said contractors were on site to repair the road. "Repairs are being carried out as quickly as possible to enable the highway to be restored to two lanes by morning. We ask motorists to reduce their speed and take extreme care when travelling in this area," he said. In Tauranga City almost 100mm of rain fell from 7am to 7pm yesterday. Similar levels were expected to fall last night before the rain was due to ease today. MetService forecaster Mad Naeraa said the worst of the weather had passed but it would take some time for the surface flooding and rivers to subside.
TAMPA BAY AREA - RUSKIN FL
NORTH PLATTE NE
MANILA (AFP) – Two people were killed and six others are missing in the Philippines as floods inundated parts of Manila and nearby areas while a storm tore through the country's north, authorities said on Saturday.
The civil defence office said rescuers are on standby to help residents evacuate if necessary as creeks and open sewers in the capital overflowed from overnight rains, swamping nearby slums and causing traffic jams.
The rains began to ease by midday after plunging some areas in knee-deep waters, but civil defence chief Benito Ramos said he could not rule out further flooding as runoff from nearby mountains descends into Manila Bay.
'All that rain up there would eventually find their way here,' he told AFP, referring to the mountains to the east of Manila.

Authorities in central Nigeria say a flood triggered by heavy rains killed at least 35 people.
Plateau state Red Cross chief Mnasseh Pampe said Monday several other Jos residents remain missing and rescue forces expect the death toll to rise further.
He says the flood waters washed away many homes in the area — often built with mud — leaving some 200 residents displaced.
Nigeria is currently experiencing its annual rainy season, which comes with torrential rains that challenge the country's infrastructure, often leading buildings to collapse and people to drown as many build houses in flood plains.
************************************************************************************************************
Radiation / Nuclear
| | | | | | | |
| --- | --- | --- | --- | --- | --- | --- |
| Today | Nuclear Event | USA | State of New Jersey, [Oyster Creek Nuclear Power Plant, Lacey Township] | | | |
Description
The Oyster Creek nuclear plant in Lacey Township was shut down early today after a power failure, according to plant owner Exelon. Electrical service from the outside grid was disrupted at around 3:41 a.m., and the plant's emergency diesel generators kicked in and powered the plant's safety systems, said a statement from the Nuclear Regulatory Commission. The problem appeared to be a grounded 230-kilovolt line, according to the NRC. Jersey Central Power & Light crews fixed the problem a little after 5:30 a.m., Exelon said. Afterwards the plant was taken to cold shutdown, in which the reactor and associated systems are cooled down and depressurized, according to the NRC. The plant will likely start up again in a matter of days, said Exelon spokeswoman Suzanne D'Ambrosio. "We make sure the plant is shut down and cooled down and then if there's any little maintenance we need to do we may take advantage of down time to do that," D'Ambrosio said. "Obviously with the hot summer it's in our best interest to get running as soon as possible, but it's a very slow and deliberate process." Oyster Creek produces 636 megawatts of electricity at full power, enough electricity for about 600,000 homes.
************************************************************************************************************
Epidemic Hazards / Diseases
| | | | | | | |
| --- | --- | --- | --- | --- | --- | --- |
| Today | Epidemic | Democratic Republic of the Congo | Province of North Kivu, [Province-wide] | | | |
Description
The security situation in the eastern Democratic Republic of Congo (DRC) province of North Kivu has been deteriorating for months because of armed conflict between various renegade soldier groups. The fighting has resulted in the displacement of approximately 250,000 people from the area fleeing the violence in search of safety. Health concerns have also risen in violence-ridden areas of the eastern DRC. According to a World Health Organization (WHO) Global Alert and Response (GAR) issued Monday, the DRC has reported a sharp increase in the number of cholera cases in the armed conflict area of North Kivu. For the three weeks spanning June 11 to July 1, 368 new cases of cholera were reported. Because of the lack of security in the area, there is a concern those stricken with cholera will have difficulty in accessing the health-care facilities and could increase the number of severe and fatal cases. The WHO also reports the fear of the cholera spilling over the borders into neighboring countries Burundi, Rwanda, South Sudan and Uganda. Médecins Sans Frontieres (MSF) and its partners blame the outbreak on a lack of potable drinking water.

Patients are being treated with infusions and antibiotics as appropriate, at treatment centres. Interventions to control the epidemic that are being carried out include education and communication; management of cases; increased surveillance; hygiene and sanitation; and provision of safe drinking water.WHO is working to support national authorities in response to the cholera outbreak and the broader humanitarian emergency resulting from conflict and population displacement. Cholera is an acute bacterial intestinal disease characterized by sudden onset, profuse watery stools (given the appearance as rice water stools because of flecks of mucus in water) due to a very potent enterotoxin. The enterotoxin leads to an extreme loss of fluid and electrolytes in the production of diarrhea. It has been noted that an untreated patient can lose his bodyweight in fluids in hours resulting in shock and death. It is caused by the bacterium, Vibrio cholerae. Serogroups O1 and O139 are the types associated with the epidemiological characteristics of cholera (outbreaks). The bacteria are acquired through ingestion of contaminated water or food through a number of mechanisms. Water is usually contaminated by the feces of infected individuals.

Drinking water can be contaminated at the source, during transport or during storage at home.Food can be contaminated by soiled hands, during preparation or while eating. Beverages and ice prepared with contaminated water and fruits and vegetables washed with this water are other examples. Some outbreaks are linked to raw or undercooked seafood. The incubation for cholera can be from a few hours to 5 days. As long as the stools are positive, the person is infective. Some patients may become carriers of the organism which can last for months. Cholera is diagnosed by growing the bacteria in culture. Treatment consists of replacement of fluids lost, intravenous replacement in severe cases. Doxycycline or tetracycline antibiotic therapy can shorten the course of severe disease. According to Wikipedia, North Kivu is a province bordering Lake Kivu in the eastern Democratic Republic of Congo. Its capital is Goma. North Kivu borders the provinces of Orientale to the north and northwest, Maniema to the southwest, and South Kivu to the south. To the east, it borders the countries of Uganda and Rwanda.

Biohazard name:
Cholera Outbreak
Biohazard level:
2/4 Medium
Biohazard desc.:
Bacteria and viruses that cause only mild disease to humans, or are difficult to contract via aerosol in a lab setting, such as hepatitis A, B, and C, influenza A, Lyme disease, salmonella, mumps, measles, scrapie, dengue fever, and HIV. "Routine diagnostic work with clinical specimens can be done safely at Biosafety Level 2, using Biosafety Level 2 practices and procedures. Research work (including co-cultivation, virus replication studies, or manipulations involving concentrated virus) can be done in a BSL-2 (P2) facility, using BSL-3 practices and procedures. Virus production activities, including virus concentrations, require a BSL-3 (P3) facility and use of BSL-3 practices and procedures", see Recommended Biosafety Levels for Infectious Agents.
Symptoms:
Status:
confirmed
************************************************************************************************************
Solar Activity
 2MIN News July 23, 2012
Published on Jul 23, 2012 by Suspicious0bservers
EARTHQUAKE WATCH: http://youtu.be/SMiHsOYwdCs
REPEAT LINKS
Spaceweather: http://spaceweather.com/ [Look on the left at the X-ray Flux and Solar Wind Speed/Density]
HAARP: http://www.haarp.alaska.edu/haarp/data.html [Click online data, and have a little fun]
SDO: http://sdo.gsfc.nasa.gov/data/ [Place to find Solar Images and Videos - as seen from earth]
SOHO: http://sohodata.nascom.nasa.gov/cgi-bin/soho_movie_theater [SOHO; Lasco and EIT - as seen from earth]
Stereo: http://stereo.gsfc.nasa.gov/cgi-bin/images [Stereo; Cor, EUVI, HI - as seen from the side]
SunAEON:http://www.sunaeon.com/#/solarsystem/ [Just click it... trust me]
SOLARIMG: http://solarimg.org/artis/ [All purpose data viewing site]
iSWA: http://iswa.gsfc.nasa.gov/iswa/iSWA.html [Free Application; for advanced sun watchers]
NOAA ENLIL SPIRAL: http://www.swpc.noaa.gov/wsa-enlil/cme-based/ [CME Evolution]
NOAA Bouys: http://www.ndbc.noaa.gov/
RSOE: http://hisz.rsoe.hu/alertmap/index2.php [That cool alert map I use]
JAPAN Radiation Map: http://jciv.iidj.net/map/
LISS: http://earthquake.usgs.gov/monitoring/operations/heliplots_gsn.php
Gamma Ray Bursts: http://grb.sonoma.edu/ [Really? You can't figure out what this one is for?]
BARTOL Cosmic Rays: http://neutronm.bartol.udel.edu//spaceweather/welcome.html [Top left box, look for BIG blue circles]
TORCON: http://www.weather.com/news/tornado-torcon-index [Tornado Forecast for the day]
GOES Weather: http://rsd.gsfc.nasa.gov/goes/ [Clouds over America]
INTELLICAST: http://www.intellicast.com/ [Weather site used by many youtubers]
NASA News: http://science.nasa.gov/science-news/science-at-nasa/
PHYSORG: http://phys.org/ [GREAT News Site!]

On July 23rd, a coronal mass ejection (CME) blasted away from the sun with rare speed: 3400 km/s or 7.6 million mph. CMEs moving this fast occur only once every ~5 to 10 years. The Solar and Heliospheric Observatory recorded the cloud's rapid departure from the sun: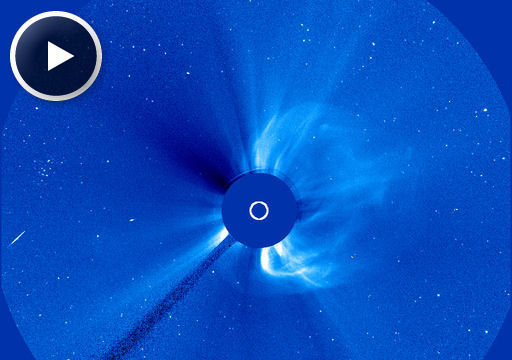 The source of the CME was sunspot AR1520, which sparked many bright auroras earlier this montth when it was on the Earthside of the sun. Now, however, the active region is transiting the sun's farside so this blast was not geoeffective. One can only imagine the geomagnetic storms such a fast CME could produce if it were heading our way.
Update: According to a forecast track prepared by analysts at the Goddard Space Weather Lab, this CME will miss all of the solar system's inner planets
Strong Far Side Solar Flare – Protons Rising July 23, 2012
Published on Jul 23, 2012 by SunsFlare
Proton Flux Rising July 23, 2012 – 10:36:02 UTC
There was a large eruption from the 1520 sunspot group after it had turned the limb to the far side as seen on stereo ahead. Earth's magnetic portal foot print was on the back side and very close to the eruption.
************************************************************************************************************
Space
Object Name
Apporach Date
Left
AU Distance
LD Distance
Estimated Diameter*
Relative Velocity
(2012 BB124)
24th July 2012
0 day(s)
0.1610
62.7
170 m – 380 m
8.78 km/s
31608 km/h
(2009 PC)
28th July 2012
4 day(s)
0.1772
68.9
61 m – 140 m
7.34 km/s
26424 km/h
217013 (2001 AA50)
31st July 2012
7 day(s)
0.1355
52.7
580 m – 1.3 km
22.15 km/s
79740 km/h
(2012 DS30)
02nd August 2012
9 day(s)
0.1224
47.6
18 m – 39 m
5.39 km/s
19404 km/h
(2000 RN77)
03rd August 2012
10 day(s)
0.1955
76.1
410 m – 920 m
9.87 km/s
35532 km/h
(2004 SB56)
04th August 2012
11 day(s)
0.1393
54.2
380 m – 840 m
13.72 km/s
49392 km/h
(2000 SD8)
04th August 2012
11 day(s)
0.1675
65.2
180 m – 400 m
5.82 km/s
20952 km/h
(2006 EC)
06th August 2012
13 day(s)
0.0932
36.3
13 m – 28 m
6.13 km/s
22068 km/h
(2006 MV1)
07th August 2012
14 day(s)
0.0612
23.8
12 m – 28 m
4.79 km/s
17244 km/h
(2005 RK3)
08th August 2012
15 day(s)
0.1843
71.7
52 m – 120 m
8.27 km/s
29772 km/h
(2009 BW2)
09th August 2012
16 day(s)
0.0337
13.1
25 m – 56 m
5.27 km/s
18972 km/h
277475 (2005 WK4)
09th August 2012
16 day(s)
0.1283
49.9
260 m – 580 m
6.18 km/s
22248 km/h
(2004 SC56)
09th August 2012
16 day(s)
0.0811
31.6
74 m – 170 m
10.57 km/s
38052 km/h
(2008 AF4)
10th August 2012
17 day(s)
0.1936
75.3
310 m – 690 m
16.05 km/s
57780 km/h
37655 Illapa
12th August 2012
19 day(s)
0.0951
37.0
770 m – 1.7 km
28.73 km/s
103428 km/h
(2012 HS15)
14th August 2012
21 day(s)
0.1803
70.2
220 m – 490 m
11.54 km/s
41544 km/h
4581 Asclepius
16th August 2012
23 day(s)
0.1079
42.0
220 m – 490 m
13.48 km/s
48528 km/h
(2008 TC4)
18th August 2012
25 day(s)
0.1937
75.4
140 m – 300 m
17.34 km/s
62424 km/h
(2006 CV)
20th August 2012
27 day(s)
0.1744
67.9
290 m – 640 m
13.24 km/s
47664 km/h
(2012 EC)
20th August 2012
27 day(s)
0.0815
31.7
56 m – 130 m
5.57 km/s
20052 km/h
162421 (2000 ET70)
21st August 2012
28 day(s)
0.1503
58.5
640 m – 1.4 km
12.92 km/s
46512 km/h
(2007 WU3)
21st August 2012
28 day(s)
0.1954
76.0
56 m – 120 m
5.25 km/s
18900 km/h

| | |
| --- | --- |
| 1 AU = ~150 million kilometers,1 LD = Lunar Distance = ~384,000 kilometers | Source: NASA-NEO |
*************************************************************************************************************
Biological Hazards / Wildlife / Hazmat
| | | | | | | |
| --- | --- | --- | --- | --- | --- | --- |
| Today | HAZMAT | USA | State of Colorado, Pueblo [Pueblo Chemical Depot] | | | |
Description
A monitoring crew has found a leak inside one of the igloos at the Pueblo Chemical Depot where mustard agent is stored. The storage igloo contains 105 mm projectiles with chemical weapons inside which date back more than fifty years. All the weapons are scheduled for destruction and the plant to destroy them is under construction. This is a fairly common occurrence. When a leaking projectile is found it is sealed in a special case until it can be destroyed.
**************************************************************************************************************
Articles of Interest
"Polar Regions Of Earth Lit Up Like A Christmas Tree" 
MessageToEagle.com – Solar Max is due in the year 2013. NASA scientists make analysis of recent solar activity. and say that it's still more to come.
When solar maximum arrives, the peak of 11-year sunspot cycle will bring more solar flares, more coronal mass ejections, more geomagnetic storms and more auroras than we have experienced in quite some time.
On the weekend of July 14, 2012, sky watchers around the world got a taste of things to come.
It was mid-Saturday in North America when a coronal mass ejection or "CME" crashed into Earth's magnetic field and triggered the most sustained display of auroras in years. For more than 36 hours, magnetic storms circled Earth's poles.

Northern Lights spilled across the Canadian border into the United States as far south as California, Colorado, Kansas, and Arkansas.

In the southern hemisphere, skies turned red over Tasmania and New Zealand, while the aurora australis pirouetted around the South Pole.
The source of the CME was giant sunspot AR1520, a seething nest of tangled magnetism more than 15 times wider than Earth itself.
On July 12th, the sunspot's magnetic field erupted, producing an X-class solar flare and hurling a billion tons of electrified plasma toward our planet.
An experimental NASA computer model of the incoming CME predicted its arrival at Earth on July 14th. Credit: Goddard Space Weather Lab. animation
NASA's twin STEREO probes and the European Space Agency's Solar and Heliospheric Observatory monitored the CME as it billowed away from the sun. Using those data, analysts at NOAA and NASA successfully predicted the cloud's arrival time.
It would take almost two full days for the CME to cross the 93 million mile void between Earth and sun.
The CME's impact sharply compressed Earth's magnetosphere, briefly exposing geosynchronous satellites to solar wind plasma. The shaking of Earth's magnetic field caused compass needles to swing–just a little–and prompted electrical currents to flow through the soil at high latitudes. p> Fortunately, the strike did no harm; satellites survived and power grids stayed online.

Click on image to enlargeAurora, Pawnee Grasslands, CR-61, ColoradoThis was the first time I ever saw an aurora. It is very rare that they are visible from Northern Colorado. As soon as I stepped out of the car, the northern sky appeared as it was on fire. I imaged the event for a good 30 minutes before the Moon-Venus-Jupiter conjunction rose above the horizon. To see the two events side-by-side was incredible! Date: 2012-07-15 Camera: Canon XSi (modified) Lens: Canon 50mm f/1.4 Mount: Astrotrac Shot: 13-panel Mosaic 13×8 seconds f/2.5 ISO 1600 Processing: Photoshop, Topaz. Robert Arn

Click on image to enlargeAurora, Ozark, AR, USAThere was a very faint red glow off and on most of the night but around 2am CDT it began increasing. Around 3am and 330am there were pretty good outburst. The red was naked eye visible at times after 2am but the outburst that included some tall columns was much more visible with the naked eye. Canon T2i. Photo Credits: Brian Emfinger

Click on image to enlargeAurora, Amundsen-Scott South Pole Station, Jul. 15, 2012Hi, besides being inside the oval, we had some crazy auroras the last few days. The last 6 days were the best of the whole winter so far, and we got really nice clear skies as well, but we buy it with temperatures below -100F for more than 24h now, coldest today was around -105F, -76°C both images Canon 7D, 8mm, f3.5, 5sec, iso 6400 cheers, Robert http://www.antarctic-adventures.de. Photo Credit: Robert Schwarz
Next came the light show. As the CME's wake washed across Earth, the polar regions of our planet lit up like a Christmas tree. Red, green, blue and purple auroras capped both ends of the planet, glowing, dancing, and ultimately spreading to places where auroras are seldom seen.
In Arkansas, for instance, "there was a faint glow off and on for most of the night," reports Brad Emfinger from a little town called Ozark. "Around 3am there was an outburst of red and purple plainly visible to the naked eye."
In Pawnee Grasslands, Colorado, photographer Robert Arn saw the Northern Lights for the first time ever: "As soon as I stepped out of the car, the sky looked like it was on fire.
Then the Moon, Venus and Jupiter rose together in the east. To see the conjunction and the auroras side-by-side was incredible!"
Meanwhile at the other end of the planet, "auroras were going crazy over the South Pole," reports Robert Schwarz at the Amundsen-Scott south pole research station "We enjoyed the show under crystal clear skies with an air temperature of minus 105 degrees F."
In Ashland, Wisconsin, on the other hand, John Welling watched the show in his shirt sleeves:
"Tonight was absolutely the best with a comfortable temperature of +78 degrees F and Northern Lights dancing overhead. The X-flare definitely lived up to the hype."
From one end of the planet to the other, spanning more than 90 degrees of combined north-south latitude, 183 degrees of temperature, and 360 degrees of longitude, this was truly a global space weather event. And it was just a taste of things to come
*************************************************************************************************************
[In accordance with Title 17 U.S.C. Section 107, this material is distributed without profit, for research and/or educational purposes. This constitutes 'FAIR USE' of any such copyrighted material.]