Earthquakes
Date/Time (UTC)
Magnitude
Area
Country
State/Prov./Gov.
Location
Risk
Source
Details
13.07.2012 04:25:34
2.0
North America
United States
Hawaii
Pahala
USGS-RSOE
13.07.2012 04:10:22
2.5
Europe
Greece
Attica
Agia Pelagia
EMSC
13.07.2012 03:45:21
2.6
Caribbean
Puerto Rico
Arroyo
Arroyo
USGS-RSOE
13.07.2012 04:10:44
2.5
South-America
Chile
Coquimbo
Illapel
EMSC
13.07.2012 03:10:28
2.3
North America
United States
Hawaii
Waimea
USGS-RSOE
13.07.2012 04:11:53
4.4
South-America
Peru
Tacna
Calana
EMSC
13.07.2012 04:12:17
4.8
Atlantic Ocean – North
South Georgia and the South Sandwich Islands
Grytviken
EMSC
13.07.2012 03:20:24
4.8
Atlantic Ocean
South Georgia and the South Sandwich Islands
Grytviken
USGS-RSOE
13.07.2012 04:12:39
2.0
Asia
Turkey
?zmir
Karaburun
EMSC
13.07.2012 03:05:26
2.2
Europe
Greece
South Aegean
Asfendiou
EMSC
13.07.2012 03:05:43
4.0
Middle-East
Iran
S?st?n va Bal?chest?n
Iranshahr
EMSC
13.07.2012 03:06:00
4.7
Middle-East
Iran
S?st?n va Bal?chest?n
Iranshahr
EMSC
13.07.2012 02:06:10
4.5
Middle East
Iran
S?st?n va Bal?chest?n
Iranshahr
USGS-RSOE
13.07.2012 01:40:39
2.2
North America
United States
Oregon
Vernonia
USGS-RSOE
13.07.2012 03:06:21
2.0
Asia
Turkey
Van
Yuvacik
EMSC
13.07.2012 02:00:25
2.0
Asia
Turkey
Afyonkarahisar
Bolvadin
EMSC
13.07.2012 02:00:43
2.3
Asia
Turkey
Diyarbak?r
Hazro
EMSC
13.07.2012 02:01:01
3.4
South-America
Bolivia
Potosí
Villa Alota
EMSC
12.07.2012 23:55:19
2.2
Asia
Turkey
Mu?la
OEluedeniz
EMSC
12.07.2012 23:55:38
4.0
Europe
Italy
Campania
Ischia Porto
EMSC
13.07.2012 00:05:29
4.1
Europe
Italy
Campania
Ischia Porto
USGS-RSOE
12.07.2012 23:58:38
4.5
Middle East
Iran
Hormozg?n
Bandar-e Lengeh
USGS-RSOE
12.07.2012 23:56:01
4.5
Middle-East
Iran
Hormozg?n
Bandar-e Lengeh
EMSC
12.07.2012 23:56:24
2.0
Europe
Italy
Umbria
Terria di Contra
EMSC
12.07.2012 23:56:45
2.6
Europe
Greece
Epirus
Dolon
EMSC
12.07.2012 22:40:41
2.1
North America
United States
Hawaii
Volcano
USGS-RSOE
12.07.2012 23:57:07
2.3
Asia
Turkey
Van
Toyga
EMSC
12.07.2012 22:25:33
3.7
North America
United States
Alaska
Petersville
USGS-RSOE
12.07.2012 22:50:26
2.4
Europe
Italy
Emilia-Romagna
San Prospero
EMSC
12.07.2012 22:50:47
2.5
Asia
Turkey
Van
Yuvacik
EMSC
12.07.2012 22:51:06
2.8
South-America
Chile
Libertador General Bernardo O?Higgins
Santa Cruz
EMSC
12.07.2012 22:51:26
2.5
Asia
Turkey
Mu?la
Ula
EMSC
12.07.2012 22:35:42
2.3
Middle America
Mexico
Baja California
Alberto Oviedo Mota
USGS-RSOE
12.07.2012 21:50:22
4.2
Asia
China
Xinjiang Uygur Zizhiqu
Shihezi
EMSC
12.07.2012 21:50:46
2.0
Asia
Turkey
Kütahya
Simav
EMSC
12.07.2012 20:45:27
2.4
Asia
Turkey
Mu?la
Ula
EMSC
12.07.2012 20:05:33
3.5
North America
United States
California
Yucca Valley
USGS-RSOE
12.07.2012 20:00:47
3.9
North America
United States
California
Yucca Valley
USGS-RSOE
12.07.2012 19:35:43
2.6
North America
United States
Alaska
Chase
USGS-RSOE
13.07.2012 02:20:34
2.6
North America
Canada
British Columbia
Princeton
USGS-RSOE
12.07.2012 20:45:47
2.2
Europe
Greece
South Aegean
Faliraki
EMSC
12.07.2012 19:30:42
4.9
Indian Ocean
Mauritius
Grand Port
Bambous Virieux
USGS-RSOE
12.07.2012 19:40:27
4.9
Indian Ocean
Mauritius
Grand Port
Bambous Virieux
EMSC
12.07.2012 19:40:45
4.5
Atlantic Ocean – North
Greenland
Kujalleq
Prins Christians Sund
EMSC
12.07.2012 19:10:31
4.5
Atlantic Ocean
Greenland
Kujalleq
Prins Christians Sund
USGS-RSOE
12.07.2012 18:35:25
2.4
Asia
Turkey
Adana
Kadirli
EMSC
12.07.2012 18:35:48
2.5
Europe
Greece
Thessaly
Vamvakou
EMSC
12.07.2012 18:36:17
2.4
Asia
Turkey
Ayd?n
Kocarli
EMSC
12.07.2012 18:36:43
5.5
Indonesian Archipelago
Indonesia
Maluku
Amahai
EMSC
12.07.2012 17:55:35
5.5
Indonesian archipelago
Indonesia
Maluku
Amahai
USGS-RSOE
Edited by Shamik Ghosh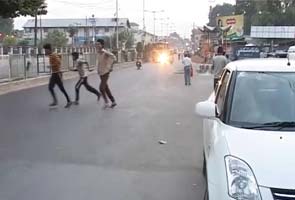 New Delhi: A magnitude 5.8 earthquake struck northern India on Thursday evening. Tremors were felt in parts of Punjab and Jammu and Kashmir reportedly.
The epicentre of the quake was in Hindukush region.
Press Trust of India (PTI) reported that the powerful earthquake also jolted parts of Punjab and Khyber-Pakhtunkhwa provinces of Pakistan though there were no reports of casualties or damage to property.
The tremor, which lasted about five seconds, occurred at about 7 pm and was followed by powerful aftershocks. It was felt in Islamabad, Lahore and other parts of Punjab, Peshawar and across Khyber-Pakhtunkhwa.
***********************************************************************************************************
Extreme Temperatures/ Weather / Drought
Firefighters take on the heat at summer fires
Published on Jul 12, 2012 by wish
The heat outside is taking a toll on firefighters. The men and women who sacrifice their safety on a regular basis to fight fires are working overtime now any time they get a fire call.
| | | | | | | |
| --- | --- | --- | --- | --- | --- | --- |
| 12.07.2012 | Forest / Wild Fire | USA | State of Idaho, [Boise National Forest (Avelene)] | | | |
Description
The Avelene Fire grew quickly overnight and is threatening homes in the Boise National Forest. Three fires started on Tuesday and combined into the 250-acre Avelene Fire, near Highway 21 and Grimes Creek Road. Steep terrain, scorching temperatures, thick smoke, and wind are making life hard for firefighters. But crews have put a fire line around half of the fire perimeter as they try to protect the community of Clear Creek, the edge of which is about 1/8 of a mile away. "There's structure protection around 20 homes, but there are 100 homes in the area that are of concern," said Christine Schuldheisz, with the Boise National Forest. Deputies are recommending people living within a mile of the fire evacuate, but they aren't forcing them to. However, all that could change if the fire gets much closer to Clear Creek, and homes like Terry Day's. "If it drops down into the gulch over this way and comes up, that's going to threaten a bunch of homes. There's probably 350 homes up here," said Day. "If it gets hot enough, it could catch my house." Day also happens to be a Boise County commissioner, and says commissioners have declared a county emergency to mobilize the sheriff's department and other resources. But Day says this is bad timing for a county that just had to increase its budget to pay off a lawsuit. "They've got another fire on the Boise Front, Aldape Summit, that's affecting us as far as the county goes," said Day. "We've got to pay for all this stuff and we're not financially real solvent right now." If the fire continues to grow, the commission will ask the governor to declare a state emergency to get state resources. Fifteen engines, two helicopters and air tankers, and about 130 firefighters are battling the Avelene Fire, but a Type 1 Incident Management Team has been ordered to help manage the fire, and should be there in one or two days. Dave Olson with the Boise National Forest say a lot of support has come from the Clear Creek and Wilderness Ranch Rural Fire Departments. Also, firefighters urge you to drive very carefully on Highway 21, there's a lot of fire traffic and heavy smoke.
(USDA)
The United States Department of Agriculture has declared natural disaster areas in more than 1,000 counties and 26 drought-stricken states, making it the largest natural disaster in America ever.
The declaration—which covers roughly half of the country—gives farmers and ranchers devastated by drought access to federal aid, including low-interest emergency loans.
"Agriculture remains a bright spot in our nation's economy," U.S. Agriculture Secretary Tom Vilsack said Wednesday while announcing the assistance program. "We need to be cognizant of the fact that drought and weather conditions have severely impacted farmers around the country."
According to the U.S. Drought Monitor, more than half the country (56 percent) experienced drought conditions—the largest percentage in the 12-year history of the service. And according to the National Oceanic and Atmospheric Administration (NOAA), the period from January through June was "the warmest first half of any year on record for the contiguous United States."
The average temperature was 52.9 degrees Fahrenheit, or 4.5 degrees above average, NOAA said on Monday. Twenty-eight states east of the Rockies set temperature records for the six-month period.
A heat wave blistered most of the United States in June, with more than 170 all-time temperature records broken or tied during the month. On June 28 in Norton, Kan., for instance, the temperature reached 118 degrees, an all-time high. On June 26, Red Willow, Neb., set a temperature record of 115 degrees, eclipsing the 114-degree mark set in 1932.
The world is watching and waiting while US farmers struggle with the worst drought in 25 years
By Veronica Brown and Nigel Hunt
LONDON — What looks to be the worst U.S. drought in a quarter of a century has given rise to an old-fashioned commodity rally on world markets, with key grain prices hitting highs which caused food crises in vulnerable parts of the globe last time around.
Seeking to protect their populations from hunger this time, many countries relying heavily on imports have held off for now, touting healthy stock levels and hoping other sources will come through and bring prices down.
But their hopes may be dashed if they all return to market at once.
With so much of the world putting faith in a record U.S. corn crop, it is little wonder that prices have surged around 40 percent in the past three weeks as relentless dry weather melted yield expectations for cereals. Soybeans are at record highs, while wheat is not far behind.
"Production potential looked great and it kind of lulled these end-users into a false sense of security. At that point we were seriously looking at (corn) prices under $5 if weather conditions remained ideal, but now we've rallied sharply higher and never looked back," Jefferies Bache analyst Shawn McCambridge said.
Now, corn futures contracts backed by the 2012 harvest are above $7 a bushel and climbing fast.
Traders said consumers in Europe, North Africa and the Middle East had pulled back on regular purchases, expecting prices to cool off.
"This to me is a time bomb. I am routinely one of the more bearish people but it wouldn't surprise me if corn traded at $10," the trader added.
There are several parallels between the current state of play and food crises of the past few years, including scorching weather, wilting crops and sky-rocketing prices. Just substitute 2012′s U.S. drought and corn for 2010′s Russian crop failure.
Similarities can also be found on the macro front – 2008, when prices were last at these levels, saw a mushrooming financial crisis culminate in the failure of Lehman Brothers, and now Europe's debt crisis has left the euro zone precariously balanced, with other regions also on edge.
The uncertainty has led to swings in all the markets this time as then, but the simple common denominator of supply and demand has been the driving force of the latest grain price spike, with weather the only fundamental that matters.
Such frenzied buying leads ultimately to additional food inflation and domestic price rises can be a tipping point in countries with already struggling populations.
Bulging demand pipeline
Parking on the sidelines to avoid the sting of higher prices seems like a sensible tactic
Morocco is currently reluctant to buy, but faces its highest cereal import needs in three decades due to a poor domestic harvest. The north African country's cereals crop fell from 8.4 million tonnes in 2011 to 5.1 million tonnes this year.
"Buyers have been rejecting offers in the last couple of weeks expecting prices to come down," a Singapore-based grain trader said. "We have seen it in South Korea, the Philippines and Vietnam but how long can they wait?"
Buyers will do their best to hold out for the release of new crop grain in September and October from multiple sources including Eastern Europe, with Black Sea countries having forged a place on international markets as key suppliers of grain at cheap prices.
However those origins are also under pressure.
Hot and dry weather has forced Russia, Ukraine and Kazakhstan to reduce their harvest forecasts and the region's total grain output could be at least 35 million tonnes less than in 2011.
***********************************************************************************************************
Storms, Flooding, Avalanches
  Active tropical storm system(s)
Name of storm system
Location
Formed
Last update
Last category
Course
Wind Speed
Gust
Wave
Source
Details
Emilia (05E)
Pacific Ocean – East
07.07.2012
12.07.2012
Hurricane III.
270 °
185 km/h
222 km/h
4.57 m
NHC
| | |
| --- | --- |
| Share: | |
| Storm name: | Emilia (05E) |
| Area: | Pacific Ocean – East |
| Start up location: | N 9° 54.000, W 101° 36.000 |
| Start up: | 07th July 2012 |
| Status: | 01st January 1970 |
| Track long: | 1,522.51 km |
| Top category.: | |
| Report by: | NHC |

Useful links:

Past track

Date
Time
Position
Speed
km/h
Wind
km/h
Gust
km/h
Category
Course
Wave
Pressure
Source
08th Jul 2012
05:07:03
N 10° 42.000, W 103° 12.000
26
65
83
Tropical Storm
285
14
1003 MB
NHC
09th Jul 2012
05:07:15
N 11° 36.000, W 108° 24.000
22
111
139
Tropical Storm
285
16
995 MB
NHC
10th Jul 2012
04:07:19
N 13° 18.000, W 112° 12.000
22
194
241
Hurricane III.
290
16
959 MB
NHC
11th Jul 2012
05:07:53
N 14° 24.000, W 115° 36.000
19
176
213
Hurricane II.
290
15
967 MB
NHC
12th Jul 2012
05:07:00
N 15° 0.000, W 119° 6.000
15
185
222
Hurricane III.
295
16
962 MB
NHC

Current position

Date
Time
Position
Speed
km/h
Wind
km/h
Gust
km/h
Category
Course
Wave
feet
Pressure
Source
13th Jul 2012
05:07:15
N 15° 24.000, W 123° 30.000
19
139
167
Hurricane I.
275 °
12
979 MB
NHC

Forecast track

Date
Time
Position
Category
Wind
km/h
Gust
km/h
Source
14th Jul 2012
00:00:00
N 16° 30.000, W 127° 42.000
Tropical Storm
102
120
NHC
15th Jul 2012
00:00:00
N 17° 0.000, W 132° 54.000
Tropical Storm
74
93
NHC
16th Jul 2012
00:00:00
N 17° 30.000, W 138° 0.000
Tropical Depression
56
74
NHC
17th Jul 2012
00:00:00
N 17° 30.000, W 143° 0.000
Tropical Depression
46
65
NHC
| | | | | | | | | | | |
| --- | --- | --- | --- | --- | --- | --- | --- | --- | --- | --- |
| Fabio (06E) | Pacific Ocean – East | 12.07.2012 | 12.07.2012 | Tropical Storm | 280 ° | 65 km/h | 83 km/h | 4.88 m | NHC | |
| | |
| --- | --- |
| Share: | |
| Storm name: | Fabio (06E) |
| Area: | Pacific Ocean – East |
| Start up location: | N 13° 36.000, W 106° 24.000 |
| Start up: | 12th July 2012 |
| Status: | 01st January 1970 |
| Track long: | 175.69 km |
| Top category.: | |
| Report by: | JTWC |

Useful links:

Past track

Date
Time
Position
Speed
km/h
Wind
km/h
Gust
km/h
Category
Course
Wave
Pressure
Source

Current position

Date
Time
Position
Speed
km/h
Wind
km/h
Gust
km/h
Category
Course
Wave
feet
Pressure
Source
13th Jul 2012
05:07:51
N 13° 54.000, W 109° 0.000
17
93
111
Tropical Storm
280 °
16
998 MB
JTWC

Forecast track

Date
Time
Position
Category
Wind
km/h
Gust
km/h
Source
14th Jul 2012
06:00:00
N 16° 0.000, W 111° 30.000
Tropical Storm
102
120
JTWC
15th Jul 2012
06:00:00
N 16° 42.000, W 114° 18.000
Hurricane I.
120
148
JTWC
16th Jul 2012
06:00:00
N 18° 0.000, W 116° 30.000
Tropical Storm
102
120
JTWC
17th Jul 2012
06:00:00
N 20° 42.000, W 118° 30.000
Tropical Depression
56
74
JTWC
A severe thunderstorm has flooded streets, yards, basements and construction sites in Edmonton. Sections of Whitemud Drive are underwater at 111th Street west of Calgary Trail. City workers arrived shortly after 7:30 a.m. to begin clearing the water.
Dharminder Gill told CBC News he was driving to work at 3 a.m.when his car stalled in the rising water. Within five minutes the water was waist deep, he said, and when he opened his window to escape the water began pouring in.
"I was scared," he said. "I took my bag and ran through the water and moved to a safe place."
The normally busy Mill Woods intersection at 66 Street and 34 Avenue is also flooded.
Firefighters spent much of the morning rescuing people from submerged vehicles, with at least 18 cars becoming trapped due to rainstorm, and responding to alarms set off by the storm.
"We had over 70 calls in a short period of time," said fire Chief Ken Block, adding the calls left some areas of the city without direct fire coverage. "At a point last night we had crews from downtown responding in Mill Woods, which is a long ways away."
Some off-duty firefighters had to be called in to bolster resources, he said.
Firefighters also responded to two house fires caused by lightning strikes, each damaged to the tune of $100,000, Block said. "Our resources were stretched very thin."
Epcor reported 15 electrical circuits knocked out by lightning, though most power was restored by 8:30 a.m.
Several millimetres of rain and hail fell between 3 a.m. and 4:30 a.m.
The severe thunderstorm warning for Edmonton, St. Albert, Sherwood Park has ended, though Environment Canada says a few showers with thunderstorms are expected this morning.
The heatwave that helped generate the storm will continue Thursday with a high of 30 C.
| | | | | | | | |
| --- | --- | --- | --- | --- | --- | --- | --- |
| | 12.07.2012 | Flash Flood | USA | State of Texas, Houston | | | |
Description
Parts of the Houston region are seeing some significant flooding this morning. Hardest hit are areas to the northwest of the city, where parts of North Eldridge Parkway are reported to be completely impassable. An estimated five inches of rain have fallen during the last three hours along parts of Cypress Creek, and there is a flood warning for Cypress Creek at Grant Road. Due to the rains there is also a flash flood warning area for a large part of northwest Harris County until 9:45 a.m. CT. These heavy rains should persist for the morning hours, but forecast models move the heaviest rain to the east of Houston by the early afternoon hours. That will hopefully give the hardest hit areas to the northwest and north of Houston time to dry out, a bit. But the rain's going to linger this week, says the National Weather Service. The upper-level system that's been driving the rains is going to remain along the upper Texas coast through the early part of next week, which should produce at least scattered showers during the afternoon hours. High pressure may begin to return to Houston by the middle of next week, bringing an end to the rain chances. On the plus side, temperatures should remain below normal, with highs near or around 90 degrees. Yesterday's high at Bush Intercontinental Airport was just 82 degrees, and that's the fifth day of highs 85 degrees or less this month. Looking back to last summer there was just one day with a high of 85 or less during June, July, August and September.
| | | | | | | | |
| --- | --- | --- | --- | --- | --- | --- | --- |
| | 12.07.2012 | Flash Flood | Japan | MultiProvinces, [Provinces of Kumamoto and Oita] | | | |
Description
Flooding and landslides caused by record torrential rain on the southern Japanese island of Kyushu have killed six people and left 20 missing. Rescue workers had been unable to reach some of the areas where people were believed to be buried under landslides, television reports said on Thursday. Authorities in the prefectural capital of Kumamoto ordered about 48,000 residents to flee the city. Blackouts hit about 10,000 households in Kumamoto and Oita prefectures, the Kyushu Electric Power Company reported. Railway services and motor traffic were suspended, Kyodo said, while some bullet train services were temporarily halted in the island's north and centre. The Japan Meteorological Agency said rainfall in some parts of the island had reached levels that have "never been experienced". It said hourly rainfall in the morning topped 120mm in Aso and reached 120mm in Ubuyama. The agency warned of more heavy rain and landslides in northern parts of Kyushu before the downpours move north to the main island of Honshu later on Thursday.
Flash floods in Japan leave trail of destruction
Kyodo via Reuters
An aerial view shows firefighters searching among collapsed houses following a landslide caused by heavy rains in Minamiaso town, Kumamoto prefecture, Japan, on July 12, 2012.
Jiji Press via AFP – Getty Images
Floodwaters engulf a river at Kumamoto city on Japan's southern island of Kyushu on July 12, 2012.
Arata Yamamoto of NBC News reports — An unprecedented 20 inches of rain descended on the town of Aso in southwestern Japan, inundating homes and rice paddies and killing at least 6 people. 20 people are still reportedly missing.
Images on local news reports showed cars being dragged into the raging rivers and houses destroyed by landslides. But by around noon time the rain had stopped, allowing for the clean up efforts to kick in.
The local fire department in Aso District said they had managed to rescue 8 people trapped in mudslides.
| | | | | | | |
| --- | --- | --- | --- | --- | --- | --- |
| 12.07.2012 | Avalanche | France | Province of Rhone-Alpes, [Mount Maudit] | | | |
Description
The massive slide of snow happened around 5am this morning as early morning climbers made their way up Mount Maudit, which translates as "cursed peak", in the Mont Blanc range. Most of them were roped together on what is considered to be one of the most dangerous ascents in Europe. Rescuers from the Alpine PGHM (high mountain gendarme platoon) said the initial estimated death toll was "at least six". "There are around eight others injured and at least two people missing," added a spokesman, who said that the avalanche had been caused by snow collapsing in July heat. "We were initially alerted just after dawn by one of the survivors who called us on a mobile phone."
Three Britons among those killed after avalanche strikes glaciated slope during ascent on Mont Maudit in French Alps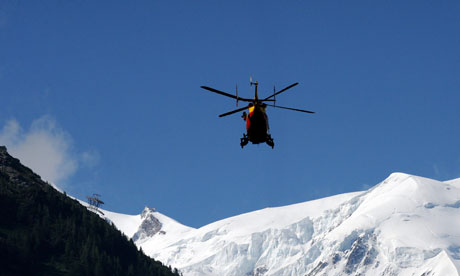 Mont Blanc avalanche – An emergency services helicopter searches for survivors of the tragedy in Chamonix, France. Photograph: Jean-Pierre Clatot/AFP/Getty Images
Three Britons are among at least nine dead after an avalanche in the French Alps in the early hours of Thursday .
A further two British climbers were still missing as search and rescue workers from France and Italy combed the snow-covered slopes near Chamonix hours after the 28-strong group of climbers and guides were hit by a wall of ice and snow.
The search was called off at 5pm French time (4pm BST) and was expected to continue on Friday, depending on weather conditions.
French officials described it as the worst Alpine tragedy for many years.
The British ambassador Sir Peter Ricketts was on his way to Chamonix on Thursday afternoon.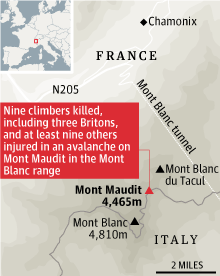 The tragedy struck just after 5am as a group of climbers began a dawn ascent on Mont Maudit (Accursed Mountain) in the Mont Blanc range at Chamonix, at an altitude of just over 4,000m. The climbers were reported to have been roped together in at least two teams as they climbed one of the most popular but dangerous routes up the mountain.
A spokeswoman for the Haute-Savoie region said: "Nine people are dead, three of them British. It is not known whereabouts in the UK they are from." The other fatalities are two Swiss, two German and two Spanish climbers. Another nine were injured and flown to hospital, while four remain missing.
Rescuers said they had searched the entire avalanche area and found no trace of the missing climbers. Colonel Bertrand François, commander of the local mountain gendarmes, said it was possible the bodies were buried deep under the ice and snow or outside of the area the 50-strong mountain rescue teams had searched.
Manuel Valls, the French interior minister, said rescue teams had been working in very difficult conditions.
"The mountain doesn't always give up its victims," he said, "but the search will obviously continue in icy and snowy conditions that are clearly very difficult."
The climbers who died had been among a party that left the Cosmiques mountain hut above the popular Vallée Blanche off-piste ski descent at about 1am to follow the three mountains route, which ascends off the glacier and up the north-east face of Mont Blanc de Tacul. It then climbs Mont Maudit before continuing to the summit of Mont Blanc, continental Europe's highest mountain.
The accident took place on a long glaciated slope running from the shoulder of Mont Blanc du Tacul, up to the summit rock band of Mont Maudit, which is crossed close to a prominent ice cliff.
According to footage from the accident, and accounts of those who arrived on the scene in its immediate aftermath, there was fresh debris from a fallen section of ice cliff close to a large scoured area of wind slab avalanche, which had been deposited by high winds in the previous few days, leading to speculation that falling ice had triggered the slide.
Daniele Ollier, an Italian rescuer quoted on the British Mountaineering Council's website, said the avalanche was 150 metres wide and took place in two phases: the initial serac fall hit the climbers who were higher on the Maudit face, then the windslab avalanche took out the climbers below, sweeping them for 200 metres.
One of the first on the scene was a British guide, Victor Saunders, and his doctor client, who were also following the route. They had left two hours later than the avalanched party after the guide expressed concerns about the weather. They gave first aid to the survivors and alerted the rescue services.
The accident came in amid a bad summer in the Alps that has resulted in several deaths across the region. Earlier this month, five German climbers fell to their deaths in Switzerland, also in a single incident.
A spokesman for the Alpine mountain rescue service, which scrambled a helicopter and sniffer dogs to the area after being alerted by an injured climber just after the avalanche, said it had probably been caused by snow collapsing in the warm July weather. "We were initially alerted just after dawn by one of the survivors who called us on a mobile phone," he said.
Bertrand François, commander of the Haute-Savoie gendarmerie, whose officers were combing the mountainside for survivors on Thursday, offered a glimmer of hope for the missing climbers, saying it was possible the missing had been ahead of the group struck by the avalanche and had not been swept way. "It doesn't necessarily mean they are under the avalanche," he said.
Manuel Valls, the French interior minister, was on his way to the scene of one of the worst mountain tragedies in recent years.
The 4,465m Mont Maudit is widely considered one of the world's most dangerous climbs. The Mont Blanc range claims more than 100 victims a year.
Eric Fournier, the mayor of Chamonix, described the snowslide as one of the deadliest in recent years. "There was no weather bulletin giving any avalanche warning," he said, adding that shifting ice sheets could have triggered the avalanche.
The tragedy is one of the worst in the Mont Blanc region since August 2008, when eight climbers – four Austrians, three Swiss and one German – died in similar circumstances.
************************************************************************************************************
Radiation / Nuclear
| | | | | | | |
| --- | --- | --- | --- | --- | --- | --- |
| 12.07.2012 | Nuclear Event | Belgium | Province of Liége, [Tihange Nuclear Power Station] | | | |
Description
Leakage of radioactive water was reported in the Belgian Tihange NPP. "The problem is solved, there is no danger of pollution", the Federal Agency for Nuclear Control announced. Leakage of radioactive water has occurred at the pool for cooling the spent nuclear fuel from the rector of the NPP. In 2011 there were 14 incidents in nuclear power plants in Belgium. 11 of them were qualified as technical incidents. In three cases there was a significant breach of security.
*************************************************************************************************************
Epidemic Hazards / Diseases
| | | | | | | |
| --- | --- | --- | --- | --- | --- | --- |
| 12.07.2012 | Epidemic Hazard | USA | State of Illinois, [Winnebago County] | | | |
Description
Health Officials in Winnebago County, Illinois, are investigating reports that a four-year-old child has been infected with the measles. The Winnebago County Health Department said that if tests confirm the infection it would be the county's first case of the illness since 1994, according to BeloitDaily.com. The child in question began developing a rash near the ears at the end of June and also displayed symptoms including conjunctivitis, fever and Koplik spots. In response, the health department is urging local healthcare professionals to remain aware of potential new cases and report any new cases immediately, BeloitDaily.com reports. Measles is a once-common respiratory illness that is considered highly contagious. It is transported through the air by respiratory droplets primarily from coughs and sneezes. Approximately two weeks after exposure, the infected usually develop a rash that begins on the face and then spreads to other parts of the body. Other symptoms include a runny nose, red or sensitive eyes and a cough. Childhood vaccination programs have helped make the measles rare in the United States, but in recent years the number of cases seen nationwide has increased. In the first 19 weeks of 2011, there were 118 cases reported to the U.S. Centers for Disease Control and Prevention. Of those, 105 were in unvaccinated patients.
Biohazard name:
Measles
Biohazard level:
2/4 Medium
Biohazard desc.:
Bacteria and viruses that cause only mild disease to humans, or are difficult to contract via aerosol in a lab setting, such as hepatitis A, B, and C, influenza A, Lyme disease, salmonella, mumps, measles, scrapie, dengue fever, and HIV. "Routine diagnostic work with clinical specimens can be done safely at Biosafety Level 2, using Biosafety Level 2 practices and procedures. Research work (including co-cultivation, virus replication studies, or manipulations involving concentrated virus) can be done in a BSL-2 (P2) facility, using BSL-3 practices and procedures. Virus production activities, including virus concentrations, require a BSL-3 (P3) facility and use of BSL-3 practices and procedures", see Recommended Biosafety Levels for Infectious Agents.
Symptoms:
Status:
suspected
| | | | | | | |
| --- | --- | --- | --- | --- | --- | --- |
| 12.07.2012 | Epidemic Hazard | Taiwan | Southern Taiwan, Kaohsiung | | | |
Description
The Centers for Disease Control (CDC) yesterday reported the year's first case of hemorrhagic fever with renal syndrome (HFRS) caused by hantavirus and urged the public to avoid exposure to rodents, which are carriers of the virus. "The 63-year-old pig farmer from Kaohsiung has been discharged from hospital following treatment," CDC Deputy Director-General Chou Jih-haw said. "Although the infection was likely caused by rodent bites, further laboratory tests are needed for confirmation," he said. The patient began displaying symptoms of fever, vomiting, stomach pain, muscle soreness and shortage of breath on June 18, one month after being bitten on the toes by a rodent, a press statement released by the CDC said. Blood test results obtained on Wednesday confirmed that the man was infected with hantavirus, which caused HFRS, it said. With a hantavirus mortality rate as high as 10 percent, Chou urged those active in areas where rodents are present to take extra precautions to protect themselves from the disease. Previous studies have concluded that individuals working in wet markets tend to be in the high-risk group, he added. People usually get infected through exposure to the urine and droppings of infected rodents or after exposure to dust, which can also carry the virus. Human-to-human transmission is rare. There were 11 reported cases of HFRS caused by hantavirus between 2001 and last year, according to CDC statistics.
Biohazard name:
Hantavirus
Biohazard level:
4/4 Hazardous
Biohazard desc.:
Viruses and bacteria that cause severe to fatal disease in humans, and for which vaccines or other treatments are not available, such as Bolivian and Argentine hemorrhagic fevers, H5N1(bird flu), Dengue hemorrhagic fever, Marburg virus, Ebola virus, hantaviruses, Lassa fever, Crimean-Congo hemorrhagic fever, and other hemorrhagic or unidentified diseases. When dealing with biological hazards at this level the use of a Hazmat suit and a self-contained oxygen supply is mandatory. The entrance and exit of a Level Four biolab will contain multiple showers, a vacuum room, an ultraviolet light room, autonomous detection system, and other safety precautions designed to destroy all traces of the biohazard. Multiple airlocks are employed and are electronically secured to prevent both doors opening at the same time. All air and water service going to and coming from a Biosafety Level 4 (P4) lab will undergo similar decontamination procedures to eliminate the possibility of an accidental release.
Symptoms:
Hemorrhagic fever with renal syndrome (HFRS)
Status:
confirmed
| | | | | | | |
| --- | --- | --- | --- | --- | --- | --- |
| 12.07.2012 | Epidemic Hazard | USA | State of New York, [Onondaga County] | | | |
Description
The number of cases in the outbreak of the gastrointestinal disease, shigellosis, in the Central New York area continues to rise according to health officials. In an statement to Food Safety News Thursday, officials with the Onondaga County Health Department in Syracuse said the number of cases is now 45, up from 25 reported on June 22. They go on to say, "This includes confirmed, probable, and what New York State Department of Health is considering suspect (cases)." The source of the outbreak is still unknown and the investigation into the outbreak is ongoing. It is an acute bacterial disease of the intestines caused by several species of the bacterium, Shigella. It is typified by loose stools, frequently containing blood and mucus (dysentery), accompanied by fever, vomiting, cramps and occasionally toxemia. It can cause bacillary dysentery because of the invasive ability of the organism that may result ulcerations and abscesses of the intestines.It rarely spreads to the bloodstream. More severe complications may include convulsions in children, Reiter's syndrome and hemolytic uremic syndrome depending on the species of Shigella implicated. This diarrheal disease is found worldwide with the vast majority of cases and deaths being in children. Outbreaks usually occur where there are crowded conditions and where personal hygiene is poor: prisons, day care centers and refugee camps are three examples. It is transmitted primarily by fecal-oral person to person means. It can also occur through contaminated food or water. Those primarily responsible for transmission are people that fail to wash their hands thoroughly after defecation. Because Shigella is resistant to gastric acid, a person can get infected with as little as 10 organisms. After getting infected symptoms usually appear 1-3 days later. It can be transmitted during the acute phase of infection till approximately four weeks after illness when the organism is no longer present in the feces. Asymptomatic carriers can also infect others. Diagnosis is confirmed through bacteriological culture of feces. Treatment of shigellosis may include fluid and electrolyte replacement if there are signs of dehydration. Antibiotics can shorten the course of infection, the severity of illness and the period of time a person may excrete the pathogen. Because of some antibiotic resistance, a antibiotic susceptibility test should be performed to determine which antibiotic will be effective.
Biohazard name:
Shigellosis
Biohazard level:
0/4 —
Biohazard desc.:
This does not included biological hazard category.
Symptoms:
Status:
************************************************************************************************************
Climate Change
SpaceWeather
This morning a vast bank of electric-blue noctilucent clouds rippled across northern Europe. "It was like water in the sky," says Barbara Grudzinska, who photographed the display from Warsaw, Poland:
"These are the first noctilucent clouds this year so clearly visible at our latitude in Warsaw (52 N)," says Grudzinska.
When NLCs first appeared in the 19th century, the mysterious clouds were confined to the Arctic, most often seen in the same places as Northern Lights. In recent years, however, their "habitat" has been expanding, rippling as far south as Colorado, Virginia, Kansas, and Utah. (Here are some examples of sightings in the lower United States.) There is growing evidence that the expansion is a sign of climate change, although this remains controversial.
Whatever the reason, noctilucent clouds aren't just at high latitudes anymore, so sky watchers everywhere should be alert for them.
Observing tips:
Look west 30 to 60 minutes after sunset when the sun has dipped 6o to 16o below the horizon. If you see luminous blue-white tendrils spreading across the sky, you've probably spotted a noctilucent cloud.
************************************************************************************************************
Solar Activity
Big sunspot AR1520 unleashed an X1.4-class solar flare on July 12th at 1653 UT. Because this sunspot is directly facing Earth, everything about the blast was geoeffective. For one thing, it hurled a coronal mass ejection (CME) directly toward our planet. According to a forecast track prepared by analysts at the Goddard Space Weather Lab, the CME will hit Earth on July 14th around 10:20 UT (+/- 7 hours) and could spark strong geomagnetic storms. Sky watchers should be alert for auroras this weekend.
The explosion also strobed Earth with a pulse of extreme UV radiation, shown here in a movie recorded by NASA's Solar Dynamics Observatory: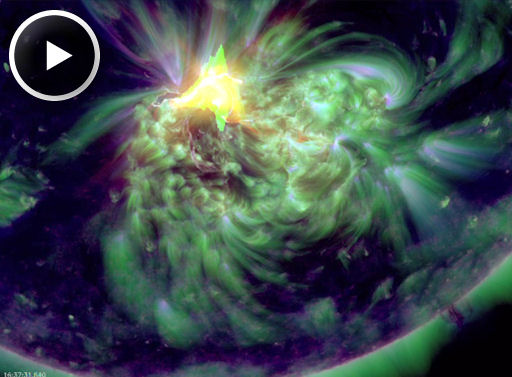 The UV pulse partially ionized Earth's upper atmosphere, disturbing the normal propagation of radio signals around the planet. Monitoring stations in Norway, Ireland and Italy recorded the sudden ionospheric disturbance.
Finally, solar protons accelerated by the blast are swarming around Earth. The radiation storm, in progress, ranks "S1″ on NOAA space weather scales, which means it poses no serious threat to satellites or astronauts. This could change if the storm continues to intensify. Stay tuned.
Sunspots are magnetic islands on the sun. Sunspot AR1520 is a complete archipelago. Scroll down to scan more than 200,000 miles of island chain: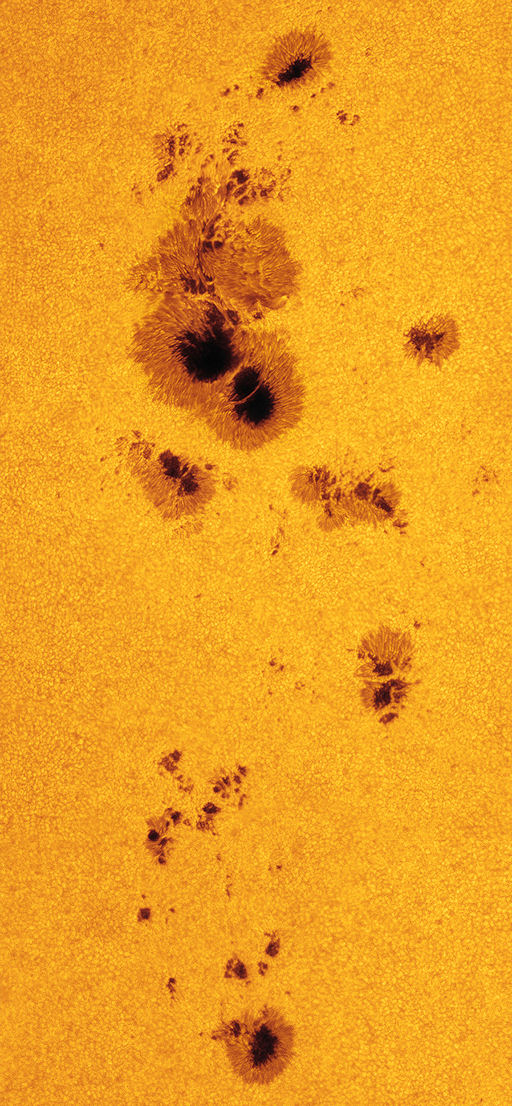 Amateur astronomer Alan Friedman took the picture on July 10th from his backyard observatory in Buffalo, New York. "AR1520 is a tremendous archipelago and a wonderful target for backyard solar telescopes," he says.
The tangled magnetic canopy of the sunspot group, shown here in an extreme UV image from NASA's Solar Dynamics Observatory, harbors energy for strong solar flares. NOAA forecasters estimate an 80% chance of M-class flares and a 15% chance of X-class flares during the next 24 hours.
As expected, a giant sunspot AR1515 unleashed a strong X1.1 solar flare on July 6th at 23:08 UTC. This event triggered a 10cm Radio Burst and a Type IV Sweep Frequency Event. Preliminary analysis indicates the Coronal Mass Ejection (CME) associated with this event is not headed directly at Earth, it looks to be headed south and to the west. This should have little impact on Earth.
The protons blasted away from the flare site are currently streaming past Earth and a S1 Minor Radiation Storm is in progress
Geomagnetic storming
Region 1515 produced an impulsive R3 (Strong) solar flare radio blackout at 2308 UTC (7:08 PM EDT) on July 6. It means wide area blackout of HF radio communication, loss of radio contact for about an hour on sunlit side of Earth  as well as low-frequency navigation signals degraded for about an hour.
Solar Radiation Storm levels are increasing above background levels reaching S1 (Minor) threshold at this time. It could result as minor impacts on HF radio in the polar regions. Additionally, G1 (Minor) geomagnetic storming is possible through July 8 as a string of coronal mass ejections (CMEs) observed earlier in the week make their way past Earth.
X-Class Flare/July 12 2012
Published on Jul 12, 2012 by MrCometwatch
************************************************************************************************************
Space
Object Name
Apporach Date
Left
AU Distance
LD Distance
Estimated Diameter*
Relative Velocity
(2005 NE21)
15th July 2012
2 day(s)
0.1555
60.5
140 m – 320 m
10.77 km/s
38772 km/h
(2003 KU2)
15th July 2012
2 day(s)
0.1034
40.2
770 m – 1.7 km
17.12 km/s
61632 km/h
(2007 TN74)
16th July 2012
3 day(s)
0.1718
66.9
20 m – 45 m
7.36 km/s
26496 km/h
(2007 DD)
16th July 2012
3 day(s)
0.1101
42.8
19 m – 42 m
6.47 km/s
23292 km/h
(2006 BC8)
16th July 2012
3 day(s)
0.1584
61.6
25 m – 56 m
17.71 km/s
63756 km/h
144411 (2004 EW9)
16th July 2012
3 day(s)
0.1202
46.8
1.3 km – 2.9 km
10.90 km/s
39240 km/h
(2012 BV26)
18th July 2012
5 day(s)
0.1759
68.4
94 m – 210 m
10.88 km/s
39168 km/h
(2010 OB101)
19th July 2012
6 day(s)
0.1196
46.6
200 m – 450 m
13.34 km/s
48024 km/h
(2008 OX1)
20th July 2012
7 day(s)
0.1873
72.9
130 m – 300 m
15.35 km/s
55260 km/h
(2010 GK65)
21st July 2012
8 day(s)
0.1696
66.0
34 m – 75 m
17.80 km/s
64080 km/h
(2011 OJ45)
21st July 2012
8 day(s)
0.1367
53.2
18 m – 39 m
3.79 km/s
13644 km/h
153958 (2002 AM31)
22nd July 2012
9 day(s)
0.0351
13.7
630 m – 1.4 km
9.55 km/s
34380 km/h
(2011 CA7)
23rd July 2012
10 day(s)
0.1492
58.1
2.3 m – 5.1 m
5.43 km/s
19548 km/h
(2012 BB124)
24th July 2012
11 day(s)
0.1610
62.7
170 m – 380 m
8.78 km/s
31608 km/h
(2009 PC)
28th July 2012
15 day(s)
0.1772
68.9
61 m – 140 m
7.34 km/s
26424 km/h
217013 (2001 AA50)
31st July 2012
18 day(s)
0.1355
52.7
580 m – 1.3 km
22.15 km/s
79740 km/h
(2012 DS30)
02nd August 2012
20 day(s)
0.1224
47.6
18 m – 39 m
5.39 km/s
19404 km/h
(2000 RN77)
03rd August 2012
21 day(s)
0.1955
76.1
410 m – 920 m
9.87 km/s
35532 km/h
(2004 SB56)
04th August 2012
22 day(s)
0.1393
54.2
380 m – 840 m
13.72 km/s
49392 km/h
(2000 SD8)
04th August 2012
22 day(s)
0.1675
65.2
180 m – 400 m
5.82 km/s
20952 km/h
(2006 EC)
06th August 2012
24 day(s)
0.0932
36.3
13 m – 28 m
6.13 km/s
22068 km/h
(2006 MV1)
07th August 2012
25 day(s)
0.0612
23.8
12 m – 28 m
4.79 km/s
17244 km/h
(2005 RK3)
08th August 2012
26 day(s)
0.1843
71.7
52 m – 120 m
8.27 km/s
29772 km/h
(2009 BW2)
09th August 2012
27 day(s)
0.0337
13.1
25 m – 56 m
5.27 km/s
18972 km/h
277475 (2005 WK4)
09th August 2012
27 day(s)
0.1283
49.9
260 m – 580 m
6.18 km/s
22248 km/h
(2004 SC56)
09th August 2012
27 day(s)
0.0811
31.6
74 m – 170 m
10.57 km/s
38052 km/h
(2008 AF4)
10th August 2012
28 day(s)
0.1936
75.3
310 m – 690 m
16.05 km/s
57780 km/h

| | |
| --- | --- |
| 1 AU = ~150 million kilometers,1 LD = Lunar Distance = ~384,000 kilometers | Source: NASA-NEO |
*************************************************************************************************************
Biological Hazards / Wildlife /Hazmat
| | | | | | | |
| --- | --- | --- | --- | --- | --- | --- |
| 12.07.2012 | Biological Hazard | USA | State of Arizona, Nogales | | | |
Description
A Nogales man has died after authorities say he was attacked by a swarm of bees. The Nogales International reports that the man was one of several people attacked in Nogales by the pack of bees. The victim, whose name and age have not been confirmed, was taken to Holy Cross Hospital, where he was later pronounced dead. Sanchez said it was not clear if he died from the bee stings or from another medical condition. He said that other people who were stung went by private vehicle to the hospital.
Biohazard name:
Bees attack
Biohazard level:
0/4 —
Biohazard desc.:
This does not included biological hazard category.
Symptoms:
Status:
| | | | | | | |
| --- | --- | --- | --- | --- | --- | --- |
| 12.07.2012 | Biological Hazard | USA | State of Texas, [Hueco Mountains in El Paso] | | | |
Description
The Texas Parks and Wildlife Department is confirming that two mule deer shot in the Hueco Mountains in El Paso, Texas and Hudspeth counties tested positive for Chronic Wasting Disease, an incurable, fatal illness that destroys a deer's brain. This is the first cases to be documented in Texas and is bringing the issue of containing herds of animals that have the disease into the spotlight. CWD can spread quickly from animal to animal through bodily fluids like saliva, urine, etc. With moving herds, deer from one area can spread it quickly to other areas, affecting the over-billion dollar industry of hunting in Texas. A South Texas newspaper reports that the Texas Parks and Wildlife and the Texas Animal Health Commission want to impose regulations aimed at minimizing risks of the disease spreading to other parts of Texas. Back in June, it proposed regulations for a "containment zone" covering El Paso County and parts of Hudspeth and Culberson counties and a "high-risk zone" covering portions of Culberson and Reeves counties. Later this month, the officials plan to officially propose rules to cover movement of wild and captive deer under agency permits. CBS7 is also told the agency may push to have hunters who harvest deer from the containment area have their animals tested at check stations.
Biohazard name:
Chronic Wasting Disease (deer)
Biohazard level:
3/4 Hight
Biohazard desc.:
Bacteria and viruses that can cause severe to fatal disease in humans, but for which vaccines or other treatments exist, such as anthrax, West Nile virus, Venezuelan equine encephalitis, SARS virus, variola virus (smallpox), tuberculosis, typhus, Rift Valley fever, Rocky Mountain spotted fever, yellow fever, and malaria. Among parasites Plasmodium falciparum, which causes Malaria, and Trypanosoma cruzi, which causes trypanosomiasis, also come under this level.
Symptoms:
Status:
confirmed
Joseph Castro
LiveScience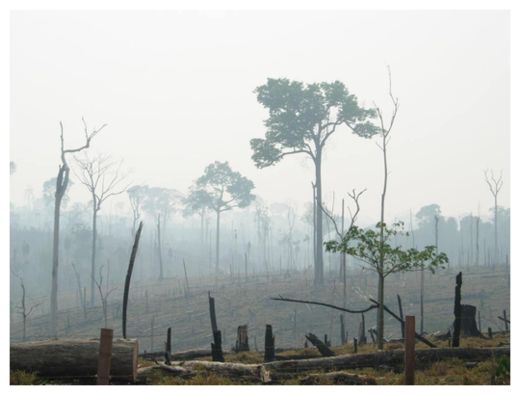 © Alexander Lees
During the last half century, the seemingly endless Amazon has lost at least 17 percent of its forest cover, according to WWF. Shown here, a burnt Amazon forest.
When species lose their natural habitat to deforestation and other causes, they don't immediately disappear. Instead, they gradually die off over several generations, racking up an "extinction debt" that must eventually be paid in full. New research shows that the Brazilian Amazon has accrued a heavy vertebrate extinction debt, with more than 80 percent of extinctions expected from historical deforestation still impending.
While the results are alarming, this deathly time lag provides a conservation opportunity to save some of the disappearing species, scientists said, stressing that actions taken in the next few years are critical.
"Now that we know where the extinction debt is likely to be, we can go to the ground to restore habitat and take remedial actions to try to regenerate new habitats," said study lead author Robert Ewers, an ecologist at Imperial College London in the U.K. "We can try to put off ever having to pay that debt."
Extinction debt
The Brazilian Amazonis home to about 40 percent of the planet's tropical forests and a staggering amount of biodiversity. However, the Amazon's plant and animal species are under threat by deforestation, mostly due to agriculture and cattle ranging.
Ewers and his colleagues set out to determine how many species would be lost from at least part of their historical habitats in the Amazon because of past and future deforestation. They began by looking at the "species-area relationship," a well-established ecological pattern describing how the number of species in a given habitat increases predictably as the habitat area increases. By turning this idea on its head, you can figure out how many species should go extinct as their habitat shrinks.
The researchers modeled the number of vertebrate species expected to go extinct within 31-mile by 31-mile blocks (50 by 50 kilometer blocks). They used a combination of deforestation data spanning back to 1970 and species-distribution maps of the Amazon. They compared their model's predictions with the actual number of extinctions seen thus far in the forest regions and found that 80 to 90 percent of the expected local extinctions have yet to happen, and many of them will occur in the southern and eastern regions of the Amazon.
Next, Ewers and his team used their model to estimate the magnitude of the local extinctions and extinction debts expected to occur in four scenarios, which mainly differ in their projections of future deforestation rates. Under the most likely scenario, every forest block will lose an average of about nine vertebrate speciesand be in debt for another 16 species by 2050.
And in all scenarios, species will continue to go extinct more than three decades after deforestation in the Amazon has stopped, if key forest areas are not restored, the researchers found.
"What we've seen in the last four decades is nothing like what we are going to see in the next four decades," Ewers told LiveScience.
Defaulting on the debt
Thiago Rangel, an ecologist at the Federal University of Goiás in Brazil who wasn't involved in the research, was surprised to see the Amazon's huge extinction debt. "Of course, that gives Brazil a very good opportunity for conservation measures," Rangel said.
Rangel, who wrote a perspective article accompanying the study published July 13 in the journal
Science
, pointed out that Brazil has made a lot of progress in reducing deforestation in the last decade. Moreover, the county has been expanding its network of protected areas – more than 50 percent of the Amazon is now under some form of
environmental protection
."But we are in the middle of a strong transition in Brazil from a very good and modern environmental legislation to something else," Rangel told LiveScience. Agricultural businesses, for example, have been lobbying for weaker forest protection codes – this past May, Brazilian President Dilma Rousseff vetoed portions of such a bill, though this isn't likely the end of the debate, Rangel said.
Rangel stresses that Brazil must "default on its extinction debt," possibly by creating more conservation areas, particularly in places that have been abandoned by agriculturalists. Whatever the case, something needs to be done soon, he said.
Ewers agreed. "This problem has been building, and it will soon roll over and crash like a wave," he said.
Description
Twenty-eight people remain hospitalized after a sulfur dioxide leak occurred Thursday morning at a chemical plant in east China's Jiangsu province, local authorities said.Around 10 a,m. Thursday, a small amount of sulfur dioxide was leaked in a chemical plant belonging to Jiangsu SOPO Group Co., Ltd. in Zhenjiang City, according to an investigative report released by the environmental protectchinaion bureau of Jianbi county. The leak lasted for about five minutes, the report said. Shortly after the spill, dozens of plant employees and local residents began complaining of an "uncomfortable" feeling and were sent to a local hospital. The 28 patients who remain in the hospital are under observation and are in no imminent danger. The plant shut down a sulfuric acid production facility linked to the accident. A further investigation is under way. Sulfur dioxide is a poisonous gas with a pungent, irritating smell.
| | | | | | | |
| --- | --- | --- | --- | --- | --- | --- |
| 12.07.2012 | HAZMAT | United Kingdom | England, Wickham Hill [Benton Hall Golf and Country Club, Witham, Essex] | | | |
Description
Members and staff of Benton Hall Golf Club, in Wickham Hill, were asked to leave the building when three people were taken ill after a problem with chemicals in the swimming pool plant room on Tuesday morning. Fire crews from Chelmsford, Maldon, Colchester and Witham were sent to the club, where three people were found suffering from sore eyes and restricted breathing. They were given oxygen and an was ambulance called. Station officer at Chelmsford White Watch Sean Walshe said: "I was met by their caretaker who explained that everybody was out of the building but there was a strong smell of chlorine. Two chemicals used to clean the pool had been mixed in the wrong quantities but the guy did the right thing and switched off the machine. We ventilated the area and administered oxygen to those affected." Manager Elaine Knight said: "Just our manager has been taken to hospital to get checked out. This kind of thing has never happened before – we've never had to be evacuated."
*************************************************************************************************************
[In accordance with Title 17 U.S.C. Section 107, this material is distributed without profit, for research and/or educational purposes. This constitutes 'FAIR USE' of any such copyrighted material.]