Environmental
by Staff Writers
London, UK (SPX)

If sustainable development is genuinely to be pursued at Rio+20 and beyond, we need to recapture nature from the market's grasp, nurturing and legitimising more interconnected human-ecological relationships and understandings, along with tried-and-tested forms of local ecosystem stewardship based on them.

'Green grabbing' – the rapidly-growing appropriation of land and resources in the name of 'green ' biofuels, carbon offsetting schemes, conservation efforts and eco-tourism initiatives – is forcing people from their homelands and increasing poverty, new research has found.
Ecosystems being 'asset-stripped' for profit is likely to cause dispossession and further poverty amongst already-poor land and resource users, according to a set of 17 new research case studies from Africa, Asia and Latin America, published in a special issue of the Journal of Peasant Studies.
"Green grabs are the dark side of the green economy," said Professor Melissa Leach, director of the ESRC STEPS Centre. "If market-based mechanisms are to contribute to sustainable development and the building of economies that are not only green but also fair, then fostering an agenda focused on distribution, equity and justice in green market arrangements is vital."
This means including meaningful local engagement and consultation based on transparency, accountability and free, prior informed consent. Yet green markets cannot do it all. In the rush to repair a damaged nature through trading and offset schemes, the political-economic structures that caused the damage in the first place must not be neglected.
Responsibility for tackling unsustainable practices in wealthy industrialised settings should not be offloaded by financialising ecosystems in other parts of the world.
And if sustainable development is genuinely to be pursued at Rio+20 and beyond, we need to recapture nature from the market's grasp, nurturing and legitimising more interconnected human-ecological relationships and understandings, along with tried-and-tested forms of local ecosystem stewardship based on them.
Examples of green grabs include: in Guatemala, conservation agencies, ecotourism companies and the military are 'protecting' the Guatemalan Maya Biosphere Reserve as a 'Maya-themed vacationland', violently excluding local people.
In Eastern and Southern Africa, businesses are revaluing soil systems and farming practices for 'biochar', dispossessing farmers and pastoralists from land and resources important for their livelihoods.
Meanwhile evidence is mounting that some Reduced Emissions from Deforestation and Degradation (REDD and REDD+) schemes are dispossessing local forest users of vital resource access.
Related Links
Institute of Development Studies
Farming Today – Suppliers and Technology
by Staff Writers
London UK (SPX)
An international team of researchers in Colombia, the UK, USA and Switzerland have developed the first ever system to monitor deforestation across Latin America in near real-time using satellite data. Preliminary results from the new system reveal that in parts of Colombia, deforestation has increased by 340 per cent since 2004; and over a million hectares of forest have been lost in the Gran Chaco region of Paraguay.
The new satellite system, known as Terra-i, is being launched this week in time for the Rio+20 UN environment conference, and is soon to be expanded to cover all tropical regions. Although Brazil has had a sophisticated near real-time deforestation monitoring system in place since 2008, until now there has been no equivalent for the rest of Latin America.
Terra-i has been developed to monitor changes land cover every 16 days and for every 250 metres on the ground, in order to help national governments, conservation organisations and those implementing climate-related policy to assess recent trends in deforestation and emerging hotspots of change.
The system uses data supplied by NASA's MODIS satellite sensor and is the result of collaboration between the International Center for Tropical Agriculture (CIAT) in Colombia, The Nature Conservancy (TNC) in the USA and South America, the School of Engineering and Management of Vaud (HEIG-VD) in Switzerland and King's College London.
Deforestation can lead to widespread loss of biodiversity and also impacts the 'ecosystem services' that foster a stable climate and secure freshwater supplies. However, in many parts of the world the scale and pattern of deforestation is infrequently and inconsistently monitored and this makes management of change very difficult.
Huge volumes of data need to be processed to detect land cover change at a 250m spatial resolution every 16 days. Moreover, separating real human-induced changes, such as deforestation, from changes brought about by natural seasonality and by droughts, floods or persistent cloud cover, has made the development of an operational monitoring system a real challenge.
The availability of MODIS imagery means that assessment of land cover change can be made in a geographically consistent manner between countries and also updated frequently.
The development of the Terra-i system was led Louis Reymondin, PhD student in the Department of Geography at King's College London, supervised by Dr Mark Mulligan, in collaboration with CIAT and HEIG-VD and funded by TNC.
'We developed a computational neural network and 'trained' it with data from 2000-2004 to recognise the normal changes in vegetation greenness due to seasonal variation in rainfall in different areas,' said Dr Mulligan, who is attending the Rio+20 conference this week.
'The network now recognises where and when greenness suddenly changes well beyond these normal limits as a result of deforestation. The system runs on data for every 250 square metres of land from Mexico to Argentina shortly after the data comes in from MODIS and highlights every 16 days the pixels that significantly change, writing these results to Google Maps for easy visualisation,' he said.
Preliminary data from Terra-i show that in Caqueta, Colombia for example, deforestation grew from around 4,880 hectares in 2004 to 21,440 in 2011, up by 340 per cent. Deforestation has grown significantly in the buffer zones of the Chiribiquete National Park where deforestation rates increased by 196 per cent from 2010 to 2011.
The Gran Chaco in Paraguay is the second largest forested area in South America. Terra-i found that between 2004 and 2010, over a million hectares of this area was deforested with a peak in 2009 of 454,700 hectares.
'As we approach Rio+20 in which the world will define the targets that will guide us along the road to a more sustainable development, it is critical that we deploy the appropriate tools to carefully monitor and manage our landscapes,' said Dr Mulligan.
'We need to ensure that we maintain enough farmland to feed the nine billion to come but we must also have protected natural landscapes that provide clean water, a stable climate, a refuge for biodiversity and space for increasingly urbanised populations to experience and appreciate the wonders of nature.
'Achieving the right balance between intelligently intensive agriculture and protected natural environments across the world will be fundamental to achieving truly sustainable development and requires sophisticated, geographically detailed and timely tools such as Terra-i to support appropriate policy and decision-making'.
Related Links
King's College London
Forestry News – Global and Local News, Science and Application
by Staff Writers
San Francisco CA (SPX)

File image.

In an effort to save the dwindling honeybee population researchers at the University of Nevada, Las Vegas are looking to viruses to help treat one of the most destructive and widespread bee brood diseases in the United States. They report their findings at the 2012 General Meeting of the American Society for Microbiology.
"Our food supply depends on the actions of millions of insects such as the common honeybee. Due to the importance of honeybees a pollinators in the agriculture of the United States and therefore the current and future food supply, honeybee health is of great concern," says Diane Yost, a researcher on the study.
American Foulbrood Disease (AFD) is the most widespread and destructive brood disease affecting honeybees. It is caused by a bacterial pathogen, Paenibacillus larvae. Young honeybee larvae become infected when they ingest the bacterial spores in their food. Infected larvae normally die after their cells are sealed. The bacteria eventually die as well but not before producing millions of spores.
While there are some chemical treatments that can be used to hold AFD in check they must be continued indefinitely. Once the treatment is suspended the American foulbrood spores germinate successfully again leading to a disease outbreak. Because the spores can survive up to 40 years, many states require diseased hives to be burned completely.
Yost and her colleagues are researching an alternative treatment for AFD. They are focusing on using bacteriophages, viruses that infect and kill specific bacteria, to target the bacteria responsible for AFD and eventually treat the disease.
"If an effective remedy for the disease could be developed, hives that are infected with the pathogen could be treated rather than burned, which is currently the only effective treatment," says Yost.
The researchers conducted an extensive search for phage from environmental sources including samples from desert and garden soils, beehives, flowers, compost and cosmetics containing beeswax.
Nearly 100 samples were tested for the presence of phages. A total of 31 phages were isolated and each were subsequently tested against 8 different strains of the AFD pathogen. The researchers identified 3 phages that had activity against all 8 strains of the bacteria.
"These results demonstrate that bacteriophages capable of infecting P. larvae are present in the natural environment, and these phages may represent the first step in developing a potential treatment for AFD," says Yost.
Related Links
American Society for Microbiology
Farming Today – Suppliers and Technology
by Staff Writers
Santa Barbara CA (SPX)

File image.

Using studies that span the last three decades, scientists at UC Santa Barbara have compiled the first evidence-based comprehensive study of the potential for tsunamis in Northwestern California. The paper, "Paleoseismicity of the Southern End of the Cascadia Subduction Zone, Northwestern California," was co-written by professors Edward Keller and Alexander Simms from UCSB's Department of Earth Science, and published in a recent issue of the Bulletin of the Seismological Society of America.
The paper is based on the Ph.D. dissertation of David Valentine, a research programmer at the Spatial Information Systems Laboratory at UC San Diego. Valentine, Keller's former student, completed his doctorate at UCSB in 2002 and is first author of the paper.
The region has long been known to experience large earthquakes, and scientific studies of seismic activity in the southern end of the Cascadia Subduction Zone (CSZ) – which stretches northward from the area of Mendocino, Calif. – have previously appeared in grey literature and in guidebooks. However, comprehensive, reviewed evidence-based work has been lacking, according to Keller.
"Science goes on evidence," he said, adding that in light of the recent earthquakes in Japan and Chile, the study of the same potential closer to home is "timely." The authors studied sedimentation patterns in salt marshes, floodplains, and estuaries in the northwestern corner of California for signs of seismic events that could lead to tsunami activity. They combined this with information gathered from numerous studies conducted over nearly 30 years by researchers at Humboldt State University
During an earthquake, the researchers say, there is a tendency for the coastal wetlands to become submerged, with coastal sediments depositing over plants and animals that live there. These become a fossilized record of sea-level change in the area.
The process has preserved a sequence of marsh surfaces and forest soils. Analysis of structure, texture, and organic content, as well as the use of radiocarbon dating to identify the age of the materials, revealed evidence of smaller strong-to-major earthquakes in the area (magnitude 6.5 to 7.2). Larger quakes (greater than magnitude 8.2) that involved the regional subduction zone, were also in evidence.
According to the study, the local California section has experienced three major earthquakes over the last 2000 years, and accompanying local sea-level changes at roughly 300- to 400-year intervals, with the last one occurring 500 to 600 years ago. The researchers also found that the entire CSZ erupted, causing local submergence at least three times in roughly 500- to 600- year intervals, the last activity taking place in 1700 AD.
"It's not a matter of if, but when," said Keller, of the potential for the next major earthquake/tsunami event in the region – a great earthquake that would impact not only the Northwest, but also send waves to Japan and Hawaii. The evidence, he said, is leading to far more foresight and planning along the impact areas in the region to avoid catastrophes on a level with the Japan earthquake of 2011 or the Indian Ocean quake of 2004.
Other researchers contributing to the study include Gary Carver, a professor emeritus at Humboldt State University; Wen Hao Li from Northrup Grummond Co. in Redondo Beach; and Christine Manhart from Environmental Services and Consulting in Blacksburg, Va.
Related Links
University of California – Santa Barbara
Bringing Order To A World Of Disasters
When the Earth Quakes
A world of storm and tempest
by Staff Writers
Sofia (AFP)
Bulgaria's parliament passed a new waste management law Thursday meant to bring the country into line with European Union rules and avoid the looming threat of non-compliance fines.
The law had been stalled in parliament for a year because of strong opposition from recycled metal dealers.
Bulgaria has more than 2,000 scrap-metal buyers who are rarely forced to show the required "certificate of origin" for their wares — enabling a thriving trade in stolen rails, road signs and electric lines.
Local media often carry reports of youths, mainly Roma, who die stealing high-voltage power lines.
Under the new law, recycled metal dealers must apply for new licenses and set up shop in locations authorised and monitored by local authorities. Only electronic payment will be allowed.
The law also requires towns to recycle at least 50 percent of household waste by 2020, a big change for a country that recycles little of its rubbish other than metals.
Environment Minister Nona Karadjova said she was confident the law would allow Bulgaria to escape European Commission fines despite being adopted well after the EU's December 2010 deadline for countries to comply with new waste management regulations.
The EU rules require countries to legislate regulations such as the "polluter pays" principle and implement policies to reduce, reuse and recycle much of their waste.
Related Links
Our Polluted World and Cleaning It Up
**********************************************************************************************************
Cyber Space
check to see of your computer is infected here
300,000 Infected Computers to Go Offline Monday
By Gregg Keizer, Computerworld    Jul 6, 2012 7:03 am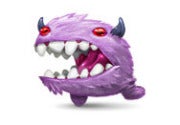 As many as 300,000 PCs and Macs will drop off the Internet in about 65 hours unless their owners heed last-minute calls to scrub their machines of malware.
According to a group of security experts formed to combat DNSChanger, between a quarter-million and 300,000 computers, perhaps many more, were still infected as of July 2.
DNSChanger hijacked users' clicks by modifying their computers' domain name system (DNS) settings to send URL requests to the criminals' own servers, a tactic that shunted victims to hacker-created sites that resembled real domains.
At one point, as many as 4 million PCs and Macs were infected with the malware, which earned its makers $14 million, U.S. federal authorities have said.
Infected machines will lose their link to the Internet at 12:01 a.m. ET Monday, July 9, when replacement DNS servers go dark.
The servers, which have been maintained under a federal court order by Internet Systems Consortium (ISC), the non-profit group that maintains the popular BIND DNS open-source software, were deployed last year after the Federal Bureau of Investigation (FBI) seized more than 100 command-and-control (C&C) systems during the take-down of the hacker gang responsible for DNSChanger.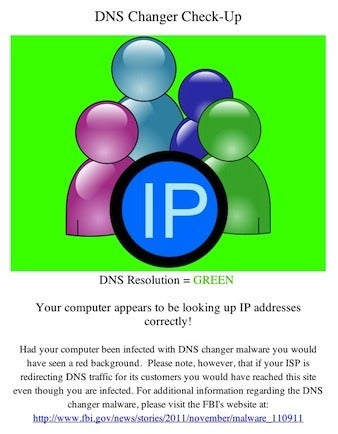 The FBI's "Operation Ghost Click" ended with arrests of six Estonian men — a seventh, a Russian, remains at large — the C&C seizures, and the substitution of the replacement servers. Without the substitutes, DNSChanger-infected systems would have been immediately knocked off the Internet.
Originally, the stand-in servers were to be turned off March 8, but a federal judge extended the deadline to July 9.
It's not just consumer PCs and Macs — DNSChanger was equal-opportunity malware — that remain infected, but also corporate computers and systems at government agencies, said Tacoma, Wash.-based Internet Identity (IID), which has been monitoring cleanup efforts.
Last week, IID said that its scans showed 12% of Fortune 500 firms, or about one out of every eight, harbored DNSChanger-compromised computers or routers. And two out of 55 scanned U.S. government departments or agencies — or 3.6% — also had failed to scrub all their PCs and Macs.
The newest numbers were down from earlier scans by IID. In March, for example, the company pegged the Fortune 500 DNSChanger infection rate at 19% and the government agency rate at 9%.
In January, both groups' rate was an amazing 50%.
MegaUpload Founder Seeks Compensation for Illegal Search
By Sim Ahmed, Computerworld-New-Zealand-Online
MegaUpload founder Kim Dotcom's lawyers appeared in Auckland High Court this week, seeking relief and reparation from the government over what has been deemed an illegal search and seizure of Dotcom's property.
Last week chief High Court judge Justice Helen Winkelmann ruled that the police search of Dotcom's rented Auckland mansion and the seizure of property there, including data shipped offshore to the U.S., was illegal.
Davison says the amount of the compensation being sought has not been discussed yet, but adds that his client wants access to the data and computers seized to assist his defense.
Justice Winkelmann clarified for the court that Dotcom is not seeking to exclude evidence seized from future proceedings.
Dotcom and co-accused Finn Batato and Mathias Ortmann were present in court.
Meanwhile The New Zealand Herald has reported that Dotcom is claiming that the shutdown of MegaUpload was ordered by the White House after Hollywood studio executives met with U.S. vice president Joe Biden. Publicly available White House logs show Biden met with a number of Hollywood executives and the Motion Picture Association's Asia Pacific managing director Mike Ellis.
According to the report, Ellis met with former New Zealand justice minister Simon Power in March last year.
British Airways Faces Privacy Backlash for Googling Passengers
By Jared Newman, PCWorld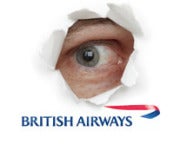 We've all Googled ourselves from time to time, but British Airways has crossed the creepy line for looking up its own passengers on Google Image Search.
The airline is rolling out a new program, called "Know Me," that tries to improve passenger recognition through Google search and other methods. British Airways will create "dossiers" on passengers, and will use the profile data to offer 4500 "personal recognition messages" by the end of the year, the London Evening Standard reports.
For instance, flight attendants may reference Google image results to greet a high-profile, first class passenger when he or she boards the plane. British Airways will also dig into its own passenger data, so if a regular customer experienced a delay on a previous flight, airline staff can offer a personal apology.
Not surprisingly, some privacy advocates are upset. "Since when has buying a flight ticket meant giving your airline permission to start hunting for information about you on the Internet?" Nick Pickles, director of Big Brother Watch, told the Standard.
**********************************************************************************************************
Survival / Sustainability
Intruder Defense Bag : IDB
Uploaded by sootch00 on Aug 10, 2009
Protecting yourself from a Burgler or Home invasion begins with a little planning. Having what you need ahead out time could save your life.
SHTF Lighting Ideas!
Published on Jun 12, 2012 by usfreedom22
Some of the back up lighting products I have in case of SHTF!
Bug In or Bug Out ?? making decisions
Uploaded by beast12101 on Aug 18, 2009
Identifying the threat of the emergency is key, desiding which plan to follow and how to carry it out, is where planning comes in.
***********************************************************************************************************
Activism
By Jaikumar Vijayan, Computerworld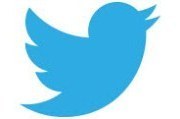 Privacy advocates this week said they are dismayed, but not surprised about a New York Criminal Court judge's decision ordering Twitter to hand over all the data it has on an Occupy Wall Street protester being investigated for disorderly conduct.
In an 11-page ruling, Judge Matthew Sciarrino denied Twitter's motion to quash a subpoena from New York City prosecutors seeking the deleted tweets, email addresses, IP address and other information of Twitter user Malcolm Harris, who was arrested last year in connection with the New York OWS protests.
The ruling marked the second time the same court has rejected arguments that the data being sought by prosecutors is constitutionally protected and can only be obtained via a search warrant. Harris had earlier sought to quash the subpoena.
The court rejected Harris' claims because the data sought by prosecutors belonged to Twitter, not him. The court asserted that Harris therefore had no standing to challenge the subpoena.
In filing its motion to quash the subpoena, Twitter contended that under its terms of service, the data belonged to Harris.
Twitter argued that taking away Harris' ability to challenge the subpoena unfairly puts the onus on Twitter to legally defend its users rights.
Twitter and Harris both contended the data being sought was protected under Fourth Amendment prohibition of unreasonable search and seizure. Thus, Twitter maintained that prosecutors needed to obtain a search warrant before they could ask for the data to be handed over.
In dismissing the arguments, Judge Sciarrino held that the Fourth Amendment didn't apply in this case because there would be no physical intrusion into Harris' Twitter account.
"If you post a tweet, just like if you scream it out the window, there is no reasonable expectation of privacy. There is no proprietary interest in your tweets, which you have now gifted to the world," he wrote.
Tweeting is very different from a private mail, private chat or other forms of private online communications, Sciarrino wrote.
"Those private dialogues would require a warrant based on probable cause in order to access the relevant information. " The same is not true of public tweets, he noted.
The ruling elicited predictable groans from privacy rights groups. "We think the judge missed the point on the privacy analysis," said Marc Rotenberg, executive director of the Electronic Privacy Information Center (EPIC).
"It's one thing for the police to overhear a person shout an incriminating statement. We agree there would be no expectation of privacy" in those situations, Rotenberg said. "But when the police go to a communications service provider and demand that the company turn over records of a customer, that is a very different scenario."
************************************************************************************************************
[In accordance with Title 17 U.S.C. Section 107, this material is distributed without profit, for research and/or educational purposes. This constitutes 'FAIR USE' of any such copyrighted material.]