Earthquakes
Date/Time (UTC)
Magnitude
Area
Country
State/Prov./Gov.
Location
Risk
Source
Details
24.06.2012 03:55:29
4.9
Asia
Japan
Iwate-ken
Shirahama
USGS-RSOE
24.06.2012 03:45:57
4.6
Indonesian archipelago
Indonesia
Propinsi Maluku
Isu
USGS-RSOE
24.06.2012 03:20:34
3.7
North America
United States
Alaska
Kaktovik
USGS-RSOE
24.06.2012 03:05:23
2.0
North America
United States
Hawaii
'Ainapö
USGS-RSOE
24.06.2012 02:40:29
4.9
Pacific Ocean
New Zealand
Woodville County
Horoera
USGS-RSOE
24.06.2012 02:15:34
2.1
North America
United States
California
Mercuryville
USGS-RSOE
24.06.2012 03:10:30
4.2
North America
United States
Alaska
Kaktovik
USGS-RSOE
24.06.2012 02:10:33
4.3
North America
United States
Alaska
Kaktovik
USGS-RSOE
24.06.2012 02:25:21
4.2
North America
United States
Alaska
Kaktovik
USGS-RSOE
24.06.2012 02:05:42
2.4
North America
United States
California
Pinnacles
USGS-RSOE
24.06.2012 02:00:29
2.2
North America
United States
Alaska
Naptowne
USGS-RSOE
24.06.2012 01:50:25
2.6
North America
United States
Washington
Stillwater
USGS-RSOE
24.06.2012 01:50:51
3.2
Caribbean
Dominican Republic
Provincia de La Altagracia
El Algibe
USGS-RSOE
24.06.2012 02:00:52
4.5
Indonesian archipelago
Indonesia
Simatorkis
USGS-RSOE
24.06.2012 00:30:37
2.5
North America
United States
California
Castle Rock Springs
USGS-RSOE
23.06.2012 23:51:03
5.3
Indonesian archipelago
Indonesia
Simatorkis
USGS-RSOE
24.06.2012 00:40:39
3.0
Caribbean
Puerto Rico
Guanajiro Homes
USGS-RSOE
23.06.2012 22:15:33
2.1
North America
United States
California
San Benito
USGS-RSOE
23.06.2012 21:25:40
2.5
Caribbean
British Virgin Islands
The Settlement
USGS-RSOE
23.06.2012 21:06:06
4.3
Asia
Turkey
Antalya Ili
Cerdin
USGS-RSOE
23.06.2012 20:56:09
5.0
Pacific Ocean
Fiji
Matokana
USGS-RSOE
23.06.2012 20:16:31
2.2
Middle America
Mexico
Estado de Baja California
Heriberto Jafa
USGS-RSOE
23.06.2012 20:17:57
4.7
Europe
Greece
Nomos )) (( Piraios
Kounina
USGS-RSOE
24.06.2012 03:25:23
2.9
North America
United States
Alaska
Kaktovik
USGS-RSOE
23.06.2012 18:26:28
2.2
North America
United States
Nevada
Scottys Junction
USGS-RSOE
23.06.2012 18:05:49
2.4
North America
United States
California
Caldwell Pines
USGS-RSOE
23.06.2012 16:45:35
2.4
North America
United States
Alaska
Kanatak
USGS-RSOE
23.06.2012 16:41:39
3.5
Pacific Ocean
New Zealand
Woodville County
Herbertville
GEONET
23.06.2012 15:45:30
2.0
North America
United States
Hawaii
'Ainapö
USGS-RSOE
23.06.2012 23:11:11
2.9
Pacific Ocean
New Zealand
Woodville County
Summer
GEONET
23.06.2012 14:32:28
2.6
North America
United States
California
Aromas
USGS-RSOE
23.06.2012 14:32:28
2.6
North America
United States
California
Aromas
USGS-RSOE
23.06.2012 13:30:54
4.7
Indonesian archipelago
Papua New Guinea
Matatai
USGS-RSOE
23.06.2012 11:50:40
2.2
North America
United States
Hawaii
Royal Gardens
USGS-RSOE
23.06.2012 11:51:01
2.6
North America
United States
Alaska
Nuchek
USGS-RSOE
23.06.2012 11:40:37
2.1
North America
United States
California
Bryson
USGS-RSOE
23.06.2012 11:51:22
3.1
Caribbean
Puerto Rico
Aguacate
USGS-RSOE
23.06.2012 10:45:37
2.4
North America
United States
Alaska
Valdez
USGS-RSOE
23.06.2012 11:30:33
2.8
Caribean
Puerto Rico
Aguacate
USGS-RSOE
23.06.2012 10:20:40
2.4
North America
United States
California
China Lake
USGS-RSOE
23.06.2012 11:20:56
3.2
Caribbean
Puerto Rico
Aguacate
USGS-RSOE
23.06.2012 09:55:45
5.0
North America
United States
Alaska
Happy Valley
USGS-RSOE
23.06.2012 10:05:34
5.1
North America
United States
Alaska
Happy Valley
USGS-RSOE
23.06.2012 10:30:34
4.7
Indonesian archipelago
Indonesia
Wulur
USGS-RSOE
23.06.2012 23:11:40
3.1
Pacific Ocean
New Zealand
Woodville County
Courtenay
GEONET
23.06.2012 09:20:34
2.6
North America
United States
Nevada
Incline Village
USGS-RSOE
23.06.2012 09:20:59
2.1
Middle America
Mexico
Estado de Baja California
Las Catitas
USGS-RSOE
23.06.2012 09:41:03
4.2
South America
Chile
Region del Libertador General Bernardo O'Higgins
El Maqui
USGS-RSOE
23.06.2012 13:10:40
3.2
Caribbean
Puerto Rico
Aguacate
USGS-RSOE
23.06.2012 11:10:59
3.0
Caribbean
Puerto Rico
Aguacate
USGS-RSOE
23.06.2012 09:00:48
4.0
Pacific Ocean
New Zealand
Woodville County
Darfield
GEONET
23.06.2012 11:25:39
2.9
Caribbean
Puerto Rico
Aguacate
USGS-RSOE
23.06.2012 07:50:38
2.1
North America
United States
California
Iceland
USGS-RSOE
23.06.2012 10:40:53
2.8
Caribbean
Puerto Rico
Aguacate
USGS-RSOE
23.06.2012 09:10:46
2.6
North America
United States
Texas
Egan
USGS-RSOE
23.06.2012 07:40:58
2.4
North America
United States
California
Muir
USGS-RSOE
23.06.2012 07:00:34
2.6
North America
United States
Utah
Commonwealth Square Condominium
USGS-RSOE
23.06.2012 06:55:33
5.9
Indonesian archipelago
Indonesia
Keudeampontuan
USGS-RSOE
23.06.2012 06:20:33
2.4
North America
United States
Alaska
Happy Valley
USGS-RSOE
23.06.2012 06:00:34
4.2
North America
United States
California
Iceland
USGS-RSOE
23.06.2012 05:50:31
4.5
Indonesian archipelago
Indonesia
Propinsi Maluku
Lautong
USGS-RSOE
23.06.2012 05:20:46
2.4
North America
United States
Alaska
Kanatak
USGS-RSOE
23.06.2012 05:06:03
3.1
North America
United States
Utah
Bloomington Hills
USGS-RSOE
*
*********************************************************************************************************
Extreme Temperatures/ Weather
Dallas, Houston and other cities throughout the southern midsection of the United States are set to endure their first 100-degree day of the year this weekend.
Soaring temperatures is the theme for this weekend across the nation's southern midsection as a large dome of high pressure and heat takes up residence overhead.
Highs in the 90s will be common from Nebraska and eastern Colorado to the western Gulf Coast on today with temperatures cracking the 100-degree mark from Denver, Colo., to Dodge City, Kan., and Wichita Falls, Texas.
On Sunday, the triple-digit heat will expand significantly and encompass nearly every community from eastern Colorado and Kansas to Texas.
Sunday's 100-degree heat will be the first of the year for not only Houston and Dallas in Texas, but also Shreveport, La., Oklahoma City, Okla., and Wichita, Kan.
The triple-digit heat comes unusually early for Houston despite what happened in 2011. Houston set a record for its earliest 100-degree day on June 2 of last year, but such an occurrence typically waits until July 20 to take place and failed to occur until August 15 in 2010.
It is more common for Dallas to experience its first 100-degree day in late June. June 30 is the average day for this to occur and the city has not failed to record a 100-degree day before July the past four years.
Once firmly in place on Sunday, the triple-digit heat will continue to bake Houston, Dallas and all of Texas through at least Tuesday. Likely contributing to the heat early next week will be dry air wrapping around soon-to-be Tropical Storm Debby.
Recording three consecutive days of 100-degree heat is quite unusual for Houston. Cooling effects from the Gulf of Mexico typically hold the city's number of 100-degree days for an entire year to three.
By Brian Edwards, Meteorologist
After several days of record heat across the country, the East is about to get a big break as temperatures fall below normal.
Records were broken Wednesday and Thursday from Boston to New York City and Washington, D.C., with several places reaching the century mark for the first time this summer!
The extreme heat was short-lived, though, as a cold front that tracked into the East set the stage for heat-busting thunderstorms Friday evening.
Temperatures returned to closer to normal in the wake of the front, but will remain slightly above typical late June highs on Sunday. This warm weather, however, won't last either.
Another cold front will move into the East Sunday night into Monday, bringing more showers and thunderstorms to Albany, New York City, Atlantic City, and Dover.
Behind this next front, a large dip in the jet stream will form over the mid-Atlantic and Northeast for the early and middle part of next week. This is the same dip in the jet stream that could steer future Tropical Storm Debby toward Florida.
Cool air will filter into the Northeast beginning Monday with many places failing to reach the 80-degree mark, especially over New England. At the same time, a massive heat wave will continue building over the Plains.
Readings in the 70s will then make it into Philadelphia, New York City and Baltimore by Tuesday with some places like Binghamton, N.Y., and Burlington, Vt., stuck in the 60s.
What a difference from the last couple of days.
| City | High Sunday | High Monday | High Tuesday |
| --- | --- | --- | --- |
| Philadelphia | 87 | 80 | 76 |
| New York City | 84 | 78 | 76 |
| Boston | 82 | 73 | 74 |
| Binghamton | 80 | 68 | 68 |
Along with the cool air, there will be ample opportunity for clouds along with pop-up shower and thunderstorm activity each afternoon and evening over New England and parts of the mid-Atlantic.
The best chance for these showers and storms will be over New England, closer to where the coolest air will be located.
Below-normal temperatures will persist through the latter part of the week before a steady warming trend commences into next weekend.
FIRE WEATHER MESSAGE
DENVER CO
GRAND JUNCTION CO
LAS VEGAS NV
ELKO NV
MISSOULA MT
SALT LAKE CITY UT


***********************************************************************************************************
Storms, Flooding
This NOAA satellite image captured Tropical Storm Debby as it was taking shape Saturday afternoon.
Tropical Storm Debby has formed and now has its eyes set on the Gulf Coast.
Debby developed about 220 miles south-southeast of the mouth of the Mississippi River at 5 p.m. EDT Saturday, according to the AccuWeather.com Hurricane Center.
Debby broke a record by just forming, but what is more concerning to the AccuWeather.com Hurricane Center is where the tropical storm will track.
As AccuWeather.com Meteorologist Brian Edwards stated on Friday, there are two main factors that could influence Debby's movement–a dip in the jet stream diving into the East Coast and a large ridge of high pressure building over and baking the Plains.
Debby will continue to crawl northward this weekend, but should get steered to the west-southwest toward Texas or northern Mexico as the ridge of high pressure expands. Given this solution, landfall would likely be delayed until the middle or latter part of next week.
This track should eventually put Debby in an environment conducive for further strengthening, giving the tropical storm the opportunity to become a hurricane.
Even though Debby is expected to track away from Florida, additional tropical moisture and downpours could still be directed across the state through early next week.
It is not out of the question, however, that Florida becomes the target of Debby. If the dip in the jet stream drops southward quicker than expected, Debby could reverse course and cross northern or central Florida early next week.
The strong winds of the jet stream would prevent Debby from rapidly strengthening if it indeed approaches Florida, but flooding rain would remain a serious concern.
Flooding downpours and isolated tornadoes are already threatening Florida, especially its western coast, and will continue to do so through the weekend with Debby churning offshore.
Surf will also continue to build and the danger of rip currents will significantly heighten along the eastern and central Gulf Coasts into Sunday.
The danger of rough surf will expand to the western Gulf Coast as Debby turns westward.
All residents along the Gulf Coast and even into the Southeast are urged to check back with the AccuWeather.com Hurricane Center for the latest on Tropical Storm Debby.
By Bill Deger, Meteorologist
This NOAA satellite image captured Tropical Storm Debby as it was taking shape Saturday afternoon.
The official track of Debby takes the tropical storm toward Texas, but there are still dangers for Florida.
Showers and thunderstorms were streafloridaming across Florida Saturday afternoon as Tropical Storm Debby took shape in the east-central Gulf of Mexico.
The AccuWeather.com Hurricane Center expects Debby to track toward Texas, but cautions that that path is not set in stone. It is not out of the question that Debby gets steered into northern or central Florida early next week.
Regardless of where Debby tracks, Florida will face downpours capable of causing flash flooding and ruining outdoor plans for scores of Floridians and vacationers alike.
While all of Florida will be at risk for a soaking at some point into Sunday, the western half of the state will bear the brunt of the heaviest rain and thunderstorms (a handful capable of spawning isolated tornadoes).
By Monday, several inches of rain will have fallen in locations such as Tampa, St. Petersburg, Naples and Fort Myers.
Though most residents are accustomed to the low-lying and flash street flooding that are a staple in Florida thundershowers, the frequent nature of the downpours this weekend could prove to be problematic.
Repeated gully-washers will allow water to pile up deeper on some roadways, slowing travel and making even simple drives more difficult.
Those brave few souls planning on venturing to the Panhandle, Big Bend, Suncoast and Southwest Beaches this weekend will probably want to think twice, and not just because of the rain.
Rough surf, rip currents and gusty winds will make swimming and bathing in the Gulf hazardous. If you must enter the ocean, try to go in no farther than knee-deep.
Rough surf and rip currents are also dangers at the beaches of Alabama, Mississippi and southeastern Louisiana.
Beyond Sunday, additional showers and thunderstorms with potentially flooding downpours will get pulled across Florida even as Debby heads westward.
A greater risk of flooding will unfold if Debby steers off its expected track and takes aim at Florida early next week, a potential all residents and visitors of Florida should closely monitor.
NEW ORLEANS LA
NE GULF N OF 25N E OF 87W-
N CENTRAL GULF INCLUDING FLOWER GARDEN BANKS MARINE SANCTUARY-
CENTRAL GULF FROM 22N TO 26N BETWEEN 87W AND 94W-


GREAT FALLS MT


GREAT FALLS MT


CARIBOU ME



| | | | | | | |
| --- | --- | --- | --- | --- | --- | --- |
| 23.06.2012 | Flash Flood | Japan | Wakayama Prefecture, | | | |
Description
Large parts of southern Wakayama city were inundated with water as a rainy front and a low-pressure system brought heavy precipitation over a wide area from the Kyushu to Kanto regions from Thursday through Friday morning. Wakayama saw 179 millimeters of rainfall during the 24-hour period to early Friday morning, according to the Japan Meteorological Agency. Kawachi-Nagano, Osaka Prefecture, recorded 155.5 millimeters and Akashi, Hyogo Prefecture, 103 millimeters. All were record amounts for June in each city. The Wadagawa river in Wakayama rose, causing irrigation ditches connected to the river to overflow and flooding rice paddies and roads over a seven-kilometer-long area along the river. Torrential rain also hit the Tokai and Kanto regions Friday morning, with 47 millimeters of hourly rainfall pouring down Haneda, Tokyo, 39 millimeters in Funabashi, Chiba Prefecture, and 38 millimeters in Edogawa Ward, Tokyo.
| | | | | | | |
| --- | --- | --- | --- | --- | --- | --- |
| 23.06.2012 | Flood | Afghanistan | Province of Ghor , [Ghor-wide] | | | |
Description
Flash floods have swept northern Afghanistan, killing at least 37 people, Afghan and U.N. authorities said Saturday. More than 100 homes, hundreds of hectares (acres) of farmland and farm animals were been destroyed by the floods that followed four or five days of heavy rain in the region. Abdul Hai Khateby, who is the spokesman in Ghor province, said Saturday that 24 people have been killed in four districts, including the provincial capital of Chaghcharan. "Many, many houses have been destroyed, and there are reports of lots of cattle and other animals being killed," Khateby said. "It is cloudy and we expect more rain." The provincial spokesman of Badakhshan, Abdul Marouf Rasekh, said 13 people were killed Friday night in Yaftal district and four other districts have been affected. The Afghanistan National Disaster Management Authority said an estimated 135 houses in Badakhshan had been destroyed, forcing residents to flee. The U.N. Office for the Coordination of Humanitarian Affairs said many of the unpaved, rutted roads in the area have been severely flooded, making aid distribution difficult. Elsewhere, a bomb exploded at a music store on Saturday in Jalalabad, the provincial capital of Nangarhar in the east. Provincial spokesman Ahmad Zia Abdulzai said the shopkeeper and one of his customers were killed in the blast and two other people were wounded.
……………………………………………..
Flash floods in Afghanistan have killed more than 30 people in central Ghor province early on Saturday.(AFP)
Flash floods in Afghanistan triggered by days of torrential rain have killed more than 30 people, officials said Saturday, with dozens reported missing.
Waters swept through villages and parts of the city of Cheghcheran in central Ghor province early on Saturday, engulfing dozens of homes, provincial spokesman Abdulhai Khatibi told AFP.
"So for I can confirm that 24 people have been killed in these floods, but some are also missing," Khatibi said.
The floodwaters also destroyed hundreds of hectares of farmland and displaced hundreds of people in the impoverished province, he said.
In the northeast of the country, two days of torrential rains and hail triggered flooding in the remote province of Badakhshan, killing at least eight and destroying up to 100 houses, the provincial head of the national disaster management authority told AFP.
"This kind of rain and hail is not common at this time of year, so people were caught off guard," Sanaullah Amiri said.
Hundreds of villagers in high-risk areas have been evacuated as a precaution against further flooding, he said.
Afghanistan's harshest winter in 15 years saw unusually heavy snowfalls and experts predicted that rivers swollen by melting snow were likely to flood in the mountainous north in spring.
In May, flash floods in Sari Pul province, which borders Ghor to the north, killed 50 people, mostly women and children.
NEW ORLEANS LA







DULUTH MN
PENDLETON OR
JUNEAU AK

...THE FLOOD WARNING CONTINUES FOR THE FOLLOWING RIVERS IN
MINNESOTA..
  MISSISSIPPI RIVER NEAR AITKIN AFFECTING AITKIN COUNTY
  MISSISSIPPI RIVER NEAR BRAINERD AFFECTING CROW WING COUNTY
  MISSISSIPPI RIVER NEAR FORT RIPLEY AFFECTING MORRISON AND CROW
  WING COUNTIES


************************************************************************************************************
Epidemic Hazards / Diseases
| | | | | | | |
| --- | --- | --- | --- | --- | --- | --- |
| 23.06.2012 | Epidemic Hazard | Bangladesh | Sirajganj District, [Shahzadpur upazila] | | | |
Description
Twenty six more Anthrax infected people have been identified at Panchil and Ultadab village under Shahzadpur upazila in Sirajganj district in the last six days. District Sanitary Inspector Ram Chandra Shaha Milon confirmed this to this correspondent yesterday. With the new ones, the number of total infected has risen to 67 in the district. Sources said, they were infected after taking meat of a sick bullock and a sick goat, which were carrying the germ of Anthrax disease. The bullock was slaughtered by one Abdul Mannan Byapari at Panchil Baza on June 2 and the goat was slaughtered by Abdul Baten at Ultadab village on June 6. Doctors said, the people who were involved in skinning and processing the sick bullock and goat would be infected within a few days. A medical team of Sirajganj health department visited the areas of the infected patients recently and prescribed them with the directive to continue the treatment. They also distributed some medicines free of cost, civil surgeon office sources said. Civil surgeon Dr. Nazim Uddin Khan said, people of the district are being infected with Anthrax one after another due to lack of awareness about the disease. Though the people are being warned about the disease and asked not to take meat of any sick cattle or goat, poor and ultra-poor people are ignoring the directives and taking meat of sick cattle or goat. He further said, there is nothing to fear over the disease, because it is curable. However, he urged the people not to slaughter any sick animal. Locals also complained that, due to lack of proper vaccination, many cattle in the areas are being infected with the disease and then people are being forced to slaughter such sick animals to recover their losses.
Biohazard name:
Anthrax
Biohazard level:
4/4 Hazardous
Biohazard desc.:
Viruses and bacteria that cause severe to fatal disease in humans, and for which vaccines or other treatments are not available, such as Bolivian and Argentine hemorrhagic fevers, H5N1(bird flu), Dengue hemorrhagic fever, Marburg virus, Ebola virus, hantaviruses, Lassa fever, Crimean-Congo hemorrhagic fever, and other hemorrhagic or unidentified diseases. When dealing with biological hazards at this level the use of a Hazmat suit and a self-contained oxygen supply is mandatory. The entrance and exit of a Level Four biolab will contain multiple showers, a vacuum room, an ultraviolet light room, autonomous detection system, and other safety precautions designed to destroy all traces of the biohazard. Multiple airlocks are employed and are electronically secured to prevent both doors opening at the same time. All air and water service going to and coming from a Biosafety Level 4 (P4) lab will undergo similar decontamination procedures to eliminate the possibility of an accidental release.
Symptoms:
Status:
confirmed
| | | | | | | |
| --- | --- | --- | --- | --- | --- | --- |
| 23.06.2012 | Epidemic Hazard | USA | State of Virginia, Fairfax [George Mason University] | | | |
Description
Health officials are investigating the cause of a mystery sickness bug which claimed more than 40 victims in one night. Dozens of students at George Mason University, Washington, were taken ill with food poisoning and flu-like symptoms on Wednesday night and Thursday morning. Those with reported sickness are said to be from a group of 80 international students aged between 15 and 22, who were at the school to attend the Congressional Awards Foundation Program. An unknown number of students were taken to the George Washington University Hospital after being taken ill, while more students developed similar symptoms just hours later. The students called 911, before another seven pupils were transported to a nearby hospital. Officials are still investigating what caused the illness, but say more than 40 students have so far been affected. Fairfax County health officials say the outbreak may have been viral gastroenteritis, which causes vomiting and diarrhea. A member of Fairfax County Fire and EMS told NBC: 'Originally they thought it might be related to the heat and dehydration, but they started to show more of a stomach-type virus or illness.' NBC reported that the virus was spread person to person by touching the infected surface areas. Health officials are now said to be working with the university to clean the area sick students may have infected.
Biohazard name:
Unidentified illness
Biohazard level:
1/4 Low
Biohazard desc.:
Bacteria and viruses including Bacillus subtilis, canine hepatitis, Escherichia coli, varicella (chicken pox), as well as some cell cultures and non-infectious bacteria. At this level precautions against the biohazardous materials in question are minimal, most likely involving gloves and some sort of facial protection. Usually, contaminated materials are left in open (but separately indicated) waste receptacles. Decontamination procedures for this level are similar in most respects to modern precautions against everyday viruses (i.e.: washing one's hands with anti-bacterial soap, washing all exposed surfaces of the lab with disinfectants, etc). In a lab environment, all materials used for cell and/or bacteria cultures are decontaminated via autoclave.
Symptoms:
flu-like symptoms, possible viral gastroenteritis
Status:
suspected
************************************************************************************************************
Solar Activity
2MIN News June 23, 2012
Published on Jun 23, 2012 by Suspicious0bservers
AMAZING: http://www.universetoday.com/95920/a-gamma-ray-burst-as-music/
TODAYS LINKS
Romania Shale Moratorium: http://phys.org/news/2012-06-romania-moratorium-shale-gas.html
US Fires: http://www.nasa.gov/mission_pages/fires/main/western-us.html
6.6 Quake: http://news.xinhuanet.com/english/world/2012-06/23/c_131671263.htm
REPEAT LINKS
Spaceweather: http://spaceweather.com/ [Look on the left at the X-ray Flux and Solar Wind Speed/Density]
HAARP: http://www.haarp.alaska.edu/haarp/data.html [Click online data, and have a little fun]
SDO: http://sdo.gsfc.nasa.gov/data/ [Place to find Solar Images and Videos - as seen from earth]
SOHO: http://sohodata.nascom.nasa.gov/cgi-bin/soho_movie_theater [SOHO; Lasco and EIT - as seen from earth]
Stereo: http://stereo.gsfc.nasa.gov/cgi-bin/images [Stereo; Cor, EUVI, HI - as seen from the side]
SunAEON:http://www.sunaeon.com/#/solarsystem/ [Just click it... trust me]
SOLARIMG: http://solarimg.org/artis/ [All purpose data viewing site]
iSWA: http://iswa.gsfc.nasa.gov/iswa/iSWA.html [Free Application; for advanced sun watchers]
NOAA ENLIL SPIRAL: http://www.swpc.noaa.gov/wsa-enlil/cme-based/ [CME Evolution]
RSOE: http://hisz.rsoe.hu/alertmap/index2.php [That cool alert map I use]
JAPAN Radiation Map: http://jciv.iidj.net/map/
LISS: http://earthquake.usgs.gov/monitoring/operations/heliplots_gsn.php
Gamma Ray Bursts: http://grb.sonoma.edu/ [Really? You can't figure out what this one is for?]
BARTOL Cosmic Rays: http://neutronm.bartol.udel.edu//spaceweather/welcome.html [Top left box, look for BIG blue circles]
TORCON: http://www.weather.com/news/tornado-torcon-index [Tornado Forecast for the day]
GOES Weather: http://rsd.gsfc.nasa.gov/goes/ [Clouds over America]
INTELLICAST: http://www.intellicast.com/ [Weather site used by many youtubers]
NASA News: http://science.nasa.gov/science-news/science-at-nasa/
PHYSORG: http://phys.org/ [GREAT News Site!]

Green flashes at sunset are rare. Indeed, they were once thought mythological. Blue flashes are rarer still. On June 21st Göran Strand of Frösön, Sweden, saw them both in a single sunset: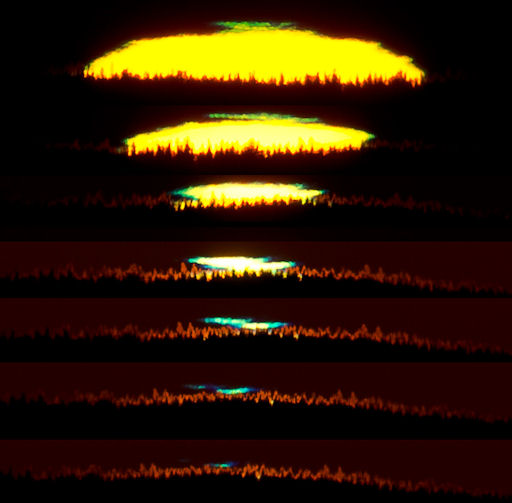 "Tonight the weather was incredibly clear and fine, so I went out to photograph the sunset–and this was the result," says Strand. "The time interval between the first and last frames is 1 minute and 14 seconds."
Green flashes are formed when the prismatic action of the atmosphere splits the setting sun into basic R-G-B colors. Temperature inversions create a mirage, magnifying the green into an eye-catching flash.
Blues flashes are formed in the same way, but they are generally harder to see than green flashes, because blue flashes blend into the surrounding blue sky. When the air is exceptionally clear, however, the blue flash emerges.
************************************************************************************************************
Space
A long filament of magnetism snaking over the sun's northwestern limb erupted this morning, hurling much of itself into space. NASA's Solar Dynamics Observatory recorded the blast: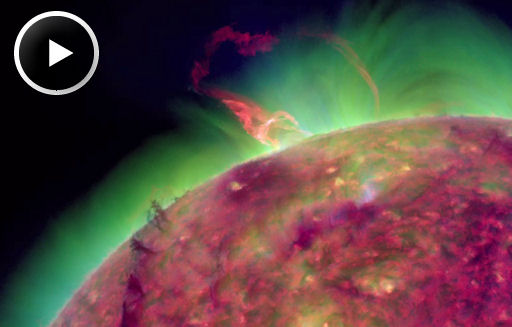 A bright CME billowed away from the blast site. Because of the explosion's location on the NW edge of the solar disk, the cloud will not hit Earth. This event was photogenic but not geoeffective.
Object Name
Apporach Date
Left
AU Distance
LD Distance
Estimated Diameter*
Relative Velocity
(2011 AH5)
25th June 2012
1 day(s)
0.1670
65.0
17 m – 39 m
5.84 km/s
21024 km/h
(2012 FA14)
25th June 2012
1 day(s)
0.0322
12.5
75 m – 170 m
5.28 km/s
19008 km/h
(2004 YG1)
25th June 2012
1 day(s)
0.0890
34.7
140 m – 310 m
11.34 km/s
40824 km/h
(2010 AF3)
25th June 2012
1 day(s)
0.1190
46.3
16 m – 36 m
6.54 km/s
23544 km/h
(2008 YT30)
26th June 2012
2 day(s)
0.0715
27.8
370 m – 820 m
10.70 km/s
38520 km/h
(2010 NY65)
27th June 2012
3 day(s)
0.1023
39.8
120 m – 270 m
15.09 km/s
54324 km/h
(2008 WM64)
28th June 2012
4 day(s)
0.1449
56.4
200 m – 440 m
17.31 km/s
62316 km/h
(2010 CD55)
28th June 2012
4 day(s)
0.1975
76.8
64 m – 140 m
6.33 km/s
22788 km/h
(2004 CL)
30th June 2012
6 day(s)
0.1113
43.3
220 m – 480 m
20.75 km/s
74700 km/h
(2008 YQ2)
03rd July 2012
9 day(s)
0.1057
41.1
29 m – 65 m
15.60 km/s
56160 km/h
(2005 QQ30)
06th July 2012
12 day(s)
0.1765
68.7
280 m – 620 m
13.13 km/s
47268 km/h
(2011 YJ28)
06th July 2012
12 day(s)
0.1383
53.8
150 m – 330 m
14.19 km/s
51084 km/h
276392 (2002 XH4)
07th July 2012
13 day(s)
0.1851
72.0
370 m – 840 m
7.76 km/s
27936 km/h
(2003 MK4)
08th July 2012
14 day(s)
0.1673
65.1
180 m – 410 m
14.35 km/s
51660 km/h
(1999 NW2)
08th July 2012
14 day(s)
0.0853
33.2
62 m – 140 m
6.66 km/s
23976 km/h
189P/NEAT
09th July 2012
15 day(s)
0.1720
66.9
n/a
12.47 km/s
44892 km/h
(2000 JB6)
10th July 2012
16 day(s)
0.1780
69.3
490 m – 1.1 km
6.42 km/s
23112 km/h
(2010 MJ1)
10th July 2012
16 day(s)
0.1533
59.7
52 m – 120 m
10.35 km/s
37260 km/h
(2008 NP3)
12th July 2012
18 day(s)
0.1572
61.2
57 m – 130 m
6.08 km/s
21888 km/h
(2006 BV39)
12th July 2012
18 day(s)
0.1132
44.1
4.2 m – 9.5 m
11.11 km/s
39996 km/h
(2005 NE21)
15th July 2012
21 day(s)
0.1555
60.5
140 m – 320 m
10.77 km/s
38772 km/h
(2003 KU2)
15th July 2012
21 day(s)
0.1034
40.2
770 m – 1.7 km
17.12 km/s
61632 km/h
(2007 TN74)
16th July 2012
22 day(s)
0.1718
66.9
20 m – 45 m
7.36 km/s
26496 km/h
(2007 DD)
16th July 2012
22 day(s)
0.1101
42.8
19 m – 42 m
6.47 km/s
23292 km/h
(2006 BC8)
16th July 2012
22 day(s)
0.1584
61.6
25 m – 56 m
17.71 km/s
63756 km/h
144411 (2004 EW9)
16th July 2012
22 day(s)
0.1202
46.8
1.3 km – 2.9 km
10.90 km/s
39240 km/h
(2012 BV26)
18th July 2012
24 day(s)
0.1759
68.4
94 m – 210 m
10.88 km/s
39168 km/h
(2010 OB101)
19th July 2012
25 day(s)
0.1196
46.6
200 m – 450 m
13.34 km/s
48024 km/h
(2008 OX1)
20th July 2012
26 day(s)
0.1873
72.9
130 m – 300 m
15.35 km/s
55260 km/h
(2010 GK65)
21st July 2012
27 day(s)
0.1696
66.0
34 m – 75 m
17.80 km/s
64080 km/h
(2011 OJ45)
21st July 2012
27 day(s)
0.1367
53.2
18 m – 39 m
3.79 km/s
13644 km/h
153958 (2002 AM31)
22nd July 2012
28 day(s)
0.0351
13.7
630 m – 1.4 km
9.55 km/s
34380 km/h
(2011 CA7)
23rd July 2012
29 day(s)
0.1492
58.1
2.3 m – 5.1 m
5.43 km/s
19548 km/h

| | |
| --- | --- |
| 1 AU = ~150 million kilometers,1 LD = Lunar Distance = ~384,000 kilometers | Source: NASA-NEO |
Meteor reports of the latest worldwide meteors, fireballs and bolides worldwide. Report a Meteor/fireball/bolide worldwide and join the worldwide community of nightsky meteor fireball and bolide reporters and watchers. Owner LunarMeteorite*Hunter, Dirk Ross, Tokyo, Japan.
*************************************************************************************************************
Biological Hazards / Wildlife
| | | | | | | |
| --- | --- | --- | --- | --- | --- | --- |
| 23.06.2012 | Biological Hazard | USA | State of Hawaii, [Maui] | | | |
Description
Wetland biologists and others involved in managing lands with associated wetlands have been notified by the Department of Land and Natural Resources' Division of Forestry and Wildlife (DOFAW) of a recent avian botulism outbreak affecting waterbirds on Maui. In just over a week, 67 birds have been found dead at Kanaha Pond Wildlife Sanctuary in Kahului including Hawaiian Stilt, Hawaiian Coot, and Hawaiian Ducks of adult and juvenile stages. The paralytic disease has killed adult birds on their nests, also causing the eggs to be lost. Because botulinum toxin can be produced in most wetlands, and transported to new wetlands by dead or dying waterfowl, landowners and managers, both public and private, are being asked to frequently survey their wetlands for sick and/or dead birds, remove any dead or dying birds from the wetland, and contact local DOFAW biologists for guidance. Earlier this year a botulism outbreak in Hanalei, Kauai resulted in over 300 sick and dead birds being collected by USFWS refuge staff. Additionally, numerous other botulism fatalities have also been reported at wetlands throughout the state. Botulism is a paralytic condition brought on by the consumption of a naturally occurring toxin produced by the bacterium Clostridium botulinum. It is an intoxication rather than an infectious disease. Botulism, type C is commonly found in Hawaiian soils and is NOT dangerous to humans.

Particular environmental conditions in wetlands will sometimes allow this bacterium to produce botulinum toxin; the toxin is then accumulated in aquatic invertebrates. It is consumption of these toxic invertebrates by waterfowl that leads to mortality. In Hawai'i, birds commonly affected include waterfowl frequenting wetlands such as our endangered Hawaiian coots, Hawaiian ducks, Laysan ducks, Hawaiian moorhen, Hawaiian stilts, Black-crowned night- herons, and various migratory waterfowl and shorebirds. The U.S. Geological Survey (USGS) National Wildlife Health Center Honolulu Field Station (NWHC-HFS) has been working closely with the US Fish and Wildlife Service and the State of Hawaii DLNR to investigate and confirm botulism as a cause of waterfowl mortality in Hanalei and Kahului. The NWHC-HFS provides technical assistance to federal, state, municipal, and non-governmental organizations on wildlife health related matters in Hawai'i and the Pacific. "Part of our role is to determine the cause of death during unusual wildlife mortality events involving native and endangered species and provide management recommendations to address and mitigate such mortalities" said Dr. Thierry Work, Wildlife Disease Specialist for the USGS National Wildlife Health Center Honolulu Field Station. "For this particular event, our team first conducts necropsies of freshly dead birds here in Honolulu and then sends samples to the National Wildlife Health Center in Madison Wisconsin for confirmation of botulism."

Biohazard name:
Avian botulism
Biohazard level:
1/4 Low
Biohazard desc.:
Bacteria and viruses including Bacillus subtilis, canine hepatitis, Escherichia coli, varicella (chicken pox), as well as some cell cultures and non-infectious bacteria. At this level precautions against the biohazardous materials in question are minimal, most likely involving gloves and some sort of facial protection. Usually, contaminated materials are left in open (but separately indicated) waste receptacles. Decontamination procedures for this level are similar in most respects to modern precautions against everyday viruses (i.e.: washing one's hands with anti-bacterial soap, washing all exposed surfaces of the lab with disinfectants, etc). In a lab environment, all materials used for cell and/or bacteria cultures are decontaminated via autoclave.
Symptoms:
Status:
confirmed
**************************************************************************************************************
Articles of Interest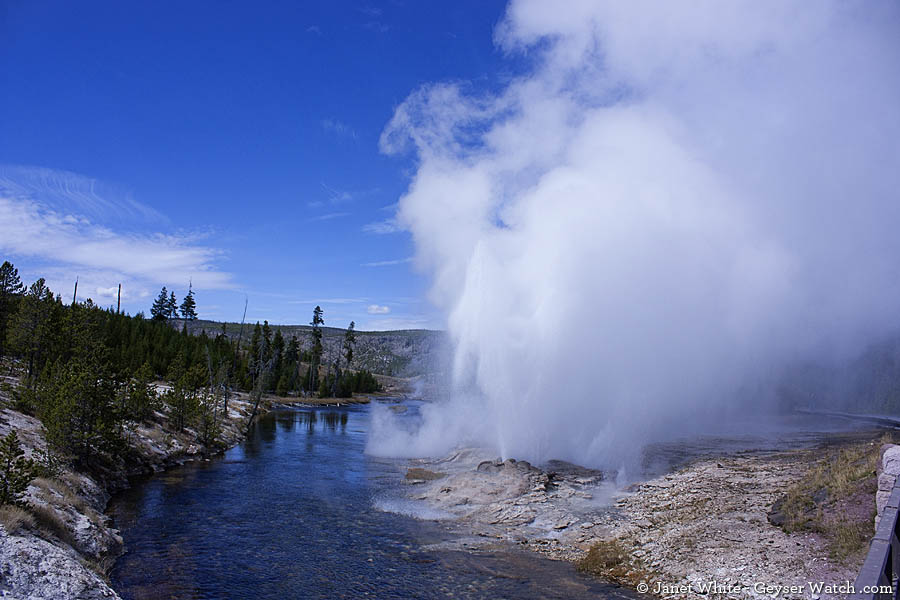 Fan and Mortar geysers in the Upper Geyser Basin of Yellowstone National Park fluctuate between active and dormant periods. (Janet White/Geyser Watch – click to enlarge)
By Janet White
Yellowstone geyser enthusiasts are reporting that a handful of Yellowstone National Park geysers appear to be active again after periods of dormancy, including one geyser that last erupted almost two decades ago.
Morning Geyser, quiet for 18 years, is now active, and there is news that an electronic monitor on Echinus in Norris Geyser Basin picked up an eruption. North Goggles Geyser has also started erupting more regularly than the lone annual display it has typically shown over the past few years. The last time it was this active was 2004. Joining the list of newly reactivated thermal features are Fan and Mortar geysers, which may be beginning an active cycle.
Morning Geyser in the Lower Geyser Basin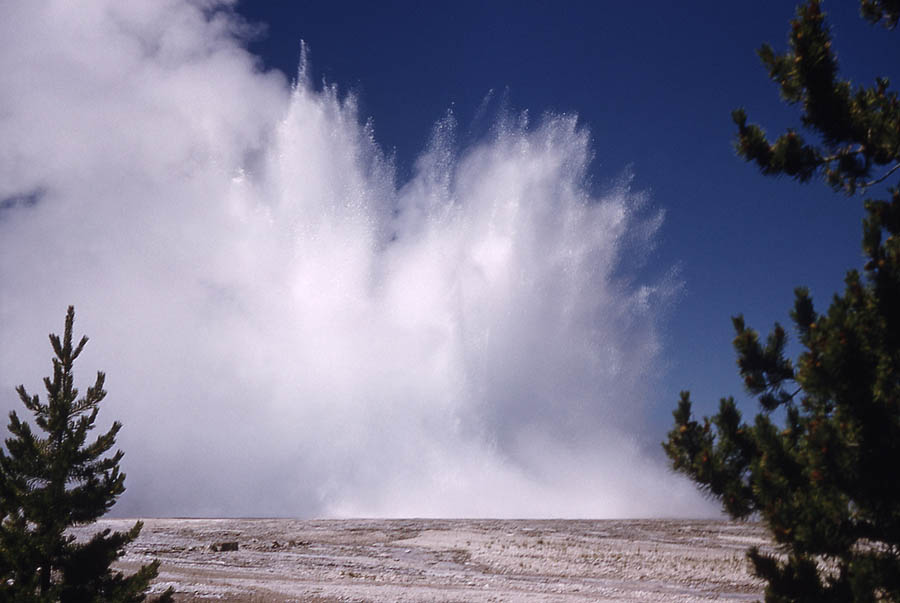 Morning Geyser erupts in 1959. (NPS photo by George Marler- click to enlarge)
Morning Geyser is one of the tallest and prettiest geysers in the Lower Geyser Basin.  The wide eruptions have the potential of reaching 200 feet tall. It is located in the Fountain Paint Pots area, just behind Fountain Geyser.  Morning Geyser last erupted in 1994. The first reported eruption this year occurred on Wed., June 20. A second eruption was reported the following day, with geyser gazers reporting online that Morning Geyser spewed for up to 30 minutes, reaching a height of 200 feet.
For the past few weeks, geyser gazer Maureen Edgerton has watched a change in her favorite geyser, Fountain Geyser, of longer intervals between eruptions than seen in recent years. It may be that there is a connection between Morning Geyser and Fountain Geyser, and a change in Fountain Geyser could result in changes in other thermal features in the area.
Edgerton's time spent watching the area paid off with the first eruption shortly after noon on Wednesday. She noticed it first from the road, and even though she knows the area well, she remained skeptical, Morning Geyser is often confused with bursts seen from other geysers in the area. But Edgerton became certain that it was Morning Geyser erupting as she turned around, parked and headed to the overlook.
How long will Morning Geyser continue erupting? That's hard to say, but based on past active cycles, it could be days or weeks. Then again, these two eruptions might be all that's seen for a while. But we hope it continues to delight us for awhile, and allows more people to check seeing this rare geyser in eruption off their list.
But for those of us not in the Park at the moment, thankfully, we can watch a past eruption.
Fan and Mortar Geysers in the Upper Geyser Basin
To the delight of many, it seems that on the June 9, Fan and Mortar geysers started what is expected to be another cycle of activity. Every couple of years, Fan and Mortar geysers take a break and go silent. Prior to this eruption, they were last known to erupt in October 2011. Sometimes they take longer breaks than this, but no one appeared disappointed by the short nap and their recent reawakening.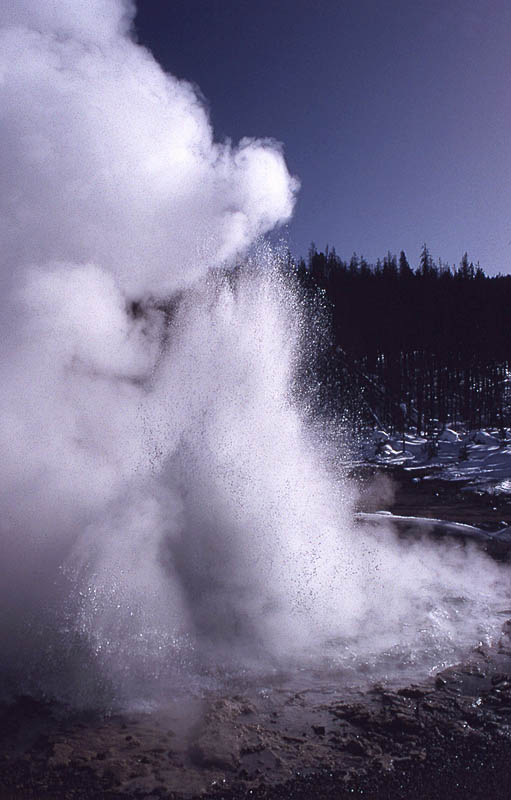 Echinus Geyser erupts in February 1993. (NPS Photo by Jim Peaco – click to enlarge)
When active, they erupt about every 3-5 days, sometimes appearing to "prefer" nighttime eruptions. Let's hope this cycle sees more daytime eruptions.
Fan and Mortar Geysers are located in the Upper Geyser Basin, not far from Morning Glory Pool. Expect to see geyser gazers waiting there when it seems like an eruption is 'due' unless they all head to the more rare, Morning Geyser.
No further eruptions have been seen or noted by knowledgeable geyser enthusiasts, but one promising 'event cycle' was observed. It may take a bit longer for Fan and Mortar to fully reactivate.
Echinus Geyser in Norris Geyser Basin
The announcement of a third geyser reactivating came from an email sent to a geyser email list from Yellowstone National Park ranger Denise Herman, who relayed a message from Jacob B. Lowenstern, the scientist in charge of the U.S. Geological Survey'sYellowstone Volcano Observatory. Lowenstern noted that a temperature probe indicated that Echinus erupted at 3:25 a.m. on Mon., June 28, stating that "no one saw it, but it is the first known eruption since January 2011."
Janet White is the creator of GeyserWatch.com.
By Grace Muller, AccuWeather.com Staff Writer
The picture of the escaped Lake Superior Zoo seal was posted to Reddit by user Loudmouth_American.
The National Weather Service (NWS) says June 19 and June 20 was Duluth, Minnesota's wettest two-day period on record. Heavy rain from thunderstorms led to severe flooding Tuesday night across northern Minnesota, including in Duluth, where there was extensive damage from the floodwaters.
According to the NWS, more than 7 inches of rain fell over a large portion of north-central and northeastern Minnesota, with most of the rain falling in just a few hours' time, drawing comparisons to a historic flood in August 1972.
While the sheer extent of damage in the area was enough to get national media attention, a picture of an escaped seal from the Lake Superior Zoo posted to website Reddit went viral.
Brandon Stahl of the Duluth News Tribune reported that "zoo staff said three of its birds had drowned: a turkey vulture, a raven and a snowy owl. Of the barnyard animals, only a miniature horse survived, while six sheep, four goats and a donkey died."
In a statement from the Lake Superior Zoo:
"All zoo animals have been secured. Sadly, the zoo experienced the loss of several animals, among them many of the barnyard residents. Due to flooding, the zoo's polar bear Berlin was able to exit her exhibit. She was darted by the zoo's vet and is safe in quarantine. At no time did any dangerous animal leave the perimeter fence."
Como Park Zoo in St. Paul, Minn., will house the displaced animals from Lake Superior Zoo until employees can restore the park, KARE-TV reports.
*************************************************************************************************************
[In accordance with Title 17 U.S.C. Section 107, this material is distributed without profit, for research and/or educational purposes. This constitutes 'FAIR USE' of any such copyrighted material.]