Earthquakes
| | | | | | | | | | | |
| --- | --- | --- | --- | --- | --- | --- | --- | --- | --- | --- |
| 07.06.2012 23:30:47 | 4.9 | Asia | Turkey | Tekirdag Ili | Marmaraereglisi | | | | USGS-RSOE | |
| 08.06.2012 00:07:30 | 4.9 | Asia | Turkey | | Marmaraereglisi | | | | EMSC | |
| 07.06.2012 23:00:55 | 2.4 | Asia | Turkey | | Yabancik | | | | EMSC | |
| 07.06.2012 23:01:16 | 2.2 | Europe | Italy | | Martinsicuro | | | | EMSC | |
| 07.06.2012 23:01:36 | 2.6 | Europe | Italy | | Bosellina | | | | EMSC | |
| 07.06.2012 23:01:57 | 3.0 | Europe | Italy | | La Balantina | | | | EMSC | |
| 07.06.2012 22:00:41 | 2.5 | Asia | Turkey | | Mazi | | | | EMSC | |
| 07.06.2012 22:01:03 | 2.2 | Europe | Italy | | La Collevata | | | | EMSC | |
| 08.06.2012 00:07:52 | 4.7 | Asia | Japan | | Tadakoshi | | | | EMSC | |
| 07.06.2012 22:01:27 | 2.4 | Asia | Turkey | | Karaca | | | | EMSC | |
| 07.06.2012 22:01:49 | 4.8 | Asia | Japan | | Kurosaki | | | | EMSC | |
| 07.06.2012 20:25:34 | 4.8 | Pacific Ocean | Tonga | | Falehau | | | | USGS-RSOE | |
| 07.06.2012 21:00:35 | 4.8 | Pacific Ocean – East | Tonga | | Falehau | | | | EMSC | |
| 07.06.2012 21:00:57 | 2.9 | Europe | Romania | | Plostina | | | | EMSC | |
| 07.06.2012 21:01:16 | 3.3 | Europe | Italy | | La Massara | | | | EMSC | |
| 07.06.2012 20:30:41 | 4.8 | Atlantic Ocean | Argentina | Provincia de Jujuy | Carahuasi | | | | USGS-RSOE | |
| 07.06.2012 23:03:31 | 4.0 | Pacific Ocean | New Zealand | Woodville County | Clearburn | | | | GEONET | |
| 07.06.2012 21:15:35 | 2.0 | North America | United States | California | Wilson Corner | | | | USGS-RSOE | |
……………………
6.0 Mw – SOUTHERN PERU
Preliminary Earthquake Report
Magnitude
6.0 Mw
Date-Time

7 Jun 2012 16:03:18 UTC
7 Jun 2012 11:03:18 near epicenter
7 Jun 2012 10:03:18 standard time in your timezone

Location
15.919S 72.516W
Depth
99 km
Distances

119 km (74 miles) WNW (298 degrees) of Arequipa, Peru
217 km (134 miles) SE (128 degrees) of Puquio, Peru
221 km (137 miles) NW (310 degrees) of Moquegua, Peru
648 km (402 miles) SE (131 degrees) of LIMA, Peru

Location Uncertainty
Horizontal: 16.0 km; Vertical 8.4 km
Parameters
Nph = 543; Dmin = 470.9 km; Rmss = 0.91 seconds; Gp = 54°
M-type = Mw; Version = A
Event ID
US b000a9lp
For updates, maps, and technical information, see:
Event Page
or
USGS Earthquake Hazards Program
National Earthquake Information Center
U.S. Geological Survey
http://neic.usgs.gov/
**********************************************************************************************************
Volcanic Activity
FOR IMMEDIATE RELEASE

June 6, 2012
Mount Rainier lahar losses could reach $6 billion or more in Puyallup Valley
New DNR report examines likely scenarios for a major volcanic mudflow from nation's most hazardous volcano
OLYMPIA – A new report from the Washington State Department of Natural Resources (DNR) estimates that a volcanic mudflow (known as a 'lahar') from Mount Rainier could produce property losses of up to $6 billion to communities in the Puyallup Valley.
"We now have a much better estimate of the economic impact of a major lahar flowing from Mount Rainier," said Dave Norman, Washington State Geologist and manager of the DNR Geology and Earth Resources Division." It's not a question of if, but when, the next volcanic event will occur."
The DNR report, "Loss Estimation Pilot Project for Lahar Hazards from Mount Rainier, Washington," is based on data about several previous lahars from the volcano. Using loss-estimating software developed by the Federal Emergency Management Agency (FEMA), the report projects potential property damage costs if similar mudflows occurred again on Mount Rainier's west side, as many geologists anticipate.
Due to the weakened rocks that make up the upper west flank of Mount Rainier, the Puyallup Valley is considered highly susceptible to lahars. Lahar-related flooding has the potential to reach as far as the Commencement Bay and Elliott Bay, including the ports of Seattle and Tacoma.
In concert with the report released today, DNR has produced an online interactive map that allows users to track the potential pathways of lahars from Mount Rainier. The online map and today's report are designed to assist emergency response, mitigation planning, and community preparation for lahar-prone areas.
Mount Rainier has produced major lahars every 500 to 1,000 years and smaller flows more frequently. The most recent major lahar to reach the Puget Lowland was the Electron Mudflow about 600 years ago. It was more than 100 feet thick at the community of Electron and as much as 20 feet thick at Orting.
Lahars, which have the consistency of wet concrete, can be caused by volcanic activity when an eruption of lava or hot gasses melts a glacier. They also can be produced by avalanches and earthquakes.
The DNR study was funded by the American Recovery and Reinvestment Act.
Web links and citation
The DNR report, "Loss Estimation Pilot Project for Lahar Hazards from Mount Rainier, Washington," includes color maps and can be downloaded viewed online at: www.dnr.wa.gov/Publications/ger_ic113_mt_rainier_lahar_hazards.pdf
The direct link to the DNR Geology Portal, including the Mount Rainier Lahar (Volcanic Mudflow) Hazards – Property at Risk map, is:
www.dnr.wa.gov/ResearchScience/Topics/GeosciencesData/Pages/geology_portal.aspx
The report was produced by the DNR Division of Geology and Earth Resources. The official citation is:
Information Circular 113. Loss estimation pilot project for lahar hazards from Mount Rainier, Washington, by Recep Cakir and T. J. Walsh. 2012. 17 p.
DNR, manager and steward of state trust lands
DNR manages more than 5.7 million acres of state-owned forest, range, commercial, agricultural, conservation, and aquatic lands. DNR is administered by Peter Goldmark, the 13th Commissioner of Public Lands since statehood in 1889. DNR offers technical assistance and education on a range of subjects, including forest stewardship, mining, geologic hazards, and rare plant species and ecosystems.
Media Contact: Bob Redling, Senior Communications Manager, 360-902-1149, bob.redling@dnr.wa.gov
# # #
***********************************************************************************************************
Extreme Temperatures/ Weather
| | |
| --- | --- |
| Posted by: JeffMasters, 11:24 AM GMT on June 07, 2012 | +37 |
Pilgrims to the holy city of Mekkah (Mecca), Saudi Arabia must have been astonished on Tuesday afternoon, when the weather transformed from widespread dust with a temperature of 113°F (45°C) to a thunderstorm with rain. Remarkably, the air temperature during the thunderstorm was a sizzling 109°F (43°C), and the relative humidity a scant 18%. It is exceedingly rare to get rain when the temperature rises above 100°F, since those kind of temperatures usually require a high pressure system with sinking air that discourages rainfall. However, on June 4, a sea breeze formed along the shores of the Red Sea, and pushed inland 45 miles (71 km) to Mekkah by mid-afternoon. Moist air flowing eastwards from the Red Sea hit the boundary of the sea breeze and was forced upwards, creating rain-bearing thunderstorms. According to weather records researcher Maximiliano Herrera, this is the highest known temperature that rain has fallen at, anywhere in the world. He knows of one other case where rain occurred at 109°F (43°C): in Marrakech, Morocco on July 10, 2010. A thunderstorm that began at 5 pm local time brought rain at a remarkably low humidity of 14%, cooling the temperature down to 91°F within an hour.
Figure 1. Thunderstorms at 109°F? This true-color satellite image of Saudi Arabia taken at 2:10 pm local time (11:10 UTC) shows a line of thunderstorms that developed along the edge of the sea breeze from the Red Sea. Three hours after this image was taken, Mekkah (Mecca) recorded a thunderstorm with rain and a temperature of 109°F (43°C.) Image credit: NASA.
More like a hot shower than a cooling rain?
Thunderstorms often produce big drops of cold rain, since these raindrops form several thousand meters high in the atmosphere, where temperatures are much cooler than near the surface. Some drops even get their start as snow or ice particles, which melt on the way to the surface. Additional cooling of the drops occurs due to evaporation on the way down. However, in the case of the June 4, 2012 Mekkah storm, I think the rain was probably more like a hot shower. Large raindrops, like the kind thunderstorms produce, fall at a speed of about 10 meters per second. A balloon sounding of the upper atmosphere taken at 3 pm local time at a nearby station (Al-Midinah) found that the bottom 1000 meters of the atmosphere was 97°F (36°C) or warmer. Thus, the thunderstorms' raindrops would have been subjected to 100 seconds of some very hot air on the way to the surface, likely warming them above 100°F by the time they hit the ground. A classic 1948 study of raindrops found that, in many cases, raindrop temperatures start off cold in the first few minutes of a rain shower, then warm up to within 1°C (1.8°F) of the air temperature within a few minutes. With the air temperature a sizzling 109°F (43°C) at the time of the June 4 thunderstorm in Mekkah, the raindrops could easily have been heated to a temperature of over 105°F (41°C) by the time they reached the surface!
How hot can it be and still rain?
If substantial amounts of liquid water are present on the Earth, the planet will experience rain, as long as some mechanism to lift the warm, moist air and cause condensation can be found. If the climate continues to warm as expected, we should see an increasing number of cases where it rains at temperatures well above 100°F. On Saturday, June 2, the temperature in Mekkah hit 51.4°C (124.5°F), a new record for the city, and just 1.1°F (0.6°C) below the all-time hottest temperature record for Saudi Arabia (125.6°F, or 52°C, recorded at Jeddah on June 22, 2010.) I expect that 20 – 40 years from now, we'll begin seeing occasional cases where rain falls at a temperature above 117°F (47°C) in the desert regions of North Africa and the Middle East.
I'll have a new post by Friday afternoon.
Jeff Masters
Description
Firefighters are eyeing better weather conditions in their effort to control a 1,000-acre wildfire in the Medicine Bow National Forest in southeast Wyoming. Forest Service spokesman Aaron Voos says the forecast is for lighter winds and cooler temperatures on Wednesday and Thursday. The fire is burning about 20 miles northwest of Wheatland and about 5 miles southeast of Laramie Peak in an area mixed with ponderosa pine, brush and grass. Lightning is suspected to have started it on Sunday night and strong winds have caused it to spread rapidly. There is a church camp and other structures in the area but so far no structures are threatened. About 120 firefighters and a helicopter are on site, but fire managers are calling in four air tankers to aid the effort.
ANCHORAGE AK
POINT CONCEPTION TO GUADALUPE ISLAND
POINT ARENA TO POINT CONCEPTION
LOS ANGELES/OXNARD CA
SAN FRANCISCO BAY AREA
FIRE WEATHER MESSAGE
LAS VEGAS NV
CHEYENNE WY
RIVERTON WY
ALBUQUERQUE NM
RENO NV
GRAND JUNCTION CO
SALT LAKE CITY UT
FLAGSTAFF AZ
ELKO NV
***********************************************************************************************************
Storms, Flooding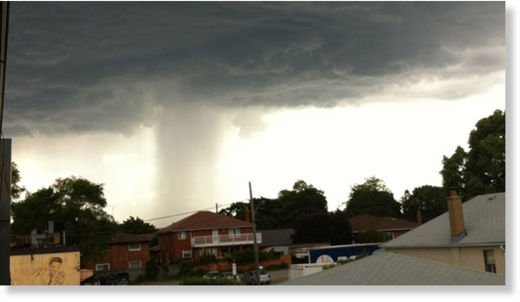 © Kristina Lombardi
A viewer sent in this photo of a rain shaft over her home in west Toronto near Kipling Avenue and The Queensway on Wednesday, June 6, 2012.
A band of thunderstorms prompted Environment Canada to issue tornado warnings for parts of cottage country north of Barrie, including Parry Sound, Rosseau, Killbear Park, Hunstville and Baysville, Wednesday evening.
The warning, issued shortly after 5 p.m., said the severe thunderstorms in the area had the potential to produce large hail, damaging winds and heavy rainfall, as well as tornadoes. The tornado warnings ended just before 7 p.m.
A severe thunderstorm warning was also issued for areas east of Toronto, starting around Pickering.
In Toronto, rain and thunder was reported by 5 p.m., with Environment Canada predicting a risk of thunderstorm through the evening.
There were no weather warnings or watches issued for the Toronto area.
NEW YORK NY



Huffington Post
April showers bring May flowers, but what do June hail storms and tornadoes bring? After several days of warm weather, on Wednesday night the Colorado sky opened up and unleashed severe weather upon the state delivering spectacular lightning, large hail balls and even some weak tornadoes around the Front Range.
And apparently it's not over yet. We'll get a break Thursday during the day, but 9News reports that around 3 p.m. Thursday afternoon, storms will build again along the Front Range and move east throughout the evening and into the night producing the possibility for more large hail, tornadoes, and high winds.
According to 7News, a number of tornadoes and funnel clouds were reported Wednesday. And at one point last night, hail stopped traffic along I-25 at County Line Road and 3 to 5 inches of rain flooded nearby roads.
Jim Kalina, National Weather Service meteorologist, told The Denver Post that a small tornado was spotted near Denver International Airport (watch video of the tornado above) around 5 p.m., on Wednesday. The National Weather Service also received reports of a tornado in northeastern Colorado around 6:40 p.m. that tore a small tree from the ground and thew it about 20 feet.
USA Today
A storm system that moved north through central Montana has brought hail and at least one tornado in the rural Hobson area, leaving behind downed trees and power lines.
Central Montana 911 dispatcher Dorothy Gremaux says there were no immediate reports of injuries Tuesday night, but cars, houses and outbuildings have been damaged.
National Weather Service meteorologist Jim Brusda says funnel clouds were reported near White Sulphur Springs. He says law-enforcement officers reported a tornado touching down in the Coffee Creek area north of Hobson and moving toward Big Sandy.
He says golf ball-size hail was reported in White Sulphur Springs, penny-size hail in Bozeman and pea-size hail in the Great Falls area.
The storms then moved across the Canadian border into Alberta, where at least one tornado was spotted near Taber.
Source: Associated Press
Bryce Forbes
Calgary Herald
© Shannon Reynolds, THE CANADIAN PRESS
Dust is kicked up as tornado touches down in Taber, Alberta on Tuesday June 5, 2012. A strong storm cell moving north out of Montana triggered several tornado warnings and watches between Coaldale and Taber.
o injuries but toll includes downed power lines, countless trees, smashed windows, minor flooding, torn-off shingles
Cam Cleland watched helplessly from his brick farmhouse as 25-metre-tall poplar trees were snapped over like dominoes as a tornado passed through the region Tuesday night.
Located seven kilometres south of Taber, his property would have likely been in direct line of the tornado that pulverized the southern Alberta town.
"I'm just glad it didn't snap all the big ones that would have fallen on my house," Cleland said Wednesday, adding 20 to 25 trees were knocked over in total.
Across southern Alberta, there were reports of severe weather that included strong winds, flash flooding, golf ball-sized hail and three unconfirmed reports of tornadoes near Brooks, Bow Island and Vulcan.
However, Taber was clearly the hardest hit.
In town, the damage included four or five downed power lines, countless trees, smashed windows, minor flooding and torn-off shingles.
No one was reported injured in the storm.
Barnwell, located near Taber, had 56.5 millimetres of rain on Tuesday night.
Environment Canada confirmed Wednesday that a tornado hit around eight kilometres south of Taber at 8:42 p.m. Tuesday.
Cleland had just returned home from his son's baseball practice when he saw the clouds growing increasingly darker.
There was the calm before the storm, then the clouds started lowering in the sky and it went pitch black outside.
Southwest winds started blowing in, reaching 70 or 80 km/h, he said.
"The wind wasn't pushing the trees over. It was snapping, lifting, then dropping them," he said.
The storm knocked power out for about 3,000 residents overnight.
One building of note was destroyed near town.
The Porter Tanner Associates hay storing facility four kilometres west of town had its roof blown off, with an employee of the family-run company saying it will likely need to be torn down and rebuilt.
"It's definitely not a good thing," said Nelson Porter, adding no one was in the building at the time.
The severe weather storm developed over Montana, which had its own reports of hail, strong winds and a tornado.
"It was a very unstable air mass over Montana and southern Alberta," said Environment Canada meteorologist Bill McMurtry.
"As the Montana system moved northward, it tapped into the energy available over southern Alberta. There was an unstable air mass but, more importantly, the humidity was quite high and that's one of the more important ingredients for severe weather."
It's too early to categorize how strong the tornado was that hit Taber, McMurtry said.
Hail hit other parts of southern Alberta, but Jamie Puchinger of Alberta Agriculture and Rural Development said she had not heard of any reports of crop damage caused by the storm.
The tornado touched down at 8:42 p.m. – a peculiar time, according to Environment Canada. The other three unconfirmed tornadoes hit between 10:30 and 11:05 p.m.
"They can happen (in the evening) but most of them happen late afternoon, early evening," McMurtry said.
Spokespeople with RCMP detachments in Brooks, Bow Island and Vulcan all confirmed there was no severe damage in their jurisdictions.
All in all, though, Taber residents admit it could have been a lot worse.
"It's safe to say we dodged another bullet last night," said Taber Mayor Ray Bryant.
PerthNow
A Mini-tornado has ripped through suburban Perth, ripping down powerlines and trees and leaving a trail of damage.
Several reports on Twitter described the storm as a "small tornado". It is believed the destructive winds centred on Light Street, Dianella and Alexander Drive, and hit around midday WA time.
A real estate office and video store on Walter Road, Morley, has been damaged with the roof torn off and one wall collapsed.
Nobody was injured in the building collapse. Several cars may also have been damaged.
The Bureau of Meteorology confirmed that a "tornado" was reported in the Tuart Hill/Morley/Dianella area just after midday.
At 12.45 pm the storm that produced this tornado was in the vicinity of Bickley and moving to the southeast.
Another tornado has been reported near York at around 12.30 pm.
The bureau also issued a severe thunderstorm warning for the area.
Thunderstorm warning
Warning: "For destructive winds and heavy rainfall in, near or between a line Jurien Bay to Beacon to Corrigin to Bunbury to Jurien Bay, including York, Mandurah and the Perth metropolitan area.
"A low pressure system to the southwest of Perth is producing showers and thunderstorms over the southwest of the State with isolated dangerous that could cause significant damage to homes and property. Showers and thunderstorms may also cause heavy rainfall that may cause flash flooding during this afternoon."
The tornado has ripped powerlines and trees down on Morley Drive between Alexander Drive and Camboon and Wellington Roads.
Western Power crews are on site and are currently assessing the damage.
Approximately 5000 thousand customers have been blacked out and Western Power will be seeking to restore their power as soon as possible.
People are urged to stay away from any fallen power lines and report any damage to 13 13 51.
Trees have also been brought down along Alexander Drive.
Police and emergency services are on site directing traffic.
Drivers are strongly advised to avoid the area if possible.
Other roads in and around the Dianella/Morley area may also have debris or water over the road so drivers are asked to reduce their speed and exercise caution through the area.
BISMARCK ND
FAIRBANKS AK
LITTLE ROCK AR
DULUTH MN
************************************************************************************************************
Epidemic Hazards / Diseases
by Staff Writers
Washington (AFP)
China faces a "serious epidemic" of drug-resistant tuberculosis according to the first-ever nationwide estimate of the size of the problem there, said a US-published study on Wednesday.
"In 2007, one third of the patients with new cases of tuberculosis and one half of the patients with previously treated tuberculosis had drug-resistant disease," said the study in the New England Journal of Medicine.
Even more, the prevalence of multi-drug resistant (MDR) TB in new cases (5.7 percent) was nearly twice the global average, said the study.
Using World Health Organization figures as a basis for comparison, "China has the highest annual number of cases of MDR tuberculosis in the world — a quarter of the cases worldwide," it added.
"China has a serious epidemic of drug-resistant tuberculosis."
The data came from a survey of more than 4,600 Chinese people who were recently diagnosed or treated for TB.
Patients for the study were treated at local TB clinics, not hospitals, and the survey was conducted by the National Tuberculosis Reference Laboratory (NTRL) of the Chinese Centers for Disease Control.
According to an accompanying editorial by Johns Hopkins University infectious disease specialist Richard Chaisson, the growth of drug-resistant TB presents an "enormous challenge."
Even more concerning was the finding that most of the 110,000 drug-resistant cases were in people newly diagnosed with the disease, suggesting that the virulent bacteria are being transmitted from person to person and not developing solely as a result of a person prematurely stopping treatment.
"MDR tuberculosis is linked to inadequate treatment in both the public health system and the hospital system, especially tuberculosis hospitals; however, primary transmission accounts for most cases," said the study.
Chaisson said the findings highlight the need for faster testing, and for new cases of TB to be tested for signs of drug resistance, not just recurrent forms.
In China, over one million new tuberculosis infections occur each year — a large chunk of the estimated nine million new cases worldwide annually.
Known formally as Mycobacterium tuberculosis, TB spreads through the air when infected people cough up bacteria. TB kills about 1.5 million people worldwide each year.
Often it can be cured with antibiotics, though drug availability is limited in the developing world and sometimes patients do not follow the entire regimen of treatment, which can encourage the development of resistant strains.
The study was funded by the Chinese Ministry of Health.
Related Links
Epidemics on Earth – Bird Flu, HIV/AIDS, Ebola
| | | | | | | | |
| --- | --- | --- | --- | --- | --- | --- | --- |
|   | 07.06.2012 | Epidemic Hazard | United Kingdom | Scotland, Edinburgh | | | |
Description
Legionnaires' disease in Edinburgh has claimed the life of a man in his 50s, as health authorities disclosed they were dealing with more than 30 confirmed and suspected cases. The man, who had other underlying health problems, died at the Royal Infirmary in Edinburgh on Tuesday. He was one of 15 people in a critical condition being treated in hospital, as the Health and Safety Executive stepped up their efforts to track the source of the outbreak. NHS Lothian said 13 men and two women aged between 33 and 74 were in a critical condition with the disease. They are being treated in intensive care in hospitals in the Lothian area. There were also 15 suspected cases affecting 10 men and five women, similarly concentrated on the Dalry, Gorgie and Saughton neighbourhoods of south-west Edinburgh. The number of people involved in the outbreak has escalated sharply in the past 48 hours, since the first case emerged on last Thursday. Industrial cooling towers in the area are believed to be a potential source of the outbreak and Edinburgh council environmental health staff have treated 16 cooling towers in an effort to halt its spread. One person among the 17 confirmed cases, initially involving men aged between 30 and 65, has already been sent home.

Dr Duncan McCormick, a consultant in public health medicine, said medical staff were now trying to identify other unidentified cases to establish the true scale of the outbreak. "I would like to reassure the public that household water supplies are safe and that Legionnaires' disease cannot be contracted by drinking water," he said. "Older people, particularly men, heavy smokers and those with other health conditions, are at greater risk of contracting the disease." It might take up to 10 days before results are available, since legionella is difficult to culture. Meanwhile, those responsible for maintaining the towers have been advised to carry out additional chemical treatment to water in the systems as a precaution. Other possible sources are not being ruled out. Legionella bacteria is often found in rivers and lakes but can end up in artificial water supply systems, such as air conditioning systems, water services and cooling towers. Spread by minute droplets of water, it cannot be transmitted from person to person. Symptoms usually begin with a mild headache and muscle pain but become more severe after a day or two. These might include high fever, with a temperature of 40C (104F) or more, and increasing muscle pain and chills.

Once the bacteria infect the lungs, carriers may also experience a persistent cough, later including mucus or blood, shortness of breath and chest pains. A third of people with the disease will experience nausea, vomiting, diarrhoea or loss of appetite. About half may also experience changes to their mental state. Bacteriologist Hugh Pennington told BBC Radio Scotland that the disease was preventable. "Industrial water cooling towers are quite a common source of the bug. The bug lives in warm, fresh water. Basically disinfectant should be put in the water to stop the bug growing." Legionnaires' was a "very, very severe pneumonia" but it was often hard to track down the source," Pennington added. "If there are several water cooling towers in an area you have to look at them all and find out which is the source of the bug."

Biohazard name:
Legionnaires disease
Biohazard level:
4/4 Hazardous
Biohazard desc.:
Viruses and bacteria that cause severe to fatal disease in humans, and for which vaccines or other treatments are not available, such as Bolivian and Argentine hemorrhagic fevers, H5N1(bird flu), Dengue hemorrhagic fever, Marburg virus, Ebola virus, hantaviruses, Lassa fever, Crimean-Congo hemorrhagic fever, and other hemorrhagic or unidentified diseases. When dealing with biological hazards at this level the use of a Hazmat suit and a self-contained oxygen supply is mandatory. The entrance and exit of a Level Four biolab will contain multiple showers, a vacuum room, an ultraviolet light room, autonomous detection system, and other safety precautions designed to destroy all traces of the biohazard. Multiple airlocks are employed and are electronically secured to prevent both doors opening at the same time. All air and water service going to and coming from a Biosafety Level 4 (P4) lab will undergo similar decontamination procedures to eliminate the possibility of an accidental release.
Symptoms:
Status:
confirmed
| | | | | | | | |
| --- | --- | --- | --- | --- | --- | --- | --- |
|   | 07.06.2012 | Epidemic Hazard | Ghana | Upper East Region, [Navrongo] | | | |
Description
TWO PEOPLE have been confirmed dead in the latest outbreak of cholera in Navrongo in the Kasena-Nankana district of the Upper East region with more than 17 on admission. There are fears the figures could rise as reports suggest an increase in the number of cases since the first case was reported late last week at the Navrongo War Government Hospital. Hospital authorities DAILY GUIDE gathered have established an emergency cholera camp within the hospital to enable them contain the situation with reports of Nosignia, a farming community being the worst hit. Over the last three years the district has been bedeviled with cholera epidemics in some rural communities due to inadequate sanitation and water treatment systems. Residents in and around the district have been advised to desist from eating cold food while steps are underway to curtail the activities of food vendors to ensure the outbreak is brought under control. Cholera is an acute filth related epidemic infectious disease caused by the bacterium vibrio cholerae resulting in profuse watery diarrhea, extreme loss of fluid and electrolytes, leading to severe dehydration and death within hours. Worldwide, cholera affects 3-5 million people and causes 100,000 to 130,000 deaths a year as of 2010. Due to severe dehydration, fatality rates are high when untreated, especially among children and infants.

Meanwhile, district directors of the Ghana Health Service (GHS) in the affected areas have asked local health educators and other volunteers to intensify personal hygiene and environmental cleanliness campaigns. The epidemic broke out between May 27 and May 31 with the first fatality recorded on May 29. The deceased is reported to have refused to be admitted at the Navrongo War Memorial Hospital where he sought treatment. His condition worsened when he returned home resulting in his death. However his wife who was also diagnosed with cholera was still on admission as at May 31. In Kassena-Nankana West, the District GHS Director, Vida Abasega said the district recorded 14 cases between May 29 and 31 with one woman, losing her live. Medical Superintendent at the Navrongo War Memorial Hospital, Dr. Abdulai Forgor said the exact cause of the outbreak in the two districts is yet to be known but did not rule out filthy surroundings as a factor. According to him, the hospital and the GHS have started public education in the districts on cholera, personal and environmental hygiene. He believes residents may have taken a cue for the campaign as the number of cases being reported at the hospital had declined. Upper East Regional Minister, Mark Woyongo who visited the hospital has promised that the Regional Coordinating Council will support the two affected districts in their public education efforts.

He has also directed the district assemblies to use their information vans for announcements on the outbreak and the need for people to keep their surroundings clean. One patient, who narrated her ordeal to the regional minister, said she was rushed to the hospital while returning home from church after buying and eating a meal of 'kenkey' along the way. She said she started feeling uncomfortable, and then had severe Diarrhoea.

Biohazard name:
Cholera
Biohazard level:
3/4 Hight
Biohazard desc.:
Bacteria and viruses that can cause severe to fatal disease in humans, but for which vaccines or other treatments exist, such as anthrax, West Nile virus, Venezuelan equine encephalitis, SARS virus, variola virus (smallpox), tuberculosis, typhus, Rift Valley fever, Rocky Mountain spotted fever, yellow fever, and malaria. Among parasites Plasmodium falciparum, which causes Malaria, and Trypanosoma cruzi, which causes trypanosomiasis, also come under this level.
Symptoms:
Status:
suspected
| | | | | | | | |
| --- | --- | --- | --- | --- | --- | --- | --- |
|   | 07.06.2012 | Epidemic Hazard | USA | State of Utah, [Salt Lake County and Millard County] | | | |
Description
Two very different families, one in Salt Lake County and the other in Millard County, are looking for answers after their relatives died suddenly in the last month. Both families have been told that hantavirus, a rare but potentially deadly virus contracted from mouse droppings, could be to blame. Officials with the Utah Department of Health said Tuesday that lab results have been sent. But the family of Norma Martina Aguirre de Sánchez, 47, remains unsure. The Delta family has a death certificate that lists the word "pending" as the cause of Sanchez's May 2 death at Utah Valley Regional Medical Center in Provo. Sanchez's brother-in-law spoke in Spanish to the Deseret News Tuesday, saying the family wishes it knew why she died. They were originally told she may have contracted a "virus from a mouse" but no one confirmed the diagnosis nor told them how others could avoid getting sick. Relatives of 35-year-old Tyler Tidwell, of Herriman, are also awaiting confirmation after his "brief but intense struggle against an as yet unknown illness," according to an obituary. He died May 29 at LDS Hospital.

It remains unknown where or how the two contracted the illness, but state epidemiologist JoDee Baker confirmed that both were exposed to mouse droppings in the recent past. "It's been many years since we've even seen more than one case in a season," she said. "To have two fatalities so early in the season is concerning. Hantavirus is still out there. It's rare, but it is potentially deadly." While any case of hantavirus is extremely rare in Utah — there have been just 31 in the past two decades — most victims survive the illness, due to early diagnosis and ongoing supportive care, including physician-monitoring. Deer mice, a distant relative of the common house mouse or laboratory mouse in North America, are notorious for carrying hantavirus, transmitting it through their urine and feces. They are most active during the warmer months of summer and early fall, according to the U.S. Centers for Disease Control and Prevention. Contaminated dust from a disturbed pile of excrement can infect a person's respiratory system, specifically the lungs, leading to a respiratory failure (Hantavirus Pulminary Syndrome) that can cause death. Informing a doctor can help to prevent a fatal conclusion, but there is no known vaccine or antibiotics to combat the virus completely, Baker said.

Biohazard name:
Hantavirus
Biohazard level:
4/4 Hazardous
Biohazard desc.:
Viruses and bacteria that cause severe to fatal disease in humans, and for which vaccines or other treatments are not available, such as Bolivian and Argentine hemorrhagic fevers, H5N1(bird flu), Dengue hemorrhagic fever, Marburg virus, Ebola virus, hantaviruses, Lassa fever, Crimean-Congo hemorrhagic fever, and other hemorrhagic or unidentified diseases. When dealing with biological hazards at this level the use of a Hazmat suit and a self-contained oxygen supply is mandatory. The entrance and exit of a Level Four biolab will contain multiple showers, a vacuum room, an ultraviolet light room, autonomous detection system, and other safety precautions designed to destroy all traces of the biohazard. Multiple airlocks are employed and are electronically secured to prevent both doors opening at the same time. All air and water service going to and coming from a Biosafety Level 4 (P4) lab will undergo similar decontamination procedures to eliminate the possibility of an accidental release.
Symptoms:
Status:
confirmed
************************************************************************************************************
Solar Activity
SOLAR ACTIVITY UPDATE: M2.1-Class Flare/CME (June 7th, 2012).
Published on Jun 6, 2012 by Skyywatcher88
************************************************************************************************************
Space
Object Name
Apporach Date
Left
AU Distance
LD Distance
Estimated Diameter*
Relative Velocity
(2012 JU11)
09th June 2012
1 day(s)
0.0736
28.6
27 m – 60 m
3.80 km/s
13680 km/h
(2012 GX11)
10th June 2012
2 day(s)
0.1556
60.5
170 m – 380 m
6.38 km/s
22968 km/h
(2012 KM11)
14th June 2012
6 day(s)
0.0942
36.7
30 m – 67 m
5.92 km/s
21312 km/h
(2012 HN40)
15th June 2012
7 day(s)
0.1182
46.0
230 m – 510 m
13.79 km/s
49644 km/h
(2002 AC)
16th June 2012
8 day(s)
0.1598
62.2
740 m – 1.7 km
26.71 km/s
96156 km/h
137120 (1999 BJ8)
16th June 2012
8 day(s)
0.1769
68.8
670 m – 1.5 km
14.88 km/s
53568 km/h
(2011 KR12)
19th June 2012
11 day(s)
0.1318
51.3
140 m – 310 m
10.10 km/s
36360 km/h
(2004 HB39)
20th June 2012
12 day(s)
0.1605
62.5
77 m – 170 m
8.88 km/s
31968 km/h
(2008 CE119)
21st June 2012
13 day(s)
0.1811
70.5
21 m – 46 m
3.22 km/s
11592 km/h
308242 (2005 GO21)
21st June 2012
13 day(s)
0.0440
17.1
1.4 km – 3.1 km
13.27 km/s
47772 km/h
(2011 AH5)
25th June 2012
17 day(s)
0.1670
65.0
17 m – 39 m
5.84 km/s
21024 km/h
(2012 FA14)
25th June 2012
17 day(s)
0.0322
12.5
75 m – 170 m
5.28 km/s
19008 km/h
(2004 YG1)
25th June 2012
17 day(s)
0.0890
34.7
140 m – 310 m
11.34 km/s
40824 km/h
(2010 AF3)
25th June 2012
17 day(s)
0.1190
46.3
16 m – 36 m
6.54 km/s
23544 km/h
(2008 YT30)
26th June 2012
18 day(s)
0.0715
27.8
370 m – 820 m
10.70 km/s
38520 km/h
(2010 NY65)
27th June 2012
19 day(s)
0.1023
39.8
120 m – 270 m
15.09 km/s
54324 km/h
(2008 WM64)
28th June 2012
20 day(s)
0.1449
56.4
200 m – 440 m
17.31 km/s
62316 km/h
(2010 CD55)
28th June 2012
20 day(s)
0.1975
76.8
64 m – 140 m
6.33 km/s
22788 km/h
(2004 CL)
30th June 2012
22 day(s)
0.1113
43.3
220 m – 480 m
20.75 km/s
74700 km/h
(2008 YQ2)
03rd July 2012
25 day(s)
0.1057
41.1
29 m – 65 m
15.60 km/s
56160 km/h
(2005 QQ30)
06th July 2012
28 day(s)
0.1765
68.7
280 m – 620 m
13.13 km/s
47268 km/h
(2011 YJ28)
06th July 2012
28 day(s)
0.1383
53.8
150 m – 330 m
14.19 km/s
51084 km/h
276392 (2002 XH4)
07th July 2012
29 day(s)
0.1851
72.0
370 m – 840 m
7.76 km/s
27936 km/h

| | |
| --- | --- |
| 1 AU = ~150 million kilometers,1 LD = Lunar Distance = ~384,000 kilometers | Source: NASA-NEO |
*************************************************************************************************************
Biological Hazards / Wildlife
More than 10,000 carp found dead in Blue Springs Lake
BLUE SPRINGS, Mo. – Missouri conservationists are trying to solve a mystery in an area lake.
What started as a couple dozen dead carp turned into more than 10,000 in Blue Springs Lake.
Conservationists took water samples and couldn't figure out exactly what caused the deaths. Their samples have now gone onto a national lab for further analysis.
Between 500 and 1,000 carp have been killed everyday. Jake Allman, a biologist with the Missouri Conservation, started noticing carp with lesions under their scales the last few weeks.
"There's a little bacteria on the fish, but not enough to really have caused this," Allman said. "This feeding activity where they are brushing up against each other can actually spread whatever is making them sick."
If Allman had his way, this kill would only continue.
"Their spawning activity disrupts spawning of other fish. They root around in the shallows and uproot aquatic vegetation which is beneficial to native fish," Allman explained.
But it seems the carp are now starting to recover.
Lake officials are now keeping an eye on the E. coli levels in the water.
They had to close a swimming area during Memorial Day Weekend because of a threat of E. Coli from of all the dead fish.
| | | | | | | | |
| --- | --- | --- | --- | --- | --- | --- | --- |
|   | 07.06.2012 | Biological Hazard | Japan | Prefecture of Chiba, Isumi City [Port of Ohara] | | | |
Description
Something terribly fishy is going on at the fishing port of Ohara (pronounced Oh-hara) in Isumi City of Chiba Prefecture, and it has nothing to do with espionage or political corruption. There are tons and tons of dead sardines washing up on the shore, and not only is the sight disturbing, but the huge amount of dead fish is literally smelling up the entire surrounding area. According to the news, the dead fish started washing up around noon of June 3rd, and as of early afternoon on June 4th, the situation still remained pretty much out of control. The amount of dead sardines that has washed up is thought to total several dozen metrics tons, so you can imagine how bad the smell of rotting fish must be. We've seen the pictures uploaded onto Twitter, and the port looks completely filled with fish – it almost looks like a carpet of sardines. It doesn't seem likely that any fishing boats will be setting sail from this port soon. There are also, of course, the usual posts and comments on the internet on how this could be an omen, a sign of a coming great natural disaster. When we inquired with a local inn, we were told that the port was scheduled to be closed from June 1st to 5th, but given the emergency, local fishermen are currently out in full force trying to resolve the situation. Already more than 2 full days into the bizarre occurrence, the smell has to be almost unbearable, but the people of Ohara still have no idea when they will be able to get rid of all the sardines. We sincerely hope they will be able to solve the problem quickly.
Biohazard name:
Mass Die-off (Fish)
Biohazard level:
0/4 —
Biohazard desc.:
This does not included biological hazard category.
Symptoms:
Status:
suspected
| | | | | | | | |
| --- | --- | --- | --- | --- | --- | --- | --- |
|   | 07.06.2012 | Biological Hazard | Nigeria | Katsina State, [Kafur Local Government Area] | | | |
Description
Twenty six persons were rushed to the hospital at the weekend for food poisoning in Dan-Sharu village in Kafur Local Government Area of Katsina State. The affected persons were admitted for diarrhoea and vomiting, which began shortly after they ate a meal of Tuwo prepared with corn flour. A medical personnel member at the hospital, Mallam Hamisu Hussamatu Ibrahim, told newsmen that all the victims survived. The coordinator of the state's Primary Health Service in charge of Kafur Local Government Area, Alhaji Shu'aibu Garba Kankara also confirmed that no death was recorded. "The meal was prepared with corn flour suspected to be contaminated with an insecticide. The flour must have been stored for a long time. We are suspecting that the corn flour was contaminated. The affected persons have already been treated and discharged. The only person that was asked to come back to the hospital is the head of the family because he had a minor injury on his tongue," he said.
Biohazard name:
Mass. Food Poisoning
Biohazard level:
1/4 Low
Biohazard desc.:
Bacteria and viruses including Bacillus subtilis, canine hepatitis, Escherichia coli, varicella (chicken pox), as well as some cell cultures and non-infectious bacteria. At this level precautions against the biohazardous materials in question are minimal, most likely involving gloves and some sort of facial protection. Usually, contaminated materials are left in open (but separately indicated) waste receptacles. Decontamination procedures for this level are similar in most respects to modern precautions against everyday viruses (i.e.: washing one's hands with anti-bacterial soap, washing all exposed surfaces of the lab with disinfectants, etc). In a lab environment, all materials used for cell and/or bacteria cultures are decontaminated via autoclave.
Symptoms:
Status:
confirmed
**************************************************************************************************************
Articles of Interest
Rob Waugh
DailyMail.co.uk
A glowing cloud blossomed into a rainbow over southern China on 5 June, appearing at dusk over Wanning City in southern China in Hainan Province. The glowing 'rainbow' was spotted first by a child on a fishing boat, and captured by a local photographer.
The rare effect is created by light refracting off ice crystals in clouds, rather than water particles close to Earth, creating a 'flying' rainbow.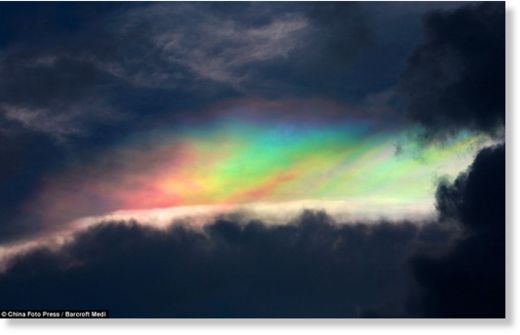 © China Foto
A glowing cloud appeared over southern China on 5 June, appearing at dusk over Wanning City in southern China in Hainan Provice
'Late in the afternoon of June 5, a giant piece of colorful cloud appeared over the sky in Shenzhou Peninsula, Wanning City of south China's Hainan Province. A child on a fishing ship had the luck to observe this spectacular phenomenon.
'When the sun went down, the colorful cloud dispersed gradually,' says Ye Xin, of China's People's Daily Online.
The phenomenon is caused by light reflecting off tiny ice crystals inside the body of the cloud's water vapour.
It's very rarely observed, even compared to other unusual rainbow phenomena such as upside-down rainbows.
*************************************************************************************************************
[In accordance with Title 17 U.S.C. Section 107, this material is distributed without profit, for research and/or educational purposes. This constitutes 'FAIR USE' of any such copyrighted material.]