Earthquakes
Date/Time (UTC)
Magnitude
Area
Country
State/Prov./Gov.
Location
Risk
Source
Details
03.06.2012 07:50:30
2.1
Europe
Italy
Chiappera
EMSC
03.06.2012 07:50:50
2.6
Europe
Italy
Vigarano Pieve
EMSC
03.06.2012 06:50:26
2.1
Europe
Italy
Galeazza Pepoli
EMSC
03.06.2012 06:30:44
2.6
North America
United States
California
Cholame
USGS-RSOE
03.06.2012 06:40:44
3.1
Caribbean
Dominican Republic
Provincia de La Altagracia
El Cabo
USGS-RSOE
03.06.2012 06:50:47
4.8
Asia
Japan
Noda
EMSC
03.06.2012 06:31:05
4.6
Asia
Japan
Iwate-ken
Minato
USGS-RSOE
03.06.2012 05:52:15
2.3
North America
United States
Hawaii
'Ainapö
USGS-RSOE
03.06.2012 06:51:07
2.0
Europe
Italy
Bondeno
EMSC
03.06.2012 05:50:31
2.8
Europe
Italy
Corte Romana
EMSC
03.06.2012 05:50:52
2.3
Asia
Turkey
Rahimler
EMSC
03.06.2012 05:51:12
2.4
Europe
Italy
Novi di Modena
EMSC
03.06.2012 05:51:30
2.3
Europe
Italy
San Biagio
EMSC
03.06.2012 05:51:50
2.1
Europe
Italy
San Biagio
EMSC
03.06.2012 04:51:33
2.2
North America
United States
Alaska
Port William
USGS-RSOE
03.06.2012 04:50:25
2.3
Europe
Italy
Lido di Classe
EMSC
03.06.2012 04:50:47
2.5
Europe
Portugal
Sagres
EMSC
03.06.2012 04:51:07
2.1
Europe
Italy
Casa Madonnina
EMSC
03.06.2012 03:45:30
4.7
Pacific Ocean
Tonga
Niutoua
USGS-RSOE
03.06.2012 03:50:25
4.7
Pacific Ocean – East
Tonga
Niutoua
EMSC
03.06.2012 03:50:45
3.1
Europe
Greece
Akrotirion
EMSC
03.06.2012 03:51:05
2.8
Asia
Turkey
Kayislar
EMSC
03.06.2012 02:50:37
2.0
North America
United States
California
Black Oaks
USGS-RSOE
03.06.2012 02:40:33
4.0
Caribbean
Netherlands Antilles
Simson Bay Village
USGS-RSOE
03.06.2012 02:55:54
4.1
Caribbean
Netherlands Antilles
Simson Bay Village
USGS-RSOE
03.06.2012 03:51:26
4.1
Caribbean Sea
Netherlands Antilles
Simson Bay Village
EMSC
03.06.2012 02:45:26
2.0
Europe
Italy
San Biagio
EMSC
03.06.2012 02:45:47
3.8
Asia
Taiwan
Li-tao
EMSC
03.06.2012 02:46:10
2.5
Europe
Italy
Ghisellina
EMSC
03.06.2012 01:40:35
2.0
Europe
Italy
Pioppa
EMSC
03.06.2012 01:40:54
2.6
Europe
Greece
Yimnon
EMSC
03.06.2012 01:10:35
2.3
North America
United States
Alaska
Kantishna
USGS-RSOE
03.06.2012 01:41:15
2.8
Asia
Turkey
Karakose
EMSC
03.06.2012 00:40:42
2.1
Europe
Italy
Falerone
EMSC
03.06.2012 01:30:34
3.2
Caribbean
Puerto Rico
Sandin
USGS-RSOE
03.06.2012 00:41:02
2.3
Asia
Turkey
Daricik
EMSC
03.06.2012 00:41:23
2.1
Europe
Italy
La Balantina
EMSC
02.06.2012 23:30:36
2.1
North America
United States
California
Dos Cabezas
USGS-RSOE
02.06.2012 23:35:39
2.2
North America
United States
Washington
Roche Harbor
USGS-RSOE
02.06.2012 23:40:26
2.3
Europe
Italy
Alberica
EMSC
03.06.2012 00:10:35
2.8
Caribean
Puerto Rico
Hato Viejo
USGS-RSOE
02.06.2012 23:40:52
2.0
Europe
Italy
Le Cremosine
EMSC
02.06.2012 23:41:12
2.0
Europe
Italy
Santa Bianca
EMSC
02.06.2012 23:41:31
2.4
Europe
Czech Republic
Zd'arsky Potok
EMSC
02.06.2012 22:36:20
2.2
North America
United States
Alaska
Karluk
USGS-RSOE
02.06.2012 22:05:35
2.2
North America
United States
California
Brown
USGS-RSOE
02.06.2012 22:35:42
2.1
Europe
Italy
Concordia sulla Secchia
EMSC
02.06.2012 22:50:29
2.7
Caribbean
British Virgin Islands
Belle Vue
USGS-RSOE
02.06.2012 21:35:28
2.1
Europe
Italy
Villa San Giovanni
EMSC
02.06.2012 21:35:48
2.4
Asia
Turkey
Davutoglan
EMSC
02.06.2012 20:55:40
2.3
North America
United States
California
Mountain Center
USGS-RSOE
02.06.2012 21:36:13
2.2
Europe
Italy
Case Reggiani
EMSC
02.06.2012 21:36:33
2.0
Europe
Italy
San Biagio
EMSC
02.06.2012 21:36:54
4.8
Indonesian Archipelago
Papua New Guinea
Saisukurime
EMSC
02.06.2012 20:40:46
4.8
Indonesian archipelago
Papua New Guinea
Ripnai
USGS-RSOE
02.06.2012 20:20:32
2.1
North America
United States
Alaska
Happy Valley
USGS-RSOE
02.06.2012 20:15:50
2.2
North America
United States
California
Coso
USGS-RSOE
02.06.2012 19:50:40
2.0
North America
United States
Hawaii
Punaluu Kahawai
USGS-RSOE
02.06.2012 20:45:46
2.5
Caribbean
Puerto Rico
Tosquero (historical)
USGS-RSOE
02.06.2012 20:35:29
3.7
Europe
Greece
Tzamarellata
EMSC
02.06.2012 20:35:55
2.1
Europe
Italy
Concordia sulla Secchia
EMSC
02.06.2012 19:30:34
3.2
Asia
Turkey
Derecetinoren
EMSC
02.06.2012 18:15:35
2.0
North America
United States
California
Pizona
USGS-RSOE
02.06.2012 18:30:57
2.5
Europe
Italy
Resega
EMSC
02.06.2012 18:00:32
3.1
Middle America
Mexico
Estado de Baja California
Canon de Guadalupe
USGS-RSOE
02.06.2012 18:31:19
3.4
Europe
Albania
Matranxh
EMSC
02.06.2012 18:31:38
2.1
Europe
Italy
Crespellano
EMSC
02.06.2012 18:32:00
2.5
Asia
Turkey
Hacirahmanli
EMSC
02.06.2012 21:37:15
2.8
Europe
Romania
Poenitele
EMSC
02.06.2012 18:32:23
2.9
Asia
Turkey
Caliskan
EMSC
02.06.2012 19:30:54
2.6
Europe
Greece
Veneton
EMSC
02.06.2012 21:37:35
3.0
Europe
Romania
Nehoiasu
EMSC
02.06.2012 17:15:38
2.3
North America
United States
Washington
Roche Harbor
USGS-RSOE
02.06.2012 17:25:34
2.0
Europe
Italy
Madonna della Comuna
EMSC
02.06.2012 17:25:55
2.3
Europe
Italy
Quarantoli
EMSC
02.06.2012 16:25:40
2.8
Middle America
Mexico
Estado de Baja California
Canon de Guadalupe
USGS-RSOE
02.06.2012 16:20:34
2.5
Europe
Italy
Il Motto
EMSC
02.06.2012 17:26:17
2.8
Asia
Turkey
Akdam
EMSC
02.06.2012 16:20:55
2.2
Europe
Italy
La Barchessa
EMSC
02.06.2012 16:21:15
4.4
Indonesian Archipelago
Indonesia
Nanasi
EMSC
02.06.2012 15:55:34
2.5
North America
United States
California
Pinto Wye
USGS-RSOE
02.06.2012 16:21:36
2.1
Europe
Italy
San Giacomo Roncole
EMSC
02.06.2012 15:25:31
2.1
North America
United States
Alaska
Chelatna Lodge
USGS-RSOE
02.06.2012 16:21:57
3.0
Asia
Turkey
Avgan
EMSC
02.06.2012 15:20:35
2.5
Asia
Turkey
Bademli
EMSC
02.06.2012 15:20:56
2.2
Europe
Italy
La Marchesa
EMSC
02.06.2012 15:21:17
2.3
Europe
Italy
La Balantina
EMSC
02.06.2012 15:21:38
2.2
Europe
Italy
Sorbara
EMSC
02.06.2012 14:20:34
2.5
Europe
France
Saint-Martin-du-Clocher
EMSC
02.06.2012 14:20:55
2.6
Europe
Greece
Arkhanion
EMSC
02.06.2012 14:40:43
3.3
Caribbean
U.S. Virgin Islands
Bordeaux (historical)
USGS-RSOE
02.06.2012 14:21:16
2.4
Europe
Italy
Ponte Trevisani
EMSC
02.06.2012 14:21:38
2.5
Europe
Italy
La Balantina
EMSC
02.06.2012 13:20:35
2.4
Europe
Italy
La Balantina
EMSC
02.06.2012 13:20:56
2.7
Europe
Greece
Ydroussa
EMSC
02.06.2012 13:21:16
2.3
Europe
Italy
La Balantina
EMSC
02.06.2012 13:21:37
2.0
Europe
Italy
Bisarina
EMSC
02.06.2012 17:26:39
2.3
Asia
Turkey
Sofrali
EMSC
02.06.2012 12:51:41
3.1
Pacific Ocean
New Zealand
Woodville County
New Brighton
GEONET
02.06.2012 13:21:56
2.9
Europe
Greece
Avlon
EMSC
02.06.2012 13:22:18
3.2
Europe
Italy
Corte Romana
EMSC
02.06.2012 13:22:56
2.6
Asia
Turkey
Ucem
EMSC
02.06.2012 12:15:33
3.3
Asia
Turkey
Akalin
EMSC
02.06.2012 17:27:00
2.2
Asia
Turkey
Kofundere
EMSC
02.06.2012 12:05:43
4.3
Asia
Japan
Tokyo-to
Oki
USGS-RSOE
02.06.2012 12:15:51
4.3
Asia
Japan
Oki
EMSC
02.06.2012 10:35:44
2.4
North America
United States
California
Castle Rock Springs
USGS-RSOE
02.06.2012 11:10:35
2.7
Europe
Greece
Pirgos
EMSC
02.06.2012 10:15:40
5.8
Atlantic Ocean
Argentina
Provincia de Salta
El Pajeal
USGS-RSOE
02.06.2012 10:10:31
5.8
South-America
Argentina
Playa Ancha
EMSC
02.06.2012 10:55:29
4.4
Indonesian archipelago
Indonesia
Simatorkis
USGS-RSOE
02.06.2012 11:10:53
4.4
Indonesian Archipelago
Indonesia
Simatorkis
EMSC
02.06.2012 11:11:13
2.7
Asia
Turkey
Rahimler
EMSC
02.06.2012 11:11:34
3.8
Africa
Djibouti
Medeho
EMSC
02.06.2012 11:11:56
2.6
Asia
Turkey
Tuncbilek
EMSC
02.06.2012 10:10:52
4.7
South-America
Argentina
Angostura
EMSC
02.06.2012 10:00:34
4.4
Atlantic Ocean
Argentina
Provincia de Salta
Angostura
USGS-RSOE
02.06.2012 11:12:19
3.9
Asia
Tajikistan
Kurghon
EMSC
02.06.2012 08:55:35
2.2
North America
United States
Alaska
Sunshine
USGS-RSOE
02.06.2012 09:05:34
2.2
Europe
Italy
Cortile
EMSC
02.06.2012 09:07:30
3.0
North America
United States
Alaska
Chiniak
USGS-RSOE
02.06.2012 09:05:55
2.2
Europe
Albania
Ndershene
EMSC
02.06.2012 11:12:40
2.2
Asia
Turkey
Cirpi
EMSC
02.06.2012 08:46:06
4.5
Atlantic Ocean
Argentina
Provincia de Catamarca
Luna Aguada
USGS-RSOE
02.06.2012 09:06:21
4.5
South-America
Argentina
Luna Aguada
EMSC
02.06.2012 10:11:12
3.2
Asia
Turkey
Guvencli
EMSC
02.06.2012 09:06:42
2.6
Europe
Italy
Reggiolo
EMSC
02.06.2012 10:11:34
2.6
Asia
Turkey
Akkocali
EMSC
02.06.2012 16:22:38
2.3
Europe
Greece
Kaleryiana
EMSC
02.06.2012 09:35:55
2.2
Caribbean
Puerto Rico
Esperanza
USGS-RSOE
02.06.2012 23:42:10
2.4
North America
United States
Alaska
Hospital Valley
USGS-RSOE
02.06.2012 19:55:42
2.7
North America
Canada
British Columbia
Princeton
USGS-RSOE
………………………………….
Date-Time
Saturday, June 02, 2012 at 07:52:53 UTC
Saturday, June 02, 2012 at 04:52:53 AM at epicenter
Time of Earthquake in other Time Zones
Location
22.109°S, 63.625°W
Depth
519.6 km (322.9 miles)
Region
SALTA, ARGENTINA
Distances
8 km (4 miles) SE of Yacuiba, Bolivia
54 km (33 miles) NNE of Tartagal, Salta, Argentina
131 km (81 miles) ESE of Tarija, Bolivia
1469 km (912 miles) NNW of BUENOS AIRES, D.F., Argentina
Location Uncertainty
horizontal +/- 13.7 km (8.5 miles); depth +/- 2.9 km (1.8 miles)
Parameters
NST=592, Nph=683, Dmin=618.9 km, Rmss=0.82 sec, Gp= 14°, M-type=teleseismic moment magnitude (Mw), Version=E
Source
Magnitude: USGS NEIC (WDCS-D)
Location: USGS NEIC (WDCS-D)
Event ID
usb000a5a0
QUETTA: Renowned Scientist and Assistant Professor at Geology Department of University of Balochistan, Deen Muhammad Kakar has said that Global Positioning System machine reports have suggested that an earthquake of 7.5 Magnitude intensity and powerful like that of 1935 might hit Quetta city and adjoining areas.
He was talking to media persons here on Thursday. He said that GPS machines installed in areas including Quetta, Chaman, Saranan, Surkhab, Pishin, Ziarat, Shahrag, Harnai, Loralai, Qila Saifullah, Muslim Bagh, Lakpass, Kalat and Sorab have indicated that mountainous areas including Koh Sulman, Koh Kirthar, Quetta and northern areas are in eight-millimeter annual movement to South and due to this movement a great stress is being accumulated under soil.
"Due to this great stress, chances of a 7.5 Magnitude earthquake at Richter Scale to hit Quetta have been emerged," the Scientist warned.
He further said that Geology Department of University of Balochistan, Civil Engineering Department of NED University Karachi and Center of Excellence of Peshawar University were busy in compiling research reports with the help of GPS machines and other scientific equipments on emerging of possible and powerful earthquakes in future.
He said that presently population of Quetta has exceeded from 2.5 million while a large number of high-rise buildings and multistory shopping centers have been erected in the city adding these buildings were built while fully violating 1935 Building Code Laws. He said that present official and non-official buildings would collapsed and caved in if an earthquake of 6.5 Magnitude hit Quetta adding that then how these building would face 7.5 Magnitude earthquake in future.
He regretted that sub-standard material was used in construction of buildings in new populations around the old Quetta city, which would collapse in a powerful tremor.
He said that another important aspect is that in case of a high Magnitude earthquake, natural gas supply pipelines would burst causing eruption of a huge fire, which would engulf the city. He further said that powerful earthquake would cause razing of high-rise buildings and due to which the roads and streets of the city would be closed while people would be buried under their debris.
"How, you will remove rubble of these multistory shopping centers while they have been constructed in narrow streets in bazaars of Quetta city where crane machines could not enter he said.
He observed there were no proper arrangements at government level in Quetta to deal with a disaster caused by a powerful earthquake."
He said that other areas of Balochistan including Chaman, Harnai, Shahrag, Loralai, Noshki, Khuzdar and coastal belt of Makran would also face powerful tremors in future.
He advised people to keep items at their homes to deal with the situation caused by earthquake including dry food like pulses, grams, dry milk and water, torch, battery radio, first aid kit, fire extinguishing equipment and diary containing emergency phone numbers.
He also advised citizens living in multistory buildings not to try run outside of their flats immediately when earthquake jolts their building as saying the building might collapse within seconds and people trying to run out might buried under its debris.
He underlined the need that citizens of Quetta should launch a movement like that the movement in Karachi against construction of high-rise and multistory buildings besides moving to courts against such construction. (APP)
(Reuters) – An earthquake with a preliminary magnitude of 5.2 hit eastern Japan on Friday, shaking buildings in Tokyo.
There were no immediate reports of damage or injuries, and no tsunami warnings were issued. (Reporting by Miki Kayaoka; Editing by Michael Watson)
**********************************************************************************************************
Volcanic Activity
Se activó volcán Santiaguito de Guatemala y lanzó ceniza sobre Quetzaltenango. (Foto: visitaxela.wordpress.com)
Guatemala's Santiaguito and Fuego volcanoes rain down ash on nearby villages
June 2, 2012 – GUATEMALA – Santiaguito volcano, (also known as Santa Maria) which has been in constant activity in recent days, erupted on Friday, ejecting columns of ash that reached 200 thousand meters high and covering much of the city of Quetzaltenango, the country's east. This was reported by the local media on Friday, which quoted the National Institute of Seismology, Volcanology, Meteorology and Hydrology, stated that "Santiaguito volcano activity remains weak though with moderate explosions." The institute's report also said that in view of the wind shifts from south to north, favored the "fall of ash particles on the city of Quetzaltenango and its surroundings, causing some alarm. The ash fell on cars and roofs of houses and streets were light gray," it said. Given the activity of the crater, the state National Coordinator for Disaster Reduction (Conrad) recommended that people "take necessary precautions to consider" whether to continue the activity of Santiaguito. This crater is located 206 km west of the capital and two thousand 500 meters high. Another active volcano in Guatemala is Fuego, the Fire, three thousand 763 meters high, which last week released ash on several nearby villages. Last week, the Conrad issued a warning orange-red pre-and recommended to the Directorate General of Civil Aviation to take precautions to air traffic. In turn, also asked to avoid flying near the fire, between the departments of Escuintla, Sacatepequez and Chimaltenango. –Telsurtv  (translated)
***********************************************************************************************************
Extreme Temperatures/ Weather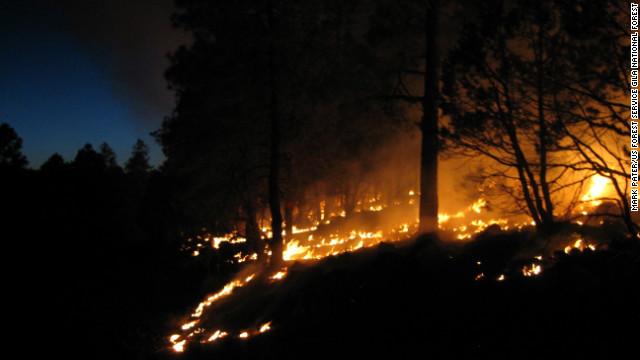 The U.S. Forest Service performs a "burnout" operation to combat the fire raging in the Gila Wilderness.
STORY HIGHLIGHTS
The growth potential for New Mexico's biggest wildfire ever is "high"
Gila Wilderness fire burns 227,000 acres, more than 1.5 times the size of Chicago
The Baldy Fire begins May 9; the Whitewater Fire is spotted May 16
Crews rappel from helicopters to fight the Whitewater-Baldy Fire Complex
(CNN) — The largest wildfire in New Mexico's history continued to burn almost uncontrollably Saturday in the remote Gila Wilderness, belching enough smoke to prompt officials to caution that children, adults with heart disease and other sensitive groups should not go outdoors.
Since lightning ignited the Whitewater-Baldy Fire Complex wildfire on May 9, flames have devoured 227,000 acres — more than 354 square miles — in the southwest portion of the state. Even though 1,257 personnel have been fighting the conflagration, only 15% of it was contained Saturday, U.S. Forest Service officials said.
For purposes of comparison, the burn area of 354 square miles is more than one and a half times bigger than the city of Chicago's 227 square miles.
Two separate strikes of lightning caused the mountainous fire: the Baldy Fire started May 9 in an inaccessible area of the rugged wilderness, and the Whitewater Fire was reported on May 16 several miles west of the Baldy Fire, Forest Service officials said.
The two fires in the Gila National Forest combined May 23, enhanced by drought and sustained winds of 40 mph to 50 mph, authorities said.
It was the May 16 event that led crews to try to suppress the entirety of the fire but "the extreme fire activity, coupled with incredibly rugged terrain and large boulders falling down the steep canyons forced fire crews to pull out of the area after the first day of fighting the fire," the Forest Service said.
The fire began 15 miles east of Glenwood, New Mexico, and has been fueled by conifers, ponderosa pines, pinons, junipers and grass, Forest Service officials said.
Continuing growth potential for the history-making wildfire was "high" Saturday, the Forest Service said.
CNN affiliate KRQE reported that 12 seasonal homes in the Willow Creek area were destroyed.
Because of the state's current extreme drought, smoke in the region could persist until the monsoon season, which typically begins in early July, New Mexico Department of Health Secretary Dr. Catherine Torres said in a statement.
On Saturday, the Catron County Sheriff Department said it will allow evacuated residents back into the community of Mogollon, effective Monday, but an evacuation order for the summer cabins of Willow Creek remained in effect Saturday, according to the New Mexico Department of Homeland Security and Emergency Management.
"Because of the complexity of this fire, fire managers have brought in specialized resources," the Forest Service said in a statement. "One of those resources includes heli-rappellers. Heli-rappellers are one of the aerial resources brought in during early stages of a remote fire, especially where there is no good landing zone. The 'rappellers' will rappel from a helicopter into remote locations and extinguish fires or provide reconnaissance information."
Ten helicopters were deployed Saturday, authorities said.
The Gila Cliff Dwellings National Monument has been closed since Thursday, U.S. Forest Service Superintendent Steve Riley said earlier this week.
| | | | | | | | |
| --- | --- | --- | --- | --- | --- | --- | --- |
|   | 02.06.2012 | Heat Wave | India | State of Jharkhand, [Jharkhand-wide] | | | |
Description
Heat wave conditions continued to sweep Jharkhand with Garhwa recording the highest 46 degrees Celsius today, Met officials said. While Palamau and Bokaro sizzled at 44.9 and 44 degrees, Giridih recorded a maximum of 44 degrees. Lohardaga (43.2), Koderma (43), Latehar (43), Dumka (42.5), Hazaribagh (42), Gumla (41) and West Singhbhum (41.8) also reeled under intense heat wave conditions, the officials said. Temperatures in Ranchi (39.5 degrees) and Jamshedpur (39.9) dropped compared from yesterday's 40.9 degrees and 43.2 degrees respectively.
Description
The lower hills of Himachal Pradesh on Thursday bore the brunt of heat wave as mercury stayed six to seven deg C above normal. Una experienced the hottest day of the summer with mercury soaring to 45.2 deg C, six deg C above normal. The state capital Shimla also recorded a high of 32 deg C, seven deg C above normal, forcing people indoors. Sundernagar recorded a high of 41.7 deg C, followed by Bhuntar and Mandi 39.0 deg C, Nahan 38.9 deg C, Solan 37.2 deg C, Dharamsala 36.6 deg C and Kalpa 26.4 deg C, five to seven deg C above normal. The minimum temperatures also stayed four to seven deg C above normal with Nahan hottest during the night with minimum temperature at 28.6 deg C, six deg C above normal. Mandi and Dharamsala recorded a low of 25.3 and 25 deg C, five deg C above normal. The local MeT office has predicted dry weather during next 48 hours with minor fluctuations in mercury.
GULF OF MAINE TO THE HAGUE LINE
ANCHORAGE ALASKA




FIRE WEATHER MESSAGE
TALLAHASSEE FL
***********************************************************************************************************
Storms, Flooding.Landslides
TULSA OK
NORMAN OK




NORMAN OK






GRAY, MAINE
GREAT FALLS MT
TWIN CITIES/CHANHASSEN MN
LA CROSSE WI
DES MOINES IA

DULUTH MN
SIOUX FALLS SD


| | | | | | | | |
| --- | --- | --- | --- | --- | --- | --- | --- |
|   | 02.06.2012 | Tropical Storm | Philippines | [Luzon Island wide] | | | |
Description
Thirty fishermen were missing and hundreds of travellers were stranded on Saturday after tropical storm Mawar dumped heavy rains across the Philippines, forcing flight and ship cancellations. The storm blanketed large parts of the main southern island of Luzon and central Visayas province with up to 25 millimetres (an inch) of rain an hour overnight, the state weather bureau said. At least two domestic flights were cancelled while more than 500 people were stranded in ports after the coast guard prevented passenger ferries from sailing, disaster relief agencies said. "Thirty fishermen have also gone missing from the eastern-most island of Catanduanes after apparently getting caught at sea by the storm," Benito Ramos, head of Manila's Office of Civil Defense, said over local radio. He said search and rescue operations were underway, though the coast guard could not carry out an air search due to bad visibility. About 20 storms slam into the Philippines from the Pacific every year, causing heavy casualties and damage. Mawar is the first for 2012.
| | | | | | | |
| --- | --- | --- | --- | --- | --- | --- |
| 02.06.2012 | Tornado | USA | State of Virginia, Hapton | | | |
Description
The city was cleaning up this morning after a tornado swept through downtown Hampton on Friday evening and knocked out power to more than 5,000, damaged tents for the weekend's Blackbeard Pirate Festival and moved a yacht from the water at the Hampton Yacht Club into a parking lot. Shortly before 8 p.m., storms that produced waterspouts were spotted near the Monitor-Merrimac Memorial Bridge-Tunnel. About 15 minutes later, one moved onto land in Hampton. The twister took Hampton residents by surprise. The city does not have warning sirens, according to Robin McCormick, the city's communications director. Some historical re-enactors in town for the Blackbeard Pirate Festival spotted a cloud rise and fall and take the shape of a funnel Friday night. Cheryl Norris said pirates camping in Mill Point Park fled for cover in a nearby parking garage. The wind was so strong it lifted one woman slightly off the ground and almost prevented Norris from taking cover. "A friend just pushed me into the garage," she said. Ellen McAllister, who lives near the Hampton Yacht Club, said pressure from the tornado made her ears ache and ring. She ran upstairs to get her 2-year-old son from his room before taking shelter in the basement. McAllister said the storm ripped away her upstairs porch, tossed a column from the front of her house into the yard, and sent bricks from the chimney flying down into her car window. A giant pecan tree bent and fell in the wind.

This morning, the city is still assessing damage to public buildings and private homes, McCormick said. The roof of Amory's Seafood Market blew off in the storm. No major injuries have been reported from the storm, but many homes sustained significant damage, she said. Dominion is still working to restore power to about 2,000 people, McCormick said. The company hopes services will be restored by midnight. The city has not opened any public shelters and McCormick said at this point damage does not appear significant enough to involve FEMA. The tornado knocked over trees and power poles and darkened the downtown area, said Cpl. Jason Price, a Hampton police spokesman. A gas-main break was reported in the 500 block of Bridge St. near the Hampton Yacht Club. Damage was also reported to homes in Merrimac Shores, according to the National Weather Service in Wakefield. Through it all, the weather service reported that 2 to 3 inches of rain had fallen in the region. Traffic was moving slowly on the interstate highways because of water that ponded. Virginia Department of Transportation crews were working to clear drains and block lanes with standing water. Some interstate exits were closed in Newport News because city streets were flooded. Until early this morning, Hampton Roads, the Eastern Shore and northeastern North Carolina were under a tornado watch.

In addition to the 5,customers without power in Hampton, Dominion Virginia Power reported about 2,000 customers in other parts of southeastern Virginia and northeastern North Carolina had been left without electricity. Several tornado warnings were issued, and a funnel cloud was reportedly seen in Elizabeth City, N.C., about 5:30 p.m. Damage, however, was not consistent with a tornado touching down, City Manager Rich Olson said.As for today, skies should return to normal. Showers and storms should move out of the area by early this afternoon, according to the weather service. It should be mostly sunny with high temperatures near 80 degrees.
| | | | | | | | |
| --- | --- | --- | --- | --- | --- | --- | --- |
|   | 02.06.2012 | Flash Flood | Canada | Province of Ontario, Toronto | | | |
Description
Service has resumed on part of the Yonge Street subway line in Toronto after severe flooding forced the shut down of a section of the system. The subway line was closed around 1 p.m. from Osgoode station southbound to Union and from Union station north to Yonge/Bloor Station due to what appeared to be either a backed-up storm sewer or a burst sewer pipe near a construction site. The Toronto Transit Commission announced the service was restored at around 11 p.m., well past the evening rush-hour, after crews spent hours pumping out water that flooded the tracks at Union station, which is Canada's busiest transit hub. Earlier in the day, water was seen cascading from street level down into the station and onto the concourse and platform. "We have a huge amount left to do," TTC CEO Andy Byford told CBC News at the time. "We've got to get this place cleaned up. We've got to finish pumping out all the water and we've got to do all of the electrical testing." Byford was on the scene shortly after water poured through the station. He reported a foul smell. He said the system runs on electric current and all systems, including signals, escalators and elevators must be tested for safety. "It was like a monsoon coming down the stairs," one TTC worker told CBC News. About 40 people were trapped on one of the streetcars in the station's flooded Harbourfront tunnel — but were eventually rescued by Toronto firefighters. The station itself was quickly evacuated. Byford said no passengers were injured during the flood. Mayor Rob Ford, who toured Union Station on Friday evening, praised the TTC's cleanup efforts. "I have been on the phone with [Police Chief] Blair, offering any resources we can to help Mr. Byford deal with this terrible flood that we have had," Ford said. "I can't thank the employees and Mr. Byford [enough] for his great leadership in getting this under control." Streetcar service has also resumed on the 509 Harbourfront and 510 Spadina streetcar lines. Both were turned away from Union station and rerouted to the tunnel servicing Queen's Quay station in the aftermath of the flood. The road closure on Front Street at Bay Street has also cleared. Full service on the 72 Pape bus has resumed.
| | | | | | | | |
| --- | --- | --- | --- | --- | --- | --- | --- |
| | 02.06.2012 | Flash Flood | Malaysia | Pulau Pinang, George Town | | | |
Description
Torrential rain wreaked havoc in Penang, damaging homes, causing massive traffic jams and leaving more than 2,200 residents affected. A downpour, which started at about 4am yesterday, and high tides caused several low-lying areas on the island to be inundated with water. Among the worst-hit areas were Jalan P. Ramlee, Jalan Rawang and Sungai Pinang where the water level rose to knee-deep. Thousands driving to work in the morning were hopelessly gridlocked in certain parts of Penang. Heavy rain also brought mayhem to residents in Tanjung Bungah as three cars were crushed by a minor landslide. In Hong Seng Estate, retiree A. Uthrimary, 68, cheated death when the retaining wall of a neighbouring house collapsed and crashed into her bedroom wall. "I woke up after hearing a loud thud. I thought the zinc roof of my house had blown off as it was quite bright then. "I was shocked to see murky water and debris filling the room. I alerted my three sisters to run for their lives immediately," she said. Uthrimary said her nephew A.J. David Anthony, 32, and their neighbour Ch'ng Wan Chooi, 77, had lodged a police report over the matter.

Resident Normah Hashim, 51, said her family had built a retaining wall to prevent water from entering the house but this time, the water level rose above the barricade. "Now, it's like a swimming pool in our house, and almost all our furniture is damaged, even the washing machine is filled with mud," said Normah. Frankie Goh, who was on his way to visit his sister at her shop along Jalan Patani, said he could not pass through the road as it was heavily flooded. Penang Chief Minister Lim Guan Eng, who described it as the worst deluge since 2008, visited flood victims with other state exco members. He said more than 300 families had been affected by the floods, adding that assistance would be provided by the state government. State Health, Welfare, Caring Society and Environment Committee chairman Phee Boon Poh said the downpour started in the early morning until about 9am. "The rainwater from Sungai Dondang and Sungai Air Itam flowed into Sungai Pinang, causing the river banks to burst. The flood has been classified under orange alert, but so far there are no casualties." hesaid yesterday.
| | | | | | | | |
| --- | --- | --- | --- | --- | --- | --- | --- |
|   | 02.06.2012 | Landslide | China | Province of Guanxi, Nanning [Xixiangtang district ] | | | |
Description
More than 800 villagers have been evacuated after land sank in southern China's Guangxi province, which is known for its karst topography. Saturday that the land subsidence occurred near a middle school in Nanning city's Xixiangtang district after the school dug a well to ease a water shortage. The sink hole is 1.5 meters (5 feet) deep and 2.5 meters (8 feet) wide and has caused one building to collapse, six to tilt and another to crack. There were no reports of injuries, but 844 villagers were evacuated. Sinkholes and land cracks have been common in China in recent years, partly because of intense construction and mining activities coupled with insufficient geological regulation.
………………………..
One tornado hit Hampton, Va., via Portsmouth; 3 teens saved from flooding
http://www.msnbc.msn.com/id/32545640
Visit msnbc.com for breaking news, world news, and news about the economy
By Eric Leister, Meteorologist
Image from Google Maps
A tornado was reported in far eastern Hungary, near the town of Nyiracsad, on Friday.
Reports indicate the tornado occurred at about 3:00 p.m., which correlates with data obtained by AccuWeather.com that reported a thunderstorm passed through the city of Debrecen within three hours of that time. Debrecen is located less than 50 miles to the west-southwest of Nyiracsad.
Reports from the area indicate that some 30 homes were damaged by the tornado as it moved through the region. There are no known reports of deaths or injuries from this tornado at this time.
The unsettled weather was caused by a cold front which was rapidly moving across the region. This front caused widespread showers and thunderstorms from Hungary, Slovakia and eastern Poland into Belarus, Ukraine and Romania. Some areas received more than an inch of rainfall along with gusty winds.
Dry weather behind the front will aid in cleanup efforts through Sunday morning; however, a fast-moving storm system will then bring the threat for showers from later Sunday through Monday followed by a chance for a soaking rainfall Monday night and Tuesday.
AccuWeather.com Twitter follower Jantje_ tweeted, "Tornado Hungary damaged 30 homes. Lots of pictures."
************************************************************************************************************
Radiation
TOKYO —
"The ground is contaminated with radiation – I tell my little boy not to touch it. Once I dropped my cell phone and was afraid to pick it up." That's life in broad swaths of Fukushima Prefecture these days, 14 1/2 months after a megaquake and tsunami generated a triple meltdown at Tokyo Electric Power Company's Fukushima Daiichi nuclear power plant.
Aki, 24, works in a snack bar in Minamisoma, 20-odd km from ground zero, and struggles against the odds for normality. So do several other young people Friday magazine (June 1) talks to. They come from various walks of life but have this in common: they live in Fukushima by choice. Why?
"Our first thought," explains Aki, speaking of her family, "was to get as far away from the nuclear plant as possible. But the government misled us. We went where they said was safe and kept ending up in the worst hot spots. So finally we decided home was safest."
That flies in the face of the collective wisdom of 160,000 people who still cannot or dare not return home, but when nobody really knows what to do, who's to say she's wrong?
Her son is five years old. Aki was 19 when she gave birth and 21 when she divorced. She raises the boy with the help of her mother and older sister. When the snack bar she'd worked at before the disaster reopened last August, she was as happy to go back as snack "mama" Kazumi Motoyama was to have her.
"The staff are all younger than me," says Motoyama. "I worry about what the radiation will do to their chromosomes. It would have been irresponsible to ask them to come back. When Aki did come back, I cried for joy."
Yoshie Komura, 28, stands out among those Friday speaks to as the only one with no Fukushima roots. She's from Tokyo. She'd been an office worker at a moving company, getting more fed up with each passing day with city-style work and "cold, heartless" city-style life. She yearned for the country, nature. In January 2011, she hooked up with an NPO and arranged to be sent to Fukushima to do agricultural research. She was about to leave when the quake struck. She left anyway, taking the train as far north as it could go and then hitchhiking. Her destination was Nihonmatsu, right in the thick of the radiation crisis. "I knew nothing about radiation," she says. "All I knew was I wanted to farm."
Rumor has stamped all food produced in Fukushima as unsafe. The least she can do, she felt, was help tamp down rumors with solid data. Her one-year contract with the NPO now over, she and her husband remain, raising, tomatoes, rice and chickens – hoping for the best.
Youngest among Friday's interviewees is 19-year-old Koki Horikawa. "I like the place I'm from best," he says simply.
His family home in Minamisoma was half destroyed by the quake, and the next day came orders to evacuate on account of radiation. Horikawa had just graduated from high school and was due within days to start work at a bus company. The job evaporated in the crisis. He and his family lived in shelters for a time.
TV reports of how Fukushima was becoming synonymous with radioactivity and contamination got to him, he says. He'd lived in the vicinity of Fukushima No. 1 all his life without giving it a thought; now, suddenly, it was shaping his life. It seemed to pose a challenge, and he made up his mind, against his parents' wishes, to stay. He got a job at a fish processing plant in Iwaki. "If young people like me leave," he says, "Fukushima has no future."
************************************************************************************************************
Epidemic Hazards / Diseases
| | | | | | | | |
| --- | --- | --- | --- | --- | --- | --- | --- |
|   | 02.06.2012 | Epidemic Hazard | Kenya | Rift Valley Province, Olokurto [Narok North district] | | | |
Description
A measles outbreak has killed three children in Olokurto division of Narok North district. Area medical officer of health Dr David Kuria said the deaths were confirmed when a medical team visited the affected areas. Speaking to the press in his office yesterday, Kuria said that the worst affected primary schools are Ilmolelian, Entiani and Purko. He said they started emergency vaccination to fight the disease. "The department of health has initiated a mobile vaccination campaign jointly with health workers and the team has been dispatched to the affected areas," he said. Kuria blamed the parents for failing to report the disease to relevant authorities so that they could contain the situation. "The measles virus is highly contagious and can be fatal, but can easily be prevented by proper immunisation," he said. He appealed to the parents to take their children aged five years and below to the nearest health centre for vaccination. "The remote places which are inaccessible because of poor road network will now be reached through mobile vaccination," he said. The medical officer urged the local residents to embrace modern medicine at health facilities instead of using traditional herbs that are ineffective.
Biohazard name:
Measles (fatal)
Biohazard level:
3/4 Hight
Biohazard desc.:
Bacteria and viruses that can cause severe to fatal disease in humans, but for which vaccines or other treatments exist, such as anthrax, West Nile virus, Venezuelan equine encephalitis, SARS virus, variola virus (smallpox), tuberculosis, typhus, Rift Valley fever, Rocky Mountain spotted fever, yellow fever, and malaria. Among parasites Plasmodium falciparum, which causes Malaria, and Trypanosoma cruzi, which causes trypanosomiasis, also come under this level.
Symptoms:
Status:
confirmed
************************************************************************************************************
Solar Activity
2MIN News June2: Solar Watch is ON
Published on Jun 2, 2012 by Suspicious0bservers
TODAYS LINKS
Plate Techtonics: http://www.sciencedaily.com/releases/2012/06/120601120606.htm
Solar Storm: http://www.universetoday.com/95582/a-rare-type-of-solar-storm-spotted-by-sate…
Pesticide: http://phys.org/news/2012-06-france-swiss-pesticide-bee-threat.html
Megadrought: http://phys.org/news/2012-06-scientists-sierra-nevada-year-megadroughts.html
Contrails: http://earthobservatory.nasa.gov/IOTD/view.php?id=78154
REPEAT LINKS
Spaceweather: http://spaceweather.com/ [Look on the left at the X-ray Flux and Solar Wind Speed/Density]
HAARP: http://www.haarp.alaska.edu/haarp/data.html [Click online data, and have a little fun]
SDO: http://sdo.gsfc.nasa.gov/data/ [Place to find Solar Images and Videos - as seen from earth]
SOHO: http://sohodata.nascom.nasa.gov/cgi-bin/soho_movie_theater [SOHO; Lasco and EIT - as seen from earth]
Stereo: http://stereo.gsfc.nasa.gov/cgi-bin/images [Stereo; Cor, EUVI, HI - as seen from the side]
SunAEON:http://www.sunaeon.com/#/solarsystem/ [Just click it... trust me]
SOLARIMG: http://solarimg.org/artis/ [All purpose data viewing site]
iSWA: http://iswa.gsfc.nasa.gov/iswa/iSWA.html [Free Application; for advanced sun watchers]
NOAA ENLIL SPIRAL: http://www.swpc.noaa.gov/wsa-enlil/cme-based/ [CME Evolution]
RSOE: http://hisz.rsoe.hu/alertmap/index2.php [That cool alert map I use]
LISS: http://earthquake.usgs.gov/monitoring/operations/heliplots_gsn.php
Gamma Ray Bursts: http://grb.sonoma.edu/ [Really? You can't figure out what this one is for?]
BARTOL Cosmic Rays: http://neutronm.bartol.udel.edu//spaceweather/welcome.html [Top left box, look for BIG blue circles]
TORCON: http://www.weather.com/news/tornado-torcon-index [Tornado Forecast for the day]
GOES Weather: http://rsd.gsfc.nasa.gov/goes/ [Clouds over America]
INTELLICAST: http://www.intellicast.com/ [Weather site used by many youtubers]
NASA News: http://science.nasa.gov/science-news/science-at-nasa/
PHYSORG: http://phys.org/ [GREAT News Site!]

************************************************************************************************************
Space
Object Name
Apporach Date
Left
AU Distance
LD Distance
Estimated Diameter*
Relative Velocity
(2012 HK31)
04th June 2012
1 day(s)
0.0336
13.1
22 m – 50 m
3.03 km/s
10908 km/h
(2012 KN18)
05th June 2012
2 day(s)
0.0425
16.6
31 m – 70 m
10.17 km/s
36612 km/h
(2008 MG1)
05th June 2012
2 day(s)
0.1268
49.3
290 m – 640 m
22.32 km/s
80352 km/h
(2009 LE)
06th June 2012
3 day(s)
0.1150
44.8
50 m – 110 m
13.61 km/s
48996 km/h
(2006 SG7)
06th June 2012
3 day(s)
0.0857
33.4
71 m – 160 m
16.47 km/s
59292 km/h
(2001 LB)
07th June 2012
4 day(s)
0.0729
28.4
200 m – 450 m
11.56 km/s
41616 km/h
(2012 JU11)
09th June 2012
6 day(s)
0.0736
28.6
27 m – 60 m
3.80 km/s
13680 km/h
(2012 GX11)
10th June 2012
7 day(s)
0.1556
60.5
170 m – 380 m
6.38 km/s
22968 km/h
(2012 KM11)
14th June 2012
11 day(s)
0.0942
36.7
30 m – 67 m
5.92 km/s
21312 km/h
(2012 HN40)
15th June 2012
12 day(s)
0.1182
46.0
230 m – 510 m
13.79 km/s
49644 km/h
(2002 AC)
16th June 2012
13 day(s)
0.1598
62.2
740 m – 1.7 km
26.71 km/s
96156 km/h
137120 (1999 BJ8)
16th June 2012
13 day(s)
0.1769
68.8
670 m – 1.5 km
14.88 km/s
53568 km/h
(2011 KR12)
19th June 2012
16 day(s)
0.1318
51.3
140 m – 310 m
10.10 km/s
36360 km/h
(2004 HB39)
20th June 2012
17 day(s)
0.1605
62.5
77 m – 170 m
8.88 km/s
31968 km/h
(2008 CE119)
21st June 2012
18 day(s)
0.1811
70.5
21 m – 46 m
3.22 km/s
11592 km/h
308242 (2005 GO21)
21st June 2012
18 day(s)
0.0440
17.1
1.4 km – 3.1 km
13.27 km/s
47772 km/h
(2011 AH5)
25th June 2012
22 day(s)
0.1670
65.0
17 m – 39 m
5.84 km/s
21024 km/h
(2012 FA14)
25th June 2012
22 day(s)
0.0322
12.5
75 m – 170 m
5.28 km/s
19008 km/h
(2004 YG1)
25th June 2012
22 day(s)
0.0890
34.7
140 m – 310 m
11.34 km/s
40824 km/h
(2010 AF3)
25th June 2012
22 day(s)
0.1190
46.3
16 m – 36 m
6.54 km/s
23544 km/h
(2008 YT30)
26th June 2012
23 day(s)
0.0715
27.8
370 m – 820 m
10.70 km/s
38520 km/h
(2010 NY65)
27th June 2012
24 day(s)
0.1023
39.8
120 m – 270 m
15.09 km/s
54324 km/h
(2008 WM64)
28th June 2012
25 day(s)
0.1449
56.4
200 m – 440 m
17.31 km/s
62316 km/h
(2010 CD55)
28th June 2012
25 day(s)
0.1975
76.8
64 m – 140 m
6.33 km/s
22788 km/h
(2004 CL)
30th June 2012
27 day(s)
0.1113
43.3
220 m – 480 m
20.75 km/s
74700 km/h

| | |
| --- | --- |
| 1 AU = ~150 million kilometers,1 LD = Lunar Distance = ~384,000 kilometers | Source: NASA-NEO |
*************************************************************************************************************
[In accordance with Title 17 U.S.C. Section 107, this material is distributed without profit, for research and/or educational purposes. This constitutes 'FAIR USE' of any such copyrighted material.]