Earthquakes
Date/Time (UTC)
Magnitude
Area
Country
State/Prov./Gov.
Location
Risk
Source
Details
13.05.2012 07:05:32
5.2
Indonesian Archipelago
Indonesia
Longkogo
EMSC
13.05.2012 06:50:26
2.7
North America
United States
California
Kenton Mill
USGS-RSOE
13.05.2012 07:00:34
5.3
Australia
Australia
State of Tasmania
Pelverata
USGS-RSOE
13.05.2012 07:05:51
5.2
Australia & New-Zealand
Australia
Pelverata
EMSC
13.05.2012 07:06:13
3.2
Asia
Turkey
Kemah
EMSC
13.05.2012 06:00:29
3.3
Asia
Turkey
Akcaoren
EMSC
13.05.2012 05:27:08
4.4
Asia
Japan
Fukushima-ken
Tomioka
USGS-RSOE
13.05.2012 06:00:49
4.4
Asia
Japan
Tomioka
EMSC
13.05.2012 05:00:31
2.1
North America
United States
Alaska
Chenik
USGS-RSOE
13.05.2012 06:01:09
3.5
Asia
Turkey
Pirgarip
EMSC
13.05.2012 06:01:30
3.7
Asia
Turkey
Derebey
EMSC
13.05.2012 05:00:59
4.6
Indonesian archipelago
Indonesia
Sragafareh
USGS-RSOE
13.05.2012 06:01:52
4.6
Indonesian Archipelago
Indonesia
Sragafareh
EMSC
13.05.2012 04:20:27
4.9
Indonesian archipelago
Indonesia
Keudesuie
USGS-RSOE
13.05.2012 04:55:26
4.9
Indonesian Archipelago
Indonesia
Keudesuie
EMSC
13.05.2012 03:40:26
5.4
Indonesian archipelago
Indonesia
Simatorkis
USGS-RSOE
13.05.2012 03:55:24
5.5
Indonesian Archipelago
Indonesia
Simatorkis
EMSC
13.05.2012 03:15:23
2.4
North America
United States
Alaska
Ninilchik
USGS-RSOE
13.05.2012 04:55:52
2.8
Europe
Greece
Koutsi
EMSC
13.05.2012 02:30:36
2.3
North America
United States
California
Fig Orchard
USGS-RSOE
13.05.2012 02:35:26
4.6
Africa
Mozambique
Provincia de Zambezia
Siquisse
USGS-RSOE
13.05.2012 02:55:30
4.6
Africa
Mozambique
Siquisse
EMSC
13.05.2012 02:55:51
2.4
Asia
Turkey
Kucukova
EMSC
13.05.2012 02:05:30
2.2
North America
United States
Hawaii
Punalu'u
USGS-RSOE
13.05.2012 02:56:14
3.5
Asia
Turkey
Icme
EMSC
13.05.2012 01:50:30
6.0
Asia
Tajikistan
Ezgand
EMSC
13.05.2012 01:52:33
5.7
Asia
Tajikistan
(( Kurgan-Tyubinskaya Oblast' ))
Pagulya
USGS-RSOE
13.05.2012 01:55:40
4.3
Asia
China
Xinjiang Uygur Zizhiqu
Laotai
USGS-RSOE
13.05.2012 02:56:36
4.3
Asia
China
Laotai
EMSC
13.05.2012 01:50:49
2.6
Europe
Greece
Kalochorion
EMSC
13.05.2012 01:30:35
4.0
Europe
Greece
Nomos Thessalonikis
Angelochorion
USGS-RSOE
13.05.2012 01:51:10
4.1
Europe
Greece
Kalochorion
EMSC
13.05.2012 01:51:30
2.7
Europe
Greece
Kalochorion
EMSC
13.05.2012 01:51:54
2.5
Europe
Greece
Triandria
EMSC
13.05.2012 00:45:29
4.4
Indonesian Archipelago
Indonesia
Simatorkis
EMSC
13.05.2012 00:46:57
4.4
Indonesian archipelago
Indonesia
Simatorkis
USGS-RSOE
13.05.2012 00:35:30
4.5
Asia
Japan
Iwate-ken
Sakihama
USGS-RSOE
13.05.2012 00:45:48
4.5
Asia
Japan
Sakihama
EMSC
13.05.2012 00:46:08
2.3
Asia
Turkey
Hamdilli
EMSC
13.05.2012 00:20:43
2.3
North America
Canada
British Columbia
Princeton
USGS-RSOE
12.05.2012 23:45:24
3.8
Asia
Azerbaijan
Bazar
EMSC
12.05.2012 23:48:04
2.7
Caribean
Puerto Rico
Riego (historical)
USGS-RSOE
12.05.2012 23:45:45
2.9
Europe
Greece
Sarti
EMSC
12.05.2012 23:46:13
3.9
Europe
Greece
Sarti
EMSC
12.05.2012 23:05:34
4.8
Indonesian archipelago
Indonesia
Masipawe
USGS-RSOE
12.05.2012 23:46:33
4.9
Indonesian Archipelago
Indonesia
Masipawe
EMSC
12.05.2012 23:46:54
2.3
Asia
Turkey
Kizilkaya
EMSC
12.05.2012 22:35:33
3.7
North America
United States
Alaska
Yakutat
USGS-RSOE
12.05.2012 23:47:14
3.7
North-America
United States
 Alaska
Yakutat
EMSC
12.05.2012 22:35:58
2.3
North America
United States
Alaska
Yakutat
USGS-RSOE
13.05.2012 00:46:30
2.8
Europe
Romania
Reghiu
EMSC
12.05.2012 22:40:28
2.9
Europe
Greece
Metokhion Zografou
EMSC
12.05.2012 22:00:45
2.4
North America
United States
Alaska
Iniskin
USGS-RSOE
13.05.2012 01:53:15
3.0
Pacific Ocean
New Zealand
Woodville County
Halswell
GEONET
12.05.2012 21:45:40
2.4
North America
United States
Alaska
Yakutat
USGS-RSOE
12.05.2012 21:46:00
2.7
North America
United States
Alaska
Yakutat
USGS-RSOE
12.05.2012 21:31:29
3.4
Pacific Ocean
New Zealand
Woodville County
Kowai Bush
GEONET
12.05.2012 22:40:54
3.3
Europe
Cyprus
Katalynata ton Plakoton
EMSC
12.05.2012 21:05:40
2.9
North America
United States
Alaska
Yakutat
USGS-RSOE
12.05.2012 22:41:12
3.5
Asia
Azerbaijan
Mamrux
EMSC
12.05.2012 22:45:30
4.4
Asia
Russia
Kamchatskaya Oblast'
Shubertovskiy Kombinat Nomer Pervyy
USGS-RSOE
12.05.2012 23:47:36
4.4
Europe
Russia
Shubertovskiy Kombinat Nomer Pervyy
EMSC
12.05.2012 19:35:29
2.8
Europe
Greece
Lambirion
EMSC
12.05.2012 18:36:53
2.2
North America
United States
Alaska
Big Lake
USGS-RSOE
12.05.2012 18:35:36
3.2
Europe
Greece
Neon Sfinoton
EMSC
12.05.2012 20:40:34
3.4
Europe
Greece
Tyrgia
EMSC
12.05.2012 18:35:57
3.6
Europe
Greece
Kato Despotikon
EMSC
12.05.2012 17:30:37
2.8
Asia
Turkey
Cavli
EMSC
12.05.2012 17:00:36
4.8
Pacific Ocean
Tonga
Haatua
USGS-RSOE
12.05.2012 17:30:58
4.8
Pacific Ocean – East
Tonga
Haatua
EMSC
12.05.2012 16:25:32
5.3
Indonesian Archipelago
Indonesia
Likei
EMSC
12.05.2012 15:40:53
5.3
Indonesian archipelago
Indonesia
Likei
USGS-RSOE
12.05.2012 14:25:33
2.3
Asia
Turkey
Selimaga
EMSC
12.05.2012 19:35:55
2.5
Asia
Turkey
Findikli
EMSC
12.05.2012 12:50:42
4.4
Indonesian archipelago
Indonesia
Simatorkis
USGS-RSOE
12.05.2012 13:20:34
4.4
Indonesian Archipelago
Indonesia
Simatorkis
EMSC
12.05.2012 12:21:24
2.5
North America
United States
California
Nitro
USGS-RSOE
12.05.2012 19:36:28
2.5
Africa
Morocco
Hejrat el Garni
EMSC
12.05.2012 12:20:30
2.7
Asia
Turkey
Akcaavlu
EMSC
12.05.2012 12:05:41
3.6
North America
United States
Alaska
Nikolski
USGS-RSOE
12.05.2012 12:20:51
3.6
North-America
United States
Nikolski
EMSC
12.05.2012 11:20:26
3.1
Europe
Greece
Despotikon
EMSC
12.05.2012 11:20:52
2.9
Europe
Greece
Ano Kotsanopoulon
EMSC
12.05.2012 10:15:35
2.6
Asia
Turkey
Kayalioglu
EMSC
12.05.2012 10:15:56
4.8
Pacific Ocean – West
Philippines
Katakin Grande
EMSC
12.05.2012 08:45:30
2.8
North America
United States
Alaska
Iniskin
USGS-RSOE
12.05.2012 07:50:37
3.9
North America
United States
Alaska
Port Moller
USGS-RSOE
12.05.2012 08:15:35
4.3
North-America
United States
Port Moller
EMSC
12.05.2012 08:16:16
4.3
North America
United States
Alaska
Port Moller
USGS-RSOE
12.05.2012 07:10:32
2.2
Asia
Turkey
Yurek
EMSC
12.05.2012 18:36:20
2.2
Montenegro
Cerovi Do
EMSC
12.05.2012 07:10:58
2.7
Asia
Turkey
Karacaoren
EMSC
12.05.2012 07:11:23
2.7
Asia
Turkey
Uzunpinar
EMSC
12.05.2012 07:11:44
3.1
Europe
Greece
Akhladha
EMSC
…..
5.3 earthquake felt in areas from northern Israel to central Israel. No injuries. Epicenter believed to be in Cyprus.
Earthquake preparedness drill
An earthquake rocked Israel on Friday evening, shortly before 10:00 p.m. local time, and was felt in areas from northern Israel to central Israel.
According to a Channel 10 News report, the police in the Northern, Central and Tel Aviv Districts said they received hundreds of phone calls from citizens who felt the earthquake. Local residents reported feeling objects and buildings move for about 15 to 20 seconds. There were no reports of injuries or damages.
The U.S. Geological Survey said the earthquake measured 5.3 on the Richter scale and its epicenter was in Cyprus.
More than a 100 calls by concerned citizens were received in the northern city of Tzfat alone, the report said. The quake was felt even in Bat Yam, Kfar Saba, Ramat Hasharon, Ra'anana and other areas in central Israel.
Magen David Adom has sent reinforcements to its stations in northern Israel and is preparing for the possibility of secondary tremors, Channel 10 reported.
In February, a 3.1 magnitude tremor shook Israel's north. There were no injuries or damage following the earthquake. The epicenter of that earthquake was east of Lake Kinneret, and a number of communities in the area reported having felt the quake.
Experts have warned that Israel is expected to be hit by a major earthquake. Dr. Ephraim Laor, who headed the National Steering Committee for Earthquake Preparedness, told Arutz Sheva recently that each Israeli must prepare himself for a major earthquake that could hit Israel.
In February, school children around the country, from kindergarten age and up, participated in earthquake drills in their schools, practicing safe steps to take when the ground starts shaking.
(Arutz Sheva's North American Desk is keeping you updated until the start of Shabbat in New York. The time posted automatically on all Arutz Sheva articles, however, is Israeli time.)
Rescue workers try and cut through large slabs of cement at the CTV building in Christchurch, New Zealand, on 24 February 2011. EPA/BGNES
Two earthquakes, magnitudes 3.9 and 5.5, have been detected near southern New Zealand city of Christchurch, which in 2011 was damaged by another tremor.
No damages and casualties are reported from the earthquakes this time over, as the stronger one was centered in a sparsely populated area.
The 3.9 Richter earthquake was felt Sunday morning, with an epicenter some 10 km away from Christchurch.
It was followed several hours later by the 5.5 tremor near the southern shores of New Zealand, which was felt all over the southern island.
In February 2011, a 6.0 degree earthquake hit Christchurch, killing 181 people and severely damaging buildings and infrastructure.
**********************************************************************************************************
Extreme Temperatures/ Weather
India's Satara district parched by drought
Published on May 11, 2012 by AlJazeeraEnglish
IAn acute shortage of water in parts of India has left an estimated 250,000 people in the Satara district of western Maharashtra state suffering through drought conditions.
Although the Urmodi river flows through the area, a lack of properly constructed channels makes accessing its water increasingly difficult.
For many residents of the region, the monsoon rains are their only hope.
Al Jazeera's Sohail Rahman reports from Satara.

| | | | | | | | |
| --- | --- | --- | --- | --- | --- | --- | --- |
|   | 12.05.2012 | Extreme Weather | India | Dinajpur | | | |
Description
Ten persons were killed after being struck by lightning in North Dinajpur on Friday. In Malda, lightning claimed two lives whereas a boat capsize left three dead.10 persons were killed in North Dinajpur while 5 in Malda in lightening and boat capsize. 7 died in Karandighi alone and one each at Chakulia, Kaliagunj and Goalpokhor of North Dinajpur. The dead includes a family of husband, wife and son at village South Kochra under Karandighi while two brothers both of whom were minors were killed at village Srinandighi. The storm and lightening killed one at Gazole block and one at Chanchal of Malda.At around 11.30am on Friday, thunderstorm lashed various parts of North Dinajpur. In South Kochra village, some labourers were working in the field when the thunder struck. They took shelter under a thatched roof where lightning struck, killing four people. Three of a family – Akalu Das, 40, his wife Budho Das, 35, and their son Kajal Das, 8, died on the spot. Thirty-five-year-old Atul Chandra Das also died.It is learnt that around 11.30 am when the sky suddenly became dark and huge thunderstorm and lightening started at a vast area in North Dinajpur and Malda. Labourers working in the paddy field took shelter under a thatched roof beside the filed. But the lightening struck there which killed Akalu Das (40) his wife Budho Das (35) and their son Kajal Das (8) on spot. Besides, Atul Chandra Das (35) also found dead in lightening.Two brothers – Md Ibrahim, 10, and Md Israil, 12 – met the same fate in Srinandighi village when they were working in the field. While 40-year-old Nur Islam died after being struck by lightning, Azhar Ali, 30, was found dead beside his house. Lightning claimed the lives of two women – Milan Das, 40, in Kaliagunj, and Parvina Khatun, 35, in Goalpokhor.Similar fate was awaiting two brothers Md Ibrahim (10) and Md Israil (12) of village Srinandighi who were working in the field and could not escape the lightening. One Nur Islam (40) too died struck by lightening. Besides, Azhar Ali (30) was found dead in a jungle beside his house. Some women were working in the jute filed at Kaliagunj who were injured by lightening. When they were taken to hospital, one Milan Das (40) succumbed to her injury. Three more were hospitalized. Another woman of Goalpokhor named Parvina Khatun (35) died of lightening.In Malda, five persons died in a boat capsize while two died after being struck by lightning. Five persons were killed in Malda in boat capsized and lightening. Meanwhile at list 300 houses were fully damaged in storm at Gazole block. Electricity and road communication has been disrupted at Gazole and part of North Malda.Thirty-five-year-old Dulali Das of Sadarpur went to the field to save her cattle but was struck in lightening. Later, one more death was reported from village Bajesahil of Gazole police station but the man was not identified. DM Pasang Norbu Bhutia said, "The victims will be compensated as per government norms. Block administrations were directed in this reagard.
PHOENIX AZ
FIRE WEATHER MESSAGE
FAIRBANKS AK
***********************************************************************************************************
Storms, Flooding
Soldiers clear the mud left by a flood following a hail and rain storm in Chabu Town, Minxian County, northwest China's Gansu Province, May 11, 2012. Hail and torrential rains which battered Minxian County on Thursday has killed 37 people and 19 others remained missing as of Friday night. A disaster relief team which consisted of officials from nine ministries has rushed to the county to guide the relief work. (Xinhua/Bao Xintian)
HOUSTON/GALVESTON, TX
LINCOLN IL
CORPUS CHRISTI TX
AUSTIN/SAN ANTONIO TX
MILWAUKEE/SULLIVAN WI
LITTLE ROCK AR
BOISE ID
SIOUX FALLS SD
GRAND RAPIDS MI
FAIRBANKS AK
ANCHORAGE AK
************************************************************************************************************
Radiation
Fukushima woman eats high radiation diet because she can't say no to her mother
By Mike Bundrant, 
(NaturalNews) If there were ever a case for individuation, this is it. As of this writing I sit in my hotel suite in Tokyo, nearing the end of a 12-day NLP training that I have been conducting in Japan for nearly 20 years. This trip is different, as I elected to bring an extra 75-pound suitcase full of food. I don't trust that food grown in any Japanese soil is safe. I've made it a habit this trip to interview everyone I can about the conditions here. What is life like since the Fukushima disaster…
U.S. Senator sounds alarm about 'precarious' Fukushima situation, warns of imminent release of radiation
By Mike Adams,
(NaturalNews) U.S. Senator Ron Wyden is, as far as Senators go, an honorable guy. I don't agree with all his politics, but I actually used to live in his district in Oregon when he was a congressman (1981 – 1996), and I remember him standing out as someone who genuinely seemed to care about the People. To my knowledge, Sen. Wyden is the only U.S. Senator who has actually visited the Fukushima Daiichi nuclear power facility and warned the U.S. public about what he saw. And what did he see? A wrecked…
************************************************************************************************************
Epidemic Hazard/Diseases
| | | | | | | | |
| --- | --- | --- | --- | --- | --- | --- | --- |
|   | 12.05.2012 | Epidemic Hazard | Nepal | Myagdi district, Neta | | | |
Description
Around 200 people at Neta of Arman Village Development Committee in Myagdi district in western Nepal were sicken by an unidentified disease in the last four days, local media reported on Saturday.The disease affected a majority of 50 families in Neta, said Harka Bahadur Chhantyal, a local resident. The sick suffered from shaking body, reeling, fever and unconsciousness, he added.Elderly people and children have been mostly affected by the disease. The villagers have been panic-stricken as they suffered from the disease in turn having the similar symptoms among them, said Chhantyal, who is also the teacher of local Mangala Higher Secondary School.According to THT Online report, the District Public Health Office have urged the local health post to examine and distribute medicine in an effective manner after the unidentified disease was severe in the village, said District Public Health Officer Dr Jhalak Gautam Sharma.Meanwhile, the Arman Health Post organized a health camp to examine and distribute medicine to the villagers affected by the disease.
Biohazard name:
Unknow or unidentifed hazard
Biohazard level:
1/4 Low
Biohazard desc.:
Bacteria and viruses including Bacillus subtilis, canine hepatitis, Escherichia coli, varicella (chicken pox), as well as some cell cultures and non-infectious bacteria. At this level precautions against the biohazardous materials in question are minimal, most likely involving gloves and some sort of facial protection. Usually, contaminated materials are left in open (but separately indicated) waste receptacles. Decontamination procedures for this level are similar in most respects to modern precautions against everyday viruses (i.e.: washing one's hands with anti-bacterial soap, washing all exposed surfaces of the lab with disinfectants, etc). In a lab environment, all materials used for cell and/or bacteria cultures are decontaminated via autoclave.
Symptoms:
shaking body, reeling, fever and unconsciousness
Status:
suspected
| | | | | | | | |
| --- | --- | --- | --- | --- | --- | --- | --- |
|   | 12.05.2012 | Epidemic | Nepal | Rupandehi, Marchawar | | | |
Description
Measles epidemic has claimed the life of three children in one village of Marchawar in the southern part of Rupandehi district.The children died from Monday to Wednesday from measles in Ganeshpur village of Karauta VDC-3 in the area. According to Assistant Health Worker Ghanalal Aryal, the three died and 38 are affected. Those who died are Sunny Dewal, 3, Nandani Kewat, 3, and Sahabir Dhuniya, 2.The symptoms are fever, and small rashes on the skin. This is caused by a kind of virus and there is no treatment of measles except for vaccine and treatment as per the symptoms.Those who died and all those infected are children who had received vaccines against measles. Vaccine Officer of District Public Health Office Om Prakash Panthi said although they could not go to the site because of Banda, the sub-health post has been assigned for the same.
Biohazard name:
Measles
Biohazard level:
1/4 Low
Biohazard desc.:
Bacteria and viruses including Bacillus subtilis, canine hepatitis, Escherichia coli, varicella (chicken pox), as well as some cell cultures and non-infectious bacteria. At this level precautions against the biohazardous materials in question are minimal, most likely involving gloves and some sort of facial protection. Usually, contaminated materials are left in open (but separately indicated) waste receptacles. Decontamination procedures for this level are similar in most respects to modern precautions against everyday viruses (i.e.: washing one's hands with anti-bacterial soap, washing all exposed surfaces of the lab with disinfectants, etc). In a lab environment, all materials used for cell and/or bacteria cultures are decontaminated via autoclave.
Symptoms:
Status:
confirmed
The Associated Press •
SEATTLE – A Seattle private high school is being closed for a few days because of an outbreak of flu-like symptoms.
Bishop Blanchet Catholic high school reports the students and staff are probably sick from a respiratory virus like influenza, not whooping cough.
Public health officials told school officials there is no evidence of an increase in whooping cough at Bishop Blanchet.
More than 150 students were out sick on Tuesday. The school is being closed for at least Wednesday and Thursday.
Students are advised to check online for assignments and messages from their teachers. And they are being told by health officials to wash their hands, cover their cough and stay home.
************************************************************************************************************
Solar Activity
2MIN News May12: Disaster Update, Spaceweather/Planetary Update
Published on May 12, 2012 by Suspicious0bservers
http://phys.org/news/2012-05-penn-astrophysicists-gravity-theory.html
http://www.reuters.com/article/2012/05/12/us-greece-idUSBRE8440DG20120512
http://www.sciencedaily.com/releases/2012/05/120510100515.htm
http://news.xinhuanet.com/english/photo/2012-05/12/c_131583495.htm
http://www.tehrantimes.com/economy-and-business/97771-iran-discovers-26-trill…
http://tehrantimes.com/politics/97758-europeans-seek-easing-of-iran-embargo-c…
http://spaceweather.com/
http://rsd.gsfc.nasa.gov/goes/
http://www.haarp.alaska.edu/haarp/data.html
http://sdo.gsfc.nasa.gov/data/
http://umtof.umd.edu/pm/
http://sohodata.nascom.nasa.gov/cgi-bin/soho_movie_theater
http://www.ips.gov.au/HF_Systems/6/5
http://solarimg.org/artis/
http://www.swpc.noaa.gov/wsa-enlil/cme-based/
http://hisz.rsoe.hu/alertmap/index2.php
http://ccmc.gsfc.nasa.gov/cgi-bin/SWMF_RealTime_browse.cgi
http://grb.sonoma.edu/
http://www.weather.com/news/tornado-torcon-index
On May 11th at 23:54 UT, a coronal mass ejection raced away from the sun faster than 1000 km/s. The fast-moving cloud will deliver a glancing blow to Earth's magnetic field on May 14th around 14:30 UT, according to a revised forecast track prepared by analysts at the Goddard Space Weather Lab. Mars is also in the line of fire. Magnetic storm alerts: text, phone.
SUNSET OVER PARIS: Huge sunspot AR1476 poses a threat for strong solar flares, but for the past two days the so-called "active region" has been mostly quiet. What the sunspot lacks in drama, however, it more than makes up for in beauty. Consider this photo of last night's sunset over Paris: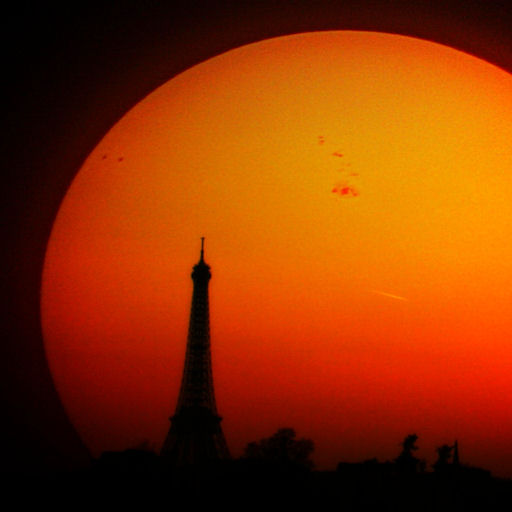 "Shooting from the Bridge of Concorde, I captured the sunspot setting behind the Eiffel Tower," says photographer VegaStar Carpentier. The light of the low-hanging sun was perfectly dimmed for a 1/1000s exposure @ ISO 400. "I used a Canon EOS 1000D."
The quiet is probably temporary. NOAA forecasters estimate a 75% chance of M-class flares and a 20% chance of X-flares during the next 24 hours.
************************************************************************************************************
Space
A galactic image taken by the Hubble Space Telescope. Galaxies like this one "screen" the effect of a hypothetical fifth force.
(Phys.org) — Most people take gravity for granted. But for University of Pennsylvania astrophysicist Bhuvnesh Jain, the nature of gravity is the question of a lifetime. As scientists have been able to see farther and deeper into the universe, the laws of gravity have been revealed to be under the influence of an unexplained force.
By innovatively analyzing a well-studied class of stars in nearby galaxies, Jain and his colleagues — Vinu Vikram, Anna Cabre and Joseph Clampitt at Penn and Jeremy Sakstein at the University of Cambridge — have produced new findings that narrow down the possibilities of what this force could be. Their findings, published on the Arxiv, are a vindication of Einstein's theory of gravity. Having survived a century of tests in the solar system, it has passed this new test in galaxies beyond our own as well.
In 1998, astrophysicists made an observation that turned gravity on its ear: the universe's rate of expansion is speeding up. If gravity acts the same everywhere, stars and galaxies propelled outward by the Big Bang should continuously slow down, like objects thrown from an explosion do here on Earth.
This observation used distant supernovae to show that the expansion of the universe was speeding up rather than slowing down. This indicated that something was missing from physicists' understanding of how the universe responds to gravity, which is described by Einstein's theory of general relativity. Two branches of theories have sprung up, each trying to fill its gaps in a different way.
One branch — dark energy — suggests that the vacuum of space has an energy associated with it and that energy causes the observed acceleration. The other falls under the umbrella of "scalar-tensor" gravity theories, which effectively posits a fifth force (beyond gravity, electromagnetism and the strong and weak nuclear forces) that alters gravity on cosmologically large scales.
"These two possibilities are both radical in their own way," Jain said. "One is saying that general relativity is correct, but we have this strange new form of energy. The other is saying we don't have a new form of energy, but gravity is not described by general relativity everywhere."
Jain's research is focused on the latter possibility; he is attempting to characterize the properties of this fifth force that disrupts the predictions general relativity makes outside our own galaxy, on cosmic length scales. Jain's recent breakthrough came about when he and his colleagues realized they could use the troves of data on a special property of a common type of star as an exquisite test of gravity.
Bhuvnesh Jain in his office. The lens simulates gravitational lensing, a phenomenon predicted by general relativity.
Astrophysicists have been pursuing tests of gravity in the cosmos for many years, but conventional tests require data on millions of galaxies. Future observations are expected to provide such enormous datasets in the coming data. But Jain and his colleagues were able to bypass the conventional approach.
"We've been able to perform a powerful test using just 25 nearby galaxies that is more than a hundred times more stringent than standard cosmological tests," Jain said.
The nearby galaxies are important because they contain stars called cepheids that are bright enough to be seen individually. Moreover, cepheids have been used for decades as a kind of interstellar yardstick because their brightness oscillates in a precise and predictable way.
"You can measure the brightness of a light bulb at some distance and know that, if you move it twice as far, it will be four times as faint. So you can tell just by the difference in its observed brightness how much further you moved it," Jain said. "But you need to know how intrinsically bright the bulb is first to determine its actual distance from us."
Cepheids have a unique trait that allows astrophysicists to get this critical information: their luminosity oscillates over the course of days and weeks. The known relationship between a cepheid's rate of oscillation and intrinsic brightness serves as that baseline for calculating its distance from Earth, which in turn serves as a baseline for calculating the distance of other celestial objects. The accelerating universe observation, for example, relied upon cepheid data for scale.
"Now that we understand a little bit more about what makes the cepheids pulsate — a balance of gravity and pressure — we can use them to learn about gravity, not just distance," Jain said. "If the fifth force enhances gravity even a little bit, it will make them pulsate faster."
Because of their usefulness, there was already more than a decade of data on cepheids based on the Hubble Space Telescope and other large telescopes in Chile and Hawaii. Using that data, Jain and his colleagues compared nearly a thousand stars in 25 galaxies. This allowed them to make comparisons between galaxies that are theoretically "screened" or protected from the effects of the hypothetical fifth force and those that are not.
Larger galaxies and ones that belong to galaxy clusters are screened, while smaller, isolated galaxies are not.
"If we compare galaxies that don't permit this extra force, like our own galaxy, with others that do, then we should see a difference in the way those galaxies' cepheids behave," Jain said. "Because this new force would increase the speed of their oscillations and because we can use the rate of their oscillations to their measure distance from us, the measurement we get from cepheids in unscreened galaxies should be smaller than distance measurements made with different techniques."
Jain and his colleagues ultimately did not see variation between their control sample of screened galaxies and their test sample of unscreened ones. Their results line up exactly with the prediction of Einstein's general relativity. This means that the potential range and strength of the fifth force is severely constrained.
"We find consistency with Einstein's theory of gravity and we sharply narrow the space available to these other theories. Many of these theories are now ruled out by the data," Jain said.
With better data on nearby galaxies in the coming years, Jain expects that an entire class of gravity theories could essentially be eliminated. But there remains the exciting possibility that better data may reveal small deviations from Einstein's gravity, one of the most famous scientific theories of all time.
More information: http://arxiv.org/abs/1204.6044
Provided by Pennsylvania State University (news : web)
Object Name
Apporach Date
Left
AU Distance
LD Distance
Estimated Diameter*
Relative Velocity
(2010 SO16)
13th May 2012
0 day(s)
0.1423
55.4
200 m – 440 m
9.53 km/s
34308 km/h
(2008 CB6)
13th May 2012
0 day(s)
0.1103
42.9
10 m – 23 m
10.85 km/s
39060 km/h
(2011 KY15)
15th May 2012
2 day(s)
0.1586
61.7
41 m – 93 m
17.61 km/s
63396 km/h
(2001 BA16)
18th May 2012
5 day(s)
0.1157
45.0
18 m – 41 m
6.66 km/s
23976 km/h
(2010 KK37)
19th May 2012
6 day(s)
0.0058
2.3
19 m – 43 m
10.94 km/s
39384 km/h
4183 Cuno
20th May 2012
7 day(s)
0.1218
47.4
3.5 km – 7.8 km
14.40 km/s
51840 km/h
(2006 KY67)
23rd May 2012
10 day(s)
0.1499
58.3
68 m – 150 m
13.88 km/s
49968 km/h
(2011 KG4)
24th May 2012
11 day(s)
0.1216
47.3
67 m – 150 m
11.50 km/s
41400 km/h

| | |
| --- | --- |
| 1 AU = ~150 million kilometers,1 LD = Lunar Distance = ~384,000 kilometers | Source: NASA-NEO |
*************************************************************************************************************
Biological Hazard /Wildlife
Description
Several news outlets are reporting that some 2,300 dead sea birds have been found along four miles of beach in Chile. The mass avian die-off has left corpses from Cartagena to Playa de Santo Domingo, and is a no doubt unnerving sight. We really need to stop these mass animal die-offs, they're creeping me out.According to reports, most of the birds were gray petrels, with some pelicans, gannets and Guanay cormorants as well. Many of the birds were found with broken wings and bruising, suggesting that the birds were caught in fisherman's nets and drowned before being dumped back into the water.Though fishing nets do kill a certain number of birds per year, it is usually much lower. Jose Luis Britos, the director of the Museum of Natural History of San Antonio, Chile, is quoted as putting the number at around 15 to 20 annually.While the cause of death seems understood, how so many birds came to die in this manner is still a mystery. One theory blames nearby oil exploration. However, recent bird and dolphin die-offs in Peru have suggested that warming ocean waters could have played a role. Unseasonably warm waters along the Peruvian coast seem to be causing schools of anchovy to seek out the cooler, deeper waters around Chile.The influx of anchovy may be causing migratory birds to linger around Chile, feasting on the fish. With more birds there are presumably more accidental drownings in nets, which resulted in beaches filled with dead birds. Meanwhile, seabirds in Peru are apparently dying of starvation.Though the exact chain of events that has lead to the enormous number of bird deaths is still unclear, Britos' staff and local officials are trying to prevent further deaths by working with local fisherman. The hope is that they can be persuaded them to save the birds before the nets are closed. With any luck it might keep some birds alive, though the changing marine ecosystem in the region will remain in flux.
Biohazard name:
Unknow or unidentifed hazard
Biohazard level:
2/4 Medium
Biohazard desc.:
Bacteria and viruses that cause only mild disease to humans, or are difficult to contract via aerosol in a lab setting, such as hepatitis A, B, and C, influenza A, Lyme disease, salmonella, mumps, measles, scrapie, dengue fever, and HIV. "Routine diagnostic work with clinical specimens can be done safely at Biosafety Level 2, using Biosafety Level 2 practices and procedures. Research work (including co-cultivation, virus replication studies, or manipulations involving concentrated virus) can be done in a BSL-2 (P2) facility, using BSL-3 practices and procedures. Virus production activities, including virus concentrations, require a BSL-3 (P3) facility and use of BSL-3 practices and procedures", see Recommended Biosafety Levels for Infectious Agents.
Symptoms:
Status:
suspected
A worker holds one of about 2,000 birds found dead spread across some six kilometers of beach around the coastal city of Santo Domingo in central Chile.
About 2,000 birds were found dead on beaches in central Chile, a natural history museum director said Friday, accusing fishermen of snagging them in their nets and letting them drown.
"It's a horrible scene. They are spread across some six kilometers (four miles) of beach" around the coastal city of Santo Domingo, San Antonio natural history and archeology museum director Jose Luis Brito told UCV radio.
Most of the birds are gray petrels, but there are also pelicans, gannets and Guanay cormorants.
Brito accused fishermen of "doing nothing" when birds get caught up in their nets, and leaving them "to drown before throwing the bodies back into the sea."
The museum said it would file a complaint to police over the dead birds.
About 100 bird carcasses were found on central beaches on Sunday.
Thousands of dolphins and maritime birds, including many pelicans, have been found dead in neighboring Peru in recent weeks.
Environmental groups blamed oil exploration work, but Peru's deputy environment minister Gabriel Quijandria, disputed the claim and said warming waters, which disturbs food supplies, was a possible cause.
(c) 2012 AFP
**************************************************************************************************************
[In accordance with Title 17 U.S.C. Section 107, this material is distributed without profit, for research and/or educational purposes. This constitutes 'FAIR USE' of any such copyrighted material.]