Earthquakes
| | | | | | | | | |
| --- | --- | --- | --- | --- | --- | --- | --- | --- |
| Date/Time (UTC) | Magnitude | Area | Country | State/Prov./Gov. | Location | Risk | Source | Details |
| | | | | | | | | | | |
| --- | --- | --- | --- | --- | --- | --- | --- | --- | --- | --- |
| 09.05.2012 23:50:25 | 2.6 | North America | United States | California | Longville | | | | USGS-RSOE | |
| | | | | | | | | | | |
| 09.05.2012 23:40:34 | 2.4 | North America | United States | California | Mono Mills | | | | USGS-RSOE | |
| | | | | | | | | | | |
| 09.05.2012 23:01:00 | 2.8 | North America | United States | California | Capetown | | | | USGS-RSOE | |
| 09.05.2012 22:55:35 | 2.0 | North America | United States | California | Caravan Mobile Home Park | | | | USGS-RSOE | |
| 09.05.2012 21:51:07 | 4.3 | Pacific Ocean | New Zealand | Woodville County | Clarence | | | | GEONET | |
| 09.05.2012 23:00:26 | 2.4 | Asia | Turkey | | Zeytinbagi | | | | EMSC | |
| 09.05.2012 21:25:54 | 2.4 | Middle America | Mexico | Estado de Baja California | Canon de Guadalupe | | | | USGS-RSOE | |
| 09.05.2012 21:55:33 | 3.0 | Asia | Turkey | | Alakilise | | | | EMSC | |
| 09.05.2012 21:15:33 | 2.3 | North America | United States | California | Longville | | | | USGS-RSOE | |
| 09.05.2012 21:05:29 | 2.6 | North America | United States | California | Santa Rita Peak | | | | USGS-RSOE | |
| 09.05.2012 21:55:54 | 3.6 | Europe | Greece | | Voulista | | | | EMSC | |
| 09.05.2012 20:55:29 | 2.8 | Asia | Turkey | | Inlice | | | | EMSC | |
| 09.05.2012 20:55:55 | 2.6 | Europe | Greece | | Neon Sfinoton | | | | EMSC | |
| 09.05.2012 20:05:29 | 2.0 | North America | United States | California | Longville | | | | USGS-RSOE | |
| | | | | | | | | | | |
| 09.05.2012 20:56:17 | 4.5 | Asia | Turkey | | Bekdemir | | | | EMSC | |
| 09.05.2012 18:51:37 | 2.0 | North America | United States | California | Longville | | | | USGS-RSOE | |
| 09.05.2012 18:52:01 | 2.6 | North America | United States | California | Longville | | | | USGS-RSOE | |
| 09.05.2012 19:55:32 | 2.0 | Europe | Greece | | Marathias | | | | EMSC | |
| 09.05.2012 19:55:53 | 4.1 | Asia | Afghanistan | | Sarask | | | | EMSC | |
| 09.05.2012 19:30:52 | 4.4 | Asia | Afghanistan | Velayat-e Badakhshan | Daravan | | | | USGS-RSOE | |
| 09.05.2012 18:50:33 | 2.2 | Europe | Greece | | Kranea | | | | EMSC | |
| 09.05.2012 18:50:52 | 2.5 | Europe | Greece | | Tyrgia | | | | EMSC | |
| 09.05.2012 18:55:36 | 2.5 | North America | United States | Arkansas | Hart | | | | USGS-RSOE | |
| 09.05.2012 19:15:28 | 2.5 | North America | United States | Arkansas | Hart | | | | USGS-RSOE | |
| 09.05.2012 19:20:45 | 4.7 | Indonesian archipelago | Papua New Guinea | | Watpi | | | | USGS-RSOE | |
| 09.05.2012 19:56:15 | 4.7 | Indonesian Archipelago | Papua New Guinea | | Watpi | | | | EMSC | |
| 09.05.2012 17:45:33 | 3.7 | Europe | Portugal | | Aldeia da Serra | | | | EMSC | |
| 09.05.2012 17:45:54 | 3.0 | Europe | Greece | | Tyrgia | | | | EMSC | |
| 09.05.2012 17:46:16 | 5.4 | Africa | Morocco | | Zaouia bou Said | | | | EMSC | |
| 09.05.2012 17:25:46 | 5.5 | Africa | Morocco | Region de Doukkala-Abda | Zaouia bou Said | | | | USGS-RSOE | |
| 09.05.2012 17:50:36 | 4.7 | Indonesian archipelago | Indonesia | | Simatorkis | | | | USGS-RSOE | |
| 09.05.2012 18:51:10 | 4.8 | Indonesian Archipelago | Indonesia | | Simatorkis | | | | EMSC | |
| 09.05.2012 17:35:45 | 4.6 | Pacific Ocean | Northern Mariana Islands | | Marasu | | | | USGS-RSOE | |
| 09.05.2012 17:46:37 | 4.6 | Pacific Ocean – East | Northern Mariana Islands | | Marasu | | | | EMSC | |
| 09.05.2012 15:35:38 | 2.5 | North America | United States | California | Truckhaven | | | | USGS-RSOE | |
| 10.05.2012 00:01:53 | 2.8 | Pacific Ocean | New Zealand | Woodville County | Halswell | | | | GEONET | |
| 09.05.2012 15:10:46 | 4.3 | Indonesian archipelago | Indonesia | | Simatorkis | | | | USGS-RSOE | |
| 09.05.2012 15:45:34 | 4.3 | Indonesian Archipelago | Indonesia | | Simatorkis | | | | EMSC | |
| 09.05.2012 14:15:41 | 2.3 | North America | United States | Hawaii | Pua'äkala | | | | USGS-RSOE | |
| 09.05.2012 14:16:03 | 2.2 | North America | United States | Hawaii | Pua'äkala | | | | USGS-RSOE | |
| 09.05.2012 14:45:29 | 3.1 | Europe | France | | Esparros | | | | EMSC | |
| 09.05.2012 13:45:32 | 4.4 | Europe | Cyprus | | Episkopi | | | | EMSC | |
| 09.05.2012 13:10:42 | 4.3 | Europe | Cyprus | Limassol District | Katalynata ton Plakoton | | | | USGS-RSOE | |
| 09.05.2012 12:40:31 | 2.6 | Europe | Greece | | Khiradhes | | | | EMSC | |
| 09.05.2012 12:15:34 | 2.5 | Middle America | Mexico | Estado de Baja California | Canon de Guadalupe | | | | USGS-RSOE | |
| 09.05.2012 11:50:57 | 3.8 | Middle America | Mexico | Estado de Baja California | Canon de Guadalupe | | | | USGS-RSOE | |
| 09.05.2012 12:40:51 | 3.8 | Middle-America | Mexico | | Canon de Guadalupe | | | | EMSC | |
| 09.05.2012 11:40:31 | 3.4 | Asia | Turkey | | Gulbahce | | | | EMSC | |
| 10.05.2012 01:25:29 | 4.4 | Indonesian archipelago | Indonesia | | Keudesuie | | | | USGS-RSOE | |
| 10.05.2012 03:11:42 | 3.1 | North America | United States | California | Capetown | | | | USGS-RSOE | |
**********************************************************************************************************
Volcanic Activity
by Staff Writers
Puebla, Mexico (AFP)
Ashes from Mexico's Popocatepetl volcano forced officials to close the airport in nearby Puebla for some 14 hours, to allow for cleanup after it spewed out heaps of ash and rock.
The Puebla International Airport was able to reopen Wednesday after dozens of workers cleared its runways of volcanic ash that posed a risk to departing and arriving aircraft, said officials.
The airport's closing caused just one cancellation, a flight to Houston, Texas early Wednesday, said Puebla's civil protection director Jesus Morales.
Since Popocatepetl came to life several weeks ago, it has spewed gas and glowing rock as much as one mile (1.6 kilometers) beyond its crater, and has intermittently belched out water vapor and ash.
Officials in this central Mexican state have prepared temporary shelters as a precaution and locals were wearing face masks to protect their lungs from ashes in a populous area around the volcano.
The city of Puebla lies in the shadow of the volcano about 55 kilometers (35 miles) from the federal capital Mexico City.
The country's second highest peak, Popocatepetl, means "smoking mountain" in the indigenous Nahuatl language.
After moderate activity during most of the 20th century, the mountain registered intense rumblings beginning in 1994, with the strongest coming in December 2000, when nearby communities were evacuated.
Related Links
Bringing Order To A World Of Disasters
When the Earth Quakes
A world of storm and tempest
***********************************************************************************************************
Extreme Temperatures/ Weather
Japan Extreme Weather: 8 Senior Mountaineers Die in Snowstorm
Published on May 9, 2012 by ChristiannaGarrett1
Rsoe EDIS Code: ST-20120505-35077-JPN – Japan Extreme Weather: 8 Senior Mountaineers Die in Snowstorm

Forest Fire Breaks Out in Los Angeles
Published on May 9, 2012 by IBTimesTV
A forest fire broke out Tuesday afternoon in the Acton region, suburbs of Los Angeles.
MEDFORD OR
BALTIMORE CANYON TO HAGUE LINE S OF 1000 FM
GEORGES BANK…FROM THE NORTHEAST CHANNEL TO THE GREAT SOUTH CHANNEL INCLUDING WATERS EAST OF CAPE COD…TO THE HAGUE LINE
ANCHORAGE ALASKA
EUREKA CA
POINT ST GEORGE TO POINT ARENA
POINT ARENA TO POINT CONCEPTION
CAPE LOOKOUT TO POINT ST GEORGE
SAN FRANCISCO BAY AREA
SEATTLE WA
JUNEAU AK
KODIAK AK
***********************************************************************************************************
Storms, Flooding, Landslides
ANCHORAGE ALASKA
MIDLAND/ODESSA TX
SAN ANGELO TX
AUSTIN/SAN ANTONIO TX
ALBANY NY
LITTLE ROCK AR
MILWAUKEE/SULLIVAN WI
LINCOLN IL
CHICAGO/ROMEOVILLE IL
INDIANAPOLIS IN
BOISE ID
TWIN CITIES/CHANHASSEN MN
SIOUX FALLS SD
| | | | | | | | |
| --- | --- | --- | --- | --- | --- | --- | --- |
|   | 09.05.2012 | Landslide | India | Mathura | | | |
Description
Three people were killed and a girl injured in separate incidents of mudslides in the district, police said today. Khushboo (14) and Kanti (16) died of suffocation after being buried in a mudslide at Jugsana village, they said, adding that farmers were able to rescue the third girl, Renu, upon hearing her cries for help. In a second incident, Vimlesh (25) died in Barotha village when trapped while digging for mud, they said.
************************************************************************************************************
Climate Change
By CHRIS WICKHAM | REUTERS
Published: May 9, 2012 21:02 Updated: May 9, 2012 21:02
LONDON: Scientists are predicting the disappearance of another vast ice shelf in Antarctica by the end of the century that will accelerate rising sea levels.
The Filchner-Ronne Ice Shelf fringing the Weddell Sea on the eastern side of Antarctica has so far not seen ice loss from global warming and much of the observation of melting has focused on the western side of the continent around the Amundsen Sea. But new research from the Alfred Wegener Institute for Polar and Marine Research in Germany says the 450,000-sq-km ice shelf is under threat.
"According to our calculations, this protective barrier will disintegrate by the end of this century," said Dr. Harmut Hellmer, lead author of the study, published in the journal Nature this week.
The huge ice shelves that float on the seas fringing Antarctica provide a buffer against warming waters eating away at the base of the much larger glaciers behind them that sit on the land.
"Ice shelves are like corks in the bottles for the ice streams behind them," said Hellmer. "They reduce the ice flow.
"If, however, the ice shelves melt from below, they become so thin that the dragging surfaces become smaller and the ice behind them starts to move."
Hellmer and his team predict the melting of the Filchner-Ronne shelf could add up to 4.4 mm per year to rising global sea levels.
According to the latest estimates based on remote sensing data, global sea levels rose 1.5 mm a year between 2003 and 2010 due to melting glaciers and ice shelves, the scientists say. This is on top of an estimated 1.7 mm annual rise due to the expansion of the oceans as the water warms.
Costly sea defenses
The research was funded by the European Union's 'Ice2sea' program, set up in the wake of the 2007 report by the Intergovernmental Panel on Climate Change that highlighted ice-sheets as the most significant remaining uncertainty in projections of rising sea levels. Projections from the Ice2sea project will feed into the fifth IPCC report due in 2013/2014.
It will also inform plans for major capital spending on sea defenses to protect Europe's coastlines, particularly areas of economic importance like London, with its tidal barrier on the River Thames, and the port of Rotterdam. A large part of the Netherlands is below sea level and protected by an elaborate system of dykes.
Professor David Vaughan of the British Antarctic Survey, who heads the Ice2sea program, told Reuters the Alfred Wegener Institute's findings add to evidence that warming oceans are having the greatest impact on the ice sheets, as opposed to atmospheric changes or the legacy of some long-term change decades or even hundreds of years ago.
"What people need to know with a sense of urgency is what is going to happen to sea levels over the next few decades," said Vaughan. "In those terms, these results are very big news indeed."
Vaughan is cautious about precise projections of the impact on sea levels. "For me, those numbers are about what might be plausible," he said. "I think we need to do some more work with the ice sheet models to determine exactly what sea level rises we might expect, but those are plausible numbers."
All other things being equal, the polar ice sheets reach a balance where the amount of snow going in each year is broadly matched by the number of icebergs coming out, but subtle changes like those associated with global warming, can affect that balance quite rapidly.
Vaughan said there was clear evidence that the widely-reported disintegration of the Larsen A and Larsen B ice shelves in 1995 and 2002 respectively, had led to the ice sheets that fed them moving faster into the sea, some of them many times the rate seen before collapse.
The scientific focus on the melting ice in the Amundsen sea is down to the fact that this is where it is happening now, but Vaughan said although the Weddell Sea is not seeing ice loss at the moment, the German research supports the view that it will spread to other areas.
If there is a lesson for climate scientists, it's "don't behave like the infant school football team and follow the ball," he said.
US, Washington – The contiguous U.S. states posted record warmth from May 2011 through April, and drought conditions spread across more than a third of this area during the first months of 2012, the National Oceanic and Atmospheric Administration NOAA.L said on Tuesday.
The contiguous United States had a national average temperature of 55.7 F (13.2 C) from May 2011 to April 2012, 2.8 F (1.6 C) above the 20th century average, NOAA said in a statement.
It was the warmest ever May-to-April period in the lower 48 states. It included the second-hottest summer, fourth-warmest winter and the warmest March. Twenty-two states posted record warmth for the period.
The first four months of the 2012 were the warmest on record. The average temperature for the contiguous states during these months was 45.4 F (7.4 C), 5.4 F (3 C) above normal.
Twenty-six states, all east of the Rocky Mountains, had record warmth for the May-April period, NOAA said. U.S. temperatures for April were the third-warmest on record.
The agency said 38.2 percent of the contiguous United States was experiencing drought conditions as of May 1, up from 31.9 percent at the start of the year. Drought worsened across the Northeast, Southeast and the interior West.
The U.S. Climate Extremes Index was a record 42 percent for the first four months of the year, more than twice the average value. The index tracks the highest and lowest 10 percent of extremes in temperature, precipitation, drought and tropical cyclones across the 48 states.
************************************************************************************************************
Solar Activity
2MIN News May10: Earth Update, Spaceweather
Published on May 10, 2012 by Suspicious0bservers
SUNSPOT SUNSET: Sunspot AR1476 is so large, people are noticing it without the aide of a solar telescope. The behemoth appears at sunrise and sunset when the light of the low-hanging sun is occasionally dimmed to human visibility. Alberto Lao sends this picture from Manila, the Phillippines: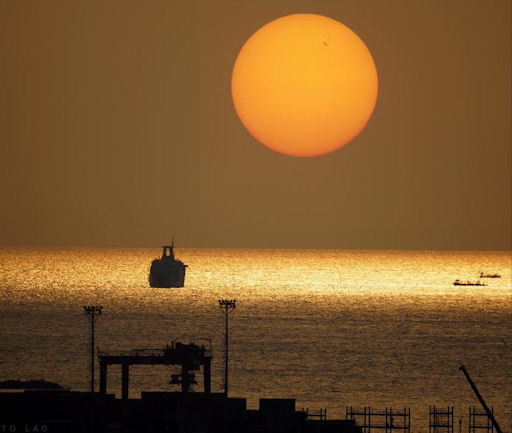 "The sky was hazy and a bit cloudy today, [perfect for sunspot photography]," says Lao. "Hoping to get a glimpse of AR 1476, I waited until a few minutes before sunset to try to image the sun. My patience was rewarded."
The sunspot looks a lot like Hawaii, but it is much bigger than any island on Earth. From end to end the sprawling active region stretches ~160,000 km, or a dozen times wider than our entire planet. If you have a sunspot telescope, take a look. The view is magnificent.
Caution: Even when the sun is dimmed by clouds and haze, looking into the glare can damage your eyes. Looking through unfiltered optics is even worse. If you chose to photograph the low sun with a digital camera, please use the camera's LCD screen for pointing. Do not peer through the optical viewfinder.
NORTHERN LIGHTS: A solar wind stream hit Earth's magnetic field during the late hours of May 8th, stirring geomagnetic activity and auroras at high latitudes. Zoltan Kenwell photographed the display from a dark-sky site 120km northeast of Edmonton, Alberta: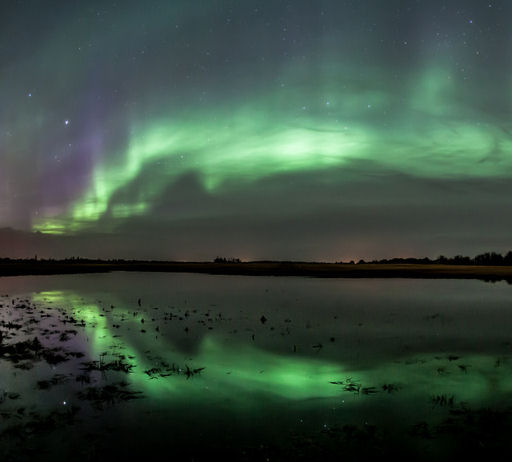 "The frogs by the lake were deafening!" says Kenwell. "The show began very slowly around 10:00pm MST and was done around 1:00am MST. Temperatures of +12 deg C made for a very enjoyable night while taking in a splendid display."
A pair of CMEs en route to Earth could add to the effect of the solar wind stream, igniting even brighter auroras during the next 24-48 hours. NOAA forecasters estimate a 40% chance of geomagnetic storms on May 9th.
SOLAR ACTIVITY INTENSIFIES: Huge sunspot AR1476 is crackling with M-class solar flares and appears to be on the verge of producing something even stronger. The sunspot's 'beta-gamma-delta' magnetic field harbors energy for X-class flares, the most powerful kind. Earth is entering the line of fire as the sunspot rotates across the face of the sun. Solar flare alerts: text, phone.
Earlier today, amateur astronomer Thomas Ashcraft of New Mexico detected strong shortwave radio bursts coming from the sunspot. Click to hear the "solar static" that roared out of his loudspeaker: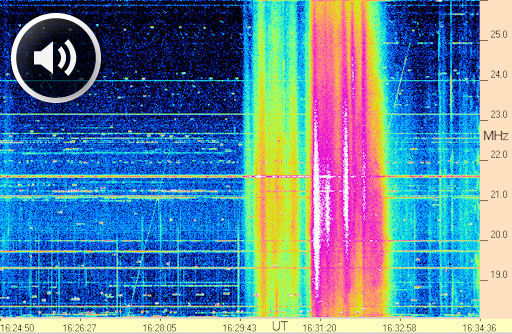 Dynamic spectrum courtesy of Wes Greenman, Alachua Radio Observatory
"The strongest burst so far occured around 1631 UT on May 9th," reports Ashcraft. "I am observing at 28 MHz and 21.1 MHz. As I send this note I am hearing more bursting, indicating powerful magnetic dynamism within active region 1476."
Solar radio bursts are caused by plasma instabilities that ripple through the sun's atmosphere in the aftermath of powerful flares. With AR1476 poised for more eruptions, this 'radio activity' is likely to continue for days. Stay tuned.
************************************************************************************************************
Space
Object Name
Apporach Date
Left
AU Distance
LD Distance
Estimated Diameter*
Relative Velocity
(1998 HE3)
10th May 2012
0 day(s)
0.0319
12.4
120 m – 270 m
11.93 km/s
42948 km/h
(2005 SQ9)
11th May 2012
1 day(s)
0.0852
33.2
68 m – 150 m
10.21 km/s
36756 km/h
141432 (2002 CQ11)
12th May 2012
2 day(s)
0.1022
39.8
280 m – 630 m
16.26 km/s
58536 km/h
(2010 SO16)
13th May 2012
3 day(s)
0.1423
55.4
200 m – 440 m
9.53 km/s
34308 km/h
(2008 CB6)
13th May 2012
3 day(s)
0.1103
42.9
10 m – 23 m
10.85 km/s
39060 km/h
(2011 KY15)
15th May 2012
5 day(s)
0.1586
61.7
41 m – 93 m
17.61 km/s
63396 km/h
(2001 BA16)
18th May 2012
8 day(s)
0.1157
45.0
18 m – 41 m
6.66 km/s
23976 km/h
(2010 KK37)
19th May 2012
9 day(s)
0.0058
2.3
19 m – 43 m
10.94 km/s
39384 km/h
4183 Cuno
20th May 2012
10 day(s)
0.1218
47.4
3.5 km – 7.8 km
14.40 km/s
51840 km/h
(2006 KY67)
23rd May 2012
13 day(s)
0.1499
58.3
68 m – 150 m
13.88 km/s
49968 km/h
(2011 KG4)
24th May 2012
14 day(s)
0.1216
47.3
67 m – 150 m
11.50 km/s
41400 km/h

| | |
| --- | --- |
| 1 AU = ~150 million kilometers,1 LD = Lunar Distance = ~384,000 kilometers | Source: NASA-NEO |
*************************************************************************************************************
Epidemic  Hazard
| | | | | | | | |
| --- | --- | --- | --- | --- | --- | --- | --- |
|   | 09.05.2012 | Epidemic Hazard | Vietnam | Quang Ngai , | | | |
Description
Two more people from a central Vietnamese province have died from an unidentified skin disease in the past 2 days, taking the total death toll to 21 so far. Meanwhile, the cause of the disease remains a mystery.The perished victims all hailed from Quang Ngai Province which has been hit by the disease since April 2011.Yesterday, a 53-year-old man, Pham Van Nhoc, of Ba Dien Commune, Ba To District, died at Hospital C in Da Nang City, Pham Van But, chairman of the commune People's Committee, said.Nhoc and his wife, Pham Thi Sao, suffered from the disease early this year, but the woman gradually recovered.On Monday, a 60-year-old woman, Pham Thi Ngot, also of Ba Dien, died from the disease.The disease is characterized by thickened skin (keratosis) over the palms and sole, causing stiffness in the limbs and ulcers on victims' hands and feet that look like burns.The initial symptoms of the illness are high fever, loss of appetite and a rash on the palms and feet. If it is not treated early, the disease can cause eye and liver problems and subsequently damage other body organs.The district has so far recorded about 200 contracting the strange disease, 190 of whom are in Ba Dien Commune, But said.Through some initial research and investigations, the Ministry of Health said the patients might be infected with toxic substances in food through respiratory or digestive tracts.On April 24, the provincial Health Department reported that 14 out of 26 blood samples of patients in Ba To district were positive with Rickettsia virus, a genus of the tribe Rickettsieae, transmitted by lice, fleas, ticks, and mites to humans and other animals, causing various diseases.However, head of the Ministry of Health's Preventive Health Agency, Dr. Nguyen Van Binh, said that this virus is only one of the agents that cause the disease.Yesterday, a group of 70 experts in dermatology in epidemiology from the health ministry came to Ba To to train local doctors in the ministry's new treatment process for the unidentified disease.The experts also examined the source of local food and sprayed antiseptics in areas with infected patients.
Biohazard name:
Unknow or unidentifed hazard
Biohazard level:
1/4 Low
Biohazard desc.:
Bacteria and viruses including Bacillus subtilis, canine hepatitis, Escherichia coli, varicella (chicken pox), as well as some cell cultures and non-infectious bacteria. At this level precautions against the biohazardous materials in question are minimal, most likely involving gloves and some sort of facial protection. Usually, contaminated materials are left in open (but separately indicated) waste receptacles. Decontamination procedures for this level are similar in most respects to modern precautions against everyday viruses (i.e.: washing one's hands with anti-bacterial soap, washing all exposed surfaces of the lab with disinfectants, etc). In a lab environment, all materials used for cell and/or bacteria cultures are decontaminated via autoclave.
Symptoms:
Status:
confirmed
*************************************************************************************************************
Wildlife
A mystery is unfolding as several dead pelicans have been found along the Indian River over the past few weeks.
By Greg Pallone, Reporter
BREVARD COUNTY – 
A mystery is unfolding in Brevard County as several dead pelicans have been found along the Indian River over the past few weeks.
Florida Fish and Wildlife biologists collected two of the dead pelicans after at least eleven of the birds have been found along the bank in Palm Shores near Melbourne, and people are puzzled as to why they died.
Wildlife officials said there have been no reports of fish kills, algae blooms or other factors that could have contributed to the deaths.
Meantime, the mystery remains.
"I might see one once in a blue moon," said Tim Carlisle of Palm Shores Public Works. "But for this many popping up on the shore, it's unexplained."
Palm Shores Public Works says they've gotten many calls lately from resident complaining about the problem.
Another resident who contacted News 13 said they found more than a dozen just a couple miles along the river north.
Florida Fish and Wildlife officials say tests are being done on the animals to try and determine the cause of death.
"We were thinking maybe it's the fish, or somebody doing something to them.  But it's in a lot of different place," said Carlisle.
Meanwhile overseas, Peru's health ministry is asking people to avoid beaches in Lima and north of the capital until officials can determine what is killing hundreds of pelicans.
Last month, the country's production ministry said the authorities were investigating the deaths of more than 538 pelicans, and other birds, on the northern coast.
by Staff Writers
Lima (AFP)
The Peruvian government said Wednesday that 5,000 birds, mostly pelicans, and nearly 900 dolphins have died off the country's northern coast, possibly due to rising temperatures in Pacific waters.
The country's northern beaches were earlier this week declared off-limits as scientists scrambled to pin down what was causing such a massive toll, with non-government organizations blaming oil exploration work.
But Peru's deputy environment minister Gabriel Quijandria, disputed this and said warming waters, which disturbs species' food supplies, was a possible cause.
He said that although tests conducted on 877 dolphins found dead on the coast had not been completed, contamination from heavy metals or the presence of bacterial infections was not responsible.
It is probable that the phenomenon "will extend to other coastal areas," Quijandria said, noting that there could be a resulting increase in the numbers of birds and other sea life killed.
The South American nation's health ministry declared an alert at the weekend, urging the public to stay away from the beaches around Lima and on the northern coast until the cause of death of marine life is known.
One non-government conservation organization, known as ORCA, has blamed the dolphin deaths on oil exploration activities in the area, which it claims produces noises which are having an acoustic impact on the mammals.
A representative from the group, Carlos Yaipen, said Wednesday it had tested 30 dead specimens and found broken ears and damaged organs consistent with the victims suffering "the bends," also known as decompression sickness.
Weather expert Abraham Levy told AFP on Tuesday that the warming of the Pacific waters due to El Nino could be to blame.
Related Links
Our Polluted World and Cleaning It Up
**************************************************************************************************************
[In accordance with Title 17 U.S.C. Section 107, this material is distributed without profit, for research and/or educational purposes. This constitutes 'FAIR USE' of any such copyrighted material.]