Politics and Legislation
Obama's Swiss Banker
Head of Swiss finance house UBS Investment Bank is one of president's biggest bundlers
Wolf and Obama in Martha's Vineyard in 2010 / AP Images
One of President Obama's largest financial backers is a key executive at the largest Swiss bank in the world, complicating his criticism of presumptive Republican nominee Mitt Romney.
Robert Wolf is president of Swiss financial giant UBS Investment Bank and chairman of UBS Americas. He has been one of Obama's most prolific fundraisers dating back to 2006, when the former Senator from Illinois initiated his run for the White House.
Wolf has bundled more than $500,000 for the president's reelection, campaign records show. He is but one of many wealthy bankers Obama has turned to in an effort to win a second term.
According to campaign reporter John Heilemann, Obama and Wolf first met in December 2006 in a conference room owned by liberal billionaire George Soros, who is currently embroiled in a domestic dispute with his 31-year-old ex-girlfriend.
It was a match made for the ages, Heilemann argued—the "hope and change" candidate and the sympathetic Wall Street millionaire.
Obama eagerly courted the "A-List New York donor," who would become the future president's "most copious cash collector in the city by far," raising more than $500,000 for his 2008 campaign.
Wolf's company, UBS, gave an additional $532,000, making it the 15th largest contributor to Obama's first presidential run.
"The way Barack has taken this nation with his rock-star status," Wolf told Heilemann in 2007, "it's very exciting!"
Upon taking office in early 2009, Obama appointed Wolf to the Economic Recovery Advisory Board that would help craft the controversial $787 billion stimulus package.
Shortly after Wolf was appointed, UBS admitted to conspiring to defraud the Internal Revenue Service and agreed to pay $780 million to ward off a federal investigation into its activities.
Wolf was also one of several major Democratic donors named to the President's Council on Jobs and Competitiveness. He remains a close adviser and golfing partner to the president. A recent Wall Street Journal article dubbed Wolf "a 'fat cat' with the president's ear."
Inside Story – Sarkozy: Fighting for political survival
Published on Apr 24, 2012 by AlJazeeraEnglish
Are the Socialists on their way back to the Elysee Palace on the back of Sarkozy's poor showing at the polls? Inside Story discusses with guests: Thierry Marchal-Beck, Anne-Elisabeth Moutet, & Thomas Klau.
By Zaid Jilani
A blockbuster New York Times story published this weekend details how the Mexican subsidiary of retail giant Wal-Mart paid $24 million in bribes to Mexican officials — and subsequently top Wal-Mart officials allegedly decided to cover up these offenses.
The details of Wal-Mart's complicity in bribery are shocking, but there is one important element that the Times did not report.
While Wal-Mart's largest subsidiary spent millions of dollars systematically bribing Mexican officials, the company back home has been working, through big business groups like the U.S. Chamber of Commerce, to weaken the Foreign Corrupt Practices Act (FCPA), which renders it illegal for corporations to bribe officials in foreign countries.
The Chamber of Commerce made a major push in late 2010 to severely curtail the power of the FCPA. One of the revisions the business lobby wanted was to limit a parent company's civil liability for the acts of a subsidiary. This lobbying also came shortly after it was revealed that the Chamber had been getting foreign funding from overseas corporations.
Israel approves three new settlements
Published on Apr 24, 2012 by AlJazeeraEnglish
Israel's claim that it has legalised three settlements in the West Bank has been criticized by human rights activists, as such settlements are illegal under international law.
Al Jazeera's Cal Perry reports from the occupied West Bank.

Obama condemns monitoring abroad as Congress pushes CISPA
Published on Apr 24, 2012 by RTAmerica
President Obama announced that he is planning on fighting genocide in the Middle East by cracking down on entities that use technology to conduct human rights violations. On Monday, Obama signed an executive order that targets individuals who use technology to monitor and track dissidents. Although President Obama opposes the monitoring of individuals abroad, Congress is attempting to pass a legislation that will allow the US government to do just that domestically. The Cyber Intelligence Sharing Protection Act (CISPA) could alter online freedoms in the US, and Declan McCullagh, CNet News correspondent, joins us for a closer look.

**********************************************************************************
Economy
U.S. companies dump billions into China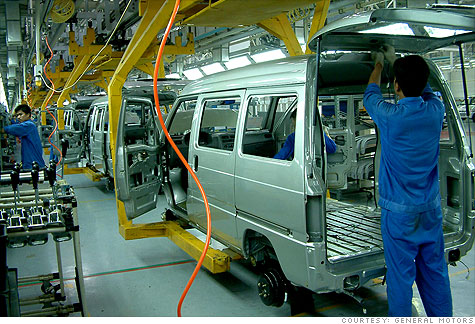 A GM auto plant in China. GM is among the companies investing in Chinese plants to serve the market there rather than export product back to the United States.By Chris Isidore, senior writerJanuary 20, 2011: 10:01 AM ET
 NEW YORK (CNNMoney) — While U.S. businesses are still reluctant to invest in new plants and jobs in the United States, many are pouring money into China. But not for the reasons you'd think.
Rather than "outsourcing" their operations to China's low-cost environment to produce cheap goods for U.S. consumers, multinational corporations are pouring billions into China to meet demand from the rapidly growing Chinese middle class.
"American investment in China is still growing," said Nicholas Lardy, a China expert at the Peterson Institute for International Economics. "It's one of their most profitable markets, if not their most profitable market. No one is pulling back."
In 2010 General Motors (GM) sold more cars in China than in the United States for the first time, but did not export any cars from China back to its home market. GM, which closed 13 U.S. plants since its bankruptcy filing in 2009, has opened 15 plants in
Austerity anger boosts European extreme parties
Published on Apr 24, 2012 by AlJazeeraEnglish
In the Netherlands and across Europe, the growing anger towards austerity measures is leading to a boost in support for the far-left and far-right parties.
Al Jazeera's Jonah Hull reports from The Hague.

***********************************************************************************
Wars and Rumors of War
Sudan's Bashir Threatens War Against South Sudan
Bio
Nii Akuetteh is an independent analyst of African & international affairs, seen regularly on Al Jazeera and many other global TV outlets and published frequently, especially by Pambazuka News. He is the former Executive Director of Africa Action, and he was a professor of African Studies at Georgetown University.
Transcript
PAUL JAY, SENIOR EDITOR, TRNN: Welcome to The Real News Network. I'm Paul Jay in Washington.
In Sudan, President Bashir has said it's a time of reckoning with South Sudan, the newly formed country (Juba is its capital). He says either South Sudan will take Khartoum and control all of Sudan or, the other way around, Bashir says he will take South Sudan, where most of the oil now is. And, of course, that's what in the final analysis most of the conflict in Sudan is about—oil.Now joining us to talk about this is Nii Akuetteh. He's an independent analyst of African and international affairs. He writes regularly on Pambazuka News, and he's a former executive director of Africa Action, and he was a professor of African studies at Georgetown University. Thanks very much for joining us, Nii.NII AKUETTEH, FORMER DIRECTOR, AFRICA ACTION: It's my pleasure. Thank you for having me.JAY: So before we get into the specifics of what's happening now, these threats and what seems to be intensification and possible open, all-out warfare between North and South Sudan, give us some basic context, some historical context of how we got here.AKUETTEH: Yes. You know, Sudan, South Sudan, the smaller of the two countries in the conflict, became independent just a few months ago. In fact, it's designated as the youngest country in the world. It broke off from Sudan. So this is a sort of a divorce, a bitter divorce.The quarrels leading to the divorce have been a very long way in coming. Sudan actually got its independence from Britain and Egypt in 1958, but the quarrel between the North and the South actually predates independence, before independence, the Southerners agitating. In fact, Southerners in the national army broke out in revolt in some camps before independence. So there's been a big quarrel….
War Against Syria + Israel to Nuke Iran if Nuke Talks Fail + Next False Flag
Published on Apr 24, 2012 by ravenise00
Representative of the Saudi government has admitted the so called 'Syrian protesters' have had weapons all along. NATO sent guns in there, said 'start shooting' and we will come in and invade and make you the new government.
Michael Rivero of http://www.whatreallyhappened.com
Watch entire 2012-04-24 Broadcast here: http://www.justin.tv/michaelrivero/b/315941138

War on Drugs means big bucks for some
Published on Apr 24, 2012 by RTAmerica
Depending on who you ask, the war on drugs is seen from anything as a failure to a profitable business. According to some South American companies, the US drug policy is responsible for cartel violence. Many are lobbying for the US to keep marijuana illegal because they feel that permitting the plant would not be good business. The private prison industry banks off illegal marijuana, however, and in 2010 nearly half of all drug arrests were weed-related. Mike Riggs, associate editor for Reason Magazine, joins us with his take on the war on drugs.

***********************************************************************************
Articles of Interest
Julian Assange's The World Tomorrow: Slavoj Zizek & David Horowitz
Published on Apr 24, 2012 by RussiaToday
Slavoj Zizek and David Horowitz are the guests for the second episode of Julian Assange's interview show, "The World Tomorrow". "Intellectual superstar" Slavoj Zizek is a philosopher, psychoanalyst and cultural commentator. David Horowitz is a renowned stalwart of hardline conservative American political thought and an unrepentant Zionist.
The tone of the conversation between Zizek, Horowitz and Assange alternated between combative, personal and good-humoured. The topics covered jumped backwards and forwards at a wildfire pace, to include Palestinians and Nazis, Joseph Stalin and Barack Obama, the decline of Europe and the tension between liberty and equality, amongst many others.
OFFICIAL VIDEO PAGE http://assange.rt.com

Shocking Video Shows Mexican Immigrant Beaten to Death By U.S. Border Patrol Agents. 1 of 2
Published on Apr 24, 2012 by democracynow
DemocracyNow.org – A new PBS documentary exposes the tasing and beating death of a Mexican immigrant by U.S. border agents in California, and has renewed scrutiny of what critics call a culture of impunity. In May 2010, 32-year-old Anastasio Hernández Rojas was caught trying to enter the United States from Mexico near San Diego. He had previously lived in the United States for 25 years and was the father of five U.S.-born children. But instead of deportation, Hernández Rojas' detention ended in his death. A number of border officers were seen beating him, before one tasered him at least five times. During the incident, he was handcuffed and hogtied. He died shortly afterward. The agents say they confronted Hernández Rojas because he became hostile and resisted arrest. But previously undisclosed videos recorded by eyewitnesses on their cell phones show a different story. The footage was obtained by reporter John Carlos Frey and aired in a national television special last Friday night, as part of a joint investigation by the PBS broadcast ,"Need to Know," and the Investigative Fund of the Nation Institute. Frey joins us to discuss the exposé, along with Hernández Rojas' widow, María Puga, and translator, Christian Ramírez.
Watch part 2 of this interview:
To watch the complete independent, weekday news hour, read the transcript and download the podcast, please visit http://www.democracynow.org.
Shocking Video Shows Mexican Immigrant Beaten to Death By U.S. Border Patrol Agents. 2 of 2
For first time since Depression, more Mexicans leave U.S. than enter
Alejandro Estrada/AP – Migrants jump out of a tractor trailer as Mexican federal police watch at police headquarters in Tuxtla Gutierrez, Mexico, Sunday June 12, 2011. Each year, thousands of migrants cross southern border on their way to the U.S. (AP)
A four-decade tidal wave of Mexican immigration to the United States has receded, causing a historic shift in migration patterns as more Mexicans appear to be leaving the United States for Mexico than the other way around, according to a report from the Pew Hispanic Center.It looks to be the first reversal in the trend since the Depression, and experts say that a declining Mexican birthrate and other factors may make it permanent.
(The Washington Post/Source: Pew Research Center) – Immigration from Mexico has plummeted
"I think the massive boom in Mexican immigration is over and I don't think it will ever return to the numbers we saw in the 1990s and 2000s," said Douglas Massey, a professor of sociology and public affairs at Princeton University and co-director of the Mexican Migration Project, which has been gathering data on the subject for 30 years.
By Aruna Viswanatha
WASHINGTON (Reuters) – A former Morgan Stanley executive pleaded [plead] guilty to conspiring to evade internal controls required by a U.S. anti-bribery law, in a case that underlines the fall of a once high-flying deal maker for the firm in China.
Garth Peterson, who was a managing director in Morgan Stanley's real estate investment and fund advisory business, also settled on Wednesday related charges with securities regulators, and agreed to roughly $3.7 million in sanctions and a permanent bar from the industry.
Peterson secretly arranged to have millions paid to himself and a Chinese official and disguised the payments as finder's fees charged to Morgan Stanley, regulators said.
Such payments violated the Foreign Corrupt Practices Act, which bars bribes to officials of foreign governments, the Securities and Exchange Commission said.
The charges come as both the SEC and the Justice Department have stepped up efforts to enforce the FCPA, extracting billions of dollars in penalties in recent years, but the case is among the first related to the financial services industry.
Morgan Stanley, which cooperated in the government's investigation, was not charged in the case. Lawyers for Peterson declined to comment.
"Mr. Peterson admitted today that he actively sought to evade Morgan Stanley's internal controls in an effort to enrich himself and a Chinese government official," Assistant Attorney General Lanny Breuer said in a statement announcing the plea.
The Associated Press April 24, 2012, 7:38PM ET
Ex-BP engineer arrested in Gulf oil spill case
By CAIN BURDEAU and MICHAEL KUNZELMAN
NEW ORLEANS
Federal prosecutors brought the first criminal charges Tuesday in the Gulf oil spill, accusing a former BP engineer of deleting more than 300 text messages that indicated the blown-out well was spewing far more crude than the company was telling the public at the time.
Two years and four days after the drilling-rig explosion that set off the worst offshore oil spill in U.S. history, Kurt Mix, 50, of Katy, Texas, was arrested and charged with two counts of obstruction of justice for allegedly destroying evidence.
His attorney, Joan McPhee, issued a statement Tuesday evening describing the charges as misguided and that she is confident Mix will be exonerated.
"The government says he intentionally deleted text messages from his phone, but the content of those messages still resides in thousands of emails, text messages and other documents that he saved," she said. "Indeed, the emails that Kurt preserved include the very ones highlighted by the government."
************************************************************************************
[In accordance with Title 17 U.S.C. Section 107, this material is distributed without profit, for research and/or educational purposes. This constitutes 'FAIR USE' of any such copyrighted material.]